AVCHD vs MP4 Which Is Better for Video Playback and Save
Today, video has become an essential way to record and share daily life. What type of storage format is used when storing video files in your computer or mobile device? AVCHD and MP4 are two very commonly used formats that have for long been used as the most preferred methods of saving video files. This article intends to talk about the differences between the two formats in order to help you make the best decision.

Part 1: AVCHD VS MP4
Both AVCHD and MP4 are popular video formats; however, they are developed for different purposes. Therefore, they are pretty different on a variety of aspects, such as:
1. Uses. AVCHD, stands for Advanced Video Codec High Definition, is used for Blu-ray Disc recording or HDTV watching. MP4 is short for MPEG-4 Part 14 using for transfer and distribute videos between digital devices and the internet.
2. File extension. The AVCHD videos are stored in files with .m2ts, while MP4 videos are ended with .mp4.
3. Video resolution. AVCHD mainly stores HD videos in 1080p, but MP4 is able to store videos from 480p to 1080p. That is partly because AVCHD videos are playing on large screen. If you want to produce higher video quality, AVCHD is the best choice.
4. Audio codec. Audio is an important part of audiovisual experience. AVCHD uses AC-3 (Dolby Digital) audio codec, while MP4 relies on MPEG-4 LC-AAC. Therefore, AVCHD is supper on audio compared to MP4, although they may sound similar.
5. File size. Since AVCHD stores videos with higher resolution, it makes sense that the file size is large and 3 times to MP4.
6. Compatibility. AVCHD is compatible with Blu-ray players, camcorders, Windows 7 and above. MP4 is widely supported by most digital devices, handsets, game consoles, websites and social media.
Specifications
AVCHD
MP4
Resolution
1920 x 1080
1440 x 1080
1440 x 1080
1280 x 720
640 x 480
File extension
.M2TS
.MP4
Audio channel
2 channels/48 kHz
5.1 channels/48 kHz
2 channels/48 kHz
Compatibility
Blu-ray disc
Recording media devices
xv.Color technology
Windows 7/8/8.1/10
Windows 7/8/10
Mac OS X
iOS and Android
PS, Xbox and major consoles
Social media
Part 2: Best Way to Play AVCHD and MP4
It is easy to play MP4 since Windows Media Player and QuickTime Player are compatible with it. However, AVCHD is another story. If you want to get the awesome video experience from AVCHD, Blu-ray Master Free Blu-ray Player is the best choice. More importantly, it equips pro-level features in the way that everyone can learn in seconds.
Main Features of the Best AVCHD and MP4 Player
1. Support almost all video formats including AVCHD and MP4.
2. Optimize video and audio quality automatically.
3. Full control video playback.
How to Play AVCHD or MP4
Step 1
Import a video
Launch the best AVCHD and MP4 player once you install it on your computer. Click the Open File button to get the open-file dialog, find and select an AVCHD or MP4 file and select it, and click Open.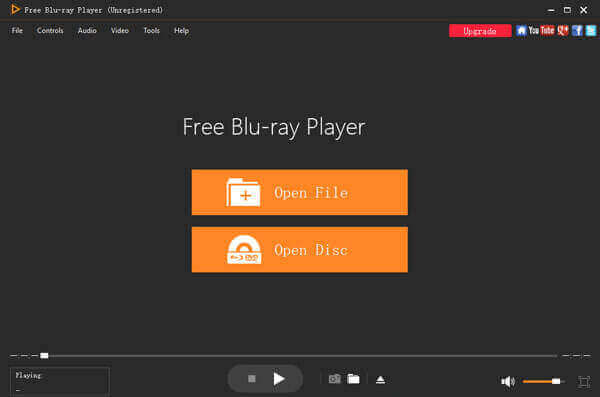 Step 2
Control video playback
After video loading, you will be presented the media player interface. Then you will get the basic controls at the bottom. With them, you can pause, play, stop, fast forward, and rewind the video playback. At important moment, press the Camera icon to take a snapshot. If you want to get the advanced controls, like color balance, explore the top menu bar directly.
Part 3: How to Convert between AVCHD to MP4
As the low-level of compatibility, you may need to convert AVCHD to MP4 before sharing online or playing on mobile devices. Blu-ray Master Free Online Video Converter can meet you need. It enables you to convert between video formats. Moreover, as an online app, it makes video converting easily.
Main Features of the Best AVCHD and MP4 Converter Online
1. Convert between AVCDH and MP4 online quickly and easily.
2. Protect the video quality as much as possible while converting.
3. Batch process multiple AVCHD video files per time without watermark.
How to Convert between AVCHD to MP4 in Batch Online
Step 1
Open https://www.bluraycopys.com/free-online-video-converter/ in a web browser when you need to convert between AVCHD to MP4 or vice versa. Then click the Launch Free Converter button to get the launcher.
Tip: The web app does not require sign up.
Step 2
Once download is done, the launcher will show up. Now, click the Add File button on the launcher and upload the video files that you want to convert. Next, head to the bottom area and select the output format according to your need.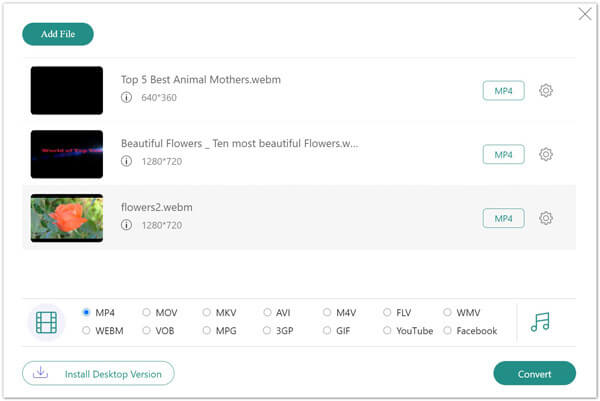 Step 3
Click on the Convert button to initiate converting your video format online. When video converting is done, download the results to your computer.
Bonus Recommend: Best Blu-ray to AVCHD/MP4 Ripper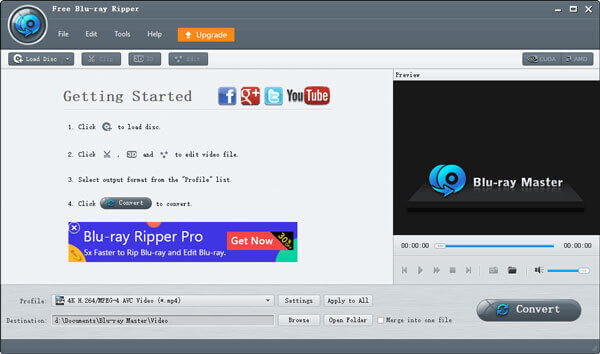 AVCHD is the Blu-ray disc video format. To back up the disc or play it on computer, you'd better rip it to digital videos with Blu-ray Master Free Blu-ray Ripper.
Key Features of the Best Blu-ray Ripper
1. Rip Blu-ray disc to AVCHD or MP4 for free.
2. Support a wide range of video formats, like AVCHD, MP4, etc.
3. Preview and edit videos before ripping.
Part 4: FAQs about AVCHD VS MP4
Is AVCHD better than MP4?
AVCHD is excellent on video quality, but MP4 is widely compatible by websites and digital devices. You can make the decision based on your need.
What are the differences between HDV and AVCHD?
HDV is a tape-based format while AVCHD is a tapeless format.
How to produce AVCHD?
You can capture videos in AVCHD format with digital camera or digital camcorder.
Conclusion
This guide has talked about the differences between AVCHD and MP4. As two digital video formats, they are used for different situations. Besides, we also shared you how to play your favorite videos with Blu-ray Master Free Blu-ray Player. If you have more questions, please contact us by leaving a message below.