How to Fix a Broken AVI Video without Ruining the Quality
"I am trying to extract subtitles from MP4 movies, but I cannot figure out how it works?" The subtitle is the caption displayed at the bottom of a movie or TV show. It is used to transcribe the dialogue or narrative into visual element. Sometimes, it translates the dialog into different languages. This guide explains how to extract subtitles from MP4 video or delete the original captions from a movie in detail.
Part 1: 3 Ways to Repair AVI on Windows and Mac
Method 1: How to Repair AVI with VLC
VLC Media Player is an open-source media player for Windows, Mac and Linux. In addition to video playback, it includes a wide range of bonus features such as repair AVI videos.
Step 1
Open your VLC and select Preferences in the Tools menu on the top ribbon. You can download the media player from the official website for free.
Step 2
Choose Input/Codecs on the popup window. Pull down the drop-down option of Damaged or incomplete AVI file and select Always fix.
Step 3
Click the Save button to confirm the settings and close the popup window.
Step 4
Now, go to the File menu and select Open File option, find the broken AVI file and open it in VLC. Then the media player will repair it automatically.
Method 2: How to Fix AVI by DivFix++
If you do not have VLC, DivFix++ enables you to get results instead. This guide shows you how-to on Windows, but it is also available to Mac and Linux.
Step 1
Open the AVI recovery software. If your AVI does not play at all, check Cut Out Bad Parts at bottom right side. It cuts out parts of the video that cannot be read, but you can play the remainder.
Step 2
Click the Add Files button and open the broken AVI files. Then they will appear in the Source Files box.
Step 3
Hit the Strip Index button to fix AVI videos. If fixing was successful, you will see the information in the Log Window.
Step 4
Click the Folder icon at the top of the AVI recovery software and select a directory to the new files. Next, click the Fix button to begin repairing AVI.
Step 5
It might take several minutes to half an hour depending on the file size and length. When it is done, you will see the information in Log Window again.
Method 3: How to Recover AVI via VirtualDub
VirtualDub is an open-source video editor. It allows you to do basic AVI editing. Besides, the free video editor can identify a number of errors in an AVI file, like broken index, corrupted content, etc. When you resave the video file, it will fix AVI automatically. Now, it is available to Windows.
Step 1
Download the free AVI recovery software on your PC. Unzip the archive and open the program file.
Step 2
Go to the File menu and choose Open video file, and open the broken AVI file.
Step 3
When the warning dialog appears, click OK. Next, head to the Video menu and choose Direct stream copy. Then go to the Audio tab and choose Direct stream copy.
Step 4
Now, save the corrupted AVI to a new file with the Save as AVI option in File menu.
Recommend: Best AVI Player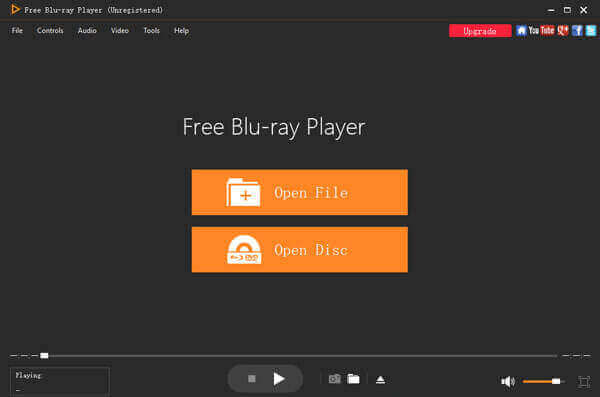 After AVI recovery, you still need a powerful AVI player for your device, such as Blu-ray Master Free Blu-ray Player. It enables you to get the perfect experience from AVI movies.
Main Features of the Best AVI Player
1. Play AVI videos on your computer or DVD discs easily.
2. Load videos quickly using hardware acceleration.
3. Support almost all video file formats.
4. Full control video playback on Windows and Mac.
Part 2: FAQs about AVI Repair
Why is AVI file not playing?
Firstly, make sure your media player is compatible with AVI; otherwise, the video won't play without converting. Moreover, a corrupted AVI cannot be opened without repair.
Is VLC AVI recovery safe?
Yes, VLC is safe to use although it is completely free. However, you'd better download it from the official website or trustable sources.
Can corrupted MP4 be fixed?
There is no software that is able to fix corrupted MP4, but you can convert it to AVI video and then repair it with VLC or other AVI recovery software. Click here to learn how to repair MP4 files.
Conclusion
This guide has talks about the top of AVI recovery on Windows and Mac. It is annoying to get an error message when opening an AVI file. Fortunately, there are methods to fix the video files easily following our guide. When the new video file is ready, you can enjoy it using Blu-ray Master Free Blu-ray Player. If you have other questions or suggestions, please leave a message below this post.