How Can You Convert AVI to GIF on Desktop or Online
As a popular video format, AVI is primarily used to store high definition contents, like HD movies. However, it has several downsides. The large file size, for example, makes AVI not friendly on the internet or social media. In fact, most social platforms do not allow you to upload AVI videos directly. GIF, on the other hand, is not a standard video but animated picture format. Therefore, you have to convert AVI to GIF before sharing your videos. Here is a concrete guide.
Part 1: Best Way to Convert AVI to GIF
There are a lot of AVI to GIF converter software and apps on market, but most of them can only compress video into animated pictures. In result, your clips will become blurry and poor. Blu-ray Master Video Converter Ultimate is the best option if you wish to protect the video quality.
Basic Features of the Best AVI to GIF Converter
1. Convert AVI to GIF without losing quality.
2. Batch convert unlimited AVI files at the same time.
3. Offer extensive bonus tools, like clip video before converting.
How to Convert AVI to GIF on Desktop
Step 1
Import AVI files
Firstly, install the best AVI to GIF converter on your computer. It is compatible with both PC and Mac. Then click the Add Files menu and follow the instructions to add the AVI files that you want to change from your hard disk.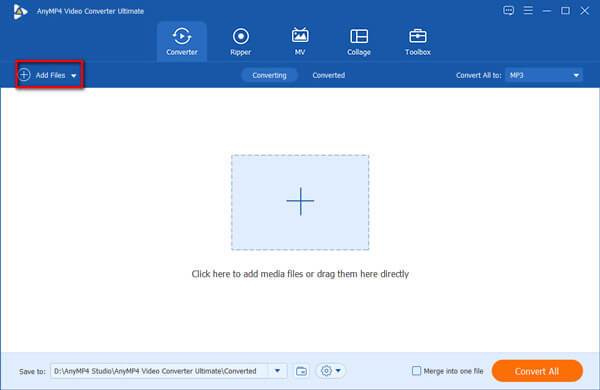 Step 2
Cut AVI(Optionally)
The max duration of a GIF is 15 seconds, so you cannot convert entire AVI video into animated image. To cut a video, click the Cut icon under the title. Then the video will be open in the Cut window. To split the video into clips, put the bar to the position and click the Split button. Moreover, you can remove unwanted frames by resetting the start and end points. Click Save button to confirm it and go back to the main interface.
Step 3
Select GIF output format
Click and expand the Convert All to menu at upper right corner to activate the format dialog. Go to the Video tab, scroll down on the left side until you find GIF, and pick a preset. Alternatively, you can quickly find GIF using the Search function. If you want to adjust resolution and quality manually, click the Gear icon.
Step 4
Convert AVI to GIF
Finally, head to the bottom area in the main interface, and hit the Folder button to select a directory for saving the GIF output. Now, all you need to do is to click on the Convert All button at the bottom right side.
By the way, you can also use this video converter to change other videos to GIF, such as MP4 to GIF.
Part 2: Top 3 AVI to GIF Converters Online
If you just need to convert an AVI video to GIF occasionally, online AVI to GIF converter apps are a convenient choice. They work through a powerful internet connection. Here are three online video converters available.
Top 1: Blu-ray Master Free Online Video Converter
Unlike other web apps, Blu-ray Master Free Online Video Converter does not have any limit, such as file size. You can get the full features without paying a penny.
Key Features of the Best Online AVI to GIF Converter
1. Convert AVI to GIF online.
2. Free of charge with no signup or other limit.
3. Handle multiple AVI files per time.
How to Convert AVI to GIF Online for Free
Step 1
Whenever you need to convert AVI to GIF, open https://www.bluraycopys.com/free-online-video-converter/ in your browser.
Step 2
Press the Launch Free Converter button to download the launcher. Then it will pop up automatically. Click Add File button and upload all AVI files.
Step 3
Head to the bottom, select GIF from the format box and click the Convert button. A few seconds later, download the GIF images to your hard drive.
Top 2: Zamzar AVI to GIF Converter
As an online AVI to GIF converter, Zamzar is more suitable to beginners. It does not ask users to fill custom options. Plus, the home page is pretty intuitive and you can find everything quickly.
Main Features of Zamzar AVI to GIF Converter
1. Convert up to 5 AVI clips to GIF per time.
2. Each file is less than 50MB for free.
3. Send result to your email after converting.
How to Convert AVI to GIF on Zamzar
Step 1
Copy and paste www.zamzar.com/convert/avi-to-gif/ into the address bar of your browser and hit Enter key. If your computer is online, the home page will pop up.
Step 2
Click Add Files button and upload an AVI clip from your computer. Then make sure to select gif from the Format menu. If your video is too long, you need to cut it with another tool.
Step 3
To get the GIF in your email, tick the checkbox next to Email when done and leave your email address. Click the Convert Now button.
Top 3: CloudConvert
CloudConvert is another way to convert AVI to GIF online for free. It is able to convert several AVI files quickly. Unlike Zamzar, it offers basic custom options, like resolution, aspect ratio, etc.
Main Features of CloudConvert
1. Convert videos up to 1GB per task for free.
2. Let you change a variety of custom options.
3. Upload AVI from computer, Google Drive, and more.
How to Convert AVI to GIF by CloudConvert
Step 1
Visit https://cloudconvert.com/avi-to-gif in a web browser. Click the Downward icon next to Select File button, and choose a way to upload AVI files, such as From my Computer.
Step 2
If you want to change custom options, click the Tool icon and do what you want. If not, click on the Convert button to initiate it immediately.
Step 3
When AVI to GIF converting is done, you will be presented the Finished page. Click the Download button to get the animated GIF.
Part 3: FAQ about Converting AVI to GIF
Will AVI to GIF converting damage my videos?
It is difficult to keep the original quality while converting AVI to GIF. AVI is a lossless video format and pretty large on file size. AVI to GIF converting is a process of compression too, but the result will be different if you use a proper tool.
Why I get black screen when converting AVI to GIF?
Firstly, play your AVI file and make sure it is not damaged or corrupted. Then split the AVI file into clips and convert them to GIF. Now, you will get animated images.
Which one is better AVI or GIF?
It is difficult to answer the questions since they were developed for different purposes. AVI is good to store high quality video contents, while GIF is a good choice if you want to share on social media and make fun.
Conclusion
This guide has talked about how to convert AVI video files to animated GIF images. There are some cases when you need to convert your HD videos into images, such as posting on Facebook. We suggest you to do the job using Blu-ray Master Video Converter Ultimate – best video to GIF converter. It is not only easy to use, but also able to keep the quality as much as possible. If you encounter other problems, please contact us by leaving a message below.