The Best Way to Convert AVI to SWF Videos for Web on the Computer
When you receive a wonderful video in AVI format for your website from the designer or find good AVI footage and want to upload them on the website, you will find your upload fails all the time. Although AVI videos have a high quality and are used in many YouTube videos, AVI files are always too large and not compatible with browser players. In this case, you'd better convert AVI to SWF for uploading videos on the website.
SWF can contain video, audio, image, and animation effects, but it still has a very small size, which is suitable for web videos. Moreover, it is the specific format for Flash, so it's naturally the most compatible format for Flash Player on the browser. Please keep reading this article to learn more about SWF and how to convert AVI videos to SWF easily.

Part 1: Why SWF Format for Website? A Brief Introduction to SWF Format
1. What is SWF?
SWF is the abbreviation of Shock Wave Flash. As the name said, it is designed to create animation through Flash software, so the SWF files are also called Flash files. Since Adobe Flash Player is used by most browsers including Google Chrome, Firefox, Microsoft Edge, etc, SWF format is also compatible with those browsers. Moreover, SWF files are always very small, so SWF videos will be played fluently without buffers on the browser. Find SWF player here.
2. Tips for converting AVI to SWF
When transferring AVI videos to SWF, the video quality must decrease because of the change of codec and the size compression. But you can remain the original resolution and frame rate to keep high quality. In this case, you need the help of the following AVI converter.
Part 2: How to Convert AVI Videos to SWF with High Quality
The easiest way to transform AVI to SWF is using Bluraycopys Video Converter Ultimate. With simple clicks, you can convert the format and change the video codec, resolution, and frame rate freely. Moreover, you can also do some easy cutting and editing through this software to make your videos more appealing.
1. Convert AVI videos to SWF Flash animation videos easily.
2. Adjust the video resolution and frame rate to keep high quality.
3. Supports converting a batch of videos together to save your time.
4. Clip the videos to several parts and add effects.
Step 1
Free download Bluraycopys Video Converter Ultimate and launch it on your computer. Click the Add Files button or the Plus icon to select the desired AVI files. Or you can directly drag and release the files to the converter.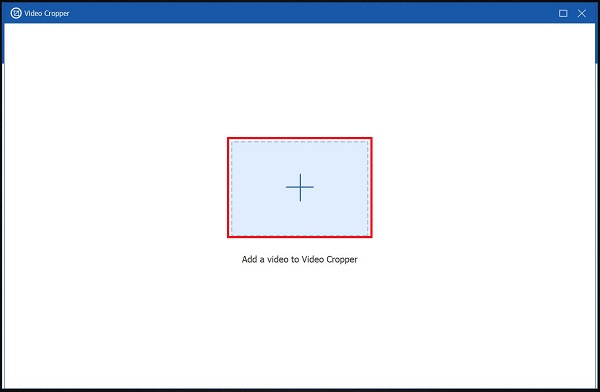 Step 2
Click the Convert All to button and scroll down to choose the SWF format in the video list. Then you can choose the Same as Source resolution to keep high quality. But if you want to get a smaller size, you should select the lower ones. And you can click the Custom Profile button to change the frame rate and bitrate.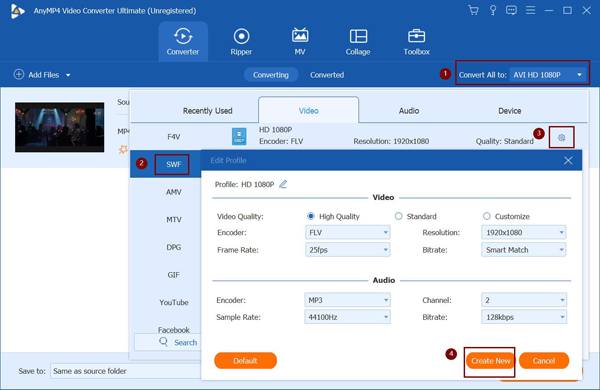 Step 3
After going back to the main interface, you should choose the storage path and then click the Convert All button to start transforming AVI to SWF.
If you don't want to download software, you can go to Bluraycopys Free Online Video Converter. It's a very useful free online AVI converter. Although it doesn't support the SWF format, you can choose the alternative FLV or WebM format to export AVI videos. These two formats are also compatible with browser video players.
Part 3: FAQs of Converting AVI Files to SWF
1. What's the difference between AVI and SWF?
Firstly, the AVI format has a larger size and higher quality than SWF. Thus the usage of these two formats is very different. AVI is always used for movies and high-quality videos. SWF is used for small website videos with animated effects.
2. Can I convert AVI to SWF videos for uploading on Facebook web version?
No. Although you can play Facebook videos on browsers with Flash Player, SWF videos are not supported to be uploaded on Facebook. The recommended formats for Facebook are MP4 and MOV. You can convert AVI to MOV here.
3. How to Play SWF videos on the computer?
The common video players don't support playing SWF videos. If you want to check the SWF video effect, you should open the videos through Flash Player.
Conclusion
To upload videos on the website with animated effects, you should convert the original AVI files to SWF format for quick loading. This article has introduced the detailed steps to transform AVI to SWF on your computer through Bluraycopys Video Converter Ultimate. Harry up to free download this software and upload your wonderful videos on the website.
More Reading
Top 3 Ways to Convert SWF to MP4
What SWF means? How do I play SWF files on Windows 10? How to play SWF in Chrome? This post tells 3 easy ways to convert SWF to MP4 on Mac and Windows PC.
3 Easy Ways to Convert AVI File to WebM
Is WebM high quality? How do I convert AVI to WebM? Is WebM or MP4 better quality? This post tells some basic information about WebM format and shares 3 methods to convert AVI to WebM.
How to Convert AVI to MKV without Damaging Video Quality
If you wish to convert some AVI video files to MKV format, you are reaching the right place since we share top 5 easy ways to complete the job in single post.
How to Compress AVI Video Files
What should you do to compress AVI files, especially the movies downloaded online, or extracted from DVDs? Learn more about the 2 efficient methods to reduce the size of AVI.