What Is the Difference between AVI and MP4 Video Formats
In post digital era, we have more ways to capture, create, edit and publish videos than ever before. However, many people asked which video format they should use in different situations. According to our research, there are over a hundred of video formats and dozens of are widely used. Each with different features and benefits. This article will talk about two popular video formats, AVI and MP4, as well as compare them in detail.

Part 1: AVI VS MP4
Both AVI and MP4 are video formats as well as video container. It means that they can store video, audio, subtitles and chapter information in a single file. To let you understand the differences between AVI and MP4, we share the benefits and disadvantages below.
Advantages and Disadvantages of AVI
Pros
1. AVI is flexible and highly compatible on Windows since it is developed by Microsoft.
2. AVI stores full-quality, uncompressed digital video that offers the best resolution from original media.
3. AVI is considered the most durable and lasting video formats.
4. AVI is a good choice for editing your videos later.
Cons
1. The file size is very large.
2. AVI takes lots of space due to the large file size.
3. It is not a recommendation for video sharing.
Advantages and Disadvantages of MP4
Pros
1. MP4 is a compressed video format.
2. MP4 is widely compatible on computer, mobile and internet.
3. MP4 enables you to share and transfer videos quickly.
4. MP4 provide good quality in a small file size.
5. MP4 can help you save storage capacity and store more files.
Cons
1. MP4 is not a good choice for editing due to compression.
AVI
MP4
File extension
.avi
.mp4
File size
120p, 240p, 480p
480p, 720p, 1080p
Compatibility
Windows 7 and above
Windows, Mac, iOS and AndroidWindows, Mac, iOS and Android
The Internet
Uses
Store footages for editing or preserve the best possible video quality
Watch videos on digital devices or share on social media
Part 2: Best Way to Play AVI and MP4
To play your AVI or MP4 videos with the best quality, we suggest you to try Blu-ray Master Free Blu-ray Player. As a media player, it uses hardware acceleration to improve the performance. Therefore, it takes less time to load your movies, even though the video is very large. In addition to basic playback controls, you can also apply video effects and do other adjustment.
Key Features of the Best AVI and MP4 Player
1. Open a wide range of video formats, including AVI and MP4.
2. Optimize video playback quality automatically.
3. Equip a clear interface to help you find everything quickly.
How to Play AVI and MP4 without Lag
Step 1
Open a video
Start the best AVI and MP4 player after you install it on your machine for free. Click the Open File button and open the video file from your computer.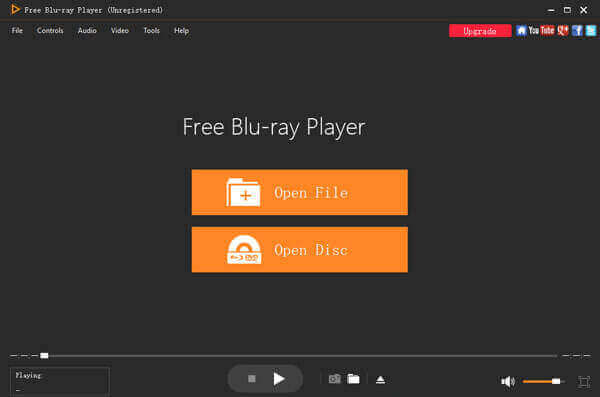 Step 2
Control playback
After AVI or MP4 loading, you will see the media player interface. The buttons at the bottom allow you to play, pause, stop, fast forward or rewind the playback. Moreover, you can take screenshots by hitting the Camera icon or adjusting volume easily. The top menu bar provides advanced controls.
Part 3: How to Convert between AVI to MP4
Blu-ray Master Free Online Video Converter is a powerful video converter to help you convert between AVI and MP4 or change them to other video formats. The biggest benefit is to protect your video quality while converting. The built-in multithread technology enables you to batch converting videos.
Key Features of the Best AVI and MP4 Converter
1. Convert video files to another format online easily.
2. Batch handle unlimited videos at the same time for free.
3. Offer a variety of custom options, like resolution, video codec, etc.
How to Convert between AVI and MP4 in Batch Online
Step 1
When you need to convert AVI to MP4, vice versa, or change them to other video formats, visit https://www.bluraycopys.com/free-online-video-converter/ in your browser. Click the Launch Free Converter button to get the launcher.
Step 2
Once the launcher download is done, it will pop up automatically. Click the Add File button on the launcher and upload the video files that you want to convert from your local drive. Go to the bottom and select the target output format.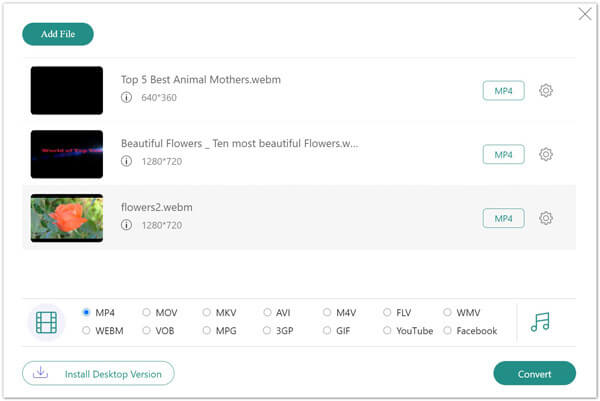 Tip: If you need to adjust video or audio settings, click the Gear icon.
Step 3
Finally, click on the Convert button at the bottom right corner to begin converting between MOV and MP4 online for free. When prompted, download the video files to your computer.
Recommend: Best DVD to AVI or MP4 Ripper
Blu-ray Master Free DVD Ripper is the best choice to rip DVD movies to AVI or MP4 videos. It uses advanced technology to produce the best video quality.
Key Features of the Best DVD Ripper
1. Free of charge without ads or watermark.
2. Rip DVD to AVI or MP4 video files quickly.
3. Offer plentiful custom options, like resolution and more.
Part 4: FAQs about AVI VS MP4
Which has better quality, AVI or MP4?
AVI is associated with DivX codec, while MP4 uses MPEG-4 AVC/H.264 codec. Therefore, AVI provides better quality than MP4 videos.
Can I change AVI file extension to MP4?
No, you'd better not change video file extension. That will damage your videos. The proper way is to convert video format using a video converter.
Is MP4 the same with MPEG-4?
No. MPEG-4 is a compression method while MP4 is a container format. MP4 is just one of the media container format for MPEG-4. However, not all MPEG-4 files are ended with mp4.
Conclusion
This guide has compared AVI and MP4. As two popular video formats, they are pretty different on resolution, file size, compression technology and more. Now, you should understand it according to this article. Besides, we also recommended Blu-ray Master Free Blu-ray Player and Blu-ray Master Video Converter Ultimate. If you have other questions, please leave a message below.