How to Compress Animated GIFs with Free and Professional Software
Question: Hello guys, I'm currently looking for a GIF compressor website or software to reduce the size of my GIF emote. I need to shrink the GIF size for discord chats. Any suggestions? Thanks in advance! - Reddit User
Answer: Good question. Since GIFs are getting more and more popular, more and more people are posting demands like this Reddit user. A handy GIF compressor tool would give you the edge in balancing your creativity and file size upload limitation. We collected the top 5 tips in optimizing and resizing your GIFs which you would greatly benefit from.
Part 1. Why Do Animated GIFs Take So Much Space?
Technically speaking, GIF is an ancient animated video format that is not optimized for the modern Internet. Designed in 1988, a GIF file could be played on any outdated 90s computer, but struggling for modern browsers such as Chrome and Safari. As a result, GIF files are more difficult to compress compared to other video formats such as MP4 and MKV. You need to find dedicated tools to compress a GIF file without significant quality compromises.
Part 2. How to Resize GIF with Free Online GIF Compressor
Free Online Video Compressor is an excellent product to compress almost any video format available online for free, including GIF format. To start compressing your GIF, you need to:
Step 1
Visit the online GIF compressor website and click on the Add Files to Compress option. You would be notified to download an add-on launcher.

Step 2
Once your launcher is ready, click on the Add Files to Compress button once again and import your GIF files.
Extra Tip: For the free version of the online GIF compressor, you are capped at 5MB maximum per GIF file, and 40 files in total.
Step 3
Your GIF files compression will automatically get started once files are uploaded. As long as the compression is finished, click on the Download All button to save all your compressed GIF files.
Part 3. How to Optimize an Animated GIF with Professional GIF Compressor Software
Blu-ray Master Video Converter Ultimate is one of the most impressive all-purpose compressor software the editor team has ever come across. Constantly, we are amazed by the quality of result it produces at the minimal efforts. You get the most bang of your bucks besides merely GIF compressing features, which includes:
1. Capability to convert virtually all popular video and audio formats (over 500).
2. Create your own GIF videos without complicated technical knowledge.
3. Easily export your GIF to iPhone, iPad, and Android devices.
4. HD/8K/4K video quality.
5. No additional fees, get a discount for a lifetime license for a limited time.
Step 1
Set Up Your Workflow
Download Video Converter Ultimate and install it on your Mac/PC. Launch the program after installation.
Step 2
Open Video Compressor
Click on the Toolbox tab on the main screen. And secondly, click on the Video Compressor option in the middle of the first row of options.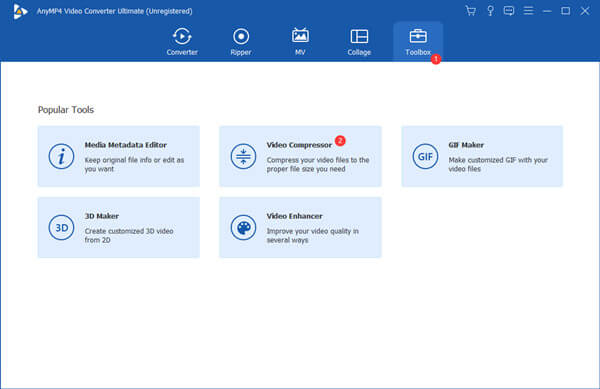 Step 3
Import Files
There is a giant plus button in the middle of the screen. Click on the button to import all your GIF files to the project. As a matter of choice, simply just drag and drop all your GIFs into the box to proceed.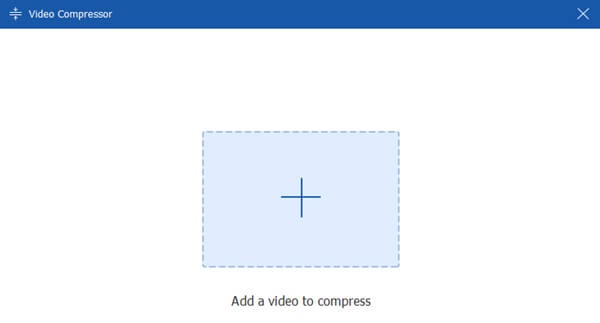 Step 4
Choose Compression Parameters
In the next screen, you would be given options to change the compression rate as you wish by moving the slide bar on the right side of the Size option. Change the name and save the path you desire subsequently.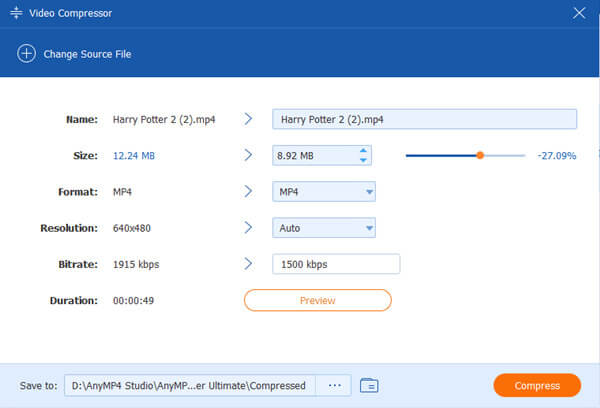 Step 5
Preview and Compress
Click on the Preview button to get a quick glimpse of the final output and click on the Compress button to export your result.
Tips: If you wish to convert your GIF file to other formats, choose the Format option to select from a variety of video formats for exporting.
Part 4. How to Reduce GIF Image Size with Photoshop
If you are a professional web designer, you would be familiar with Photoshop daily. We will provide you the top tips that actually work for you to resize your GIF quickly.
Go to the Image option in the menu bar and find the Image Size (Or hit Alt-Control-I keys). Click on it, a window would pop up allowing you to resize the video size as you desired. You could see and alter how much your GIF file will be compressed in the Image Size option.
Part 5. How to Compress Your GIF Files with WinZip
If you are looking for compressing your GIF for email and prefer using old-fashioned file zipping tools, consider WinZip as your default method.
Step 1
On Windows system, right-click your GIF file, and select WinZip > Add/Move to Zip File…
Step 2
WinZip would pop up. Select the name and location of your zip file and click on the Save As button on the right bottom side of the corner.
Part 6. FAQs about Compressing GIF
1. What is the typical file size of a GIF after compression?
Depends on the size and format of the image. Commonly speaking, since GIF files are heavily compressed, they are usually smaller than 1MB in size. Use a GIF Compressor to get even better compression rates.
2. Why is GIF slower than HTML5?
HTML5 allows native video players without plugins, while GIFs are usually larger in size, thus makes GIFs appear slower.
3. How to optimize a GIF on a phone?
A good GIF maker such as GIPHY would complete your task. GIPHY is a popular GIF tool and sharing platform for both iPhone and Android users.
Conclusion
As we have discussed in the article, there are multiple proven methods and useful GIF compressor software that could reduce the size of your GIF easily. We hope that the tips, tricks, and tools we provided could help your productivity and creativity greatly.