How to Convert Between MP4 and AVI
AVI videos may not always play properly on your devices. Because of its ubiquity and wide compatibility, converting AVI to other video formats, such as MP4, is a good idea. MP4 is a well-known video format that provides high quality and compatibility with any device. This article will show you the best and easy ways to convert AVI to MP4 on Windows 11/10, Mac and online. These processes are incredible and quick to follow. Without further discussion, here is the best process for converting AVI to MP4 and MP4 to AVI using the desktop program and an online tool.

Part 1. MP4 vs. AVI
As we begin the guideline on converting MP4 to AVI or vice versa, we shall start this post by defining the similarities and differences of each file format. In line with that, let us now differentiate MP4 and AVI in three main points that are written below: Quality, Compatibility, and Storage Efficiency. Three important things that we need to understand.
Quality
When comparing the quality of AVI and MP4, keep in mind that both formats are video wrappers. AVI is related to the DivX codec, whereas MP4 is associated with the MPEG-4 AVC/H.264 codec. Another distinction is that AVI can store an alpha channel, producing a higher-quality output file than MP4. Unlike AVI, MP4 may use many compression codecs, resulting in improved performance efficiency with comparable quality. Ultimately, there is no discernible difference between AVI and MP4 video. AVI, on the other hand, delivers slightly superior video quality than MP4.
Compatibility
Another significant advantage of MP4 over AVI is that it is compatible with most devices, but AVI may require specialized players to run. Conversely, MP4 is a better format than AVI for almost all applications. If simply visual quality matters, you might pick AVI over MP4.
Storage Efficiency
AVI video formats compress data less efficiently than MP4, MPEG, and MOV video codecs. As a result, the typical file size is 2-3 GB for every minute of video. This is an issue for those that have limited storage space. AVI files, on the other hand, can be compressed by converting them to other formats such as MOV, FLV, or MP4. MP4 is a lossy format that compresses well and takes up significantly less storage space than AVI.
Part 2. Convert AVI and MP4 Offline
Nowadays, many converting tools for Windows and macOS are rising. Yet, the incredible Blu-ray Master picked Video Converter Ultimate is among the tools that can offer us the most immersive and high-quality conversion process of our AVI files to MP4.
This converter possesses features that can give us a great output after converting. In addition, this offers amazing extra features that we can use to enhance and improve the media files we are converting. Also, you do not need to worry about file compatibility here; little did we know the tools support more than 500 formats, including MP4, AVI, MKV, and more audio and image formats. You can now see how it performs and what it can offer.
Key Features:
1. Converting over 500 file formats like MP4, AVI, MOV, and more.
2. Edit media files using the 20 tools from Toolbox.
3. MP4 and AVI batch conversion is available.
4. GPU acceleration to speed up the conversion at 60 times faster.
Step 1
Get the AVI MP4 converter from their official website, then install the program on your computer device.
Step 2
After launching the software on your device. Kindly see its interface and go to the Add Files from the middle of the interface with a Plus sign. Then, please choose the AVI file you want to change into MP4 or the other way.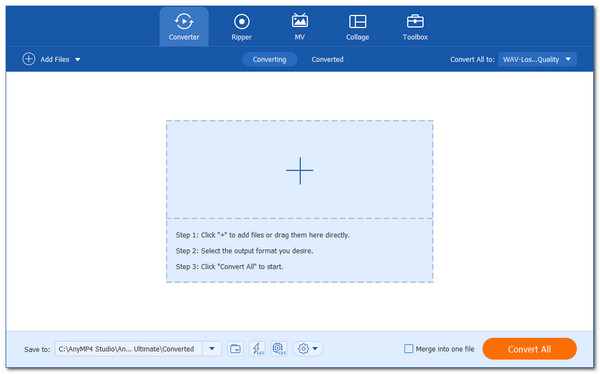 Step 3
Now that your files are on the interface, we shall proceed to the format tab and set the output into the format you prefer, in this case, we need to make it MP4.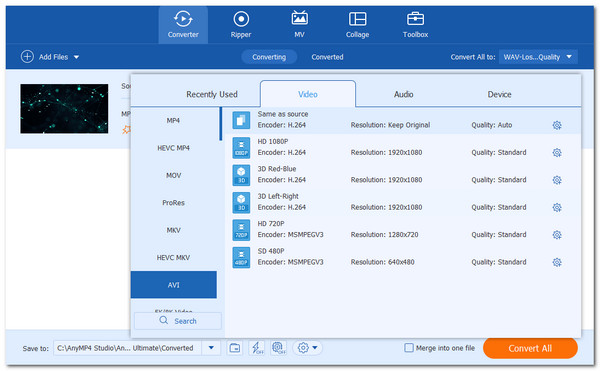 Step 4
After setting up the file format, we can convert the AVI file. We only need to hit the Convert button and see the process to make it. With all of that, we can now see the audio output we converted on your files.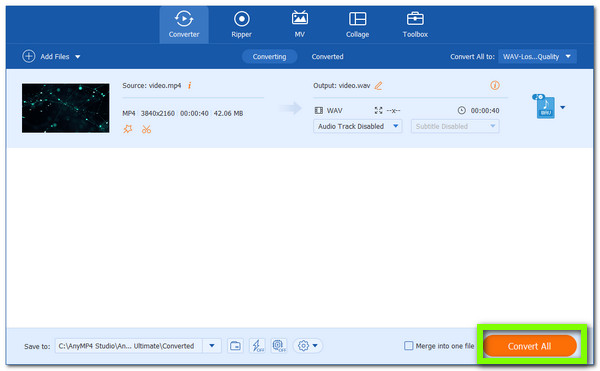 There you have it, the great MP4 and AVI converter. With its definition, we can see how easy and great it is to use. For that, there is no reason to regret choosing this as your converting tool for MP4 and AVI files you have. You can now get it and enjoy every feature it offers for everyone. Besides, you can try the edit feature to rotate MP4, add subtitles or audio track to AVI, create split screen videos for MP4, and more.
Part 3. Convert AVI and MP4 Online
We should now proceed with the best tool we can use for converting AVI to MP4 using your web browser online. VEED can convert your video files to formats such as MP4, AVI, MKV, WMV, FLV, MOV, etc., to MP4 or AVI. Simply select your video's original file type and the format you want. Upload your video and then press the Convert button. VEED will transcode the video for you automatically.
VEED is also a capable video editing program. You can edit your films before and after conversion to make them look beautiful and professional. Subtitles and captions should be added to your videos to make them more accessible to a wider audience. With all these, we ensure a great conversion process, even if it is an online tool. Let us see how we can use it properly.
Step 1
Access the official website of the VEED Online Converting Tool, specifically for AVI to MP4. This step will be possible if we go to the web browser of our computer.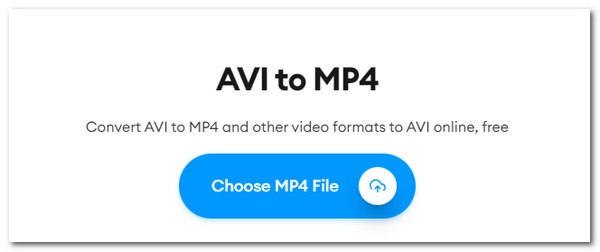 Step 2
Next, upload the AVI file to be converted. Simply drag and drop it onto the page, or use the Choose AVI File button to select an AVI media from your device's folder. Also, you can add files from Dropbox or even other methods. The file type will be detected automatically by the converter.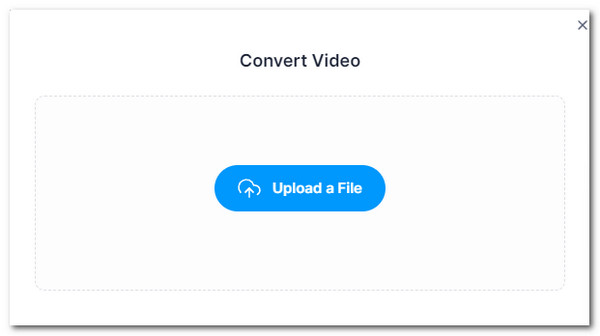 Step 3
We must select MP4 as our output format from the dropdown selection of file types like AVI, MP4, GIF, and more. Once the media files are ready, select the Convert File button and watch the conversion process, which will take a while.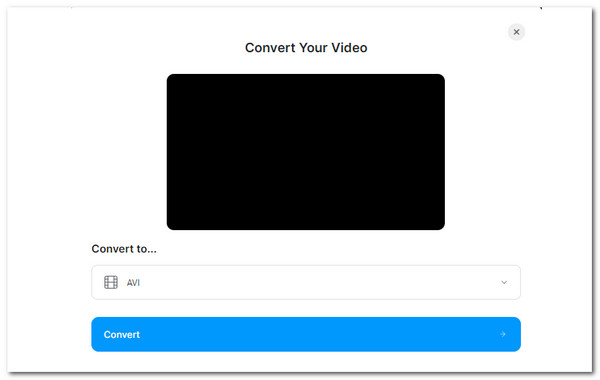 Step 4
The last step will be the finalization and downloading of your media files. This process will be easy if we hit the Download File button to save your newly converted file. You can also check the Edit button to add text, auto-subtitles, progress bars, and more to your video. It is super-easy with VEED.
That is how easily we can use an online converting tool to modify our AVI and MP4 to MOV media files. Besides, you can upload other formats like MKV, FLV, WMV, MOV, etc., to MP4 or AVI.
Although we can say that the tool is incredible and pretty effective, we still need to consider some factors in using this tool. One of these is its speed, which depends on your internet speed. Therefore, we get a speedy process if we have speedy internet, and we can also get a hassle conversion once the internet is interrupted.
Part 4. FAQs about Convert AVI and MP4
How can I convert AVI to MP4 on Mac?
Regarding conversions on macOS, we can use Quicktime quickly to convert your AVI to MP4. Begin by launching QuickTime on your Mac and selecting the required AVI file from the File menu. After you have added the file, go to File, as we see the button for Export, and choose MP4 format. Then, click Save, and QuickTime will begin the conversion for you.
Does the quality of AVI decrease once transformed to MP4?
AVI has somewhat better video quality than MP4. AVI video formats compress data less efficiently than MP4, MPEG, and MOV video codecs. As a result, the typical file size is 2-3 GB for every minute of video. This is an issue for those that have limited storage space. That is why AVI's quality decreases once it becomes MP4 for storage and compatibility purposes.
What is the main purpose of the AVI format?
The AVI file format generates videos with exceptional audio fidelity. AVI files can be used to produce usable discs and DVDs that contain initial audio or video data. The AVI format has compression features that make it perfect for promotions, advertisements, and short films. That is why most of our movies and films come in AVI format for a better quality for a bigger screen.
Conclusion
As we conclude, we can say that changing AVI files to MP4 is easy with the help of these fascinating converting tools for Desktop and Online usage. With this post, we can see the amazing features of Blu-ray Masters Video Converter Ultimate. The fast conversion it can give, and the high-quality output we can get are only a few things we can take advantage of. That is because, aside from that, it can also offer more like editing features to enhance our tool.