How to Cut a Video on iPhone
The iPhone has evolved into a workhorse for content producers today, enabling them to produce high-quality movies for platforms like Instagram Reels, TikTok, YouTube Shorts, etc., up to 4K/60FPS in cinematic mode. And after using your iPhone to record a video, you frequently need to cut out the unnecessary portions of the clips or trim the Video to fit the requirements of different social media. Thus, in this article, we'll show you how to trim quickly, trim out videos on your iPhone using the device's native apps and provide you with a terrific online option to edit videos on your iPhone.
Part 1. How to Cut a Video on iPhone Default Way (Photos)
With an iPhone, using the Photos App is the simplest way to cut out the beginning and conclusion of a video. The app is built-in for every iPhone, which is why it is the default way that we can follow to cut a video on our phone. Photos app is a flexible app that can be used for viewing and editing your images and videos. For that, let us see what we can have.
Step 1
On your Photos app, locate the Video you want to cut, then click the Edit button in the top-right corner.
Step 2
To trim the Video, move the slider's beginning and ending inward.
Step 3
Tap the Done button once you are pleased with the trimming. After that, you have two choices for saving the edited Video.
Step 4
Kindly choose the next step you want:
Save Video as New Clip:

By choosing this option, you can save the edited Video as a new clip while keeping the original Video.

Save Video:

Video is only saved once it has been cropped. The advantage of this is that, unlike videos saved as new clips, trimmed videos can be returned to their original length by clicking the Revert button.
It's crucial to point out that Save Video only saves the edited version of the Video. Save as New Clip, however, saves both the original and the freshly cut versions. It is one method for trimming videos on an iPhone. Overall, using Photos is a great and easy way to modify our Video on iPhone.
Additional Built-in Photos Features:
Your videos should have filters.
360-degree rotates your videos.
Slow-motion-customize your videos.
Part 2. How to Trim a Video on iPhone with Third-Party Apps
Another excellent iPhone app for cutting and trimming Video in iMovie. It allows you to cut videos on your iPhone quickly and is quite simple. Apple Inc.'s iMovie is an official video editing program for iOs, iPadOS, and macOS devices launched in 1999. It enables you to create professional HD videos that you can export and modify. This will be the best third-party tool to trim a video on iPhone. Thus, the iMovie app trimming a video on an iPhone is explained in the following stages.
Step 1
In the timeline, select a Project under the iMovie on your iPhone.
Step 2
We should now proceed to the next step to cut a video; tap on it.
Step 3
To reduce or extend the Video, drool over the Yellow trim handle.
Step 4
When the yellow handle stops moving during the lengthening, it indicates that no more frames are available.
You must now be wondering how to cut a video on an iPhone from a certain section of a video. On the Apple Store, many third-party programs can reduce videos on the iPhone, and iMovie is one of the best tools we can use. The steps above are evidence of it.
Other iMovie Features we can enjoy:
1. Videos are moved and rotated 360 degrees.
2. Detach audio and add a soundtrack to videos.
3. Add fade-in and fade-out audio transitions.
4. Zoom in and out when cropping a video in iMovie.
Part 3. How to Trim a Video for iPhone on Computer
Blu-ray Master picked Video Converter Ultimate is an all-in-one video conversion and editing tool. If you want to alter your Video freely? Then this is the top video converter program that offers multiple editing options like trimming a video. If you are uncomfortable with the original video's direction or quality, select Rotate to change it, and Enhance to enhance it greatly. Also, you can use it to trim your Video from your iPhone. It is the best tool to do the process on your Computer. Let us see how we can do it.
Key Features
1. Trim and cut a video and split a video into clips by average.
2. User interface that is easy to utilize.
3. Over 20 tools to edit a video like reverse playback, speed up/down, and more.
4. Includes controls for brightness, contrast, temperature, and saturation.
5. A wide selection of sound effects, stickers, and music that is royalty-free.
Step 1
Free download this video cutter on your computer. Add the Video from your iPhone on the interface of Blu-ray Master Video Converter Ultimate.
Step 2
Choose a video file, then select the Cut button. Choose the beginning and ending times for your clip. Either dragging the clipper or manually entering the time are options.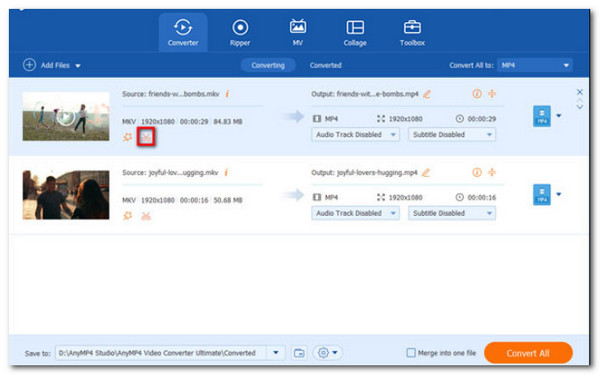 Step 3
Click the Add Segment button to include the current clip in the list. Then you can choose a different clip. This software also lets you quickly break a video into multiple segments by average.
Step 4
Choose the number you wish to divide by the average by clicking the Quick Split symbol. Alternatively, you can divide a video into clips based on average length. After verification, press the Split button.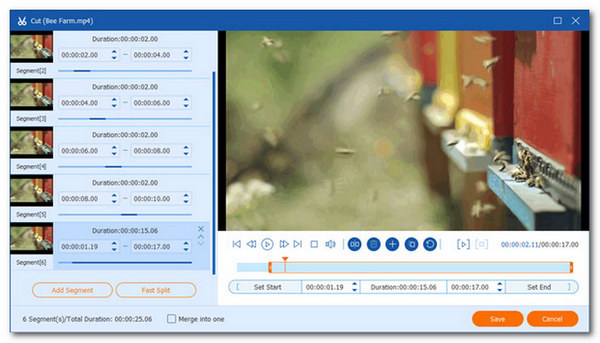 Part 4. FAQs about How to Cut a Video on iPhone
Will the original clip be deleted after trimming a video on iPhone?
Nope. Yet, depending on the saving process, you will make it. We need to remember that. Saving a video only preserves the edited version. Save as New Clip stores a second, edited version in addition to the original in your library.
Can I split a video on my iPhone in half?
Yes. A video clip can be divided into pieces, each with a separate title and a variable runtime. Only video segments can be divided. Please make a copy of the image to split it. Open a movie project with the iMovie software on your iPhone.
After cutting, how can I get my original Video back?
Yes. If you recently erased it, it might still be there. Then, open the iCloud app on your mobile device or tablet. After that, please tap Menu Trash in the top left corner. The image or Video you want to recover should be touched and held. Tap Restore on the bottom. You'll have the image or video on your phone in the app's Photos section.
Conclusion
Ultimately, we can see how easy cutting a video on an iPhone is, whether from default, using photos, or using the software. Ensure to follow the steps properly to make it successful.