How to Convert Your GIF Files to AVI Videos without Losing Quality
Both GIF and AVI are commonly used media file formats, but they are totally different. Firstly, GIF, stands for Graphical Interchange Format, is an image format. It is able to store several consequent or dis-consequent pictures into an animated file. AVI, on the other hand, is a lossless video file format. This guide focuses on how to convert GIF animated images to AVI videos online for free.
Part 1: How to Convert GIF to AVI Online
Way 1: They Best Way to Convert GIF to AVI Online
Although web video converters are portable to use, they usually have some kind of restrictions, like file size limit, watermark, etc. Luckily, Blu-ray Master Free Online Video Converter is an exception. It does not have any limit when you convert GIF files to AVI.
Key Features of the Best GIF Converter Online
1. Completely free of charge without signup or watermark.
2. Convert GIF images to AVI format online.
3. Batch process multiple GIF files per conversion.
4. Offer custom options to change resolution, codec, etc.
How to Convert GIF to AVI Online for Free
Step 1
Copy and paste https://www.bluraycopys.com/free-online-video-converter/ into the address bar in a browser, and click the Launch Free Converter button to get the launcher.
Step 2
After downloading, the launcher will pop up. Click the Add File button to upload GIF animated files from your hard drive. Then select AVI at the bottom.
Step 3
Click the Convert button to begin converting GIF to AVI online. At last, download the AVI videos to your computer.
Way 2: How to Change GIF to AVI on Convertio
Convertio is an online file format converting app. It is compatible with a wide range of input and output formats including GIF to AVI. There is a free version with some limits, like 100MB maximum file size. If you want to remove the limit, you have to pay for a plan.
Step 1
Visit https://convertio.co/gif-avi/ in your browser when you need to convert one or more GIF.
Step 2
Select an input channel, like computer, Dropbox, Google Drive or URL. Make sure AVI appears in the format option; otherwise, select it. Click the Convert button to initiate converting GIF to AVI.
Step 3
When it is done, you can download the AVI files to your computer or send it to cloud service.
Way 3: How to Turn GIF to AVI on Online Convert
Online Convert is another web-based GIF to AVI converter. It requires signup with your email address. The free account allows you to handle up to 100MB GIF files per conversion.
Step 1
Access https://video.online-convert.com/convert/gif-to-avi in a browser to open the page directly.
Step 2
Drag and drop the source GIF files into the dotted box on the page. After uploading, you can change the custom options.
Step 3
Click the Start conversion button and the web app will begin working. When you are presented the download page, get the AVI videos. This web app is a bit slow and you must be patient.
Recommend: Best GIF Converter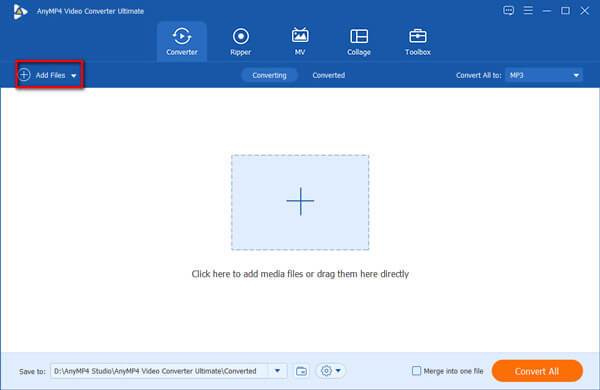 The biggest benefit of GIF image is the small file size. AVI is a lossless video format, so the file size is pretty large. Therefore, you'd better convert AVI to GIF before uploading animated content to the internet. Blu-ray Master Video Converter Ultimate is the right tool you need. It enables you to transform unlimited AVI videos to GIF files.
Key Features of the Best AVI to GIF Converter
Part 2: FAQs about GIF to AVI
Can VLC convert GIF?
No, VLC alone cannot process GIF. It is an image file, but VLC is a multimedia player. VLC can neither decode or open GIF images nor convert videos to GIF format.
How to open GIF on Android phone?
GIF is a popular image format. Most web browsers are able to open GIF either on computer or mobile device. In another word, you can open GIF on Android phone with a browser.
How to make a GIF to a looping video?
You can open the GIF image in Photoshop and save it as GIF. When exporting, you can adjust the looping mode.
Conclusion
Now, you should learn three ways to convert GIF to AVI online for free. We have shared the restrictions to each online app and you can pick the most appropriate one based on your situation. If you want to change GIF to AVI videos, we suggest you to try Blu-ray Master Video Converter Ultimate. It is able to produce awesome output quality. More questions or suggestion? Please feel free to leave your message below this post.