GoPro Editing Software: 4 Best Offline and Online Video Editing Tools to Assimilate
People are always looking for powerful video editing software that can easily accommodate their GoPro videos. Not to mention even one of our teams requested to provide the best options and guides on how to edit GoPro videos. Therefore, it is really something that many people want to grasp. For this reason, we use this article to outline and introduce the GoPro editing software that will help you excellently with your GoPro videos. In addition, a perfect guide for performing the GoPro video editing procedure has its spot in the latter part of this content. So, to rest this case, please have time to enjoy reading the entire article below.

Part 1. Top 3 GoPro Video Editing Programs for Windows and Mac (Offline)
Top 1. Video Converter Ultimate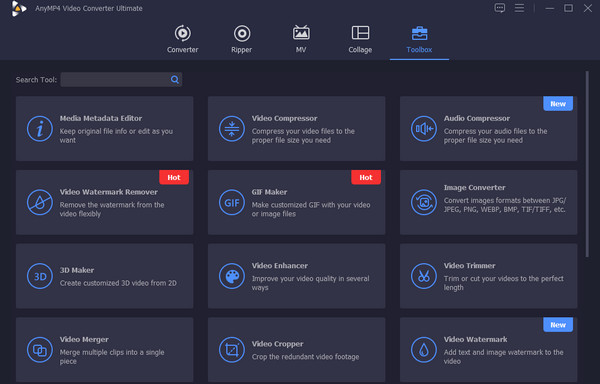 Let's see why this Video Converter Ultimate made it to the top of the best GoPro editing software. It is an all-in-one video editing program with every editing tool you need for your video. Apart from being an ultimate video converter that can convert batch files to more than 500 different formats 70 times faster, it also comes with a Toolbox. You are thinking it right. This Toolbox holds all the tools you need to modify and enhance your GoPro videos. It has a video enhancer, compressor, metadata editor, trimmer, cropper, merger, color corrector, speed controller, reverser, watermark maker and remover, and many more. Furthermore, you must not neglect its other amazing features that enable you to make a movie, 3D and video collages from your GoPro videos.
What makes it more admirable is its ability to maintain the high quality of your video. This GoPro 4K video editing tool has this lossless editing ability that is powered by its advanced technologies, such as Artificial Intelligence and accelerators for hardware, GPU, and all the processes it offers. Now you know why it made it to the top from years ago until now.
Key Features:
1. High-tech tools in a humble interface.
2. Batch conversion and customization are evident.
3. With a Toolbox of all video and audio editing tools.
4. Support videos up to 8K quality.
Pros:
1. You can acquire it on a desktop and Mac.
2. No need to worry about the high quality of your videos from GoPro.
3. Best for beginners, but it works like a pro.
4. It is infused with advanced technologies.
Cons:
1. It is not an entirely free GoPro editing software.
Top 2. DaVinci Resolve 16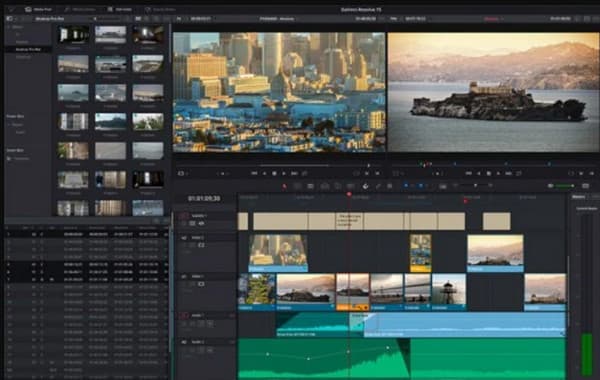 DaVinci Resolve 16 also made it to the top in being one of the best video editors for your GoPro files. Its advanced features and tools will attract you to enhance your clips. Some of its features are the collaboration function, various filters, animations, transitions, color tones, and the basic elements in video editing. You also can use DaVinci Resolve to crop videos.
Pros:
1. It has options for stabilization.
2. Support up to 8K videos.
3. It has a convenient timeline.
Cons:
1. It comes with a congested interface.
2. Not that great for beginners.
Top 3. GoPro Quik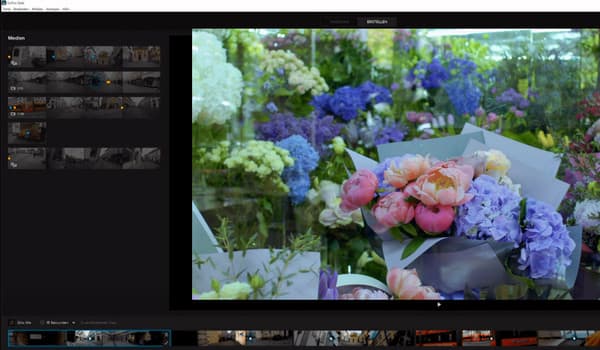 Another offline software to edit GoPro videos is this GoPro Quik. As its name suggests, it is intended for videos recorded using a GoPro, making you upload files directly from your device. Furthermore, it offers good attributes that will let you add images, effects, filters, and time lapses to your output.
Pros:
1. It is easy to use.
2. It comes with a quick file search.
3. Fast and automatic file importation.
Cons:
1. It has limited tools compared to others.
2. Its interface looks a little bit dull.
Part 2. Video Editor for GoPro Online
If you don't have time to install a powerful GoPro editor, this part is also a must-read. Meet a nice video editor online that will help you with your video editing task.
Renderforest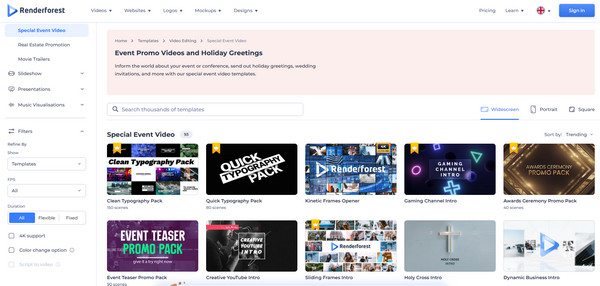 Renderforest is a multifunctional video editor online. It comes with numerous templates, styles, animations, logos, and many more that you can customize. Furthermore, as it looks like a tool intended for experts, we can say that a rookie can also enjoy it. What is more amazing about it is that it offers a free version for those who don't have the means to purchase it. However, as a result of utilizing its free version, there's no way you can eradicate the watermark that it imprints in your GoPro video.
Pros:
1. It is bombarded with great templates and selections to apply to videos.
2. It allows you to apply background music to your video.
3. You can edit your GoPro videos for free.
Cons:
1. It comes with watermarks.
2. The premium version is pricey for an online tool.
Part 3. Bonus: How to Edit GoPro Videos Ultimately
We won't let this article slide without showing you this bonus part. After meeting the best GoPro video editor, let us learn how to edit videos using the top 1 of the best programs above, the Video Converter Ultimate.
Step 1
Acquire the Video Editor
TThe first thing that you must do is to ensure that this software is installed on your computer. To do it quickly, please pick the Download button below that is applicable to your computer and click it.
Step 2
Bring the GoPro Videos In
Here is how to edit GoPro videos on a PC. Launch the software after the installation, and click the Add symbol at the center part of the interface. Then, bring all your GoPro videos in to edit.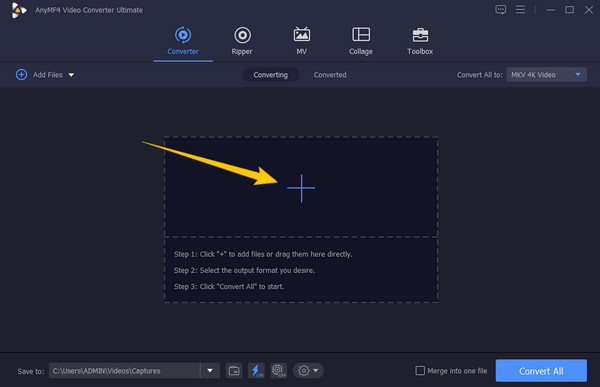 Step 3
Edit the Videos
Click the Star or the Paint icons under your uploaded GoPro videos to access each editing window. This time, let us click the Star icon. Then, on the next window, choose the setting menu above that you want to adjust. Choose among the Rotate & Crop, Effect & filer, Watermark, Audio, and Subtitle. After that, you may click the Apply to All tab to apply the changes to the rest of the uploaded videos and finalize it by hitting the OK tab.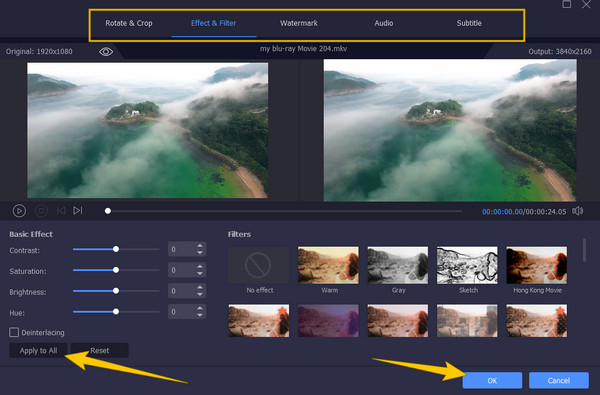 Step 4
Convert to Edit the GoPro Videos
After editing the videos, you need to click the Convert All button in the main interface. Then, check the edited videos after a short while.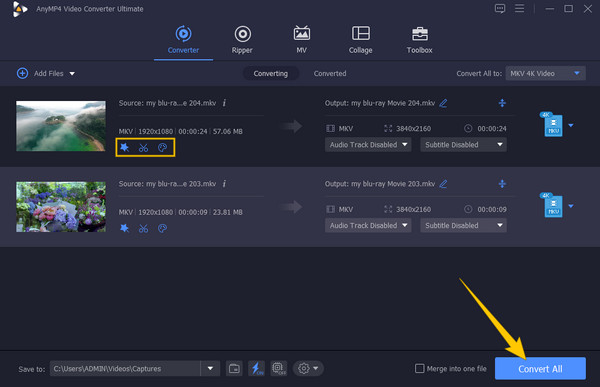 Part 4. FAQs about Editing GoPro Videos
Can I make my GoPro videos in 8K?
Yes. However, please be advised that the best resolution for GoPro videos is 4K.
How to edit GoPro videos on Mac without a third-party app?
You just need to upload your GoPro videos to your Mac, then use iMovie to edit them. iMovie has advanced editing tools, but they are limited.
When transferred to a computer, will the videos be deleted from the GoPro device?
For clarification, videos will not be deleted but only moved. But yes, they will not be visible to your GoPro device when you move them to a computer.
Conclusion
There you go, the walkthrough review of the best GoPro editing software for offline and online usage. We highly recommend relying only on the online tool if you cannot install the software. However, if you want a compelling video editing experience, use offline video editing tools, especially Video Converter Ultimate.