How to Add Audio to GIF: With Tools to Use for Android, iPhone, and Desktop
GIFs are the most used to share animated content nowadays. A GIF is a type of media supported by social media platforms online, with a smaller size than a regular video. However, unlike videos, most GIFs don't have sounds making their viewers lack the emotions that the GIF portrays. Fortunately, with the innovation today, many have turned their favorite GIF into a sound one. And if you seek to learn how to add audio to GIF on a desktop and even on your mobile phone, then here are the perfect tutorials for you. Keep reading the content below to see more detailed information about what we will present.

Part 1. Best Method to Add Audio to GIF on Desktop
Technically speaking, GIF files cannot accept audio directly, for this file doesn't support the background music. However, this doesn't mean you can quit desiring to make your GIFs loud. Here is the best method to combine GIF and audio in one file.
Video Converter Ultimate is a great video editing software that can help you turn your GIFs into a resounding clip. Furthermore, it is an all-in-one program that comes with a GIF maker, editor, and MV feature. Meanwhile, since GIF files cannot accept audio backgrounds directly, you can utilize the amazing function of the MV feature of this Video Converter Ultimate to create a magical GIF with audio synchronization. It even lets you add multiple audio tracks to your GIF simply and quickly. Aside from that, it allows you to apply sound effects such as fade-in, fade-out, loop play, and delay the audio to make good sound effects. Not to mention that besides adding audio to a GIF, you are also free to edit, trim, and customize your GIF according to your want without worrying about its quality.
Those are just the remarkable things within the MV feature and many more tools to check out. Moreover, this Video Converter Ultimate is infused with advanced technologies that help it maintain its efficiency while being a powerful program. Such technologies are its advanced artificial intelligence, ultrafast conversion, GPU acceleration, and hardware acceleration. Getting this software is indeed the best choice a media editor would ever make. On the other hand, let us first learn the best method of combining GIF and audio with the easiest and quickest guidelines below.
Key Features:
1. With the best maker of animated GIFs from a photo or a video.
2. Produce HD GIF content without a hassle.
3. Overlay multiple audio tracks easily.
4. Convert your GIF into more than 500 different file formats.
5. Additional presets to edit and enhance your GIFs.
Using the Converter Function
Step 1
Launch the excellent program after acquiring it on your desktop. Then, under the Converter feature, click the Plus icon and upload the GIF you need to work on.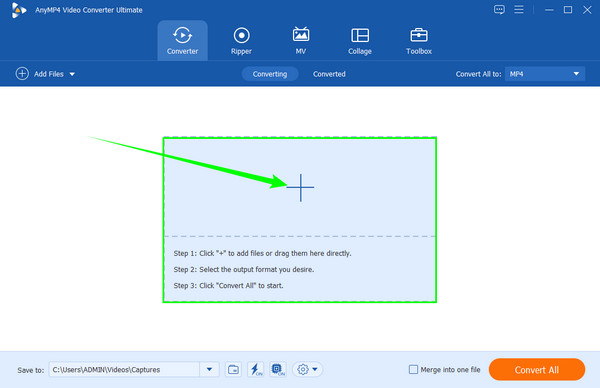 Step 2
When the GIF is uploaded, it's time to upload the audio file. To do so, click the drop-down arrow in the Audio Track Disabled box and hit the Add Audio Track option to load the audio file.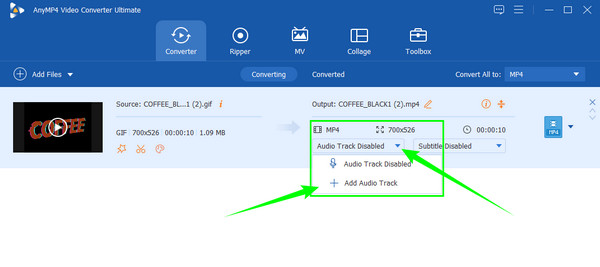 Step 3
Once the audio is uploaded, you can hit the Convert All button to start the process.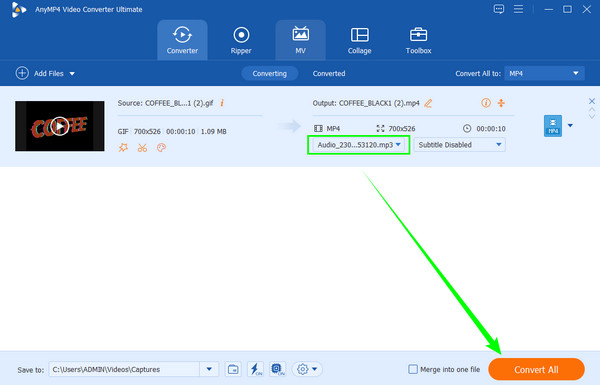 Using the MV Function
Step 1
Upload Your GIF File
Go to its MV feature, which you will see at the upper center of the interface. Once you reach the feature's interface, hit the Plus icon to upload your GIF.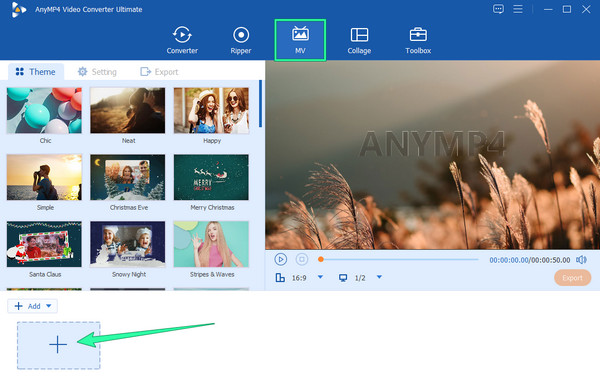 Step 2
Upload the Audio File
Once the GIF is in, go and click the Setting tab to see the Audio Track section. You must tick the Background Music to activate the importation and other presets. Once done, click the small Plus icon to add the audio to the GIF file, then decide whether to apply sound effects.
Step 3
Export the File
As easy as that, you can now go to the Export section. From there, you can customize the format of your new file, together with its resolution, frame rate, and quality. Otherwise, hit the Start Export button to finalize and save the file.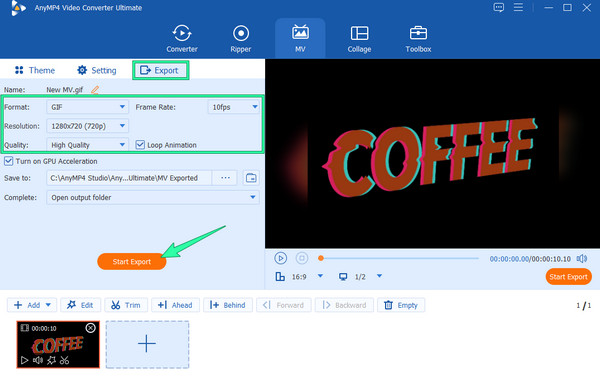 Part 2. How to Add Music to GIFs on Android and iPhone
Now, if you are wondering if you can work on adding audio to the GIF that you have on your phone, then this part is perfect for you. Aside from the online apps you can use for this matter, we have also found the best GIF editing app you can acquire on Android and iPhone devices. Thus, continue to read below to learn more.
GIF Maker , as its name suggests, is an app that helps you create a GIF. Also, this app allows you to add audio to a GIF instantly and freely. Yes, you have read it right; you can utilize this app on iPhone and Android for free. Along with this free usage, you can also access the built-in animated effects that you can apply to your GIFs anytime. In addition, it comes with a feature that will let you easily eliminate the unnecessary part of the file and also sync the GIF to audio. However, as it is a free app, this GIF Maker app is not free from the ads that will bug you while working on your GIFs. There will also be a limited number of files, and sizes will be accommodated. Hence, if you are willing to deal with these cons, you can proceed to the steps below.
How to Make GIF With Audio using GIF Maker
Step 1
Install the GIF Maker on your mobile and launch it. Once it is launched, start importing the GIF file that you need to work on.
Step 2
Once the GIF is in, start splitting the part you want to eliminate. Then, tap the button that will make you add music.
Step 3
After that, tap the Done button and save the GIF to your folder storage.
Further Reading:
Easy-to-learn Guides on How to Create a GIF Collage
Add a Watermark to GIF Like a Professional in Two Easy Ways
Part 3. FAQs about Adding Music to GIFs
Can I add audio to GIFs online?
Yes. Online tools can also help you add audio files to a GIF. One of the popular tools is the Flexclip.
Can I post a GIF with a background sound online?
Yes, if the GIF is converted to a video file with an MP4 or WebM format. It is because many online platforms only allow the said file types to be uploaded on their sites.
Can I combine GIFs and audio online using my iPhone?
Yes. You can do so using mobile apps that allow GIF and audio synchronization. Or you can also access an online tool to do the task.
Conclusion
It must be clear by now that when you add audio to GIFs directly will only be feasible if you turn them into a video-like file and use a robust tool. We encourage you to try the best method we recommend in this article, which is the Video Converter Ultimate and the other one for your mobile devices. See to it that you follow every step provided here so that you will only get the output you expect.