3 Easiest Ways to Add Audio to Picture on Desktop, Online, and Phone
Try adding some music if you want your viewers to feel what your photo is all about. Although, as they say, photographs have a silent voice, still, adding audio to an image can make a significant impact. For it is a way when viewers can confirm what you feel. On the other hand, this kind of editing act has also been in demand by those who love compiling photos for presentations. Likewise, it is popular with those who want to create beautiful posts on their Reels and Instagram Stories. But how is it possible to achieve this without the help of the built-in editors of the said social media platforms? Fortunately, we have developed the best methods you can easily adopt. So, without further adieu, let's meet them by looking at the content on how to add audio to a picture below.

Part 1. Amazing Way to Add Audio to a Picture Offline
Working with offline software is a good choice if you want to be unbothered in your editing task. Hence, from thousands of offline editors out there, we have come up with the one that has it all. So that nothing could stop you from taking the extra mile on file editing.
Make way for the best software that you can use to add an audio file to an image, the Video Converter Ultimate. It is a video editing software that was purposely made as a video converter but eventually turned into an all-in-one tool. It has numerous functions, including a collage maker, and from its Toolbox, are enhancer, audio sync, audio compressor, volume booster, and more. In addition, it also comes with an MV maker, where you are free to add any audio file to your chosen photo. On top of that, it also gives you a chance to apply a fade-in or fade-out effect and normalize the audio volume when you use the MV feature of this amazing software.
There's more. You can guarantee that while you add an audio clip to the picture, the high quality won't be affected at all. With this Video Converter Ultimate, you won't feel intimidated, for it has a user-friendly and intuitive user interface. On top of that, it is downloadable on both popular operating systems, such as Windows and Mac. Plus, it is run with the help of advanced technologies such as GPU and Hardware acceleration with Artificial Intelligence.
Main Features:
1. MV maker that has powerful presets to tweak.
2. It works on all popular photo and audio formats.
3. Numerous filters and effects for your photos and audio.
4. GIF maker that you can use with photos.
How to Add Audio to an Image in Video Converter Ultimate
Step 1
Begin by acquiring this fantastic software on your device. You can do this quickly by clicking the Download button above. Launch this software after you install it.
Step 2
Once the program is launched, head to its MV menu on top of the interface. Then, on the MV window, hit the Plus icon at the bottom part to upload the image you want to work on. Please note that you can upload many photos if you want to compile them in one clip.
Step 3
Once the image is uploaded, go to the Setting section. Now, click to check the Background Music dialogue box, then hit the small Plus sign in the Click "+" to Add Audio button. Also, feel free to tweak the other settings that you see in the interface.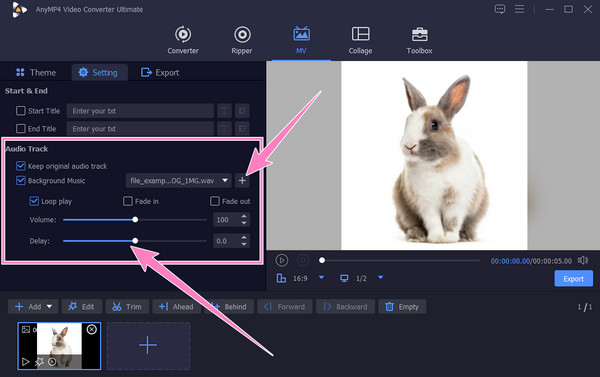 Step 4
After that, you can now go to the Export section. From there, you have the liberty to customize your output's format, quality, resolution, and frame rate. Otherwise, hit the Start Export button to begin the saving process.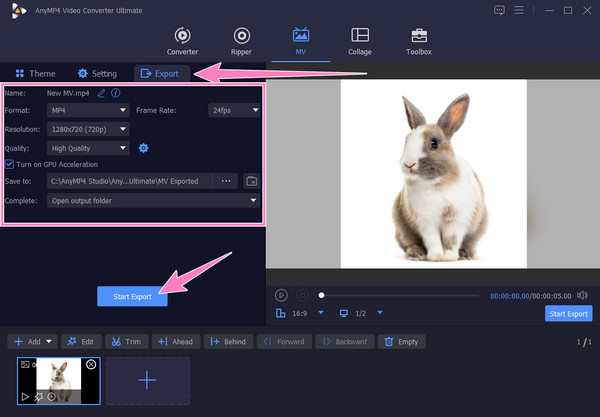 Part 2. How to Put Audio to an Image Online
Movie Maker Online deserves your observation if you want to add audio to the picture online. It is a free web-based editing tool with a library of photos and music that you can use freely. Furthermore, this tool supports all the most used formats for image and audio. Additionally, you can assure that this Movie Maker Online is safe to use and has a simple and neat interface. However, as the common drawback of almost all free online tools, annoying ads are destructive and sometimes will annoy you. Thus, if you are okay with this bane that you might encounter when using Movie Maker Online, then you can learn the steps to add audio to the image online below.
Step 1
Open your computer browser and start searching and accessing Movie Maker Online's official page.
Step 2
Then, click the Add Files tab on the main page to upload your image file initially. Once the image is uploaded, you can now upload the audio file by hitting the Add Files button.
Step 3
Once both files are added, you must scroll down and hit the Make Video button. You will notice that the process will start. Once it is finished, you can check your output and download it.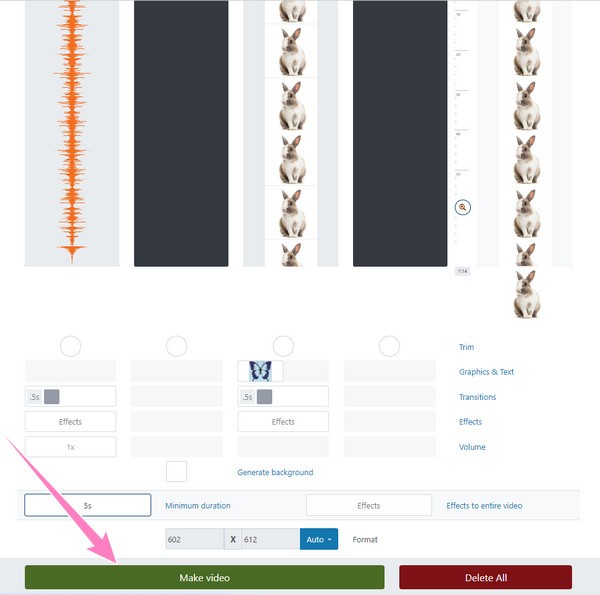 Part 3. How to Add Music to a Picture on a Phone
This time, if you want to know how to add audio to a picture on your iPhone and Android, then learn the excellent way of CapCut. This app is regarded as a multifunctional solution for making short movies in a cinematic way. Furthermore, this app lets you use tools to reverse, chop, and modify your files. Additionally, as one of the plethora of options this app offers, it assists you in adding audio to your photo file effortlessly. However, you must accept that this free app produces a watermarked output. Hence, here is a simplified instruction on how to use it on this task.
Step 1
Install CapCut on your phone, and tap the New Project button. Then choose single or multiple photos you want to edit. And follow the next steps to add audio to the picture for free.
Step 2
Next, tap the Add Audio under the uploaded photo after loading the photo on its Timeline. Then, choose the desired audio you want to add when you tap the Sounds button.
Step 3
After that, you can export the file by tapping the Arrow-Up icon at the right topmost part of the screen.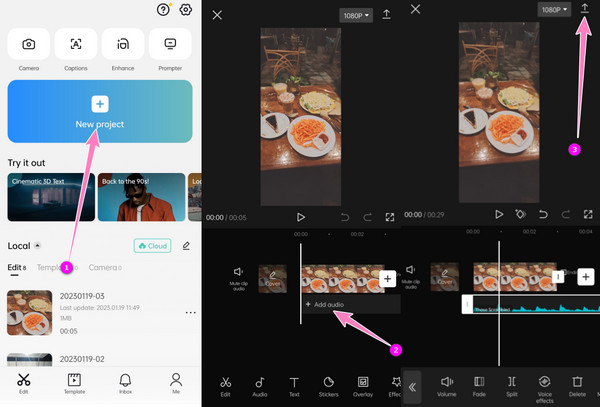 Further Reading:
Add Audio to Video with 3 Video and Audio Merger Tools
How to Remove Audio from Video on PC, iPhone, and Online
Part 4. FAQs about Adding Audio to Images
Can I add music to a GIF file as well?
Yes, you can. Adding audio to a GIF is just the same as with the photo. Therefore, you can follow the same instructions above to do so.
Can I add audio to the picture for free on Mac?
Yes. You can use Mac's built-in app, such as iMovie, to do the task for free.
Can I add any length of audio to the photograph?
No. Legally speaking, if you do not own the audio, you can only add ten seconds of it to your photo.
Conclusion
There you go, the easiest ways to add audio to a picture. Indeed an online tool is the most accessible among them all. However, if you want an all-in-one tool that will make you feel like a pro due to the high quality of outputs, then use the Video Converter Ultimate.