How to Add Sound to Videos for TikTok: Complete Guidelines of the Default and Alternative Ways
Many users have been asking how to add a sound to their TikTok video creations. We cannot question that because TikTok has been lenient in informing its users about its discontinuation of uploading the users' own sound because of copyright issues. How will you still have remarkable TikTok content with your desired sound if that is the case? We all know this social media app's popularity. You may hit millions of views in hours by uploading a great video. Yes, any content uploaded on Tiktok can become viral in just a matter of time due to the high volume of people who love watching, liking, and sharing videos. Thus, if you want to know how to add sound to videos for TikTok, below are the solutions.

Part 1. Default Way to Add Sound to Video on TikTok
Even though TikTok has discontinued the music-adding function before for legality reasons, it came back with its own music library that you can easily access. This library enables you to add music to your videos. Hence, if you plan to add a voice recording to your content, you will need a different library. Thus, here are the solutions for how to add songs to videos using TikTok videos, together with the steps on adding a voiceover to it.
How to Add Music to Video
Step 1
Firstly, you must launch TikTok on your device and tap the Plus icon at the bottom center of the screen to add a video.
Step 2
Choose whether to record a new video by a long tap on the Record button. Or to load an existing video by tapping the Upload button. Once the video is ready, tap the Checkmark tab to proceed. Now, tap the Add Sound or the Edit button on the top of the screen.
Step 3
If you choose the Edit tab, then you must tap the Add sound button on the next page. Then, select your desired music to apply, and tap the Use button beside it. And viola, you can already save and post the video.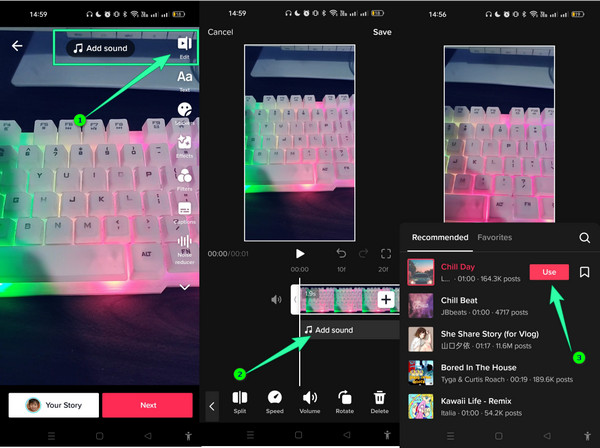 How to Add Voice Effects on TikTok
Step 1
Add a new video on TikTok by recording or uploading it when you tap the Plus icon. Then, from the presets on the right, tap the arrow to see the Audio Editing option to tap.
Step 2
On the next prompt, tap the Mic red icon that will enable you to start the voice recording.
Step 3
Once the recording is done, tap the Save tab and share the video.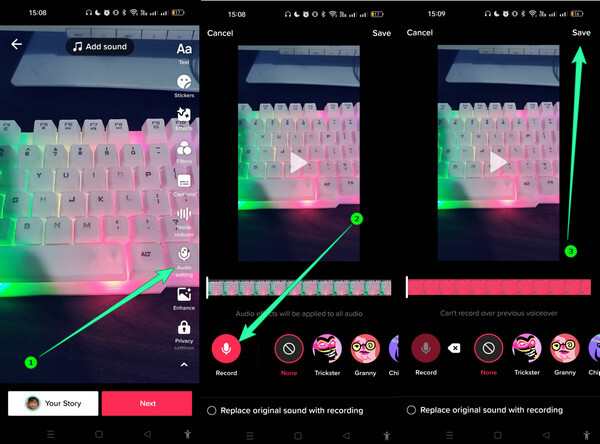 Part 2. Add Music to Video for TikTok on Computer
If you want an alternative way to add music to your existing videos to post on TikTok and other video platforms, then use Video Converter Ultimate. This video editing software lets you work on its MV maker, which creates music video content by combining audio and video. What is amazing about it is that it has beautiful themes, effects, and filters that you can apply to your videos. And how do you add songs to a video for TikTok? Well, this Video Converter Ultimate allows you to mix multiple audio tracks to your video smoothly and instantly. Aside from that, its MV maker allows you to scrutinize the output presets, where you can change your video's format, resolution, frame rate, and quality. This means that this MV maker alone, which is just a part of its amazingness, can already provide you with everything you need and more when you look at the other features and tools.
Furthermore, you can also lavish all the powerful video editing tools in this software's toolbox. And you won't need to worry about the kind of video and audio you want to combine, for it supports more than 500 formats to edit! Thus, here are the steps on how to add a sound to your video for TikTok.
Main Features:
1. Support all popular video and audio formats.
2. It comes with TikTok-like effects and themes to use.
3. Easy and fast to navigate.
4. Audio track presets to tweak.
Step 1
Firstly, launch the amazing software after installing it. Then, when it is running, click the MV menu and add your video file when you click the Plus icon at the bottom.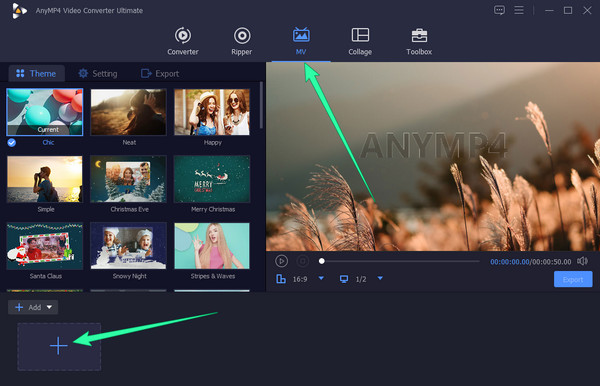 Step 2
Once the video is loaded, hit the Setting menu. Then, under the Audio Track section, tick the Background Music option and follow by clicking the Plus icon across it to add the audio file. Also, tick the sound effects that you may want to apply.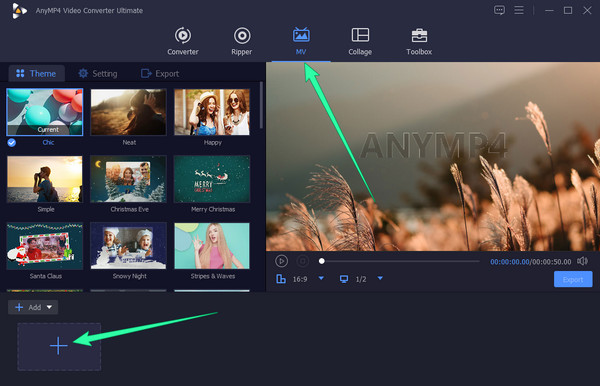 Step 3
After that, your video is ready to save. To do so, go to the Export menu, tweak the presets there, and click the Start Export button to finalize.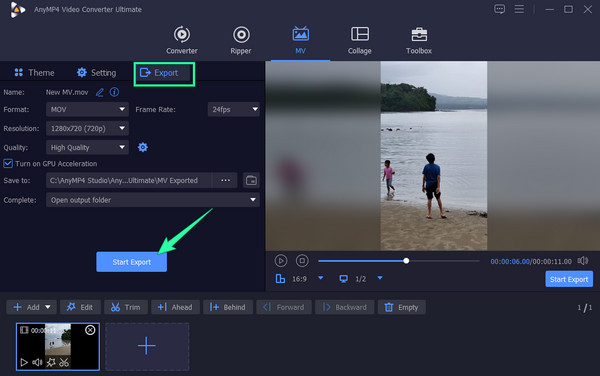 Using the Converter Function
Step 1
Upload the videos for TikTok when you hit the Plus icon in the Converter feature.
Step 2
Then, click the arrow drop-down button shown in the image below and click the Add Audio Track to upload the audio file. After that, tick it to put a checkmark on the uploaded audio, and untick the EN-AAC-2Channel option.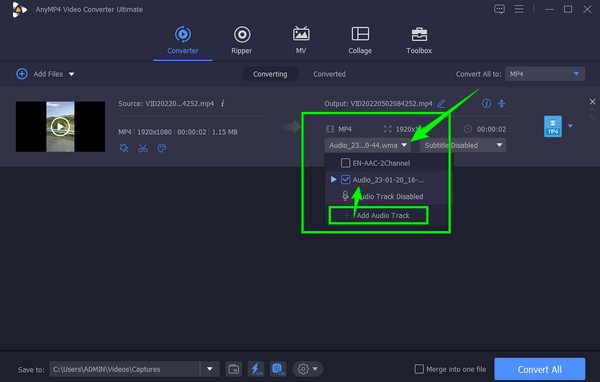 Step 3
Lastly, you can now click the Convert All button to process the changes.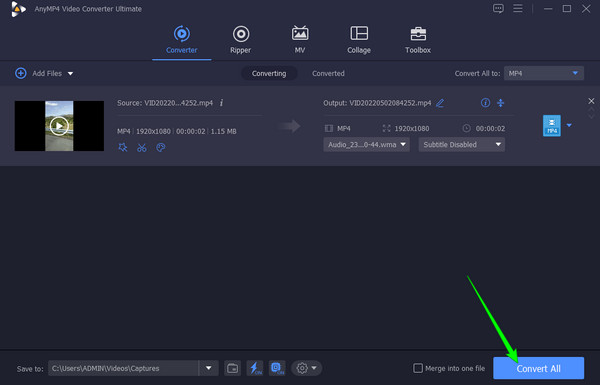 Part 3. Alternative Way on How to Add Sound to Video for TikTok on Phone
This time, if you search for a good alternative using your phone, then you can use Filmigo Video Maker Music Video Editor. It is an app that you can use on your mobile of any kind. Furthermore, this app lets you lavish on its wonderful features that will make your music video stunning. Such great features include music collection, text styles, transitions, filters, effects, and many more. Aside from that, you can also utilize its editing tools for speed, background, aspect ratio, and trim. However, even though it offers a free service, it will only last for three days, and then you will need to avail of its premium version to continue. Thus, here are the steps on how to add a sound to a video for TikTok using this app.
Step 1
Install the app on your phone and launch it. Then, on the main page, tap the Editor option, select the video from your gallery, then tap the Next button.
Step 2
Once the video is showing, tap the Music tab at the bottom. After that, you can upload the audio by tapping the Upload icon beside the Audio Extractor option. Choose, then, where you will get the audio from the options given.
Step 3
After that, tap the Speaker icon on the screen to adjust the video's original audio. Then, tap the Export button to finish adding audio to your video and save it.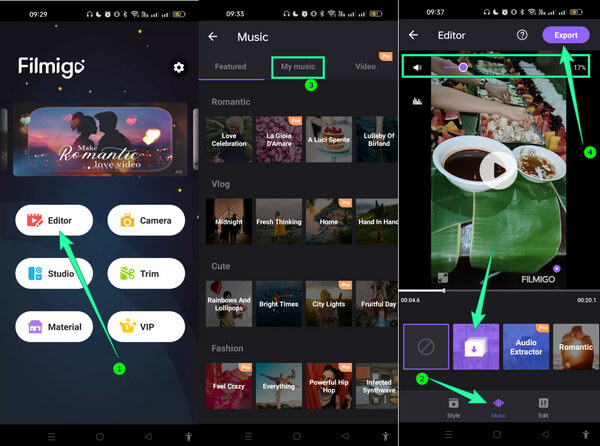 Part 4. FAQs about Adding Music to Videos for TikTok
How do you add your music to a video for TikTok online?
Adding your music or sound to videos for TikTok online is very easy. First, you must look for a good online tool. Then, upload the video, then tap the add sound dialogue. After that, upload your music by tapping my sound selection.
Can I add long audio to the video using TikTok?
No. TikTok only allows a 15-second sound to be posted due to legal reasons.
How can I share the video where I added my music on TikTok?
You need to tap the checkmark and the next tab to share. After that, you will be able to post your video.
Conclusion
There you have it, folks, the complete steps on how to add sound to video for TikTok. We hope you enjoyed grasping the learnings in this post and feel free to share this with your friends too. Finally, if you want amazing video editing that can accommodate all your needs for editing and enhancing your video files, then get Video Converter Ultimate now.