5 Remarkable Ways to Brighten a Video: Complete Tutorials for PC and Phone
Perhaps you have already recorded a video that you thought to be nice due to enough lighting but were discouraged because it turned out to be dark. This circumstance is unavoidable, but fortunately, there will always be ways to fix the video to your expected one. Video enhancement is one of the most talked about solutions for this matter. Specifically, you will need to fix the lighting when you have dark videography. However, with the technology that we have right now, many don't know the proper way to brighten a video due to the broad-based editing executions that tools give.
Nevertheless, this is something that you don't need to problematize, for we have the solutions in this article. Here, we will teach you how to turn your video lighter using the best tools you can use on desktop and mobile.
Part 1: 4 Ways to Brighten Videos on Computer
This part will show you the four remarkable ways, with their tutorials on how to make a video brighter using your computer.
1. Video Converter Ultimate
The first stop is this Video Converter Ultimate. As its name suggests, this remarkable software works to fix and beautify your video files ultimately. Furthermore, it lets you adjust the video lighting and make it brighter, perfectly saturated, contrasted, and with a hue according to your needs. Not to mention its capability to work on many video files simultaneously to save time if you ever need to work on your numerous files. On the same boat, it lets you split, cut, and enhance your video in four AI-powered ways right after working with its video brightness editor. Those are just the parts of Video Converter Ultimate's single tool, and many more to mention. Therefore, let's jump into this tool's magnificent way of turning our dark videos into brighter ones.
Main Features
1. Advanced AI-powered technology to edit video excellently.
2. Manual and automatic methods in video brightening.
3. It supports a wide range of formats.
4. It protects your Mac or Windows computer with its hardware acceleration technology.
5. It's a full-packed software with all the video editing tools you need.
Tutorial on Using Video Converter Ultimate to Brighten Videos
Step 1
Install this video editor on your computer by clicking the Download buttons provided. After installing, launch the tool and begin to follow the next steps on how to make a dark video brighter.
Step 2
On the main interface, hit the Plus icon at the center to import your video files. Please note that you can upload many files.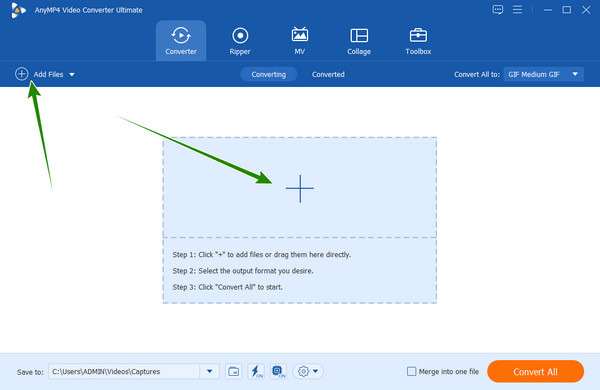 Step 3
Now, access the Effect and Filter window by clicking the Star icon under your uploaded file. Afterward, go to the Brightness option, and adjust the slider accordingly. Also, you are free to adjust the other settings and select a filter. Then hit Apply to All to add the same settings to the other video files, and click the OK tab.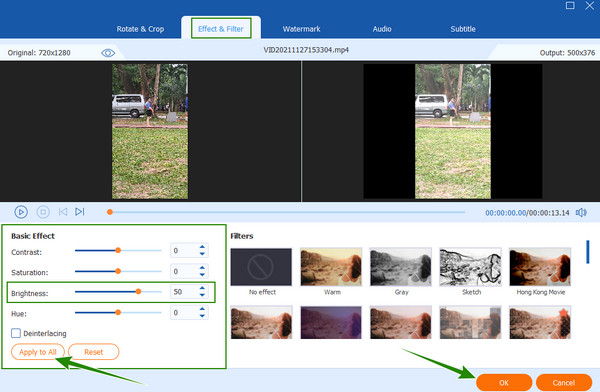 Step 4
After that, if you wish to access additional settings on the same page, hit the Paint icon next to the Scissors. Then, toggle the Optimize Brightness and Contrast option and the other settings. If you want to brighten the video, hit Apply to All, then Save.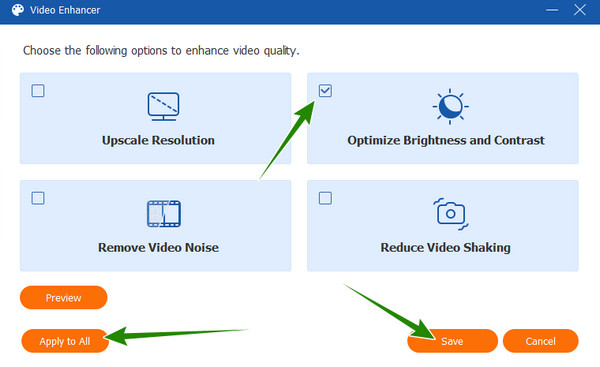 Step 5
Afterward, you can now hit the Convert All tab to start the application process. After that, check the video outputs and enjoy watching them.
2. Windows Movie Maker
This one is for those who are using Windows 10 and below and still have this Windows Movie Maker. Windows Movie Maker is a built-in software with an excellent function in video editing. One of its capabilities is to make the video brighter, along with its visual effects, emphasis, animations, thumbnails, waveforms, and previews. On top of that, this tool is free to use without any limitations on file size. However, as mentioned, not all Windows desktops have it. Thus, if your computer has it, here are the steps you can perform.
How to Make a Video Brighter with Windows Movie Maker
Step 1
Launch the Windows Movie Maker on your desktop. Then upload your video file by clicking the upload icon.
Step 2
After that, hit the Visual Effects option and go to the Brightness settings. Then, drag the slider to the right side to make the video lighter.
Step 3
Immediately, you can now hit the File menu and choose the Save Project tab to export the video file to your local folder.
3. Premiere Pro
Now we bring you a professional tool, the Premiere Pro. It is a video editing software of Adobe that holds numerous professional options to enhance your video. When it comes to brightening your clips, Premiere provides you with essential settings to correct the color, like the shadows, highlights, and mid tones that you can adjust to meet the perfect saturation on your video. However, the software is usually disregarded by beginners since it contains a tricky procedure. Otherwise, here are the simplified steps for using the software so that you can perform it for the first time.
How to Brighten Video in Premiere Pro
Step 1
Open the software and import your video to its timeline.
Step 2
Then, click the Effects menu and select the Color Correction option, followed by the Three-Way Color Corrector tab.
Step 3
After that, adjust the color corrector accordingly until you reach the perfect brightness you want for your video. Then, you can now save and export your video.
4. After Effects
Lastly, we have After Effects, another professional tool of Adobe. This software mainly works to make a movie's motion and visual graphics since it is purposely made for a movie maker. On the other hand, it can also make your video brighter using its advanced editing tool. However, for the different video editing matters, you might get confused about its technicalities, for it works for professional use. Thus, to complete this tutorial on a desktop, below are the ones for After Effects.
How to Use After Effects to Brighten Video
Step 1
Create a new project by hitting the File menu once you open this software.
Step 2
Once the file is uploaded, go to the Effects and Presets menu. From there, select the Brightness and Contrast selection.
Step 3
Then, adjust the brightness settings until you reach your preference. After that, you can already save the video.
Part 2: How to Make a Video Brighter on iPhone and Android
Now, if you want to edit video brightness using Android or iPhone, you can rely on your Photos App. This app has essential editing tools that you can use to enhance your photos and videos. What's more impressive is that it can back up your files since it is the storage management tool of Google. Thus, you may follow the simple tutorial below on how to use it to brighten your clip
Step 1
Open the app and choose the video you need to enhance.
Step 2
Now, tap the Edit tab, then use the Adjust option from the tools at the bottom.
Step 3
After that, tap the Brightness selection and then slide the bar to increase the brightness. Afterward, tap the Done tab and continue to save the copy.
Further Reading:
How to Stabilize Shaky Videos with Three Amazing Ways
How to Unblur Your Video Professionally: 5 Best Ways
Part 3: FAQs about Making a Video Brighter
Can I compress the edited video brightness on Android?
Yes. You can compress the brightened video anytime as long as you use a good video compressing app.
Does brightening lose the quality of the video?
If you want to maintain the quality of your video after brightening it, you must also change its contrast.
Should I always capture lighter videos?
No. Capturing your videos may depend on the display you want to get.
Conclusion
This is the complete tutorial on how to brighten a video using the remarkable tools today. Choose your tool now, and try it immediately, but if you can't decide yet, try the Video Converter Ultimate first. Because this tool will greatly provide you with a more powerful video editing experience that makes you not look for others anymore.