3 Professional Ways to Control Audio Volume of Files Efficiently
We have seen many videos with inconsistent audio volume. Some start with an inaudible sound that gets louder and louder throughout the video content, or vice versa. This kind of video is a pain in the ass, especially for those who own them. Fortunately, many video editing tools can normalize the unevenness of the audio in a video. However, not all the tools you see are reliable. Fortunately, we gathered the video editing programs that most professionals trust regarding your audio volume control task. Therefore, learn how these programs can fix the audio that needs to be normalized when you read their methods below.

Part 1. How to Control Audio Volume of Video Easily
Video Converter Ultimate is the software we highly recommend to help you normalize the sound level of your files. With this amazing software, you won't need to be technically skilled or be an expert to navigate its audio volume equalizer, for it has a super handy procedure. In fact, this tool only lets you use a sliding bar to swiftly increase or decrease the audio volume according to what you desire. Furthermore, it supports all the popular audio formats, allowing you to equalize any type of audio file you have in your folder.
Moreover, if you have a video with unmatched timing of audio, in that case, you can utilize this tool's audio sync function to help you adjust the delay of the audio to sync on your video. We are trying to show here that this best audio volume controller provides you access to other powerful audio settings. After all, these audio settings let you navigate and enhance the audio quality of your files by tweaking the bit rate, sample rate, and channel. Hence, here are the easy guides to follow in equalizing the volume of your audio.
Key Features:
1. Smooth audio volume booster to normalize the audio.
2. Lossless video and audio quality output to enjoy.
3. Numerous audio and video editing tools to utilize.
4. More than 500 video and audio formats it supports.
Step 1
Install the Powerful Software
First and foremost, make sure to have this powerful video and audio editing software downloaded to your PC. To help you do this quickly, click the Download button above this step, and select the correct button for your computer's OS. Once done, install and launch the software.
Step 2
Load the Video and Audio Files
Once the software is running, you must hit the big Plus symbol at the center. You can load the files you want to control the audio volume by clicking it. Please note that you can upload videos or purely audio files.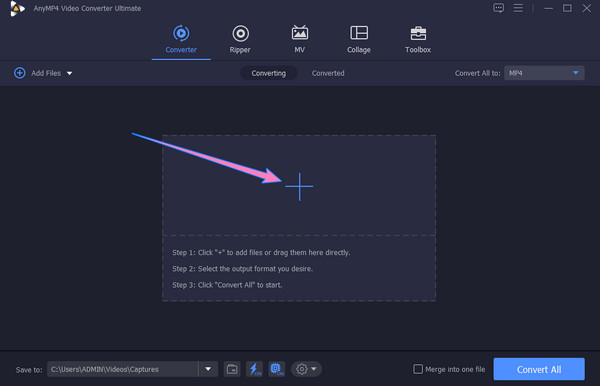 Step 3
Adjust the Volume
When you finish uploading all the files, hit the Star icon among the options under the files. By clicking it, you will get to a new window where you can set the sound file under the Audio menu. Now begin to glide the Volume bar according to your preferred level. Don't worry; it has a preview for you to check the sound. Once you are good with what you set, hit the OK tab.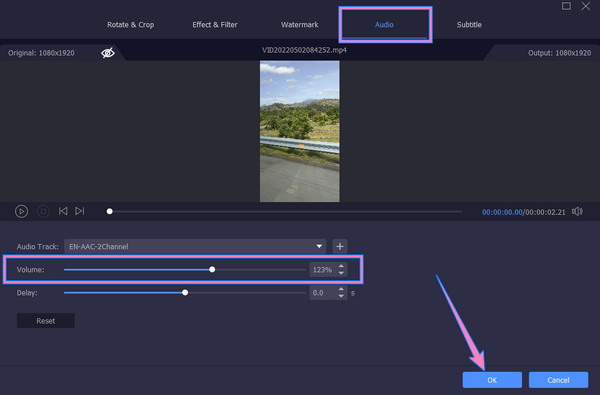 Step 4
Save the Adjusted Files
After that, you can now click the Convert All button to finish the procedure. Once the process finishes, you can already enjoy the files that were handled with a stereo audio amplifier with a digital volume control procedure.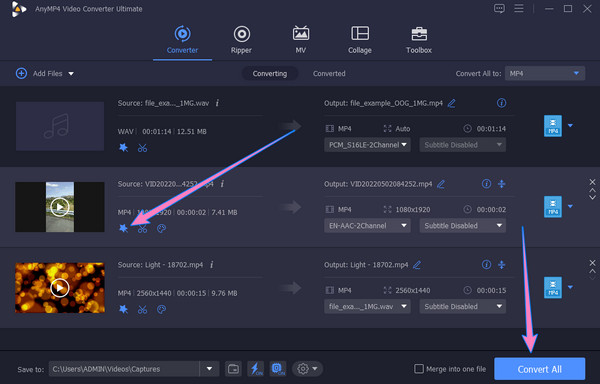 Part 2. How to Change the Audio Volume in After Effects
Adobe After Effects is one of the dedicated tools for editing media files. Its improved stability interface has tons of powerful features and functions for an excellent user experience that speeds up their workflow. Furthermore, this tool is another good way to help you change the audio volume, for it comes with an audio visualizer representing the audio sound through its waveform. However, its procedure might be frustrating for beginners. On the other hand, here are simplified instructions on how to change the volume of the audio in After Effects.
Step 1
Run the software after you download and install it.
Step 2
Begin the process by selecting and importing the file you want to edit from your local folder. Then, drag and drop it into the center of the interface.
Step 3
Now, go to the composition's timeline, select the audio, and click the L option to see the Audio Levels property. After that, you must see a text that says +0.00db.
Step 4
After that, move this +0.00db to the left to decrease the volume, and vice versa to increase. Then, if you are already fine with the outcome, you can now export it. Click here to get how to speed up videos in After Effects.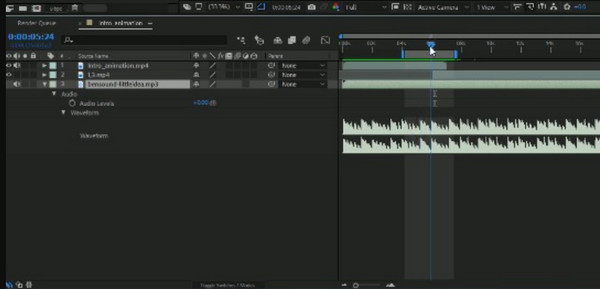 Part 3. Learn How to Lower the Volume of Audio in Premiere Pro
Finally, we have this Premiere Pro, another ace of Adobe. With this Premiere Pro, you can edit and enhance your video and audio files like an expert. It is because of the professional features that it is infused with. Along with its features are the tools responsible for every successful high-quality output produced with Premiere Pro. One of those tools is its volume equalizer, which allows you to achieve the best audio volume level for your audio and video files. However, as mentioned a while ago, it comes with professional tools and functionalities, which might be why many beginners need to be more comfortable navigating. Hence, if you also feel the same way, you can follow the simplified steps quickly.
Step 1
To lower the volume of the audio in Premiere Pro, you must acquire this software first. Then, after the acquisition, launch it and load the file you need to work to the timeline.
Step 2
Now, click the file on the timeline and click the Effect Controls under the Window menu.
Step 3
After that, locate the Audio button under the effects panel. Then, navigate to the Volume section, and adjust the Level option. Tweak to the left or right to have your desired volume level, and save it afterward. You also can create a slideshow using Premiere.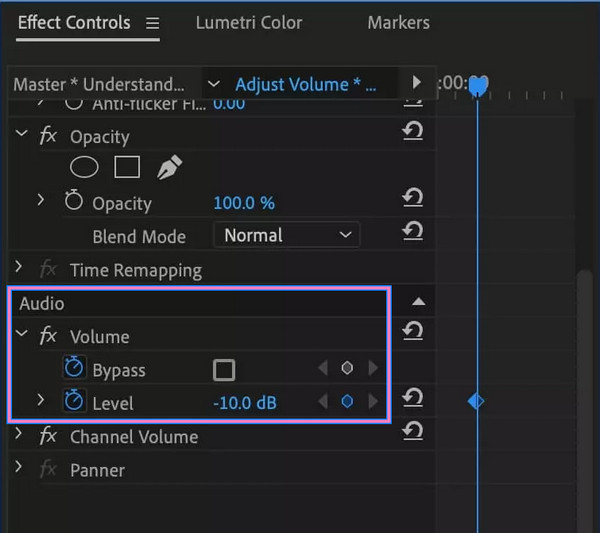 Part 4. FAQs about Controlling Audio Volume
What is the best volume for videos online?
If you plan to post your video online, ensure it has audio with a 12 db-20 db level of volume.
Can I adjust the audio volume on Android without a third-party app?
Yes, you can. However, it is only limited to playback. It means you cannot save it as a new file.
Does audio gain mean a volume increase?
No. Because audio gain works more on gaining tone, while the volume increase works on the preamp.
Conclusion
You've just learned the professional ways of audio volume control. Premiere Pro and After Effects are indeed for experts' use. Therefore, if you want an easy-to-navigate tool with a professional output, choose Video Converter Ultimate.