How to Denoise Videos Files in Four Great Ways on Desktop and Mobile
There are several reasons why you have grainy and full of noisy videos, and one of those is the poor shooting light. Other factors, such as the heating sensor, enlargement, compression, and external signal interference, also make the video noisy. These factors are sometimes inevitable, which means whether we like it or not, we will still experience them, even how nice our camera is. Fortunately, this is not a big issue anymore since we have these reliable, innovative editing functions that can denoise videos. This article will teach you various great guidelines for fixing grainy footage. Therefore, let's continue reading the content below to claim today's essential learning.

Part 1. Three Best Ways to Denoise Videos
1. Video Converter Ultimat
Discover the best suites of video editing tools in this Video Converter Ultimate. It has the quickest and most trusted way to fix noisy videos. This best denoise software for video uses an AI-powered video enhancer that works by just ticking the application. In line with this, you will not get wrong using its powerful enhancement since it enhances your videos in detail. It meticulously removes the dirt from the video and makes it clean from grain and noise. In addition, as part of its meticulous work, its functions are to upscale resolution, reduce shaking, and optimize the brightness and contrast of the footage.
On top of that, it can simultaneously enhance your bulk video files by just uploading all the videos you need to clean. It will enable you to apply the changes to all the video files you have done to a single file. Thus, before you see how to remove grain from a video using this best tool, make time to review its main features below.
Key Features
1. Deblur your videos quickly in batches.
2. Advanced Artificial Intelligence, Hardware Acceleration, Ultrafast conversion technologies.
3. Enhance your videos and upscale them to up to 8K.
4. More than 300 video formats to use.
How to Clean Bulk Videos in Video Converter Ultimate
Step 1
Install the amazing video editor freely, and launch it after. Then, under the Converter menu, upload your bulk videos by clicking the Add Files or the Plus icon.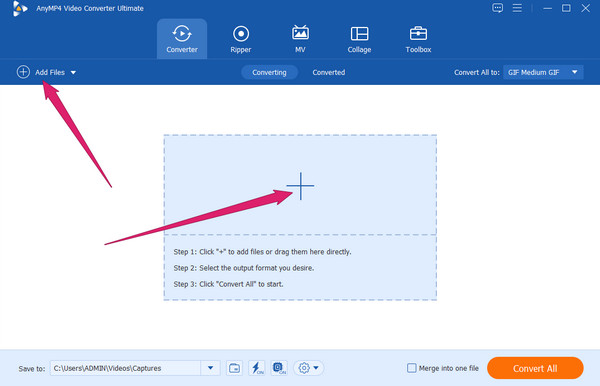 Step 2
When the videos are loaded, click the Paint icon under the file. A new window will appear where you need to tick the Remove Video Noise option. Additionally, you can also apply the other enhancement you need by toggling their boxes as well.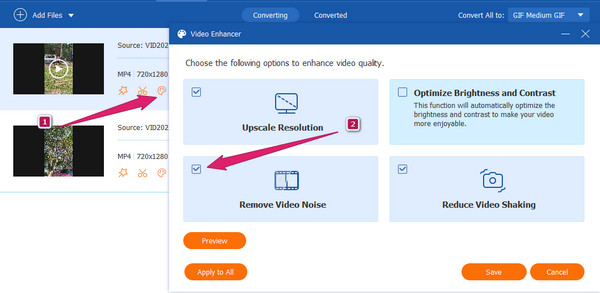 Step 3
After that, you can hit the Preview button to check the denoised video with the enhancement. If you think all is good, click the Apply to All tab. This way, all your uploaded video files can have the same enhancement you use, and click the Save button after.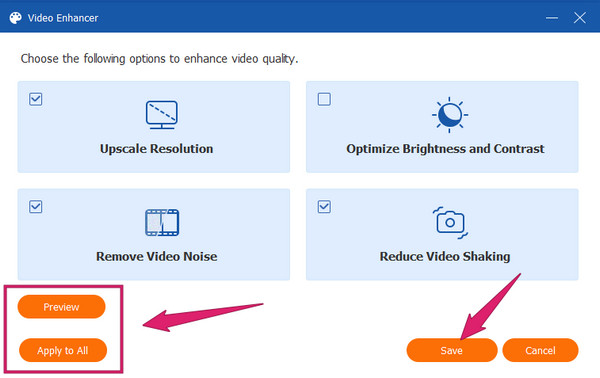 Step 4
You can now hit the Convert button to apply the changes. But please ensure that before converting, you must check the output format to see if it is the format you want. Otherwise, click it and choose one.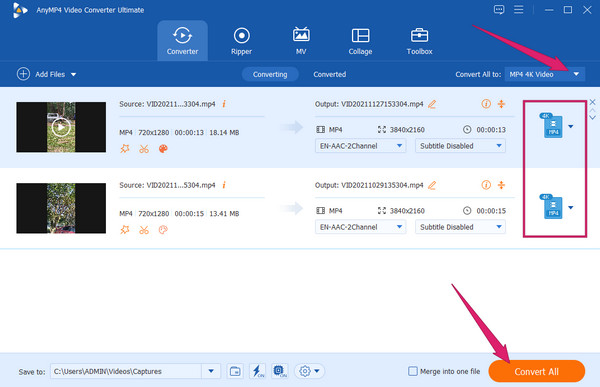 2. Premiere Pro
Next on the list is this Premiere Pro. It is another prominent video editing software that comes with a noise reduction filter. This filter will enable you to clean your videos and eliminate their grain and noise. The noise reduction filter is known to its name as the Median, which you can find under the effects menu of the software. Hence, if you want to check out this Adobe Premiere denoiser video tool's procedures, follow the steps below.
How to Clean Noisy Video with Premiere Pro
Step 1
Open Premiere Pro, and begin by creating a new project and uploading the video you need to clean.
Step 2
Once done, go to the Effects menu, and click the Video Effects option. Under the said option, hit the Noise & Grain menu and look for the Median selection.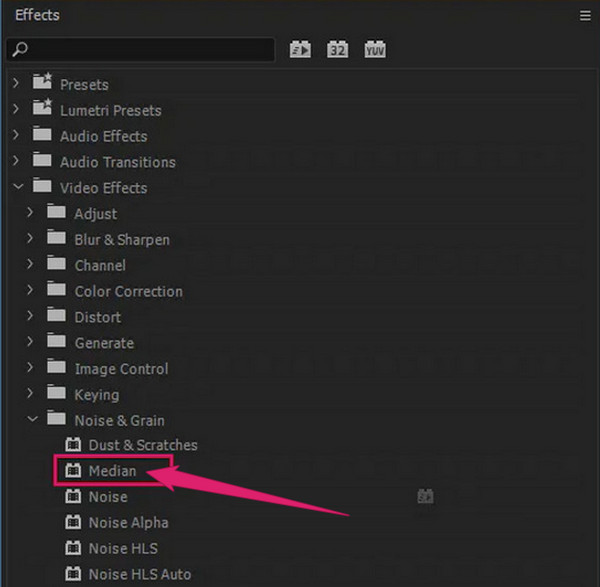 Step 3
Scrutinize the Effects Control section of the Median once you click the Drop-down menu. Then, adjust the Radius setting until you get your desired result. After that, you can now proceed to save and export your edited video.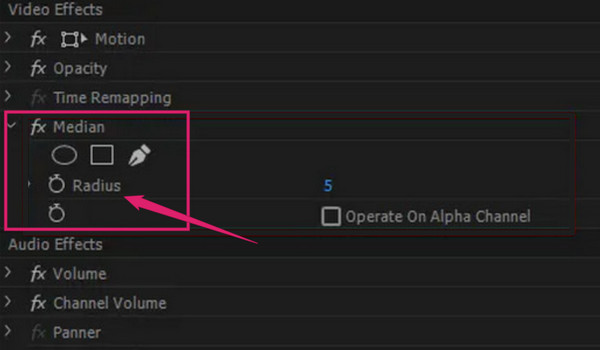 3. Topaz DeNoise AI
We also have this anticipated Topaz video denoiser. Topaz DeNoise AI is a video editor offering many standalone versions and plugin tools of Topaz Labs. As its name suggests, it is a tool that is integrated with the Artificial Intelligence algorithm. Aside from removing the noise, this tool enables you to enhance the sharpness and restore the details of your video. In general, Topaz DeNoise AI is one of the greatest. However, the limitations of its free trial version might lead you to see its greatness. On the other hand, below are the steps you can follow if you want to use the tool.
How to Clean Noisy Video with Topaz DeNoise AI
Step 1
Launch the best free video denoiser on your device. Then, upload your video by dragging it from your local folder and dropping it at the interface.
Step 2
Once the video is loaded, the tool will automatically generate your video and will provide you with basic settings that you can navigate.
Step 3
Adjust the Remove Noise section until you reach your desired setting. Then, click the Save As tab to proceed with exporting the file.
Part 2. How to Remove Noise and Grain from a Video on Android/iPhone
Many video editing apps are available today, but this VivaVideo is the one to use if you are looking for a video-denoising app. You can acquire this app on iPhone and Android, with the same functionality and features. Furthermore, it lets you enjoy its other tools besides its denoiser, like the background remover, screen resizer, multi-track editing features, and many more to mention. Meanwhile, as you look at the steps below, let's access its instant video denoiser.
Step 1
Install VivaVideo on your mobile device and launch it. Then, tap the NEW PROJECT tab to upload your video.
Step 2
After uploading the video, tap the Edit icon below. Then, swipe left until you see the Noise Reduction option. Tap the option and swipe the panel to the right to turn it on.
Step 3
Afterward, you can already tap the EXPORT button to save your video.
Further Reading:
How to Sharpen Videos Quickly: Ultimate Guidelines to Perform
How to Improve GoPro Video Quality: Best Solution with Tips
Part 3. FAQs about Denoising Videos
Can I denoise videos without an app on Android?
No. You will need a third-party app if you want to clean your video from noise. Most Android phones don't have a built-in denoising tool.
Can I avoid getting grainy videos?
Yes. You must set your camera in the best settings to avoid grainy videos. Use a low ISO to get good shots.
Does denoising increase the file size of a video?
No. Denoising your grainy video will actually save up to 50% of file size. This means it may decrease the size of your file.
Conclusion
You know how to denoise your video on desktop and mobile. This article is generous enough to provide you with three solutions that you can use on your desktop and one for your mobile. Thus, if you can't decide which one suits you best, for instance like this, always choose the top one, Video Converter Ultimate.