Best 1080p to 480p Converters: How to Downscale a Video Competently
You have your reason why you need a 1080p to 480p converter. But in general, one may only want to downscale a video to meet the resolution requirement of the media player he is using or for compilation purposes. Regardless of the reason for this circumstance, one thing is for sure; we have the best solutions for you to use. Downscaling a video is not as simple as it looks. Downscaling can affect the quality of the video, which is why you should do it with care and with a powerful tool. Because if you do this without being careful using the correct tool, you might damage your video. For this reason, it prompted us to provide you with the guidance to convert 1080p to 480p with the faultless video editing tools you must use.

Part 1: 3 Best Desktop Tools to Downscale 1080p to 480p Videos
1. Video Converter Ultimate
The search days for the best video converter are over because you now have this Video Converter Ultimate. It is one of the most effective video editing software that converts video and audio files 70 times faster into more than 300 different formats with various resolutions each. On this note, the process of downscaling 1080p to 480p is a masterpiece, where it still preserves the quality of the video. Furthermore, you will surely appreciate the fantastic software method that even inexperienced users who are new to video editing can easily navigate.
Aside from that, it also lets you modify the profile of your videos, such as the frame rate, encoder, bitrate, and resolution. Likewise, you can also do the editing for the audio of your video. What else? There are also so many reasons to lavish this software. For it contains all the valuable editing tools within its interface. Imagine, it can help you enhance, cut, merge, personalize and control your 1080p downscaled to 480p videos according to your needs. It is also an excellent tool for making movies, playlists, collages, 3Ds, and GIFs.
Key Features of Video Converter Ultimate
1. Wide range of customizable video and audio editing options.
2. Ultrafast technology for a rapid conversion process of batch video files.
3. Convert and produce video files losslessly.
4. Extensive format options for video, audio, and devices.
5. Built-in media player and a huge output library for the converted files.
How to Use Video Converter Ultimate in Upscaling Video Resolution
Step 1
Download and Upload
Click the Download button above, then launch the downscaling tool after installing it. Consequently, upload your 1080p video files by clicking the Add icon at the center of the interface. You can also use the fastest way to upload multiple files by hitting the Add Files menu and selecting Add Folder.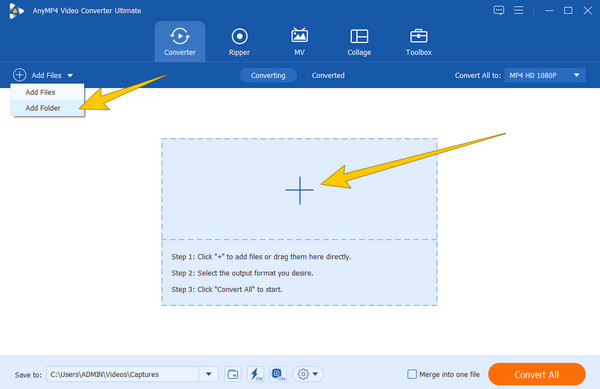 Step 2
Set to Downscale 1080p to 480p
Now hit the Convert All To option at the right-top corner of the UI. Then, a popped-up window will appear and select the same format your video has. Now, on the right part of the window, scroll down, look for the SD 480P option, and click it.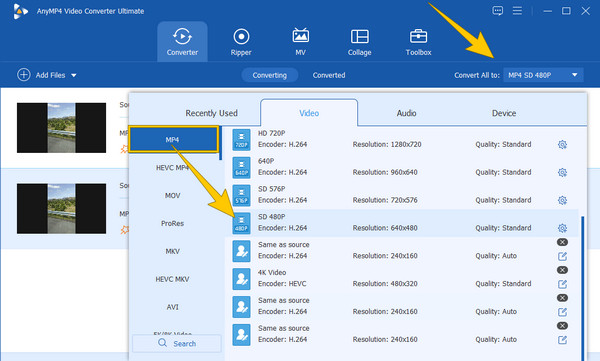 Step 3
Convert the Video Files
Instantly, you can already click the Convert All orange button. However, you can still optimize the extra editing tools in the same window interface before clicking it. Such tools for enhancing your videos are located under your uploaded video files. Also, you can toggle the Ultrafast and Hardware Acceleration icons at the bottom to experience the rapid conversion process.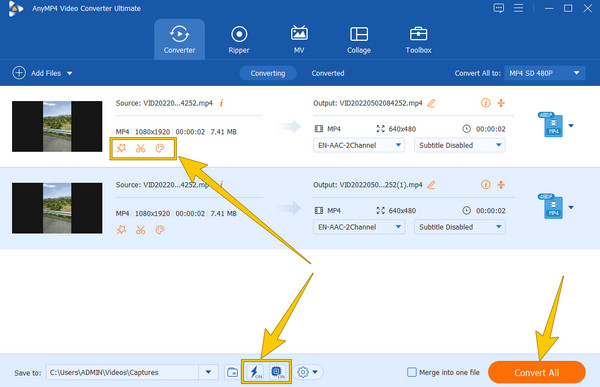 2. HandBrake
Another tool that can easily convert your video from 1080p to 480p is HandBrake. It is an open-source transcoder that you have and use for free on your Mac, Linux, and Windows computers. Furthermore, this software is excellent for creating and converting videos easily and quickly. Moreover, it provides many different filters, chapters, dimensions, and subtitles options. However, as it is one of those popular tools that can downscale videos, it opposes the ability to upscale videos. Nevertheless, it is a good choice for a free and open-source tool you seek. Hence, here are the steps on how to use it in converting 1080p to 480p below.
Step 1
Launch Handbrake on your computer device, and upload your video file as it advises upon reaching the inside of the tool.
Step 2
Once your video is uploaded in the main interface, go to the Preset, where you can see the 1080p resolution of your video, then hit the Arrow-Right. Then, since the video here is MP4, pick the General option, and select the Very Fast 480p30 selection.
Step 3
After that, you can already hit the Start Encode button located at the top ribbon. Wait for the encoding process, then check your downscaled video afterward.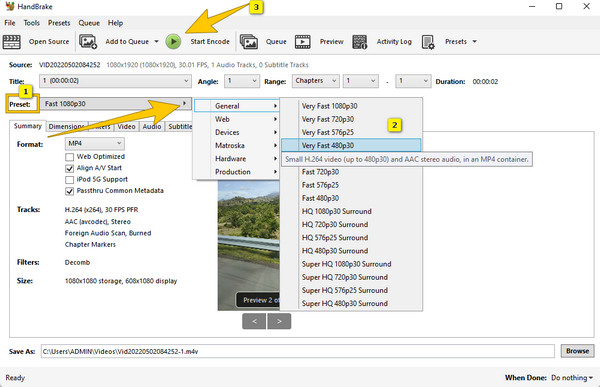 3. VLC
VLC is among those good media players that can downscale 1080p to 480p clips and change video resolution for free. However, the procedure that VLC offers is not as quick and straightforward as the others, for it will require you to enter the 480p size that you desire manually. Still, VLC proves to be efficient in converting video and audio files. In fact, it has many other excellent tools that it comes with, such as filters, effects, subtitles, track synchronization, and more. However, there may be times that you won't be able to access it smoothly since it has been reported to crash occasionally. Meanwhile, here are the procedures on how to use VLC in changing the resolution of a video.
Step 1
Launch the VLC, click the Media menu, and select the Convert/Save selection. Then, upload the video file by clicking the Add button from the popped-up window and hitting the Convert/Save button.
Step 2
Then, hit the Setting icon to access Profile Edition. After that, go to the Video Codec > Resolution, manually encode the width and height size for 480p video, and hit Save.
Step 3
After that, click the Browse tab and choose a destination folder. Then, hit the Start button to begin the conversion.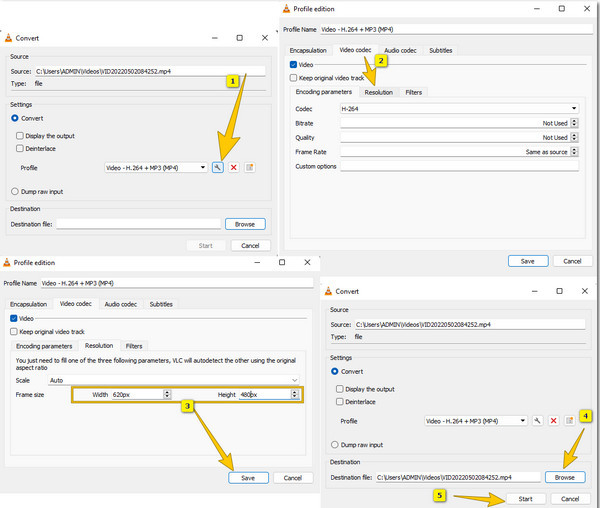 Part 2: Convert 1080p Video to 480p with Online Converter
If you want to use a 1080p to 480p online converter, then the Online-Convert tool is the one you should use. It is among the online tools that efficiently downscale video or lower video resolution without affecting the quality. However, you cannot have all the functionalities that you expect since online tools are only limited. Hence, if you want to try it, follow the quick steps below.
Step 1
Visit the video converter tool using your browser, then hit the Choose File button to upload your 1080p video.
Step 2
Then, click the Arrow menu under the Choose a Preset option, and pick the 480p selection.
Step 3
After that, you can hit the Start button to begin the conversion process.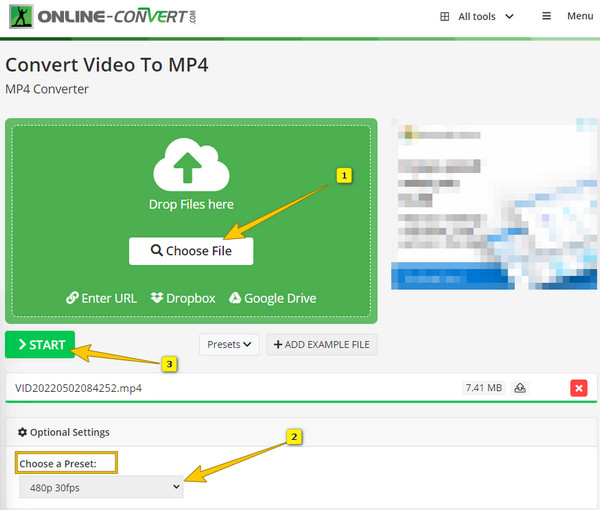 Part 3: FAQs about Downscaling 1080p to 480p Videos
Is it easy to convert 1080p to 480p in FFMpeg?
No. Converting video formats and resolution using FFMpeg is not easy. This tool requires technical knowledge since it works with a command.
What does a video look like after downscaling to 480p?
A video that comes from an HD resolution will have a poor-quality display look. This is because 480p videos have an SD resolution.
Is 480p still acceptable online?
Yes. However, most of the popular social media platforms limit the usage of 480p.
Conclusion
To conclude, no one and nothing can stop you from converting 1080p to 480p. You will succeed in your desire if you have a valid reason and the means to execute the task correctly. After all, there are many available video editing tools that you can use out there. It is just that the tools we presented in this article are the best for this job so far, especially the Video Converter Ultimate. You will never go wrong in choosing this tool, for it exceeds the full functionality that you expect for a video converter.