How to Unblur a Video: Ultimate Guidelines in 5 Remarkable Ways
Having a blurry video is a brain-racking situation. Without over-reacting, people who captured a one-time memorable event won't feel at ease when they see their video in a not-so-nice display due to blurriness. Wouldn't it be brain-racking if you knew that the stars of the event would be disappointed with your captured video? Therefore, before that happens, you must know how to solve the problem. You must know how to fix a blurry video. Fortunately, this article has an outline of the ultimate guidelines for this matter, along with the best tools to use in executing the task. Hence, let's go on to the whole context by reading the entire content below.

Part 1: Three Best Ways to Unblur a Video on Windows/Mac Computers
This part is for those who want to know how to make a video clearer using their computer.
1. Video Converter Ultimate
First, on the list, we have the most promising Video Converter Ultimate. All kinds of users may have the video editor available on Windows and Mac. And when we say all, we mean beginners and professionals alike. Video Converter Ultimate is easy to use. But the results are a professional type of output that everyone will think a professional user works for, even if it is not. This amazing software offers you a powerful video enhancer for clearing a video. This tool allows you to experience an artificial intelligence fixation on removing a blur from a video. How? By just clicking on its resolution upgrader, brightness optimizer, noise, and shaking remover, you will have a clearer video instantly!
Furthermore, it also allows you to cut or split your video, modify the output format, and manually designate a good resolution while fixing the blurriness. These are just the features of its particular video editing tool, and many more to discover once you try its other tools and functions within a single software!
Main Features
1. Safe to store on your Mac and desktop due to its hardware acceleration.
2. Advanced AI technology for its video-enhancing tool.
3. Import and export all the most popular video types.
4. Multi-featured and intuitive software for everyone!
How to Remove Blur From Video with Video Converter Ultimate
Step 1
After acquiring this software on your Windows or Mac, open it. Then, upon reaching the main interface, go to its Toolbox and look for the Video Enhancer option. Afterward, import your video quickly.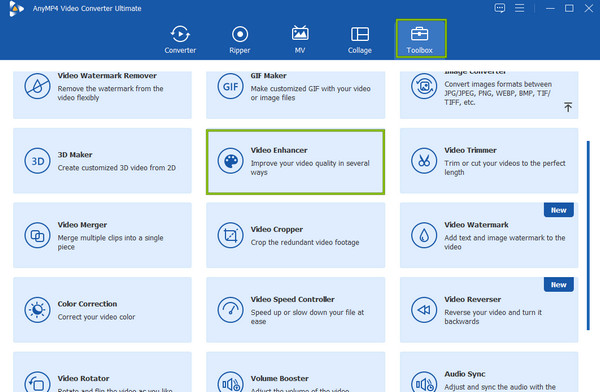 Step 2
Now that you are in the Video Enhancer window, toggle all the enhancing options to activate. Then, Navigate the Cut, Format, or Resolution if you want to customize your video. If not, you can choose to click the Preview button to view your video.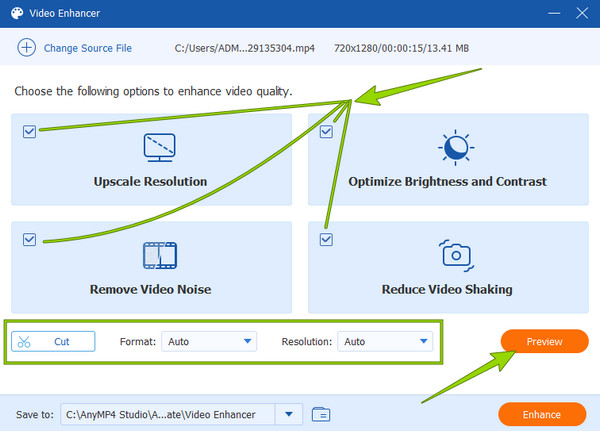 Step 3
After that, you can scrutinize the Save To section for your file destination. And finally, you can already click the Enhance button to finish and save.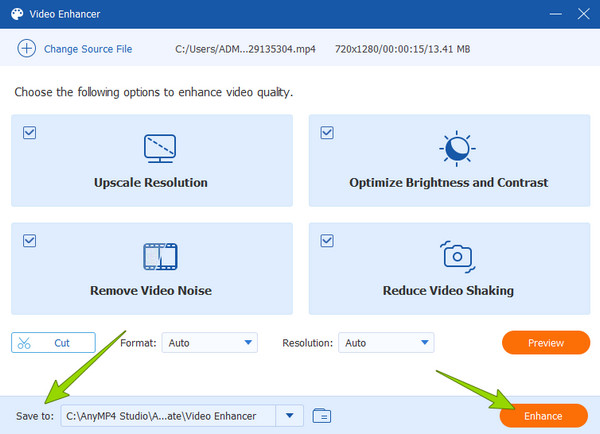 2. Premiere Pro
You can fix blurry videos in Premiere Pro like an expert. Premiere Pro has been one of the leading video editing tools in the market for years now. Its excessive features and editing tools have made it famous. In fact, many professionals turned to utilizing this software due to its advanced tools for video enhancing, such as unblurring, brightening, upscaling resolution, and many more. However, as great as it is for the experts, it seems to show the other way around for beginners. We cannot deny how tricky Premiere Pro is when navigating it. Hence, with the simplified steps below, you can bring home the bacon for this task.
How to Make a Video Clearer with Premiere Pro
Step 1
Launch the software on your computer, and begin by clicking the Create New Project tab. Then, you can now import the video you need to edit.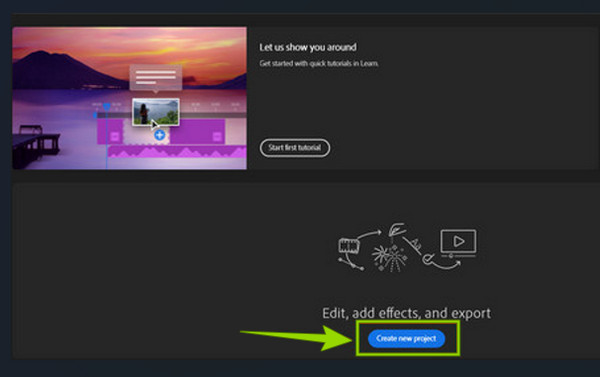 Step 2
Now, go to the Effects control, and see the Amount Radius and the Threshold to adjust. Slide the bar until you reach the perfect parameters to fix the blurriness of your file.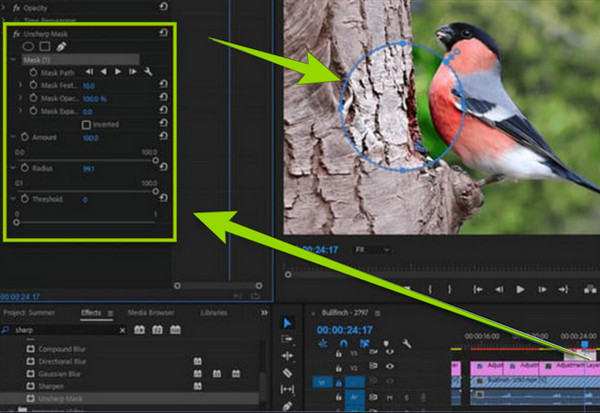 Step 3
After that, you can check the preview, then already save your edited video.
3. iMovie
Moving forward, let's now tackle the last on the list, the iMovie. Every Apple user must know this movie maker/video editor since it is one of the aces of the Mac. It comes with a wide variety of video-enhancing tools, such as a speed controller, watermark remover, resolution upgrader, and more. However, this software's loyalty is only for Mac and won't show on Windows. Hence, let's all learn how to use iMovie to fix videos without further adieu.
How to Make a Video Clearer on iMovie
Step 1
Launch the iMovie on your Mac and start to import your video via the drag-and-drop method. Then, drag your video to the timeline to show it in the preview.
Step 2
At the top of the preview section, click the Paint icon. Then, start dragging the slider until you fix the blurriness of the video.
Step 3
Once done, you can already save the edited video.
Part 2: How to Fix a Blurry Video on Phones [iPhone/Android]
If you want to try fixing your video on your phone, then you must use VivaVideo. It is the best solution to how-to-fix blurry videos on Android and iPhone queries. Furthermore, besides fixing blurry clips, this app also allows you to convert, create slideshows, upscale and change the speed of your videos. On the other hand, unlike most video editing apps, VivaVideo is not a completely free tool, and it only gives seven days for its free trial. Meanwhile, below are the steps on how to use it to fix your video.
Step 1
Launch the app on your phone and tap the NEW PROJECT tab. By tapping the said tab, you will need to select the video you need to edit and upload.
Step 2
Then, look for the Adjust option from the list of editing tools at the bottom. After that, look for the Sharpen tool with a Triangle shape.
Step 3
Adjust the toolbar until you reach your preference. Then, tap the Done option and save the video.
Part 3: Quick Guidelines on Fixing Blurry Videos Online
Those who don't want to use the software on an app can still fix blurry videos online for free. If that's the case, you can use Clideo. It is a free online video editor that will help you remove dirt and noise from your video. It modifies your file's contrast, hue, brightness, saturation, and vignette. However, Clideo will only allow you to use it for free, with limitations on the output quality. Nevertheless, here are steps to follow in using it.
Step 1
Visit the tool's official website, and begin by uploading your video file.
Step 2
After that, start adjusting the parameters until you fix your video perfectly.
Step 3
After that, hit the Export button. Then proceed to save the new file.
Further Reading:
Snapchat Filter: Learn the Trend and How to Make One
How to Brighten a Video in Five Best Ways on PC and Phone
Part 4: FAQs about Fixing Blurry Videos
Will my file be the same size after fixing the blur?
No. Fixing your blurry video will give you a bigger size. This is because it is an enhancing method, and in enhancing, you add elements to the video.
Why can't I unblur the video on my phone using VLC?
This is because the VLC mobile version is solely a media player alone.
Will it maintain the quality if I unblur my video?
Yes. In fact, when you unblur your video, it will also increase the quality.
Conclusion
There you go, the guidelines on how to fix a blurry video. You now have five options to do this task. Choose wisely from the three desktop tools because they are all excellent. However, if you don't mind, we oblige you to use Video Converter Ultimate, for it is the most user-friendly and flexible among them.