Discover the Best Guidelines on How to Put Audio Over a Video on a Computer and iPhone
If you want your video to have a cinematic emotional playback, put music in it. Music plays a significant role in cinematic video creation. It helps the viewers feel extra emotion while watching the video. For example, they will never feel the romantic vibe of the scene if there's no romantic sound. Same with the hardcore scene without a hardcore song. And, of course, the very common birthday video, how would it be convincing without a birthday song in it, right? Therefore, a substantial effect will make a big difference in your video masterpiece. Hence, if you are convinced of the importance of this effect but don't know precisely how to put music on a video, we are here to the rescue.
By going on this post, you will learn the best guidelines for our agenda. Plus, we are going to do it with the best video editing programs that you shouldn't miss. So, without any further adieu, let's get this started.

Part 1. Best Way to Put Music on a Video on a Computer
Making music to put behind a video will never be an arduous task if you use the best software. Indeed, many video editing apps are workable on the task, but not all are efficient. However, most of them give watermarked outputs that might disappoint you. Therefore, here is the best downloadable software that would help you best on your music video project.
How to Put Audio in a Video with Video Converter Ultimate
Video Converter Ultimate is the best downloadable software that you can use to make your own video with music. Thanks to the MV and converter features of this offline video editing software that help you put music behind a video. Yes, this Video Converter Ultimate provides you with two amazing ways to do the job efficiently without affecting the high quality of your video. In addition, it has a neat and easy-to-use user interface, allowing you and any level of user to navigate it easily. In this intuitive interface lies many amazing video and audio editing tools that you can use, including video enhancer, watermark remover, 3D maker, collage maker, and many more within its toolbox.
Another impressive thing about this tool is that it supports all video and audio popular file formats, including MP4, MOV, FLV, MKV, VOB, AAC, MAV, MP3, WMV, and other 500+ more. Furthermore, it is available to acquire on the leading operating systems, like Windows and Mac. And to give you the answer on how to put music in the background of a video, then check out the steps below.
Main Features:
1. Powerful presets in its MV maker to customize.
2. More than 500 video and audio file formats to use.
3. Advanced technologies that make the process easy and quick.
4. With a toolbox of powerful editing tools.
Step 1
Download and install this amazing Video Converter Ultimate by clicking the download buttons above. Then, run it, go to the MV menu, and head to the Plus sign button to add the video you need to edit.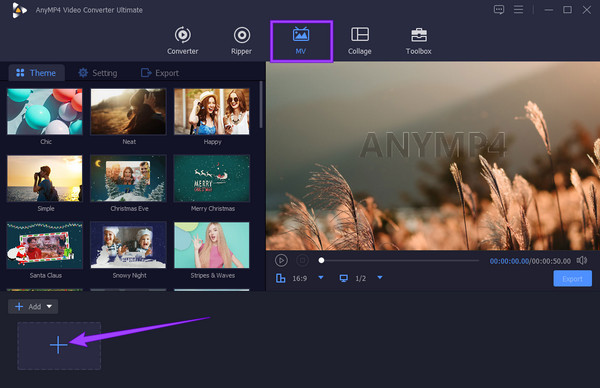 Step 2
nce your video is uploaded, go to the Setting panel then. Now, hover under the Audio Track section and tick the Background Music to add audio to MP4 or any type of video. After that, click the Plus sign next to it to add the music file you want to apply.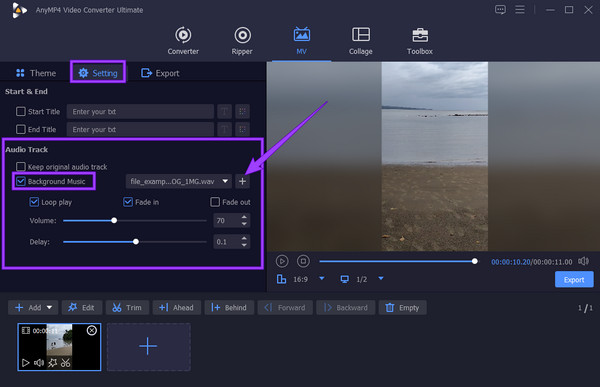 Step 3
Optionally, you can also navigate the other customization tools in the window. You can customize the volume, edit and apply fade-in and fade-out effects.
Step 4
Finally, click the Export button to proceed with the saving process. Once clicked, the tool will lead you to a new section where you can customize your output. Once you are done with customization, click the Start Export button to save.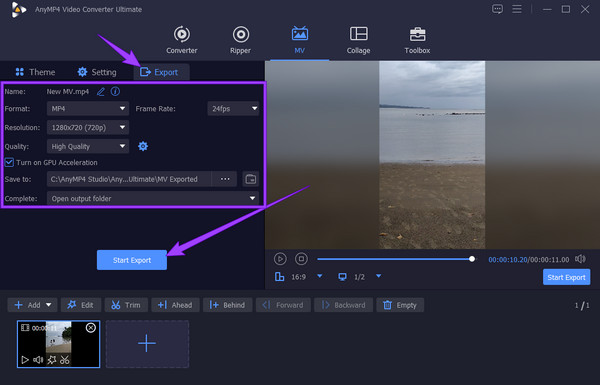 Part 2. How to Put Music Over a Video on iPhone
If you are using an iPhone and want to know the best way to include audio in your video, then here is the best app you should use.
How to Add Music to Your Video Using iMovie
Being an iPhone user, you must know the iMovie. It is the most popular video editing app for iPhones, iPads, and Macs. Furthermore, iMovie is a user-friendly tool with a very intuitive interface. It comes with many video editing features and tools that you can use, such as merging videos, adding text to videos, enhancing the video, adjusting the speed of your video, and many more. Meanwhile, putting music behind a video with this app has been easy on your favorite handy phone, for it lets you work like a pro easily yet efficiently. Not to mention the high-quality display it produces for your valued video files. However, just like the other apps out there, this iMovie has yet to be safe from drawbacks, and one of them is its high system requirement for iPhones. And for the others, it is you who can check out.
Step 1
Unlike on Mac, you need to download and install the iMovie app on your iPhone. Once done, launch the app, tap the Start New Project selection, then choose the Movie option. And this is how to overlay audio in iMovie.
Step 2
Choose the video that you need to edit, then tap the Create Movie option to allow you to add audio. On the next interface, tap the video file you uploaded on the timeline and the Add icon to add the audio.
Step 3
This time, select the Audio selection and choose the folder where the audio is saved. Tap the audio, and tap the Add sign button to import the audio you want to add to the video. After that, tap the Done tab to save and export your newly edited video with audio. You also can use iMovie to add text to videos.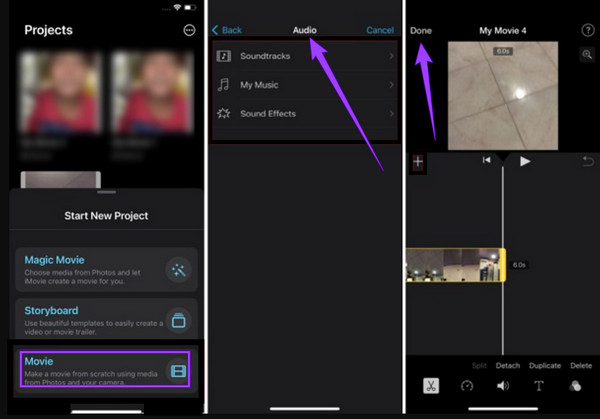 Part 3. How to Put Audio Over Video Online
This is your lucky day if you want to know how to put audio over video online. For we have found the best web-based tool, you can use for free, which is written below.
Use Kapwing to Add Music to Your Video
Kapwing is a free online video editing program that you can utilize when adding audio to your favorite clips. It is, in fact, one of the most popular online tools that many beginners know due to its simple and easy-to-use interface. Furthermore, this nice tool supports standard video and audio formats such as OGG, MP3, WAV, WMV, and MP4. However, for its free service, Kapwing only allows you to have an MP4 video output. In addition, when you attach audio to video online with this web-based program, you might experience a slow importation and exportation process, even with how good your internet is. On the other hand, the good thing about this program is that it is safe and accessible on all web browsers.
Step 1
On your computer's browser, search the website of Kapwing. Then, click the Upload File button from the main page.
Step 2
Once you have reached its main interface, where your video is uploaded, click the Add Media button. Then, upload the audio you want to add.
Step 3
Once the audio is also in, put it in the timeline. Then, drag it to fit the duration of your video. After that, hit the Export Project to save the file.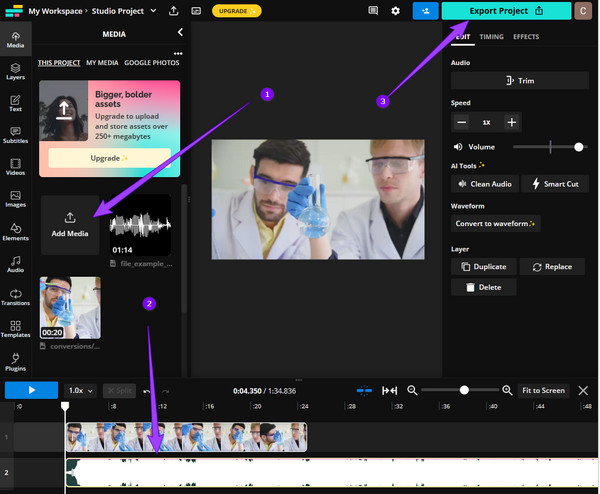 Part 4. Steps on How to Attach Audio to Video on Final Cut Pro
Final Cut Pro is another fulfilling software to use when it comes to video editing. It is through the multiple powerful tools that it offers that it works on almost all video editing. On top of that, you will surely be glad to attach audio to the video with Final Cut Pro because it has an amazing library of sound effects. However, you must install the said library separately before accessing it. Hence, if you already have the library installed together with Final Cut Pro, here are the simple steps to follow for making a music video.
Step 1
Launch the software. Then, upload the video that you want to edit.
Step 2
After that, access the audio library and import your chosen audio.
Step 3
Then, drag your chosen audio to your uploaded video and proceed to save the new file.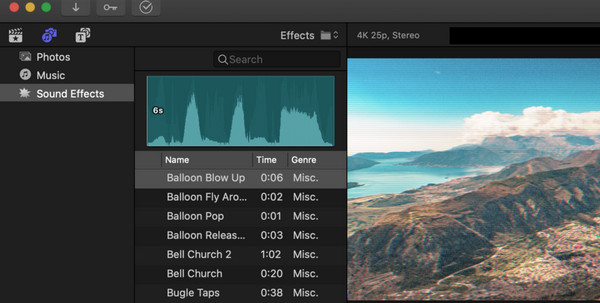 Part 5. FAQs about Putting Music on Videos
Can I overlay two audio files online?
Yes, you can. You can use the online tool we presented in this post to help you overlay or overlap two audio files.
Is it possible to add music to a photograph?
Yes. Adding music to a photo is so simple. It has the same procedure as adding music to a video clip. Hence, you can rely on the steps given above.
Can I add an entire song to a video?
Yes, as long as you use your own song, then it is fine.
Conclusion
How to put music on a video? This matter should not be a problematic concern to you anymore, for we have provided you with the best solutions today. See to it that you have hands-on experience with all of those tools to create your own testimonies about them. As for the many users and us, the Video Converter Ultimate is still the top choice since it offers an easy yet full-of functionalities procedure.