How to Reverse a Video for Instagram: Comprehensive Guidelines to Follow
How to do a reverse video on Instagram? I really want to post my Instagrammable video in reverse, and I already spent so much time looking for the way on Instagram but couldn't find it.
This is a query that we always get from our clients. And now, once and for all, let us use this article post to teach you the effective ways to reverse your videos on your favorite social media platform, Instagram. We know how disappointing it is not to be able to do what you really want with your video, especially if you know that this might be popular or trending content to share on the once-most-used video platform of the decade. We cannot deny the popularity of Instagram, for it is being used by ordinary people and famous artists worldwide. Therefore, without further adieu, let's start to learn how to reverse a video for Instagram below.

Part 1. How to Reverse a Video on Instagram
Many Instagram users, especially the new ones, are dying to know about the reverse video feature. Who wouldn't dare to try this one of the most attended effects on the web today on the most favorite social media platform? However, as this effect was presented before, Instagram has removed it from its list of filters and effects. With this unexpected occurrence, many felt disappointed because of the fact that the only solution to answer their how-to take reverse video on Instagram question will only lead them to get help from a third-party tool.
Part 2. How to Reverse a Video for Instagram on Android and iPhone
As mentioned previously, since Instagram removed its video reverse effect, you have no choice but to root for a third-party tool or app. Therefore, if you are searching for the best mobile apps to reverse your video clips for Instagram, we have gathered the perfect apps for Android and iPhone below.
Reverse Vid: Play it Backwards (for iPhone)
Reverse Vid is the one you want to have if you use an iPhone. This application is the best solution for playing videos backward for Instagram. Furthermore, this third-party mobile app is powered by AI technology, making you quickly reverse your videos. Also, it can allow you to customize the speed percentage of your video playback according to your need. However, you will need to purchase its paid version to unlock the other great features of this video reverser. Meanwhile, here are the quick steps to follow in reversing your video from Instagram.
Step 1
Download and install the app on your iPhone, and launch it after. Once launched, tap the Choose from Library tab to access the folder where your video is placed.
Step 2
Then, look for the video you wish to reverse and upload it by tapping the Choose tab.
Step 3
After that, tap the Playback Speed option you want to apply to your video. This will reverse your video immediately. Consequently, tap the Download symbol at the top right corner of the screen to export the video.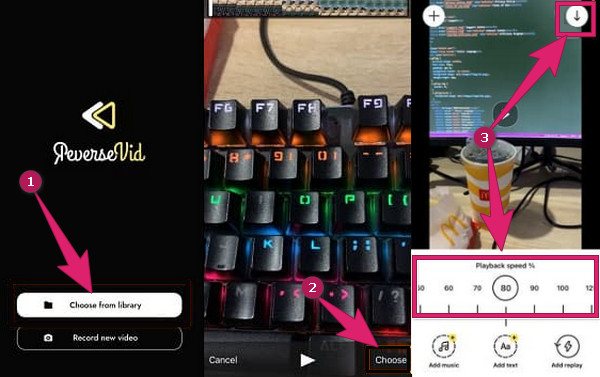 Reverse Video Master - Rewind (for Android)
If you are wondering how to create a reverse video for Instagram on Android, here comes Reverse Video Master. It is an amazing app found in the Play Store that allows you to rewind and move all your videos in a backward direction. Furthermore, it allows you to work on the videos saved in your mobile gallery or on the newly recorded ones using it. Aside from video reversing, Reverse Video Master also comes with many functions, such as a video converter, trimmer, boomerang maker, and many more. However, you have to be ready to face the pesky ads that come your way on every procedure you do. Otherwise, here are the quick steps to learn how to do a rewind video for Instagram.
Step 1
Launch the app on your Android and tap the Reverse Video option. Then, upload the Instagram video by tapping the Choose from Library tab.
Step 2
Once the video is loaded, choose whether to reverse the audio as well or not, then tap the Apply button.
Step 3
Wait till the process finishes, and tap the Share button to save the video.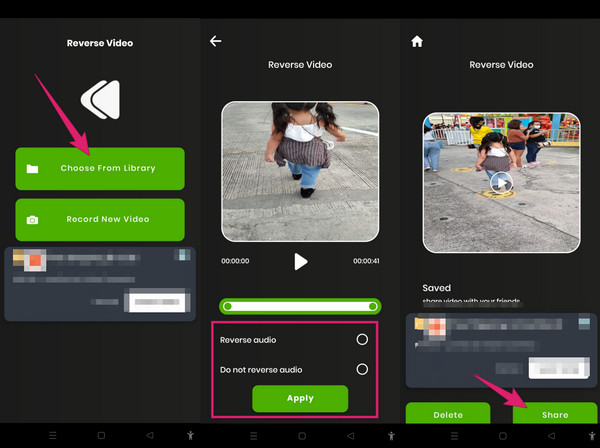 Part 3. How to Reverse a Video on a Computer for Instagram
With the available mobile apps you met above, let us move on with the best computer software to help make videos play backward for Instagram. Video Converter Ultimate is what we are talking about, and you will surely be happy to know that this software is not only for video conversion but also for video reversing. Imagine this regular-looking tool can produce a Hollywood-like video output in the easiest and quickest procedure that even beginners can master. You can also free yourself from worrying if the video you have can be processed because this fantastic software supports all the popular formats plus 500 others more.
Main Features:
1. It supports numerous video formats for input and output.
2. It reverses the video quickly and easily.
3. No watermark will ruin your video.
4. With a wide array of video editing tools added to its toolbox.
How to Do a Rewind Video for Instagram
Step 1
First, you must install this fantastic software on your computer. To do this quickly, please use the Download buttons provided above. Then, run the software after the installation.
Step 2
Once you open the software, click the Toolbox menu and hit the Video Reverser tool. On the next window, the new window, click the Plus icon to upload the video you need to reverse.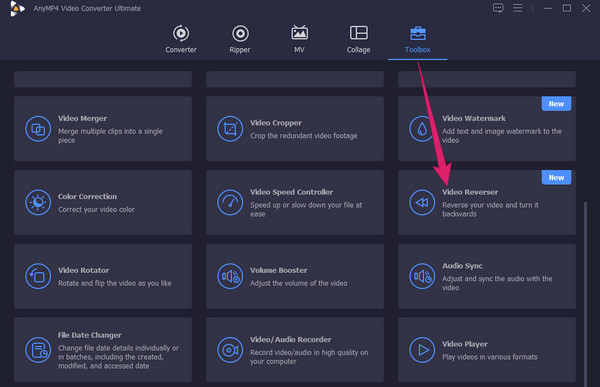 Step 3
When the video is uploaded, you can adjust it a little with the presets available on the interface. Otherwise, hit the Export button to start the reversing process. Note that after the process, the video reverser will also automatically save and export it to your device.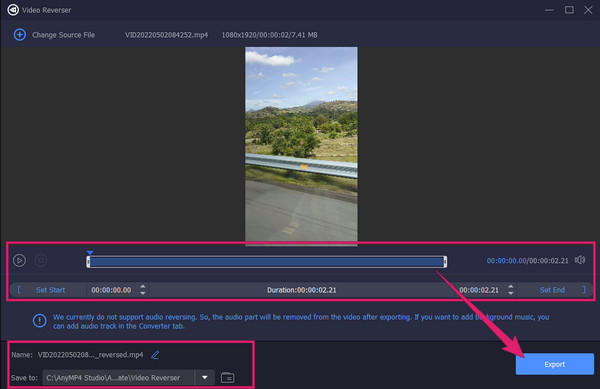 Part 4. FAQs about Reversing a Video on Snapchat
Can I upload a reverse video to Instagram? How?
Yes, you can. When you launch your Instagram, tap the add button indicating a new post to start. Then, tap the video you want to upload from your gallery.
What is the maximum video duration I can record on Instagram?
The most extended video recording you can make on Instagram is in sixty seconds.
Can I share the reversed video with my friends on Instagram?
Yes, you can. You can share the video by forwarding it to the app's messenger or by tagging your friend when you upload it.
Conclusion
You may find it very unfortunate to learn that Instagram can no longer reverse your video, but the solutions to how to reverse a video for Instagram are quite impressive. You can use them to allow you still to have reversed videos alternatively. You can also use your computer to do your job like a pro with the help of Video Converter Ultimate. Then, have a merrier video editing experience with the tons of powerful tools it offers.