How to Reverse Videos Online for Free: 3 Best Solutions to Meet and Utilize
Are you in need of an online tool for video reversing? Then, seeing this article created only for you is good timing. This article outlines the three perfect tools to reverse video clips online with their special features and some reasons to like or dislike them. Also, to give an all-out assistance to you, we also included each of their instructions or complete guides to do the job efficiently. There's more, for we will not let this article slide without teaching you the best desktop solution that will provide you with the alternative choice opposing your online function desire. Learn all about them when you continue to read the entire content below.

Part 1. How to Reverse a Video Online for Free
There are numerous options to make video backward online, but not all can provide you with the satisfying output that the top three tools give. Hence, let's not delay this moment of truth and begin to meet the top three best free online video reversers below.
Top 1. Ezgif
Many video editors use this top online tool with the name of Ezgif. We cannot deny their fondness for this web tool, especially in reversing video, since it allows them to decide whether to mute or reverse the video's audio. Another reason why everybody loves it is because of its beginner-friendly user interface. On top of that, Ezgif also holds multiple editing features besides a video reverser, such as a video cropper, converter, resizer, etc. Hence, you can use it extensively. Meanwhile, to see how to reverse a video online, hover over the steps below.
Step 1
Visit Ezgif using the browser you use on your device. Then, click the Choose Files tab when you reach the main interface to upload your video. Also, you can upload the video via a copy and paste of the URL procedure.
Step 2
This time, click the Upload Video button once you have loaded the video. Next, you can click on whether to mute or reverse your video's audio.
Step 3
Afterward, click the Reverse Video button to start the reversing process.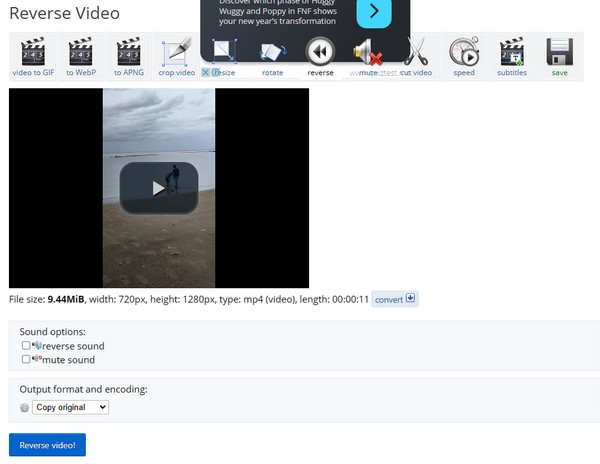 Pros:
1. It is free to use.
2. Multiple features and functions are available to use.
3. Easy and fast.
Cons:
1. It has pesky ads.
2. The exportation process takes time.
3. Limited to 100Mb file size.
Top 2. Kapwing
The following tool from the web you shall use is Kapwing. It can reverse your videos online, even if you are a beginner, easily and quickly. Furthermore, this tool offers many other video editing tools that you can freely access to make your video better or enhanced. Aside from that, you can use Kapwing to trim, add audio and subtitles to your video, and many more. However, to enjoy the reverse video feature more, you must upgrade to the premium version.
Step 1
To start, use your internet browser and search for Kapwing. Once you get to its main interface, click the Choose a Video tab and upload the video for reversal.
Step 2
After you upload the video, make sure that it is on the timeline. Then, go to the right side of the video and reach for the Edit panel, and then tick the Reverse option under the panel.
Step 3
After that, you can now check the preview. When all is good, click the Export Project button to export the reversed video on your computer. There you go. You just reverse a clip online.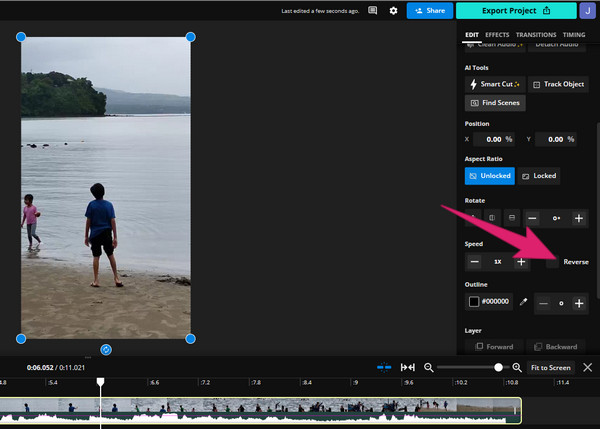 Pros:
1. It doesn't have ads.
2. It offers more tools than you expect.
3. It offers a free trial version.
Cons:
1. The free trial is limited to 3 video files only.
2. Only export your output to MP4 for free.
Top 3. Clideo
Last but not least is this Clideo, another video reverser online with perfect output. With Clideo, you can change the output format and mute your video's audio after reversing it. In addition to its reversing function, it has video editing features that you can enjoy for free. However, as part of its disadvantages, Clideo seems faster when updating. Thus, here's how you reverse video clips online using Clideo.
Step 1
Visit Clideo on your web, then look for its video reverser tool. Then, click the Choose Files button on its main interface to upload your video file.
Step 2
After that, choose your preferred Reverse Speed option for your video. The choices are 0.5x, 1x, and 2x.
Step 3
Then, click the Export button right away to save the video on your device.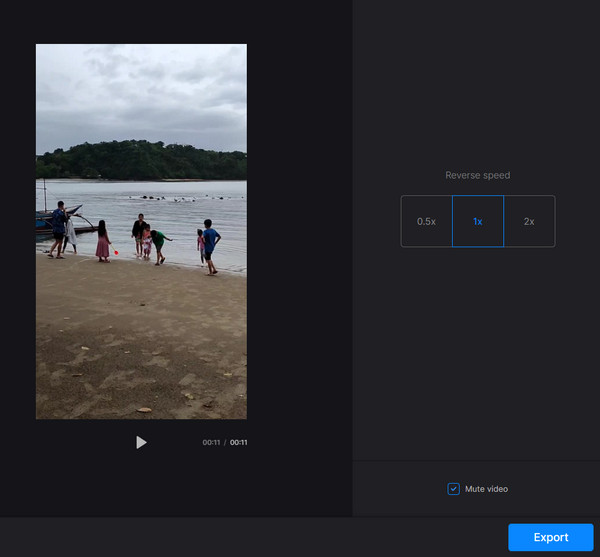 Pros:
1. You can use it for free with a breezy limitation.
2. Multiple tools to choose from.
3. Many different video formats that it supports.
Cons:
1. It has a slow update.
2. The output has a watermark.
Part 2. Bonus: How to Reverse the Video with the Best Offline Tool
This bonus part presents the best offline tool to reverse your video, Video Converter Ultimate. It is actually the best video converter tool that you can obtain on Windows and Mac, with an added toolbox of tons of powerful video editing tools, including a video reverser. With this specific tool, you can reverse the video from any device with ease. Thanks to Artificial Intelligence and acceleration technologies that help the process in a matter of seconds. Yes, just like the online tools above, this Video Converter Ultimate can also work with a few clicks. Distinctively, this software provides an excellent output that online tools cannot produce. Also, you don't need to worry about the watermarked outputs and some ads that could annoy you because it has none.
Key Features:
1. 3-step video reversing procedure offline.
2. Lossless quality output.
3. Support for more than 500 different formats.
4. Advanced technologies that empower the process.
Step 1
Launch the software after you install it on your computer. Then, go directly to its Toolbox menu to see and click the Video Reverser tool.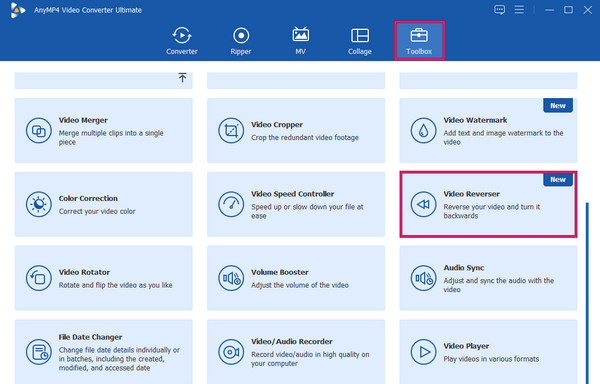 Step 2
Once clicked, it's time to upload the video file by clicking the Plus icon on the next window.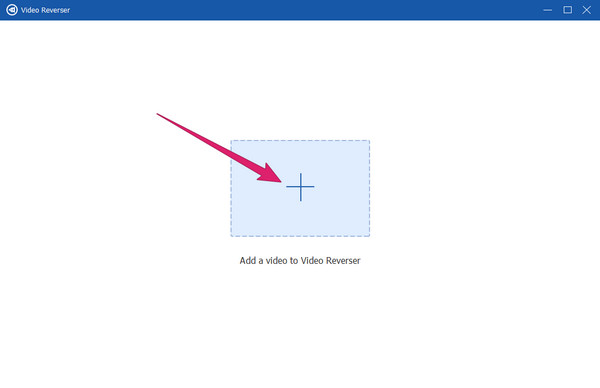 Step 3
As quick as that, you can now hit the Export button at the bottom right corner to process the reversing. Also, after the process, it will automatically save the video in the destination folder.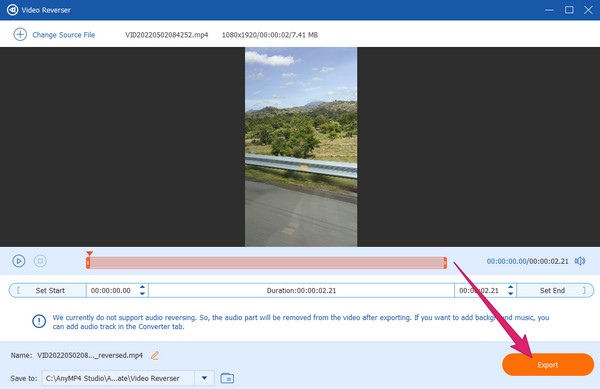 Part 3. FAQs about How to Reverse Videos Online
Can I reverse the MP4 video online with my iPhone?
Yes. You can use your iPhone to reverse your video with an online tool as long as you have a strong internet.
Can an online tool reverse my 4K video?
Many online tools may claim it as yes. However, if you want to be sure to have a lossless video reversing the process, use Video Converter Ultimate, the best offline tool.
What will happen if I reverse a reversed video?
The video will just go back to its original flow if you reverse the video you reversed before.
Conclusion
Reverse videos online and be confident with the tools we presented above. We were not the only ones who could attest to their efficiency but also many users. In addition, others have also proven the excellency of Video Converter Ultimate being an offline tool due to its quality and excellent performance. So, what are you waiting for? Download it now!