Steps to Follow in Slowing Down a Video in iMovie with the Best Option
There are different reasons why we need to change the speed rate of our video. We may want to speed up the clip to create a timelapse effect and then slow down to emphasize the best or funny scenes in the video. Everyone who knows that there are schemes to do this matter will surely do it. Well, who wouldn't try it for views, right? And if you are a fan of Apple, then you must know the iMovie by now. It is a program that is tied to Mac and iOS devices. Therefore, in this article, we will provide you with complete schemes on how to slow down a video in iMovie on both Mac and iPhone. On the other hand, you will find another proven option regarding extensive video editing. You will learn all of those if you read the entire content below.

Part 1: Complete Procedure in Slowing Down a Video on iMovie
iMovie is one of the top notches of Apple. It is a pre-installed video editing program on Mac and iOS. Furthermore, this application began and continued to support high-definition videos and is an excellent tool to turn lousy videos into high. As time went by, iMovie has also been available to other platforms like Windows. That said, there is no way not to reach it even though you don't use an Apple device, as long as you are willing to pay for it. Moving forward, iMovie has been known for its many features and editing tools that contribute much to creating stunning videos and movies. One of its functions is turning the video into slo-mo, which is our main target today.
How to Slow a Video Down on iMovie Using Mac
Step 1
Launch your Mac's iMovie app and start to click the Create New tab. Then, from the popped-up options, choose the Movie.
Step 2
Upon reaching the main interface of iMovie, you may start importing the video. How? Click the Arrow Down icon that says Import Media.
Step 3
Once the video file is uploaded, drag it down to place it in the timeline. Then, click the video on the timeline, and hit the Speed icon at the top of the preview. After that, click the arrow drop-down button of the Speed menu, and select Slow. Then, choose the percentage of slow motion that you want.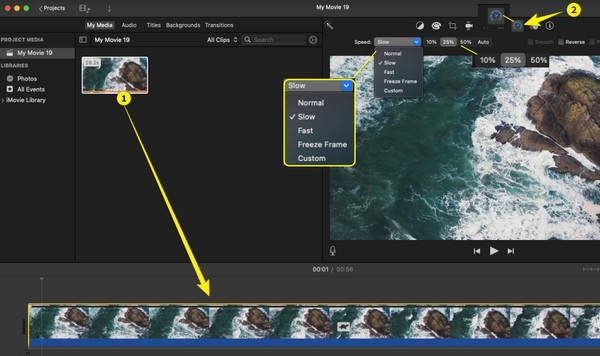 Step 4
Play the preview video to check the pre-output. When all is good, hit the Share icon at the top right corner of the interface and click Export File.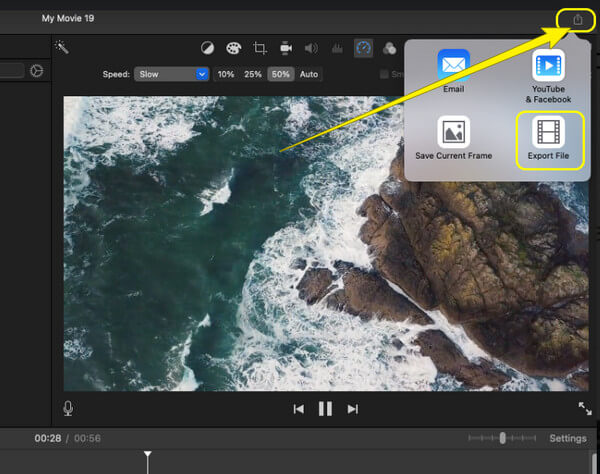 How to Slow Down a Video Clip in iMovie on iPhone
Now get your iPhone and try the following steps below.
Step 1
Launch the iMovie app on your phone. Upon opening, initially tap the Start New Project menu tab. From its menu, select the Magic Movie selection.
Step 2
Now it's time to upload your video from your local gallery. Once you have selected the video file, click the Create Magic Movie tab.
Step 3
After that, tap on the video you uploaded to see the video editing tools. Swipe right and find the Speed tool selection.
Step 4
Then, start slowing down the video by dragging the sliding bar to the left.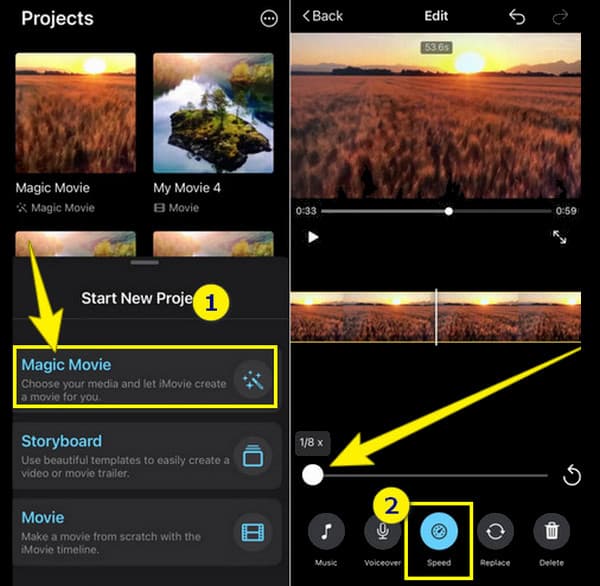 Part 2: Best Option to Slow Down a Video Besides iMovie
Since iMovie has a different requirement for Windows devices, we have the best option to slow down your videos efficiently. Using Video Converter Ultimate will be hassle-free for you to make different adjustments to your video using a desktop. Well, this amazing software doesn't not only work perfectly for Windows but also for Mac. Furthermore, it has an excellent capacity to make videos in slow motion as well as in speed motion. With Video Converter Ultimate, you will not go wrong on these tasks, for it provides you with many options, including a preview to let you check on your video before saving it.
On top of that, it also enables you to adjust your video's audio to make it somehow nicer to hear, even if you have already transformed it. And to its video display? It has this video set that is very generous with options for video enhancement. Imagine, it will provide controls for the quality, resolution, encoder, frame rate, zoom mode, and output format!
Key Features of Video Converter Ultimate for Slowing Down Video
1. Slow down the video with only a few clicks.
2. Optimize the video and audio outputs while changing the speed.
3. Speed up to 8x faster, and slow down to 0.2125x slower.
4. It gives a preview video for the modifications being applied in real time.
How to Slow Down Video Speed in iMovie's Best Alternative
Step 1
Install the software on your computer device and open it. Reach the Toolbox menu once you get to its main interface.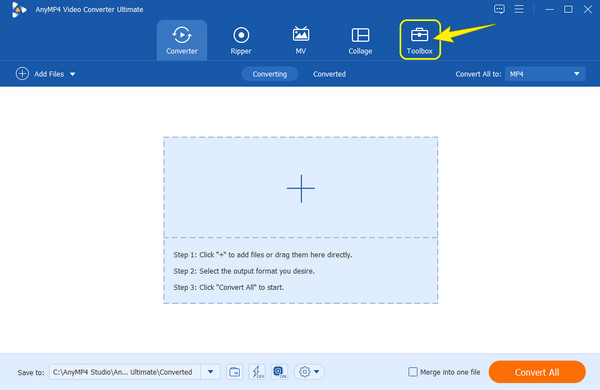 Step 2
Next is to click the Video Speed Controller tool in the Toolbox. Once you hit the tool, it will ask you to click the Plus icon from the next window to upload your video.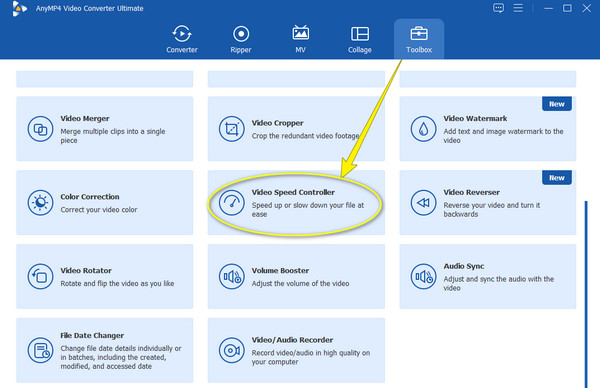 Step 3
Now to slow down the speed of your video, choose a rate from 0.125x to 0.75X only. After choosing, click the Play button to watch the preview.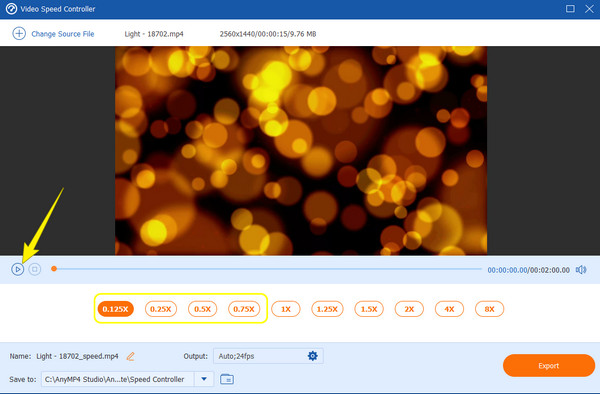 Step 4
After that, savor the Output settings to enhance your video file. Click the Coggle icon, make some adjustments, then hit the OK button.
Step 5
Subsequently, hit the Export button to download your edited video file finally quickly.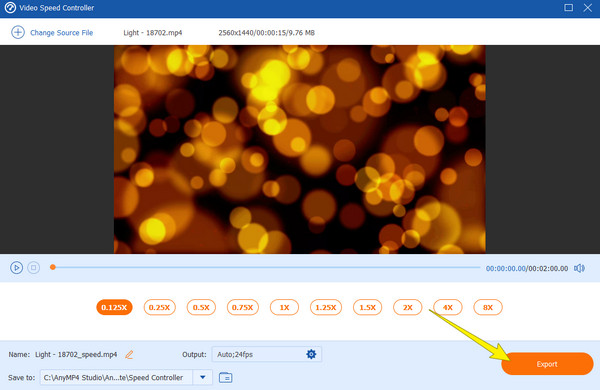 Part 3: FAQs about Slowing Down a Video in iMovie
What video format will I get from iMovie?
iMovie usually produces video outputs in MP4 and MOV for the video, and MP3, AAC, WAV, and AIFF for audio.
Can I slow-mo the video without affecting the rate of the sound?
No. Slowing down a video will indeed affect the audio of the video. This is because the sound needs to be in rhyme with the video unless you use a new sound for your slowed video.
Can I edit the audio of my slow-mo video in iMovie?
Yes. But if you are looking for advanced features and if you will use a Windows-based computer, then iMovie might not be the best choice to use.
Conclusion
To conclude, iMovie is an excellent video editing program for Mac and iOS devices. But if you are new to using Apple devices, you may not appreciate its excellency due to its being a challenging tool. This is why we made it to the point that the solution on how to slow down a video clip in the iMovie issue will be as smooth as it can be. Besides, we have given you the best other option, which is the Video Converter Ultimate, if you really can't carry iMovie.