How to Slow a Video on Snapchat for Stories and Safekeeping
If you still don't know, Snapchat is one of the messaging apps that comes with excellent filters. It enables you to make creative videos using its built-in tool, which contributes so much to creating incredible stories. On the other hand, this app's filters and tools also help you edit the local videos you save for memories. One of the recent filters that Snapchat added was the slow-motion effect. This filter makes your newly recorded and even your older videos slow down in speed. This filter is excellent for those who want to highlight the event or subject of the video by observing them in detail. So, with all this being said, how do you slow down a video on Snapchat? See the rest of this article to find out!

Part 1: How to Slow Down a Video on Snapchat via Its Original Function
As we said, Snapchat offers many cool features that create extraordinary stories. And at present, it comes with video speed-changing tools that enable users to speed up and slow down videos. However, we want to emphasize that the slow motion in Snapchat is a part of its editing tools. This means you cannot take raw videos in slow motion but make them slow after the recording, just like other social media apps. So, to get more of what we are trying to say, here are the guidelines on how to slow down a video on Snapchat.
For Creating Slow-Mo Stories
Step 1
Launch Snapchat, record a video via press and hold on to the Record button.
Step 2
Once you finish the recording, swipe the screen from left to right simultaneously. Keep on swiping until you reach the slow-motion effect, which is presented by a Snail icon.
Step 3
Then, tap the Next tab to proceed. Toggle on the My Story and tap the Okay button to share the video as a story.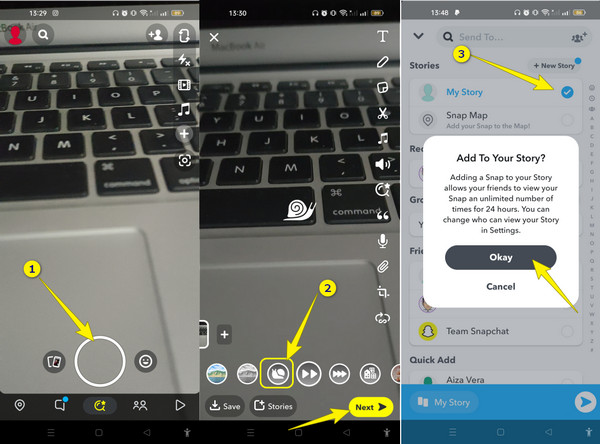 For Creating Slow-Mo for Saving
Step 1
On your Snapchat screen, tap the Memories icon on the left side of the Record button.
Step 2
On the next page, go to the Camera Roll option to access your video files on your mobile device. From there, click the video that you want to edit.
Step 3
Once the video is on the screen, tap the Pencil icon to edit. Then reach for the Slow motion effect by swiping the screen to the right.
Step 4
Then, when the effect is already applied, tap the Export tab. Then select the Download option on the popped-up bar. Then check the newly edited video in your photo gallery.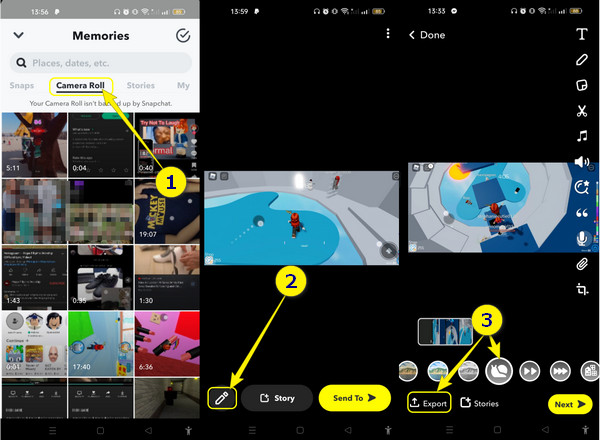 Part 2: 2 Best Ways to Slow Down a Video for Snapchat
Slowing down a video on Snapchat will only allow you with the ones with less than 60 seconds duration. Yes, if your video is longer, you will be unable to edit it using the app. Therefore, if you still want to share your long videos on Snapchat with a slow-motion effect, then we still got you. Below are the two best ways that you need to do it.
1. Slow Down a Video Using the Best Desktop Software
Video Converter Ultimate is the best solution to slow down videos on a desktop and Mac. It can extraordinarily handle your long videos for Snapchat. It has all the video editing tools that you need or want. Form a converter, reverser, enhancer, color corrector, recorder, watermark remover, video speed controller, and others that are too many to mention. Aside from its impressive functionalities, it is also a good companion in creating personalized movies, collages, GIFs, and 3Ds.
When it comes to changing video speed, this Video Converter Ultimate lets you lavish on many beautiful options to level up the video. It enables you to enhance the resolution to up to 4K, a frame rate of up to 60fps, format to the popular ones, encoder, and zoom mode. Not to mention the various speed rate selections it has within the intuitive interface. There are many features that you can lavish from this mega software, including the following;
1. Slow down your video in the easiest and quickest way.
2. It has a full-packed toolbox with all the robust stencils for video editing.
3. Hardware protector and accelerator to speed up the video editing process.
4. High to lossless quality of video even after editing.
How to Slow Down a Video for Snapchat in Video Converter Ultimate
Step 1
Download the software on your desktop or Mac smoothly. After installing it, launch it and reach for the Toolbox that is located at the center top of the interface, beside Collage.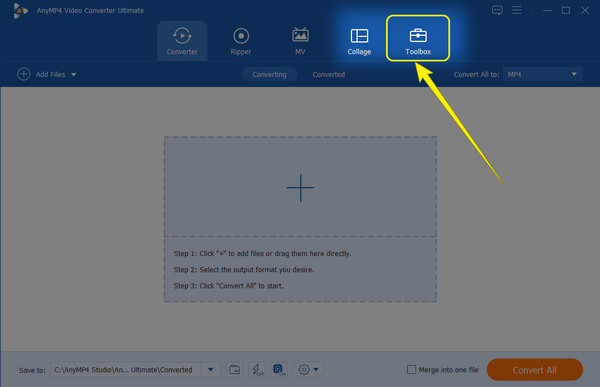 Step 2
Then, click the Video Speed Controller editor on the Toolbox's menu. Once clicked, you will need to upload the video by clicking the Add icon from the next window.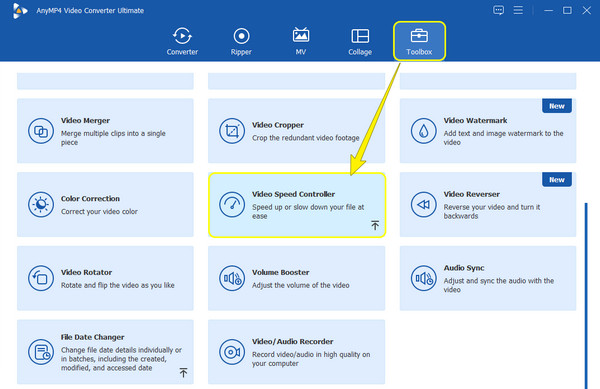 Step 3
After that, pick a slow motion from 0.125x to 0.75X in the speed control. After selecting, click the Play button to see the preview. After that, click the Coggle icon to do extensive modification if you want.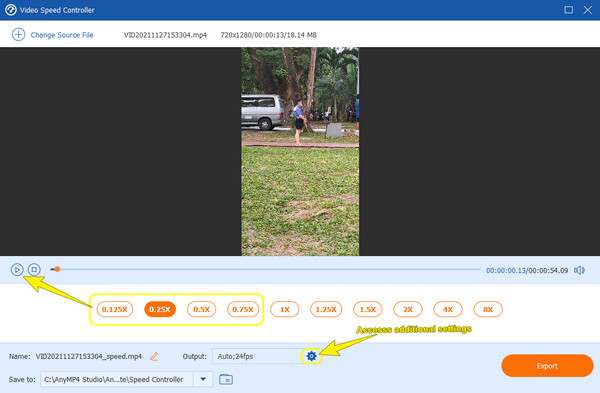 Step 4
Make the necessary adjustments from the Output Settings window. Then, click the OK tab. Otherwise, click the Export button from the previous window to export your video.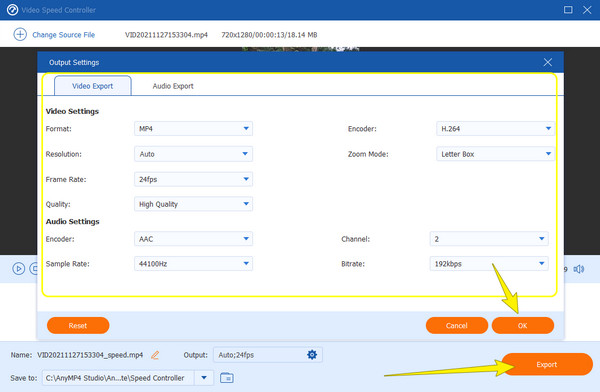 2. Slow Down a Video Using a Promising Mobile App
How do you slow down the long video for Snapchat? Then try this Video Speed Changer app. It is a promising video editor that can efficiently apply multiple slow motions and fast motion effects in a video. Furthermore, it supports various formats and its high-quality procedure in slowing down videos. In addition, it also provides you with a preview that you can check before you save your output. Thus, here are the quick steps for using this app.
Step 1
Install and launch the app on your Android. Then tap the Select Video option from its mother interface.
Step 2
Now go to the folder where your video is stored and upload it to make it in slow-mo.
Step 3
Then, long press the video to make it to the timeline. After that, hit the circle icon under the video to see the speed options. To slow down the video, pick among the top options.
Step 4
Now hit the Check icon at the right top corner of the screen to save the video from this video speed controller.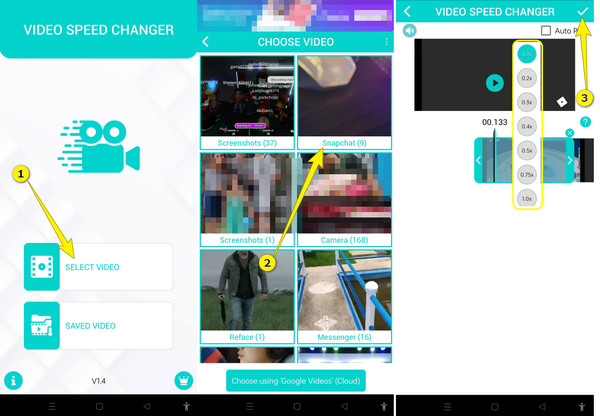 Part 3: FAQs about Snapchat and Slowing Down a Video
How to slow down a video on Snapchat at 0.1X?
Unfortunately, you cannot slow down your video at that rate using Snapchat. The app will only enable you to slow down the video at 0.5X.
Can I slow down the videos on my other apps on Snapchat?
Yes. As long as you have your videos in your photo gallery, and they are not longer than a minute, you can edit them on Snapchat.
Can I also speed up the video on Snapchat?
Yes. By using the fast-forward effect, which is beside the snail icon of Snapchat.
Conclusion
This article has provided you with complete tutorials on how to slow down a video on Snapchat. This app is captivating due to its beautiful filters and effects. However, it is not the best one for long videos. Good thing we added the best solutions for you to choose from. Try them, especially the Video Converter Ultimate, and be amazed at what they can do for you.