How to Speed Up Videos in Premiere: Complete Guidelines to Follow
Due to its potency and competency, Adobe Premiere Pro is an exciting video editing tool. No wonder why many video editors seek after it. Well, as a professional video editor, you wouldn't want to settle for less, right? But how about the newbies when it comes to editing? How will they handle this prestigious software? Nowadays, many have become fond of video editing. And one way of editing a video is by controlling or changing its speed because we all have this moment when we need to playback a video in a fast-forward effect. Fortunately, this article is all about those frustrations we just mentioned. Here, we will present the proper procedure on how to speed up videos in Premiere.
Meanwhile, Premiere enables users to speed up their videos in several ways, and we won't slip this article without teaching you those methods. Therefore, without further adieu, let's begin to learn by looking at the entire content below.

Part 1: How to Fast-Forward a Video on Premiere
There are several ways to speed up a video using Premiere, three ways to exact. You can use any of them according to your preferred style as well as your level. So, we will teach you the basic, quick, and advanced methods of how to change the video speed in Adobe Premiere.
Basic Method to Speed Up a Video
With this method, we are going to use the Speed/Duration command of the software.
Step 1
Open the software, then start by uploading the video clip that you need to edit.
Step 2
Once the video is on the timeline, hover your cursor on it and do a right-click. Then, select the Speed/Duration option from the options you will see.
Step 3
You can now increase the Speed percentage by inputting figures from 100 to 600. After that, click the OK tab.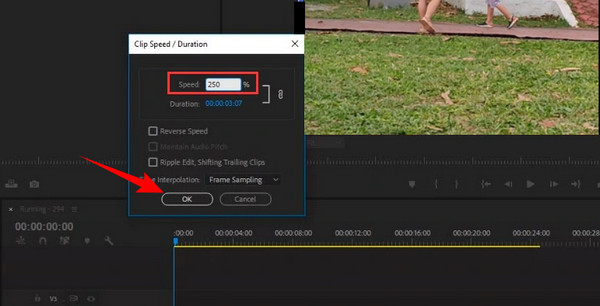 Quick Method to Speed Up a Video
The following method is by using the Rate Stretch tool. It is a quick way for Premiere Pro to adjust video speed. Note that this method is only viable to those who don't mind the level of speed that got into their videos.
Step 1
Upload the video clip on the timeline.
Step 2
Then, reach for the Toolbar and click Rate Stretch Tool at the third option. Now you can begin speeding up the video by dragging the edge of the video inward.
Step 3
Also, you can pull the adjacent clip if you want to fill the interval gap.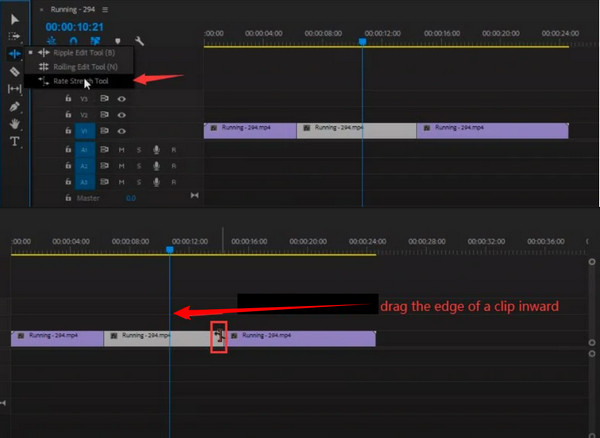 Advanced Method to Speed Up a Video
Lastly, we have the advanced method of speeding up a video by using the Time Remapping function of the software. This tool is Adobe Premiere Pro's recommended video speed controller. It has versatile speed controls that enable users to lay keyframes in a video to speed up.
Step 1
Click the uploaded video a couple of times to expand it. Then, right-click the video and hit the Show Clip Keyframes selection. From the options in the tab, hit Time Remapping, then Speed.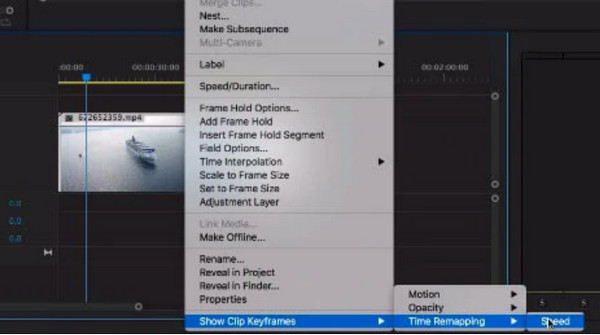 Step 2
Now, add keyframes that you need to speed up on the clip side. Then, pull the dragging bar up to increase the speed of the video.
Step 3
After that, create a ramp by splitting the keyframes. By doing this, you will have a smooth transition.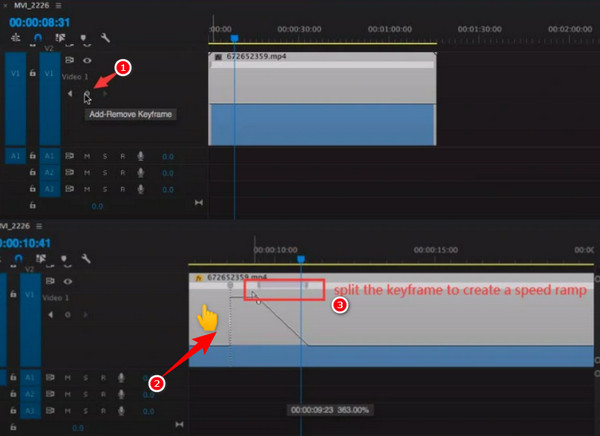 Part 2: Premiere Pro's Best Alternative
We cannot deny that Adobe Premiere Pro is quite expensive. You cannot use it all the time for free. Therefore, we want you to meet the best alternative to Premiere in changing the speed of a video, the Video Converter Ultimate. It is a fantastic video editing software with powerful features and tools, just like Premiere. What's impressive about it is that, although it is more affordable than the other one, it still comes with many excellent video speed control options. Besides the speed control, it also comes with video and audio presets that will enhance your video output. Meanwhile, you can acquire powerful software on Linux, Mac, and Windows-based computers.
Furthermore, you must agree on how flexible it is when you learn its pillars. Imagine an ultimate converter working its ultimacy in video editing as well as employing its fantastic toolbox. You will surely be shocked at its rich toolbox with numerous tools like video enhancer, GIF maker, cropper, recorder, etc. On top of that, this Video Converter Ultimate is for everyone with any level of video editing skills. So yes, even if you are new to this kind of task as if you are a pro when you use this software. If you want more, then see the following.
1. It comes with additional settings while speeding up the video.
2. With advanced features like hardware acceleration, watermark remover, collage maker, etc.
3. Produce numerous video outputs using more than 300 different formats.
4. Proven high-quality video outputs that will come your way.
How to Increase Video Speed with Adobe Premiere's Best Alternative
Step 1
Launch the best software right after the quick and safe installation. Then, go and hit the Toolbox menu and look for its Video Speed Controller selection tool.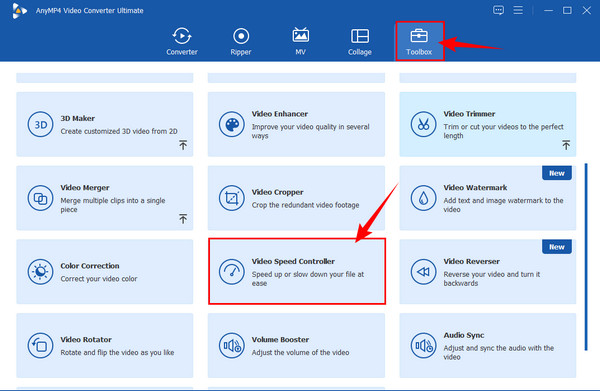 Step 2
Next is to upload the video clip. To do so, hit the Plus icon inside the box of the new window.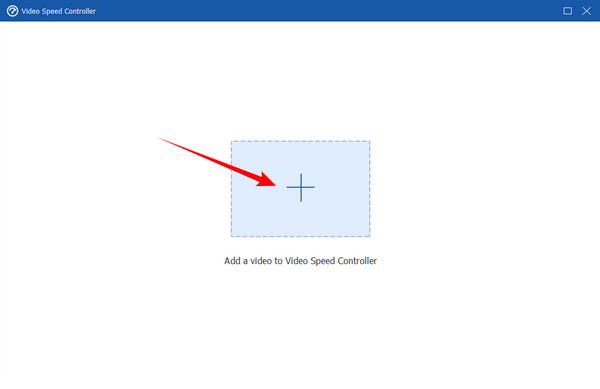 Step 3
After that, the tool will bring you to the editing window. Click the speed-up option you need for your video from the speed controls located under the video. Then, simply hit the Export button to save the speed-up video.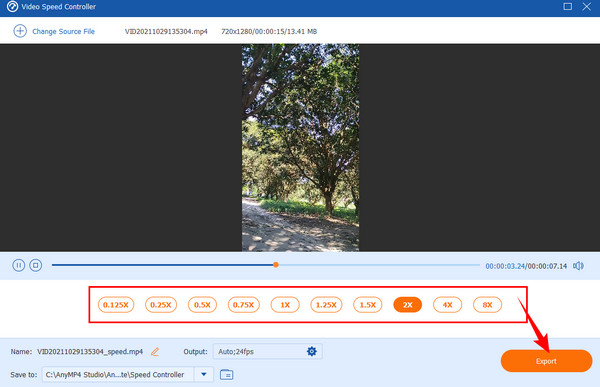 Step 4
After hitting the Export button, wait for the exporting process, which will only take less than ten seconds to finish. Then, click the OK tab from the popped-up window to exit. YOu can now check the output in the folder indicated in the Save To portion.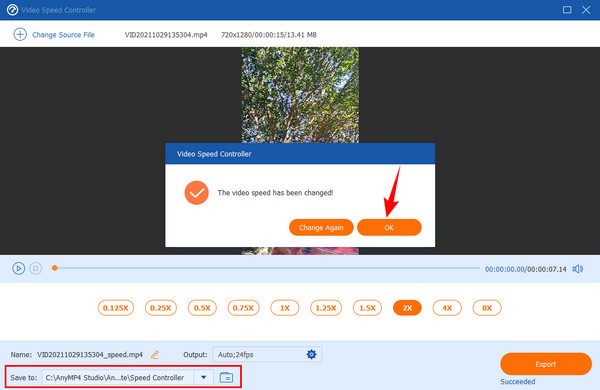 Part 3: FAQs of Premiere and Speeding Up Videos
What is the maximum fast motion in Premiere Pro?
You can speed up your video with Premiere Pro up to 6x faster. Hence, if you want to increase the speed more, shift to Video Converter Ultimate and speed up your videos to 8x faster.
How much can I get the Premiere?
You can get Premiere at 20 dollars per month for its annual plan and at 31.49 dollars for a purely monthly plan.
Can I speed up the video without changing its pitch?
Yes. Premiere Pro can actually do that, but if you want to do it quickly, Video Converter Ultimate is what you should use then.
Conclusion
The procedure on how to speed up videos in the Premiere is indeed quite confusing. This is why we did our best to present it in an easy-to-follow way. On the other hand, you still have the best alternative for you to use. If you are not a fan of Premier Pro, then we suggest you switch to its best alternative and have a handy procedure after.