How to Speed Up Video in QuickTime in a Simple and Efficient Way
QuickTime is the default player on Mac. So, if you are a Mac user, you should probably know that you can play your media files with QuickTime on default. You must also know that this media player is something you can rely on when it comes to video editing solutions, such as changing the video speed. For this reason, we are here to present how to speed up videos on the QuickTime player.

Part 1: How to Speed Up Videos on QuickTime
Speeding up a video when watching has been one of the everyday things of a viewer. Good thing that Mac users have this QuickTime Player that allows them to do this thing anytime. However, those who just recently used a Mac often ask how they will use QuickTime to speed up video and save it. And so, to provide you with clear instructions, here are the steps on how to execute the matters in Mac's media player.
How to Change the Video Speed Using QuickTime on Mac
Step 1
Launch the player on your Mac and open the video by clicking File > Open File.
Step 2
Once the video file is playing, click the Fastforward button from the playback control.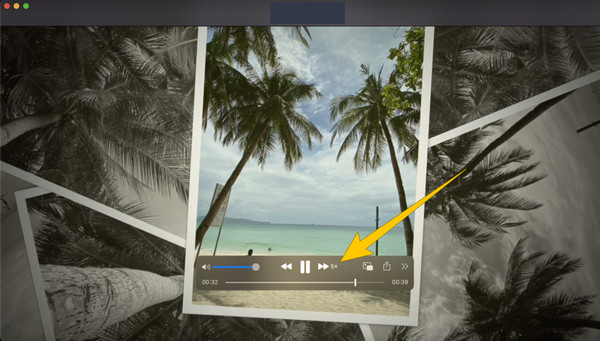 Step 3
If you plan to create a new video with a speed-up playback, then hit the Two Arrows at the tail of the playback control. Then, choose a speed selection that you want to apply to your video.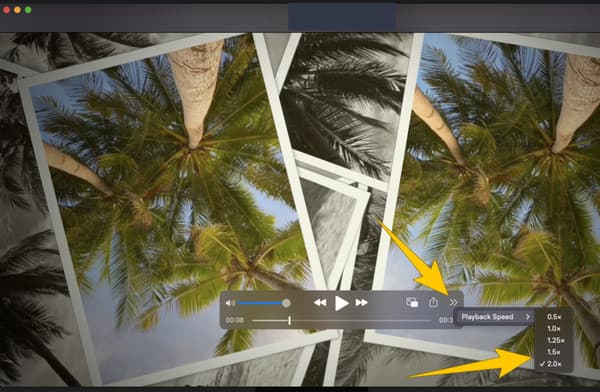 Step 4
Now, after speeding up the video on Mac's QuickTime, it's time to save it. To do so, press the Command+S keys on your keyboard.
Part 2: Best Option to Speed Up Videos on Mac
We cannot deny the fact that QuickTime is really something special. But we have more special software that you can use on both Mac and Windows, the Video Converter Ultimate. It is software specializing in video conversion but has robust expertise in ripping, movie making, video playing, and video editing. We are trying to say that it is far more helpful and excellent than QuickTime. With attention to speeding up a video, Video Converter Ultimate provides you with three sets of control, one for the speed, for the video output, and the other for the audio within the video output. With this note, we can confidently say that you must have it if you want a powerful all-in-one tool to expedite your video editing work.
Unlike QuickTime Player, the video speed-changing procedure of Video Converter Ultimate is easier. To point out the essentials, it allows you to watch it directly using your desired speed rate in real-time, for it also has a built-in player. And suppose you want to produce a new video file. In that case, this software helps you in video enhancement by optimizing its multiple presets selections. To provide you with more compelling evidence of its awesomeness, here are the other vital features of the tool.
Other Key Features of Video Converter Ultimate
1. Speed up the video from 1.25X to 8X faster on Mac.
2. Advanced acceleration technologies that make navigation fast and easy on Mac.
3. Maker of 3Ds, GIFs, movies, and video collages.
4. The best video editing software for macOS Sonoma and macOS X 10.9 and later.
How to Increase Video Speed in QuickTime's Best Alternative
Step 1
Install it on a Mac
First and foremost, you must install Video Converter Ultimate on Mac. To help you do it quickly, you may hit the Download button provided above.
Step 2
Access the Speed Controller
Launch the software and begin to access the speed controller. To find it, go to the Toolbox menu, then from the numerous tool options, look and click the Video Speed Controller. Once clicked, you may already upload your video.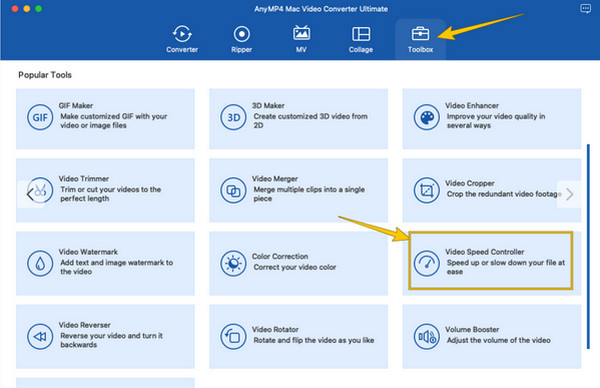 Step 3
Speed Up the Video
After uploading the video, you can already begin speeding it up. Go to the speed control located below the timeline, and choose the acceleration options from 1.25X to 8X. Check the video for the applied speed, and click the Coggle icon if you ever want to enhance the video. Otherwise, proceed to the next step.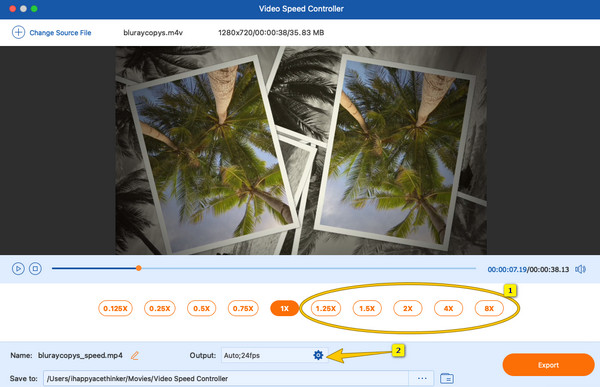 Step 4
Export the Sped up Video
Finally, to save the edited video on your device, hit the Export button. Then, check the exported file in the folder shown in the Save to option.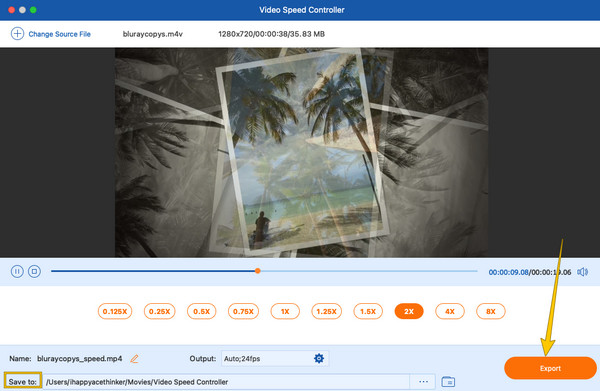 Part 3: Supplementary Way in Speeding Up Videos on Mac
If you want to know the supplementary way to speed up video on Mac besides QuickTime, then try doing it on iMovie. It is the available video editing software for Mac and iOS that you can have for free. After all, this would be the priority you can have as the video editor and movie maker on your Mac. Thus, here are the quick ventures on how to use iMovie to speed up the video.
Step 1
Import the video using iMovie and drag it to the timeline.
Step 2
Then, click the Speedometer icon above the preview section. Then, choose the speed option you want to apply to your clip.
Step 3
After optimizing the speed setting, you can already save the file by hitting the Export icon, then the Save As selection.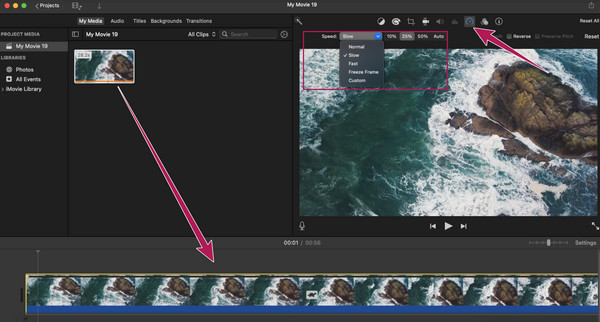 Part 4: FAQs about Speeding Up Videos on Quicktime
Does speeding up videos on Mac's QuickTime affect the quality?
Yes. Remember that modifying the video's speed will mean changing the frame rate, which can affect the quality. Hence, if you want to speed up the video and maintain good quality, then use Video Converter Ultimate.
Is QuickTime free to use?
Yes. QuickTime is a built-in app on Mac that you can use for free.
Can I use QuickTime Player to edit the video?
Yes. QuickTime Player offers a set of handy tools that enable you to edit movies. However, the editing tools are limited since it is not its craft. Hence, if you wish to have a limitless video editor on Mac, use Video Converter Ultimate instead.
Conclusion
To conclude, the guidelines on how to speed up the video in QuickTime are inevitable. However, for your other video editing concerns, using reliable software can be more trusted. Note that QuickTime Player has its primary purpose of existence, and video editing is just a tiny part of it. Therefore, it is always better to lean on an expert like Video Converter Ultimate to enable you to have extensive and professional-like video elements alteration