Increase Video Playback Speed in Android: How to Use the Three Best Apps
Besides your Android's build-it video speed changer, there are also ultimate apps that you can check out. So for your question about how to speed up a video on Android, we gathered them for you to take as solutions. This gives you the other best options to cater to your video editing concern. As you know, the more our technology advances, the more we need to be knowledgeable for us to reprimand being left behind, for nobody wants that to happen. So, without further adieu, let's bring it on and be prepared for another insightful and fun-filled article post to read.

Part 1: How to Speed Up a Video on Android with Three Best Ways
1. Using Quik
If you want to speed up video playback on Android, Quik is a fantastic app that will help you. That is why it landed on the top of the best speed-up video editing apps today. GoPro actually releases it, but you can still use it even without a GoPro camera when you need to edit your videos. It awesomely speeds up your videos and turns them like a flash because it allows you to fast forward them up to 24x faster. In addition, it lets you lavish the other video editing options as well, like the trim, frame, filter, stickers, and adjust. Sticking with our goal, see how to make a fast-forward video in Android using Quick.
Step 1
Get the app on your Play Store, then launch it. Start as a guest and tap the Media option at the bottom of the screen. Then, upload the video file that needs to be edited.
Step 2
Now tap the Pencil icon to access the editing tools, then tap the Speed icon.
Step 3
Once you are in the speed control section, tap the Plus blue icon under the video. By tapping it, the tool will show you the speed options. Tap which one you prefer for your video.
Step 4
After that, tap the blue Checkmark, dragging its bar from right to left. You will notice that your video would shrink, indicating that it is already fast-forwarded. Now tap the Check icon and proceed to save the video on the next page.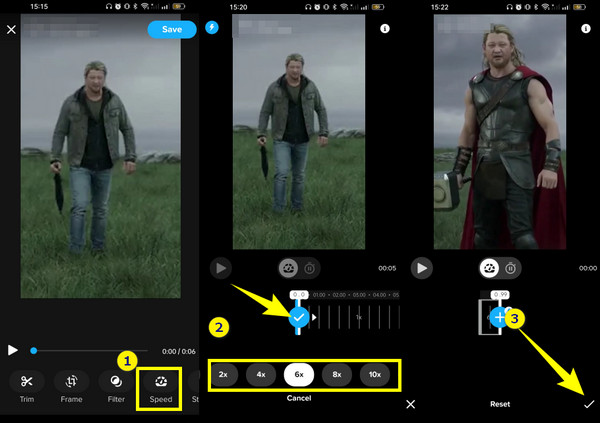 2. Using PowerDirector - Video Editor
PowerDirector is another notable video editing app to speed up video playback on Android. It has essential filters, diverse effects, and remarkable speed adjustments to manage video pacing. On top of that, it is infused with a video stabilizer that can control and fix your shaky videos. Moreover, it allows you to add audio effects and voice recordings to your video files. However, this app is more extensive than the other video editing apps. Still, it provides a 7-day free trial, which would mean a lot when using it. Hence, by using the trial, here are the basic steps you can follow.
Step 1
Launch the PowerDirector once you finish installing it. Begin by tapping the New Project tab, and create a name for the project.
Step 2
After putting a label on the project, the app will direct you to import the video file. Tap the video and the Plus icon on it, then tap the blue Checkmark to import it.
Step 3
Once you have uploaded the video on preview, tap the one on the timeline to see the editing tools. Swipe the screen right to left and find the Speed option.
Step 4
After that, drag the slider to the right to make the Android video fast forward. Then finally, tap the Export icon to save it.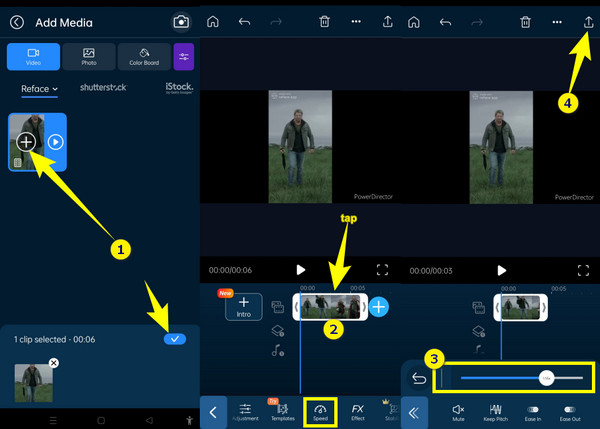 3. Using Videoshop - Video Editor
Lastly, we have this Videoshop, another speed up video app for Android 7.0 and up. Similar to the first two apps, this is a one-stop editor with many editing tools. Such editing tools are resizer, trimmer, reverser, rotator, and many more. With Videoshop, you can adjust the speed of your high-resolution videos instantly. Therefore, if you want to try its ability to speed up video, you can do so by following the steps below.
Step 1
Open the app, and begin with uploading your video clip by tapping the Import Clip selection. Now start working to speed up the video playback of your Android.
Step 2
Swipe your finger from right to left on the tools to see the Speed option.
Step 3
Tap the option, then start adjusting the control to speed up the video. Once done with the adjustment, tap the green Checkmark to apply the changes.
Step 4
After that, you can finally tap the Export tab.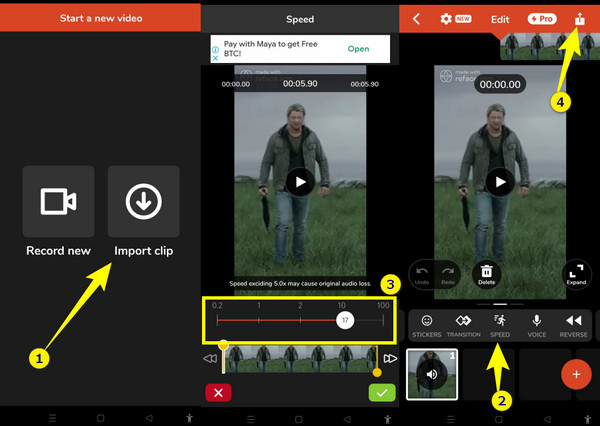 Part 2: Tip: How to Increase Video Playback Speed on Computer for Android
If you seek an all-in-one video editing software for your computer, you should not miss out on this best tip we have for you. Utilize Video Converter Ultimate and be amazed by having a legit one-stop video editing software on your computer, whether it's Windows, Linux, or Mac operating. It provides its valuable users like you with all the tools you need, including a video enhancer, 3D maker, video merger, cropper, trimmer, video and audio compressor, metadata editor, and many more. And for speeding up your video, its video speed controller tool got you covered.
With the said speed controller, you can accelerate the speed up to 8X, more than enough to create a timelapse. It also offers extensive output settings for the video and its audio, which are listed below.
1. Speed up your video in 1.25x, 1.5x, 2x, 4x, and 8x.
2. Modify the output format into MOV, AVI, MP4, WMV, MKV, and even in GIF.
3. Adjust the frame rate from 12 fps to 60 fps.
4. Enhance the resolution into 720p, HD, 2k, and 4K.
How to Time-Lapse a Regular Video with Video Converter Ultimate
Step 1
Make sure that you have already installed the software on your computer. Once you have it, launch it, go to the Toolbox, and hit the Video Speed Controller tool. Then, hit the Plus icon to upload your video file.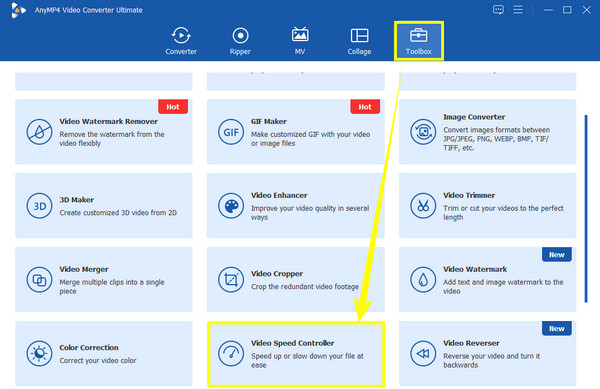 Step 2
Upon reaching the preview window, select and click the speed option that you want for your file. Choose from the right part next to the 1X selection.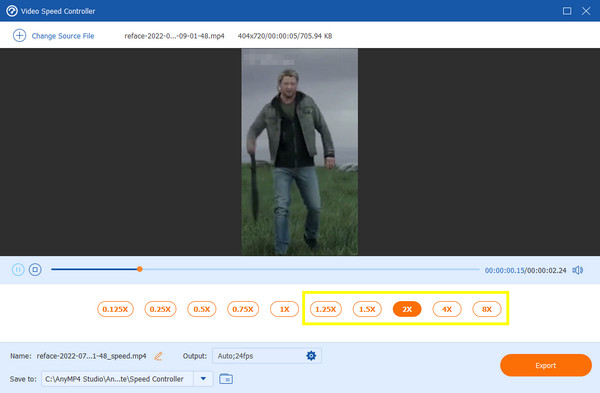 Step 3
If you want to enhance your video with its advanced enhancement tools, click the Coggle icon. Thus, if you want to proceed with exporting the video, then hit the Export tab.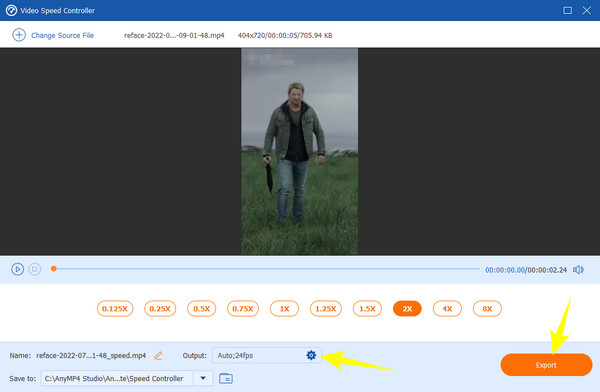 Part 3: FAQs about Speeding Up Videos on Android
Can I record a speed-up video on my Android camera? How?
Unfortunately not. Recording a speed-up video is not available on all Android phones. However, some who have this feature can find it in the video camera settings labeled as timelapse.
Where is the speed changer of Android?
The speed-changing tool is located in the Photos app. You can access it by selecting the video, then tapping on the edit tab.
Is it possible to combine two videos on Android after speeding them up?
Yes, but with the help of a third-party tool. Android alone doesn't have a video merger, so using other apps that support this function will help you do such a task.
Conclusion
Now that the best speed-changing apps are in your hands, you can speed up your videos on Android quickly and exceptionally. On the other hand, you can always rely on Video Converter Ultimate when you need to edit your videos on a desktop or Mac in a professional yet simple way.