How to Use the Best AI Upscaling Video for Windows/Mac and Mobile Devices
AI video upscaling is a groundbreaking process to enhance video resolution. As part of the innovation of technology, increasing video resolution has been very intense but easy nowadays, thanks to artificial intelligence technology or AI. This specific tool must be used in an accelerated process while preserving the quality of a video. However, as this should be what to expect from an AI-powered tool, it seems like the result of using other tools contradicts its purpose. This is because there are video editors out there that cannot stand to preserve the video quality. Perhaps, there is something wrong with how a user uses it, but most of the time, the problem is really about the tool.
But lucky you, because as you read this post, you will be able to know how to use AI to upscale video properly. In addition, we will introduce the two best apps for your PC and phone for you to have options.

Part 1. Best Way to Use AI to Upscale Videos on Windows and Mac
Gone are the days when you long for video editing software with a powerful AI to upscale videos because Video Converter Ultimate is now here for you. This software is available on Windows and Mac. It contains a powerful video enhancer that lets you enhance video with AI. This function of Video Converter Ultimate will improve and turn your video into superb quality in just one click. Tag along with this video resolution upscaling tool is the noise remover, shake reducer, and brightness and contrast optimizer that works very well by just toggling them. What's more impressive is that the tool gives you various choices of resolutions and formats inside its video enhancement feature. This means you won't need to go and use other tools just to optimize the said options.
What else? Besides its AI technology in video enhancement, this best AI upscaling software also comes with advanced hardware acceleration. This hardware acceleration is what secures your computer device and puts it in optimal condition. Thus, to learn more about this fantastic software, see its other essential features.
Other Features of Video Converter Ultimate
1. Video and audio converter that process 70x faster than others.
2. An all-out video converter with a watermark remover.
3. File date changer and media metadata editor that lets you edit batch media files.
How to Use Video Converter Ultimate to Upscale Videos
Step 1
Launch it after downloading and installing it for free. Then, access the AI-powered Video Enhancer tool in the Toolbox menu.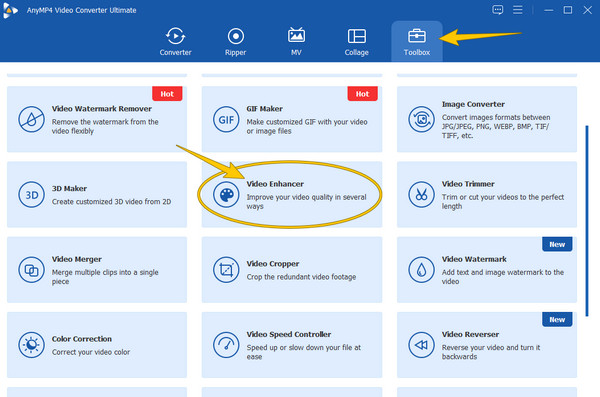 Step 2
Once you have accessed the Video Enhancer, click the enormous Plus icon to upload your video file. Then, toggle the Upscale Resolution option on the AI window among the enhancing tools in the same window. Also, you can tick the others that you need for your video.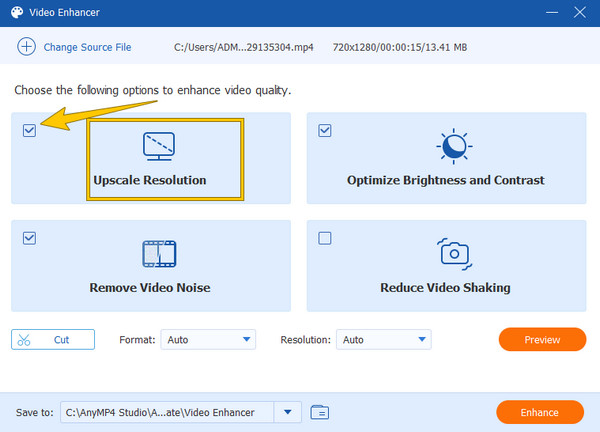 Step 3
This time, you can click the Preview button to check your output before saving it. Otherwise, you can already proceed to click the Enhance tab save and export the enhanced video. Then, choose whether to Boost Again or exit by hitting the OK tab.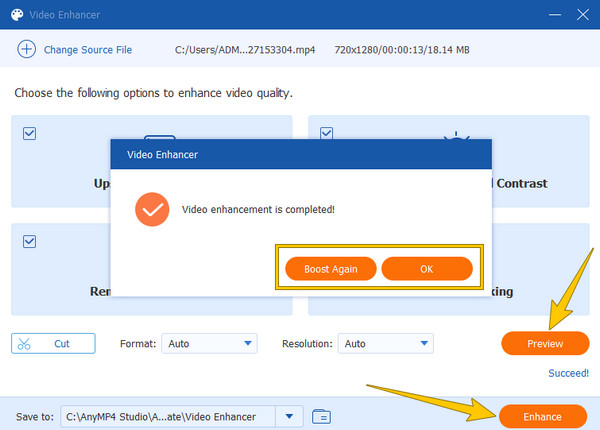 Part 2. How to Upscale a Video on Android/iPhone
Now, if you want to use your mobile, the best video upscaling app for Android and iPhone is the VideoShop. This fantastic app has something to boast about. It offers beautiful filters, effects, animated transitions, and many more. In addition, it allows users to apply sound effects and voice overs to their videos after enhancing them. However, one thing that we are not that satisfied with is its process for importing and exporting files because it is somehow problematic. In fact, many first-time users have put it in their reviews. Nevertheless, it is one of the dependent apps with AI. Thus, here are the steps on how VideoShop works with video enhancement.
Step 1
This is how to upscale video on Android and iPhone. Download this app on your smartphone, and launch it. Then tap the Import icon to bring your video in. After that, select the Filter tab and choose a filter for your video.
Step 2
Next, tap the Display option and edit your video's brightness and contrast, temperature, sharpness, and saturation. Then, tap the green Checkmark to apply the changes.
Step 3
Lastly, export the enhanced video by tapping the Export tab. Then, tap the Save to Gallery selection to save the video to your device.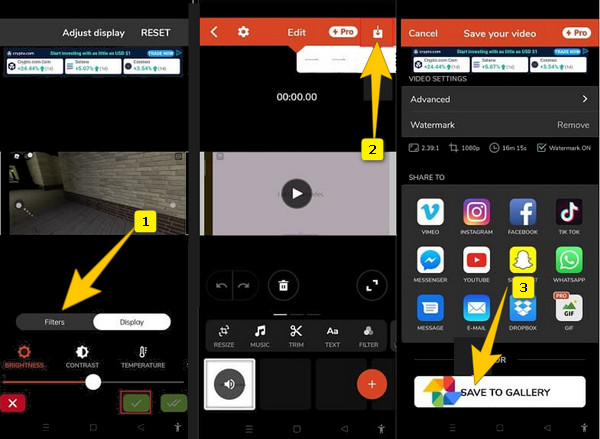 Part 3. What is AI Technology
So what is AI technology precisely? AI, which stands for Artificial Intelligence, is a duplication of the intelligence of humans operated by devices. AI applies language, process, and device vision. In other words, this technology simulates human intelligence in an improved and accurate manner. Regarding media editing, AI has more effectiveness than humans' manual editing. It actually sees the things that need to be edited that the human eyes cannot see.
Further Reading:
How to Make the Video Quality Better [3 Ways to Solve]
How to Stabilize Shaky Videos with Three Amazing Ways
Part 4. FAQs about AI Video Upscaling
How long does an AI upscale a video?
It depends on the video editing tool that you use. But if you want a fast-processing AI, you should use the Video Converter Ultimate. Then enjoy upscaling your videos in an instant.
Can I upscale a 4K video to 8K online?
Searching for an online tool that will enable you to upscale 4K videos to 8K is hazardous. This is because online upscaling tools usually support up to 4K videos at the maximum. This is mainly for those online tools that are free to use.
Can I downscale the video that I upscaled?
Yes. However, downscaling the video after an upscale will not guarantee the excellent quality since you have stretched it once.
Can I convert the video to a small format after upscaling it?
Please note that upscaling means making the video bigger in size and display. If you have upscaled a video to 4K, you must maintain its file size.
Conclusion
AI upscaling video is a task with which you can put your complete confidence. This is because of the fact that Artificial Intelligence works better than the work of humans. It has fewer errors and is more accurate. For this reason, using an AI-powered video editor is really something that we need to pursue. After all, almost all video editors nowadays use AI. Nevertheless, feel free to try the AI tools that we have given you in this post, especially the Video Converter Ultimate. Then, you will see the difference between this tool's excellency when it comes to upscaling videos and other jobs to do for your videos.