What is and How to Create An Instagram Filter: Everything You Need to Know
Instagram is, without a doubt, one of the top social media platforms that technically everyone uses. We cannot argue about the accessibility and popularity of Instagram or IG as its popular name. IG has been the tool for people to present their best photos and videos in a cinematic way. People tend to rely more on IG because of the app's collection of stunning and creative filters and effects. For the record, you should know that an IG user must know how to make an Instagram filter. Therefore, if you are one of those active users but still do not know how to make one for your post, you should see this article. So, without any further adieu, let's start this content and learn about IG filters.
Part 1. What is Instagram or IG FIlter
Before you learn how to use a filter on Instagram, let us confirm the essence of this subject. So, what is an Instagram filter? As mentioned, IG or Instagram has beautiful filters that many users enjoy. Hence, this filter is one of the app's features that assist users in editing their photos or videos in a single click. In 2011, when the IG filter was launched, this initial filter provided options to edit or filter photos with high quality. With some nice tilt-shift effects and optional borders as the trend before, these options have become the basic filters nowadays. It is because a new world for filters and effects has been introduced as time goes by. Today, you can add filters to your Instagram story with various options for different occasions.
Part 2. How to Make an Instagram Filter
Let's discuss an excellent way to make your own IG filter this time. Many IG users are now familiar with what they call AR filters. These AR filters are customized effects that enable much more colorful digital expression. There is this AR community that is constantly working to create new effects. And the good thing is that you can also try making your own IG filters from your creative mind. Thus, you can make this work on your own if you follow the given steps below.
How to Make Your Own Instagram Filter
Step 1
Install the Spark AR Studio, a filter maker software that you can use for free on your computer. Once installed, you must log in using your Facebook account to continue the process. Yes, it needs your Facebook login account since it is software developed by Facebook.
Step 2
After that, you can prepare the icons, photos, and other elements you will use. Then, choose a template you want to use and edit your work with the tools provided.
Step 3
Then, save your filter and prepare to publish it.
Part 3. How to Find a Filter on Instagram
Have you experienced watching your friend's IG story or post and suddenly adoring the filter used but do not know where to find it? For this reason, here are the guidelines that will solve how to find a filter on the Instagram query.
Step 1
Launch the camera of your Instagram app. Then, hover over the icons at the bottom, swipe left until you see the Magnifying Glass icon, and tap it.
Step 2
On the next page, tap the small Magnifying Glass that indicates a search action.
Step 3
Then, type in the filter that you want to find or search.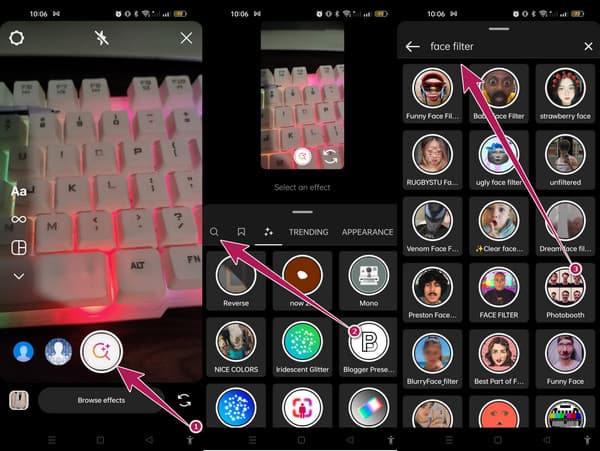 Part 4. How to Use a Filter on Instagram
This time, let us see a tutorial on how to post a filtered story on Instagram. Here are the steps for those who still don't know how to add an Instagram filter to an existing video.
Step 1
Launch your IG and tap the Add button on the right topmost part of your screen to create content. Then, tap the gallery icon on the left side of the recording button to upload your existing video.
Step 2
After that, tap the Filer and Effect icon among the options at the top of your uploaded video.
Step 3
Then, choose your desired filter by swiping the left screen. Once chosen, tap the Done tab, and publish your story.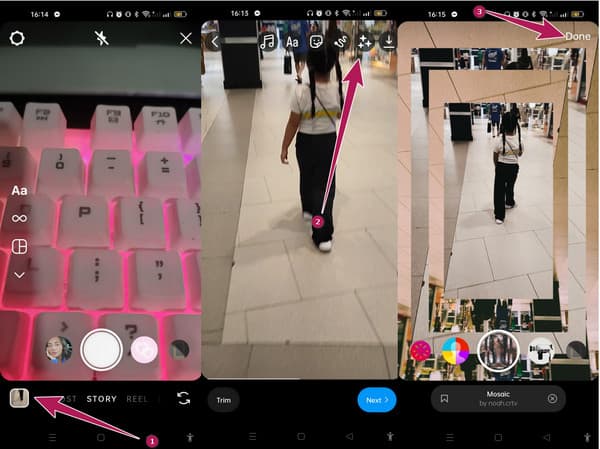 Part 5. Bonus: How to Add a Filter to Video for Instagram with Third-Party Software
Do you have numerous videos that you need to filter at once? Nobody wants to work one by one just to apply the same filter for all, right? For this reason, you should see this Video Converter Ultimate. It is a great video editing software that makes you filter multiple videos simultaneously. How is that? This tool has acceleration technology that helps you edit your bulk videos quickly. Furthermore, you will also love its flexibility, having many great features and tools with the highest proficiency in producing excellent quality. On top of that, this Video Converter Ultimate supports more than 200 different types of video formats for your input and output purposes. Meanwhile, you will take joy in how generous this tool is for providing beautiful effects to apply to your videos. At the same time, basic presets for the effects are also present.
Main Features:
1. Share your filtered videos on Instagram easily.
2. Tons of creative filters to make your videos lively.
3. Filter your videos in bulk.
4. It supports all popular video formats.
Step 1
Launch the software after installing it. Then, click the Add icon at the center of the interface to upload all your video files.
Step 2
Once the videos are uploaded, click one of the Star symbols under the videos. Then, on the next window, click the Effect & Filter option. After that, select the best filter you want to apply for all your videos. Then, you can also adjust the presets under the Basic Effect section.
Step 3
This time hit the Apply to All tab to allow the other videos to get the same settings. Then, hit the OK tab to save the changes.
Step 4
Finally, hit the Convert All button to save and produce the newly filtered videos. After the process, you can see the files in the Converted section, and from there, you can share the videos on Instagram.
Further Reading:
A Review of 6 Top Filter Apps for Android and iPhone
Snapchat Filter: Learn the Trend and How to Make One
Part 6. FAQs about Making Instagram Filters
How to use a face filter on Instagram?
Launch to record a video on Instagram, then search for a face filter among the filters. Then, you can record a video using your choice of filter.
Can I post my filtered IG story on Facebook?
Yes, as long as your IG and FB are synced together. Your stories on IG will automatically be posted on FB and vice versa.
Does Instagram support 3GP videos?
Yes. 3GP is one of the supported video formats of Instagram.
Conclusion
You just learned how to make an Instagram filter by reading this article. Hence, you can now create and post your videos of Instagrammable events with a nice filter to make them stunning. However, if you have tons of videos to work on, then rely on the bulk editing feature of Video Converter Ultimate.