Full Guide for Making Wonderful Instagram Slideshows to Impress your Friends
Instagram is one of the famous social media platforms where you can freely share your images and videos with your friends and followers. And recently, Instagram added an option for its users to add multiple photos in one post. You can also create a slideshow and post it on your news feed and in your IG stories. If you are still new to this feature, we can help you familiarize with it.
Continue reading this post to learn the different ways on how to make a slideshow on Instagram.
Part 1. How to Make a Slideshow Using Instagram
Follow this step-by-step guide to how to make a slideshow on an Instagram story with background music.
Step 1
Launch Instagram on your phone and click the Plus icon, which you can locate on the top right part of the interface. Choose Story to start creating a slideshow for your Instagram story.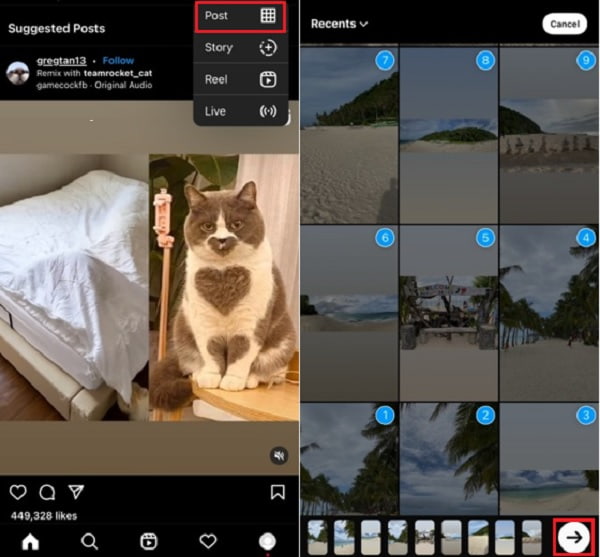 Step 2
The app will automatically open your photos library so you can choose the photos you will use for the slideshow. You can only add a maximum of 10 images at a time. Hit the Arrow button below the interface to add filters and background music.
Step 3
To add music, press the Sticker icon and choose the Music sticker. Use the search bar to look for music suitable for your slideshow. You can apply filter effects by swiping left on the screen. Click the arrow button to move on to sharing your story.
Step 4
Click the Share button to post your slideshow on your Instagram story.
For the next part, we will present to you how to make a slideshow with music on Instagram using a desktop program.
Part 2. Easier Way to Make a Slideshow for Instagram
Using a desktop or laptop for creating or editing a slideshow is much better than using a smartphone. You have a bigger screen and programs with better features than on Instagram. As such, I will introduce an offline program you will use for your next Instagram slideshows. Video Converter Ultimate is a very reliable program that can create beautiful slideshows for your Instagram post and stories. It has an intuitive interface that anyone can use, beginners and professionals alike. Moreover, its slideshow maker feature packs a lot of functionality. You can create video and photo slideshows and enhance and add effects to every media file you include. As well as add texts, titles, watermarks, and background music for additional improvement. This free-to-download program is available on Windows and Mac platforms.
Key Features:
1. It supports 500+ formats for audio and video (MP3, WAV, AC3, MP4, MOV, MKV, etc.)
2. DVD file ripper
3. Video and Photo collage maker
4. Extra tools on Toolbox feature (GIF Maker, Video Merger, Video Trimmer, and more)
Here's a complete guide on using this outstanding desktop tool to create an Instagram slideshow.
Step 1
To download the program, you can either visit the product page by following the link or click the provided Download button. Continue to install the program on your desktop or laptop. Once you have succeeded in installing the software, proceed to open the tool. You can use the MV feature in creating photo slideshows.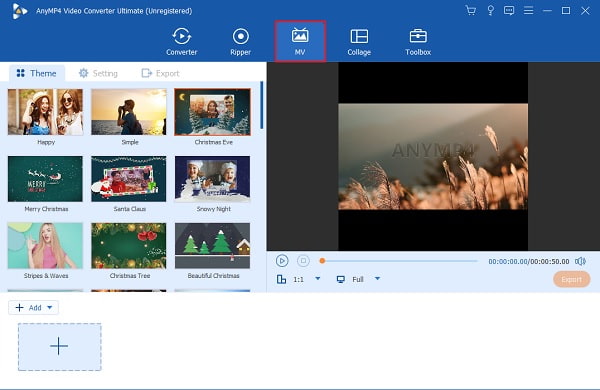 Step 2
On the MV feature, you can use the themes provided in creating slideshows. Some have templates suitable for specific occasions. Use the +Add button to include your favorite photos on the slideshow. Alternatively, you can add photos by dragging the file and dropping them in the space below the interface window.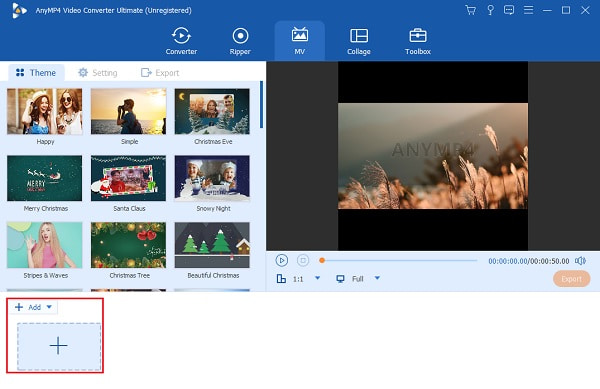 Step 3
You can proceed to the Setting tab, where you can retain the original background audio or change the background music. To integrate your desired music, use the drop-down list or the + sign button next to Background Music. Use the slide controls provided to adjust the volume of the music and delay the audio to create an echo effect.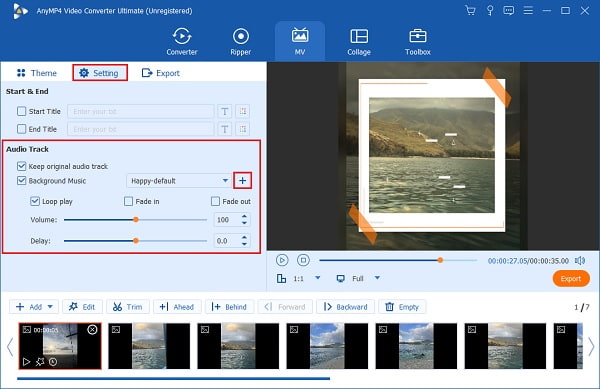 Step 4
There's a preview playback of your slideshow. You can view here the changes you made to your video in real-time. You might want to change the aspect ratio of the slideshow to 1:1, which is perfect for Instagram. Click here to learn how to make a slideshow on an iPhone.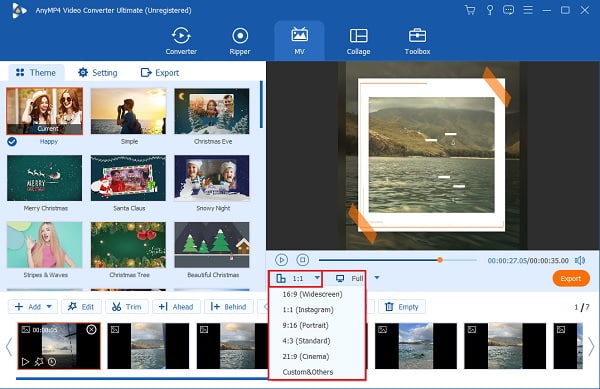 Step 5
Finally, head to the Export tab to change the name of the video file, output format, frame rate, resolution, and quality. Increase the resolution to 4K HD for the best quality when you post it on Instagram. Also, change the final output location to pinpoint your video file exactly. Hit Start Export to start the exporting process. After the process ends, your video will automatically be saved on your device.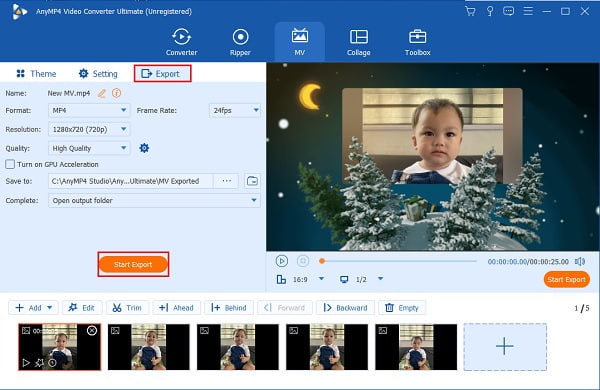 Part 3. Tips: How to Post a Slideshow on Instagram
Here's a quick guide on how to make a slideshow on Instagram for your News Feed.
Step 1
Open your Instagram app on your smartphone and tap the + sign icon positioned on the top right of the interface. Choose Post to start adding photos from your photo library.
Step 2
In your photo library, you can only select and add photos with a maximum of 10 images per post. Click Next once you are done choosing the pictures for your slideshow post.
Step 3
After that, you can add filters and effects to your photos individually. Use the default filters located below the images. There are plenty of filters to choose from. Tap Next to apply the changes.
Step 4
for the last step, you can write your caption for your slideshow. You can also tag people, add locations, and allow other social media platforms to post the same content. Tap Share to post your newly created slideshow.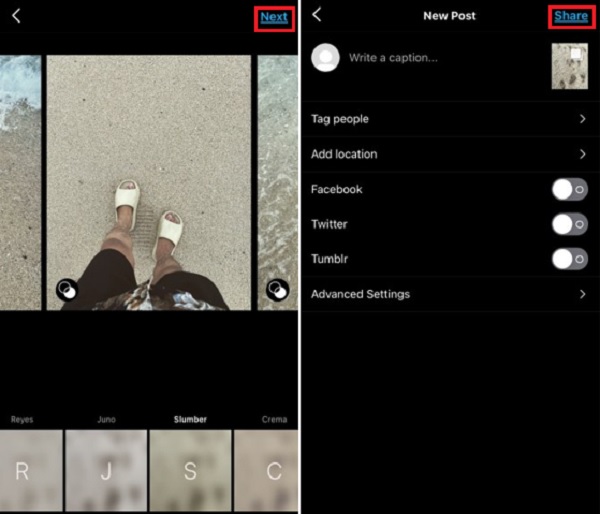 Part 4. FAQs about Instagram Slideshow
What is the other term for an Instagram slideshow?
An Instagram slideshow is a post with multiple images also called carousel posts. A carousel post allows one to attach several photos or videos to a single Instagram post.
What is Instagram?
Instagram is a picture and video-sharing social media platform app launched last 2010 by Kevin Systrom and later acquired by Facebook. This app allows users to upload their media files and add effects and hashtags, and use geotagging.
What are Reels on Instagram?
Reels on Instagram are short, educational, or entertaining videos. It is a new feature that users can freely express their creativity to their friends. You can also upload your slideshows here.
Conclusion
After reading this article, you should know how to create an Instagram slideshow effortlessly. And you also realize that by now, creating a slideshow using Instagram is a bit complicated, especially if you are doing it on your computer. So whenever you use a desktop, consider Video Converter Ultimate to create a fantastic slideshow for your next Instagram post.