How to Use QuickTime to Loop Video Files [Complete Guide]
To loop videos is a method that will enable you to play your video playlist continuously. If you are using Mac as your operating system, you must know that the QuickTime Player is the first one you can rely on since it is the default player. Similar to others, this media player ordinarily plays a clip or a video only once. Therefore, what must you do to loop video in QuickTime Player when you want it to play repeatedly? Because there might be instances when you want or even need to listen to a music video or watch a demonstration video. Whatever circumstances lead you to these instances, you need to know what to do.

Part 1. How to Loop a Video Clip in QuickTime Player
As mentionaed above, QuickTime Player only plays a video clip once by default. That means if you want to repeat the playback of the video, you will need to play it over again and to simultaneously play it, you will need to loop it. Fortunately, QuickTime provides a loop feature for this concern. Therefore, here's how to loop a video on QuickTime Player.
Step 1
Launch the video file you want to loop directly if the QuickTime Player is your chosen default player. If not, you may start by launching QuickTime first, then open the video when you click the File tab menu.
Step 2
When the video is playing, go to the View ribbon and look for the Loop tab option there to click.
Step 3
Alternatively, you can use the shortcut keys on your Mac to set the loop. Press the Option+CMD+L keys on your keyboard.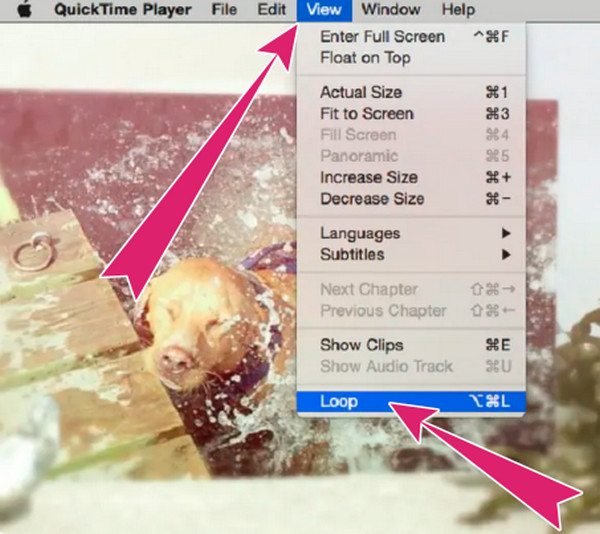 Part 2. How to Loop Multiple Video Files Using QuickTime Player
QuickTime Player provides many built-in features, such as media recorders and video editing tools. However it gives you the option to loop a single playing video, it is unfortunate that QuickTime cannot loop multiple videos due to a lack of a playlist player. Hence, if you want to consecutively play multiple videos, you can consider utilizing a third-party media player with advanced playback capabilities to play your playlists.
Part 3. How to Loop Videos and Playlists Using QuickTime Alternative
Given the fact that QuickTime Player cannot loop multiple videos for you, you shouldn't be sad about it. As I said, you can use a third-party tool like VLC to make this possible. VLC is also a common media player for Mac, Windows, and Linux devices nowadays. It is knowingly established to be a flexible program, for it has many features and tools you can use for your various media files. Similar to QuickTime, you can also use VLC for free, providing you with a bigger capability to loop more than one video. Aside from that, it also comes with streaming and sharing features, making you easily broadcast your media files to your friends. Meanwhile, see the steps below if you want to see how this VLC the alternative QuickTime to loop multiple videos.
Step 1
Launch the QuickTime Player alternative on your Mac if it is already available. If you still need to, you will need to install it first. Then, go to the Playlist section and add all the videos you want to loop.
Step 2
You need to click the Open Media tab at the center, or if you want, you can just drag and drop all the videos there.
Step 3
After that, open and play the first video. When it is playing, go and click the Playback tab ribbon, and select either the A-B Loop or the Repeat All option.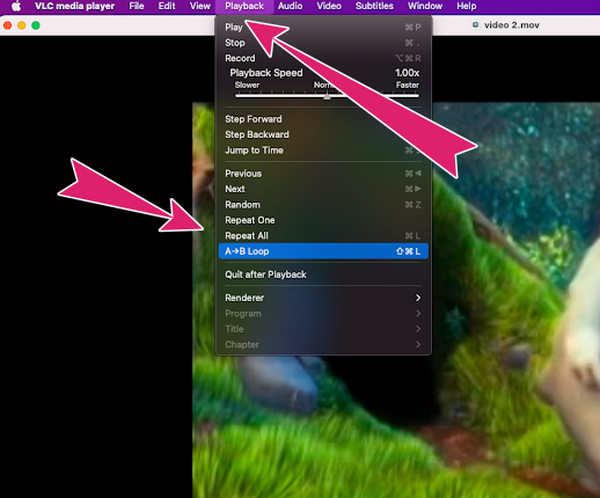 Blu-ray Player - Extraordinary QuickTime Player Alternative for Mac and Windows
If you want an all-out media player to acquire on your Windows desktop, then we purposely advise you to try this Blu-ray Player. It is a media player that supports not just all types of Blu-rays and DVDs but also all popular digital videos. It comes with a Mac version that is dedicated to playing clips and capturing scenes with its snapshot tool. On the other hand, its Windows version is something that you will love as it comes with compelling playback control and additional tools to cater to effects adjustments, subtitles, etc. Nevertheless, this amazing media player allows you to make a playlist that will continue to play for you. Also, you can play your playlist in single order, and in a random way, allowing you to play them in a loop.
Key Features:
● Loop videos in one click.
● Dynamic sound and cinematic video display playback.
● Adjustable playback control.
● Adjustable video effects.
● Multifunctional media player that can play Blu-rays, DVDs, and all digital videos.
Part 4. FAQS Regarding Looping Videos and QuickTime
Can QuickTime loop back audio?
Since looping back audio is a process of recording the audio output and rerouting it into an input, then the answer is yes. QuickTime is equipped with an audio recorder that will help you loopback audio.
Can I play the QuickTime videos online?
QuickTime videos are files with the MOV encoder, which is not mostly supported by web browsers. That means you might have difficulty playing QuickTime videos online. Thus, you can convert your MOV videos into a native format online, such as HTML5 or MP4.
Can I save the video I looped in QuickTime Player as a looping file?
No. QuickTime Player doesn't have the option to save any video file into a looping file. All you can do is play the video in a loop. However, you can use a third-party app that will enable you to create a looping file.
Is it possible to loop a video using QuickTime Player online?
No. QuickTime is a built-in software on Mac and doesn't have an online version. That means there is no way that you access this player online.
Conclusion
This article teaches you how to loop a video in QuickTime Player. Furthermore, it tells you that this built-in player cannot help you with the multiple videos you want to play in a loop. Therefore, if you want to simultaneously play your video collections, there are better choices than QuickTime. Nevertheless, you still have other options to lean on, like the VLC. However, QuickTime is more handy than VLC in terms of navigation. That's sad; if you want a handy and powerful media player that you will need for your Windows desktop, you can go for Blu-ray Player. It is an amazing player with a neat and easy-to-use interface and its navigation process for playing media files.