Full Guide to Create a Boomerang for an Interesting Media Posting (Computers and Mobile Phones)
A boomerang video is a loop of multiple videos and photos without audio. It may appear to be a GIF, meme, or live photo, but it is nothing more than a boomerang. Boomerang videos are currently a huge Instagram and IG stories trend. Then if you are curious about how boomerang videos can be made? Instagram created the Boomerang app to assist you in creating captivating video loops. In addition, you can use numerous trustworthy offline and online video editors to create boomerangs from existing videos.
This post will present how to make a boomerang from existing videos and film one using the official boomerang app. Other than that, Instagram permits you to make a boomerang with a live photograph. We will also walk you through the steps to create a boomerang video using Instagram directly. Please refer to the three sections below according to your requirements. Another thing we included is how we can use our computers to make videos.
Part 1. How to Make a Boomerang Video on a Computer
Method 1: Offline Mode Using Video Converter Ultimate
In the best possible way, our computer devices are one of the great media we can use to make a boomerang video. That will be possible and easily done with Blu-ray Master recommended Video Converter Ultimate. This software will allow us to turn our video into a boomerang. This software is mainly for conversion yet offers tons of features. One of these is the MV feature, where we can set a loop video setting that can result in a boomerang as an output. This process will be done in a few steps.
Step 1
Get the free software of Blu-ray Master Video Converter Ultimate and install it on your computer.
Step 2
Launch the software on your computer and see the MV feature from the tab above the interface.
Step 3
From there, see the Add sign below as we add the video we want to turn into a boomerang.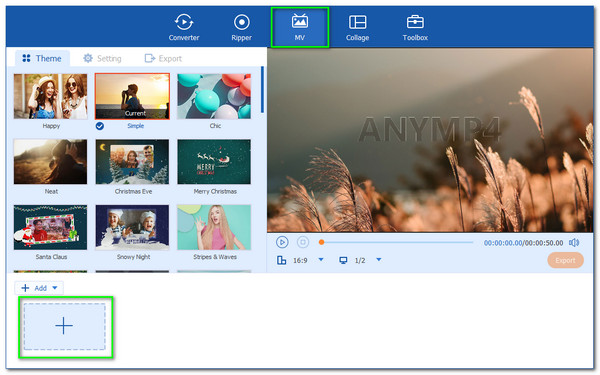 Step 4
Once we see the video on the interface, we can choose a Theme that depends on your preference. After that, please proceed with the Setting icon.
Step 5
Now, we are going to set the video into a boomerang. We all need to tick the box of Loop Play to make it possible.
Step 6
After that, we are now ready to Export the video and save it on your computer devices. Then you can also decide if you will share it with your social media accounts.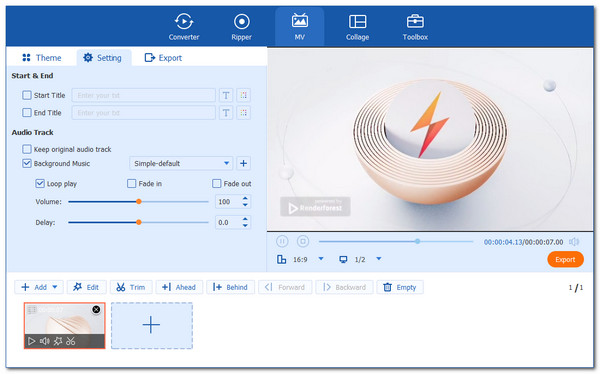 Method 2: Online Mode Using Media.io
Boomerangs have existed for quite some time. They are neither GIFs or videos. So, what exactly is a video of a boomerang? You can fast-forward or reverse a boomerang, a fun, short video loop. This could be a video of your dog jumping, blowing out birthday candles, or doing other activities. You can turn any video into a boomerang. However, learning how to make a boomerang video for the first time can be difficult. You can do that easily on Instagram's Boomerang App, but you can only use live videos.
Consider using Media.io Online Boomerang Maker to transform your locally saved videos into an amazing boomerang. You will know how simple it might be to boomerang a video. Now, share your idea in a boomerang video.
Step 1
To browse and upload a video, launch Media.io Boomerang Maker and then tap Choose Files. You can add a link to a YouTube video or load nearly all common video formats by tapping the YouTube icon.
Step 2
Drag the Sliders for Trimming to remove the part of the video that needs a boomerang, enter the Duration of the boomerang for this video clip, add a boomerang effect, and insert the desired number of loops. You can loop the video up to eight times to achieve the desired effect.
Step 3
Presently check your circled boomerang video and add more circles if necessary. Hit Export to convert the video to boomerang in lossless quality after previewing it.
For more video maker tools like Media.io, you can check this post.
Part 2. How to Make a Boomerang Video on an iPhone
We should discuss how we can produce a boomerang using our iPhone device. As we all know, our iPhone is one of the best mediums we can use because of its clear and super image quality. In line with that, Instagram created the Boomerang app, allowing anyone to make videos. With this application, you can post a boomerang video as a long-lasting post. This application is available on the App Store so that you can download it anytime.
Step 1
Install the Boomerang app on your iPhone and open it.
Step 2
To record, tap and use the Boomerang button and hold down the Record button.
Step 3
Post your boomerang on Stories or Feed.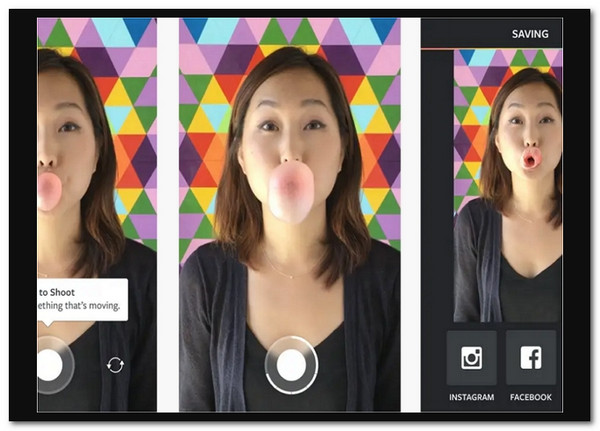 The slideshow feature on iPhone lets you make a quick slideshow video for Instagram, if you do not want to download any app.
Part 3. How to Make a Boomerang Video on Instagram
You can record a boomerang with the Instagram application and afterward post. As we all know, Instagram is one of the social media that is constantly updating. Nowadays, it already offers many features, including editing to enhance our photos and videos. Aside from that, the boomerang feature is already built-in on this app. Check out the next steps on how we can use it.
Step 1
Open the camera and open the Instagram app.
Step 2
Tap on the Boomerang symbol in the low right corner and record.
Step 3
When the Boomerang is finished, you can do basic editing, like writing or drawing. Then, tap the Tick symbol on the lower part of the screen. The video of the Boomerang will be posted.
Part 4. FAQs about How to Make a Boomerang
What file format does Boomerang use?
There is a different file format that Boomerang supports. However, MOV and GIF are two of a boomerang's most commonly used formats. These file formats possess the codec that can support the loop with high-quality possible.
What does it imply for a video to boomerang?
Boomerang creates a high-quality mini video that plays both forward and backward from a burst of photos. Photograph in landscape or portrait mode. Post it to Instagram. It is automatically saved to your camera roll by Boomerang. Your Instagram visual narratives inspire us.
How long is the Boomerang video on IG?
You can boomerang an existing video using the built-in Boomerang feature of Instagram and record a video no longer than 5 seconds using the standalone Boomerang app. That is the default time we can film using the Boomerang feature of the Instagram app.
Conclusion
There you have it, the different ways we can use these video editors and applications to make a boomerang video easily. We also credit the amazing Blu-ray Masters Video Converter Ultimate in making the process of producing a boomerang video using our computers. We can see how flexible it is and amazing doing the process. For that, you can now choose it and use it to do your process too.