3 Certified Ways to Slow Down Videos on Android
With the kind of technology that we have today, we won't question why people don't go out without their phones. Android is one of those handsets offering the best camera system today. This is why many Android users are fond of taking photographs and videos that blow their minds when it comes to quality. This is also tagged along with the unique filters and effects. One of the effects that you can use with your Android is slow motion, which is our primary concern for today's content. So, we have here the guidelines and the other best apps you can use on your Android to slow down videos. Therefore, let's get this started while it's hot.

Part 1: 3 Best Ways on Android to Add Slow Motion Effect to Videos
Way 1. Using Photos App
Android phones have a built-in function to slow down videos. This function is found in its Photos app. Furthermore, this is the most accessible app that you can use since it is pre-installed on your handset. Meanwhile, you can savor many other options in the Photos app besides its ability to add slow motion to video on Android: the crop, theme, filter, soundtrack, effects, and more. So, you can follow the guidelines below for those not yet in the mood to use third-party video editing apps.
Step 1
Go to your Photos app, and find the video you want to slow down and tap it. Now once the video is playing, tap the Edit tab under the timeline preview of the video.
Step 2
On the edit menu, swipe the selections from right to left to find the Speed tool.
Step 3
Upon opening the speed controlling bar. You can drag or tap the selections that will slow down your video, like the 0.5x and 0.25x speed options. After that, tap the Checkmark to proceed with saving.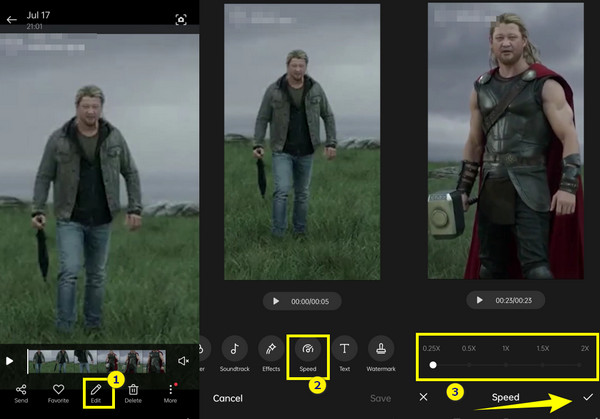 Way 2. Using Time Cut: Smooth Slow Motion
Time Cut is an editing app that professionally turns video into slow motion on Android. It comes and uses a motion interpolation technique to do this task smoothly. Furthermore, Time Cut can also convert video frame rate and create motion blur fx. On top of that, this app allows you to have velocity video editing, and it can freeze certain parts of your video for professional use. However, this app is not forever free. As a matter of fact, it requires a payment of roughly two dollars per week for you to enjoy its powerful features continuously. Nevertheless, it provides its first-time users a 7-day free trial, quite enough to test its potency.
This is how to make a slow-motion video on Android phones using Time Cut.
Step 1
Launch the app and tap its Pro-Speed Adjustment tool. After tapping, it will lead you to your photo gallery to import the video that you need to edit.
Step 2
After choosing the video, it will give you time to trim the video if you want to. Otherwise, tap the Check icon to proceed with the editing.
Step 3
Then on the speed adjusting page, choose among the Normal, Curve, Time Remap, and Freeze for the type and level of adjusting you want to do. For beginners, we suggest you choose the Normal.
Step 4
Now drag the speed adjusting bar to the left to slow down the video. Then, tap the Download tab located at the top right corner of the screen to export the video.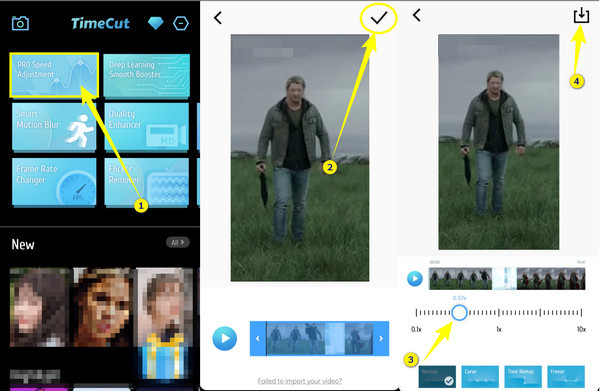 Way 3. Using CapCut - Video Editor
Do you want to know how to slow down a timelapse video on Android? Well, the CapCut got you covered. It is an all-in-one video editing app that provides you with an easy-to-use interface. Furthermore, it offers a wide range of effects, stickers, and fonts while working on slowing down your videos. Also, it has an extensive music library with solely selected songs that you can apply to the videos you work with. To help you decide if this app is what you are looking for, we prepared the steps to use it to slow down videos.
Step 1
Open CapCut after you install it. Then, tap the Plus icon indicating the add a new product. After tapping, you can now upload the video to the add slow motion on Android.
Step 2
Look at the bottom of your screen and tap the Edit tab. This must follow by tapping the Speed selection among the editing tools. Then, choose the Normal way of speed editing.
Step 3
After that, drag the sliding bar to reach 0.01x. Then, tap the Checkmark and the Export icon at the top right corner to save the project.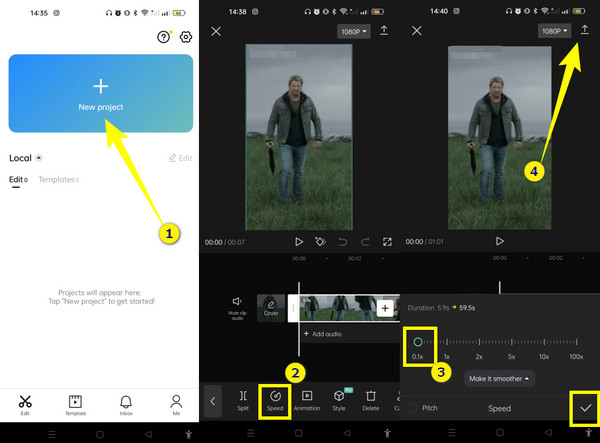 Part 2: Bonus: Highly Recommended Software to Make Slow Motion Videos for Android
For the videos that you want to slow down on your computer, then Video Converter Ultimate is the best software to use. It is a cross-platform software that is available to acquire on Linux, Mac, and Windows computers. Meanwhile, for your video speed editing, you can use this ultimate software's powerful video speed controller, which will enable you to slow down your video while enhancing it. Furthermore, you can produce your output in all popular formats like MP4, MOV, WMV, AVI, MKV, and GIF form./p>
On top of that, it also provides you with many different tools for video conversion, ripping, editing, and making movies and collages. This is the real one-stop video editing software you must have. On the other hand, get ready to turn video into slow motion on Android using the following key features.
1. Slow down the videos from 0.75x down to 0.125x.
2. Enhance your video resolution up to 4K.
3. Customize the format and frame rate of your output.
4. Export the video 70x faster than other tools.
Step 1
Open the software and look for the Video Speed Controller tool in the Toolbox menu. Once you find the tool, click it, and upload your video by clicking the Plus icon in the next window.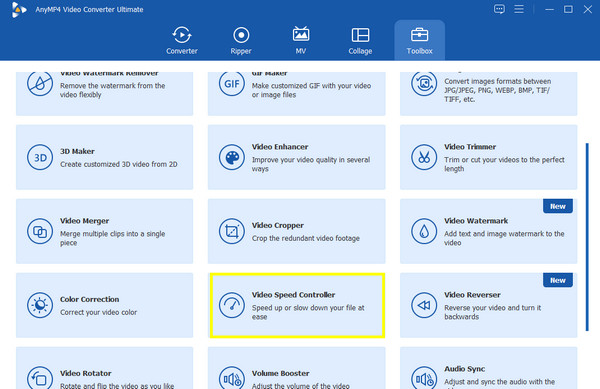 Step 2
Now, let's slow down the speed of the uploaded video. Pick a speed rate from 0.125x to 0.75X, then play the preview to check.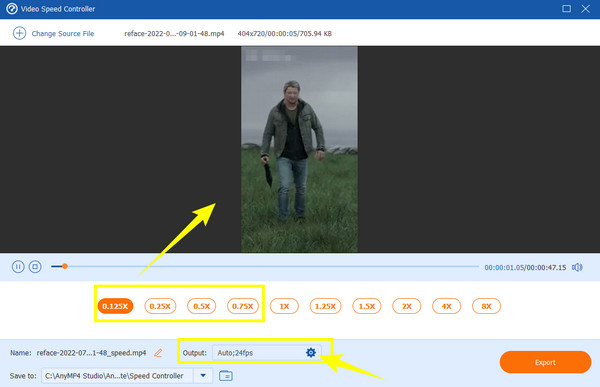 Step 3
Also, if you want to enhance your video file, hit the Coggle icon next to the Output section. Make some adjustments of your choice, then click the OK button.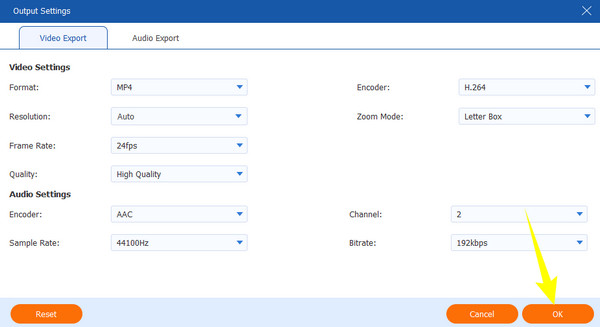 Step 4
Finally, you can click the Export button this time to save the edited video file.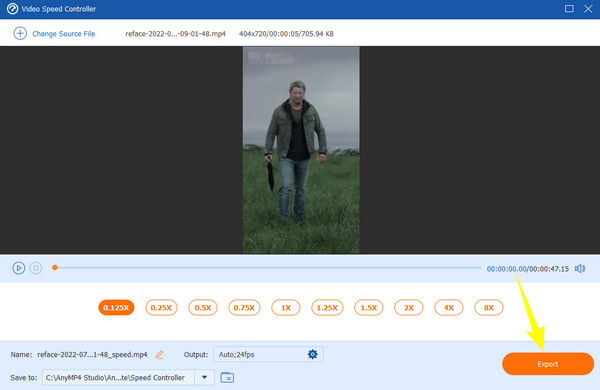 Part 3: FAQs on Slowing Down a Video on Android
How to make your video slow in motion on Android's camera?
No. Unfortunately, Android phones don't have a built-in slow-mo video recorder. However, other handsets like iPhones have it.
Is it possible to slow down a timelapse video?
Yes. You can still slow down a timelapse video on your Android. You can successfully slow down the clip by opening the time-lapsed video on your Photos app and applying the slow motion effect on the edit option.
Does slow motion affect the quality of the video?
Yes. Slowing down the speed of a video can somehow affect the quality, mainly when too much slow-mo is applied.
Conclusion
Do you see now the reason why the ways here are great? You should master them by now, so whenever you need to slow down videos on Android, you will not need to take time just to recall this content. But for the same task that you will do on your computer, use the Video Converter Ultimate and relish its robust features that cover all your video editing tasks.