Phenomenal Time Lapse Video Makers: How to Make Videos Play Fast on Desktop and Mobile Phones
Do you get bored of watching lengthy videos? Do you find it annoying to watch long videos when you only want a glimpse of what the video is all about? Then, you need to know how to make a time-lapse video. Because speeding up a video has been proven to be an attention catcher since it increases the viewers' adrenaline due to the short scenes. In other words, fast videos make the viewers focus to see what will happen next since they need to see it with full attention, or they will miss it.
Moving forward, making the video play fast has been made more accessible since we have innovative technologies. Fortunately, video editing is a part. So, in this article, we have collated all the video editing programs you can use on different platforms. So, without further adieu, let's start learning how to make a normal video into a time-lapse.
Part 1: How to Make a Video Time-Lapse with an Ultimate Software
Video Converter Ultimate is an ultimate software that is available on both Windows and Mac. Furthermore, it comes with powerful tools that will help you enhance your videos, turning them into a cinematic-like quality video playback. Now regarding its speed-changing tool, you will be surprised at how powerful and generous it offers numerous selections besides the speed rate options. Imagine it extensively provides you with presets you can customize to perfect your video and its audio outputs!
Key Features:
1. Speed up the videos in a quick and hassle-free way.
2. Increase the video speed from 1.25x to 8x faster.
3. Video quality, resolution, and encoder scrutinization.
4. Produce your video output in popular video formats.
5. Support Windows, Linux, and Mac OS.
How to Time-Lapse a Regular Video with Video Converter Ultimate
Step 1
Get the software on the kind of computer you use. To help you acquire it faster, you may click the Download button provided above.
Step 2
Once the software is obtained, open it. Then, watch out for the powerful features at the center top of the interface, and click the Toolbox. Now, look for the Video Speed Controller from among the editing tools and click it.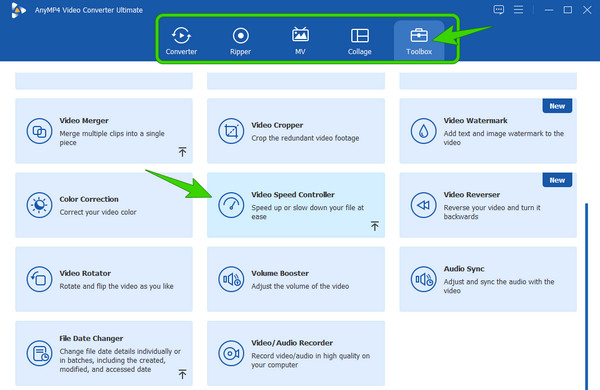 Step 3
After that, you can now upload the video file you want to convert to time-lapse. To do so, just click the Plus icon that you see at the center of the next window.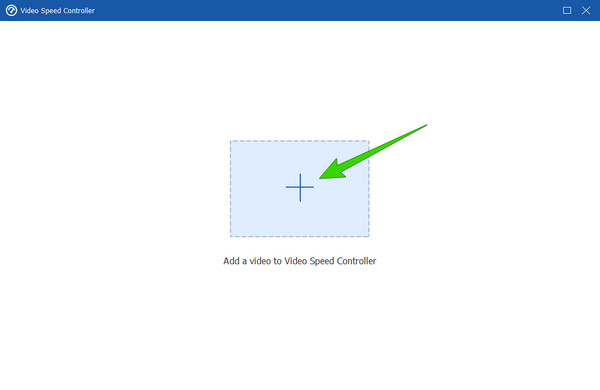 Step 4
The next thing to do is to choose the 8X option from the speed control. By setting it, you can turn your video into a timelapse. Then, hit the Export button to save the time-lapse video.
Note: The guidelines also answer your question about making a time-lapse video on MacBook.
Part 2: How to Make a Time Lapse Video on iPhone
Although iPhones come with a timelapse recorder, they still can't turn your recorded videos into one. In other words, iPhones merely create timelapse via recording and not via editing existing videos. So, If you are looking for the best app to take over this task on your iPhone, then iMovie is the one to choose. iMovie is not only an app for Mac but also has outstanding work in the video editing field on iPhone. Through this app, you can be able to speed up the video twice faster than its original seed. Hence, please see below to show you the procedure for speeding up a video.
How to Make a Video Time-lapse on iMovie on iPhone
Step 1
Launch the iMovie app using your iPhone. Then, tap the Create a New Project option once you're in the app. After that, select the Magic Movie option and look for your photo gallery. Once you find the video, tap it and then tap the Create Magic Movie tab.
Step 2
Now tap the video you are working on to see the editing tools at the bottom part. From those tools, look for the Speed selection.
Step 3
After that, you will have speed control, where you need to drag the slider bar to the right to turn the video into a timelapse.
Part 3: Part 3. How to Make a Time Lapse Video on Android
Now for those who want to make a time-lapse video on Android, the Photos app is the first reliable tool. Yes, Android's Photos app is already infused with powerful editing tools. Besides its ability to speed up your videos, it has these tools that work best to trim, crop, and add watermarks, filters, effects, and themes. This means it has enough essentials in video editing that you can already savor. So if you only want simple video edits and enhancement, then there is no need for you to install a third-party app. Because you already have it pre-installed. Therefore, without further adieu, let's see how you will speed up your clip using this built-in Photos app on Android.
How to Make Time Lapse Video from Photos App
Step 1
Launch your Photos app, and look for the video you want to speed up. Now tap the video to play it. Then, while the video is on the play, tap the Edit option among the tools under the preview timeline of the video.
Step 2
On the Edit options, look for the Speed tool by swiping the list of the tools from right to left.
Step 3
Now after tapping the Speed tab, a controlling bar will appear. You can drag the sliding bar from the 0.25x speed option to the 2X. And after that, you can tap the Check icon to save the edited video. Click here to learn how to make a slow motion video on Android.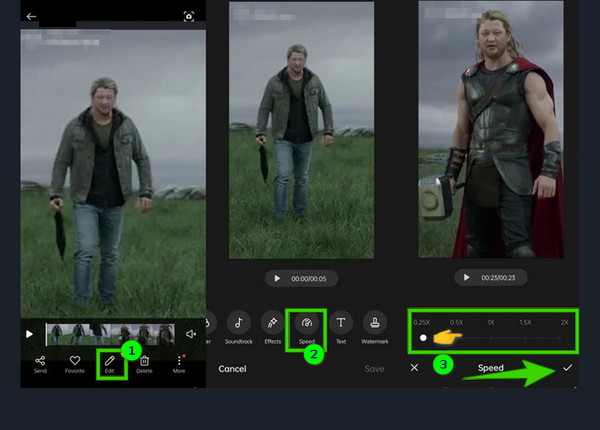 Part 4: FAQs on Time Lapse Video Making
Can I bring the time-lapse video back to its original speed?
You can use Video Converter Ultimate's Video Speed Controller tool to make the timelapse video at regular speed. Upload the video and choose the speed control that will reverse the speed of your time-lapsed video.
Can I record a timelapse video on Android?
Yes. But please note that not all Android phones have a timelapse option on the camera. Thus, if your phone doesn't have it, then you can use a third-party tool to record a timelapse video
Is it safe to use an online tool to timelapse a video?
Not all online tools are safe to use. That said, you can double-check the background and review the specific tool you want to use online.
Conclusion
You can now easily make a time lapse video on computer, iPhone, and Android. You can now enjoy watching lengthy videos, for you can speed them up any time. But as a beginner who wants to level up the video editing experience, we highly recommend using the Video Converter Ultimate. For it has every tool that you need for any video editing job that you need to do.