What Is the Difference You Should Know about MOV and MP4
"I'm looking for opinions on any quality differences between MOV and MP4, any difference in compression artifacts, bit rates?" There are a lot of video file formats that can be used in saving your videos depending on your need. MOV and MP4, for example, are two containers that are usually used to hold lossy video content. Although all modern persons know the two formats, the differences may be ignored. That is what you can find from this article.
Part 1: MOV VS MP4
MOV is the lossy video format developed by Apple to save videos and movies for QuickTime Player. Therefore, MOV performs very well on macOS and iOS. Since it is compressed by advanced technology, the file size is pretty small. So, you can play the video quickly on computer and mobile device. Now, MOV is widely compatible across different systems including Windows and Mac. As a container, MOV uses the concept of tracks to store data. A track contains a particular type of data, such as video, audio, subtitle, text, etc. A single MOV video holds different types of data on multiple tracks.
MP4, on the other hand, has been around for long time and become an industry standard. MP4 use the same compression technology with MOV, so they are interchangeable in a QuickTime environment. In another word, MOV can be converted to MP4 and vice versa easily. Now, MP4 is widely supported across systems, like Windows, macOS, iOS and Android, as well as websites, like Facebook, YouTube, etc. Besides, a part of game consoles and DVD players are able to play MP4 directly.
MOV
MP4
Pros
Provide high quality
Store multiple tracks independently
Add metadata to video
Play on Apple devices seamlessly
Widely compatible with operating systems and devices
Play on almost all computer, mobile, and portable devices
Cons
File size is larger than most video formats
Need third-party media player on some devices
The video quality is not very good
It mixes video and audio into a single file
Part 2: Best Way to Play MOV and MP4
As mentioned previously, MOV is not as compatible as MP4. Not all media players support MOV. Therefore, you may need a media player to enjoy your movies. Blu-ray Master Free Blu-ray Player can meet your need. It simplifies the procedure of video playback. Moreover, it uses acceleration technology to load videos quickly.
Main Features of the Best MOV and MP4 Player
1. Play almost all video formats including MOV and MP4.
2. Keep the original video and audio quality.
3. Offer both basic and advanced playback controls.
How to Play MOV or MP4 Video
Step 1
Open a video
When you cannot open MOV or MP4, install the best video player to your computer and launch it. Click the Open File button, find the target video and select it, and open it.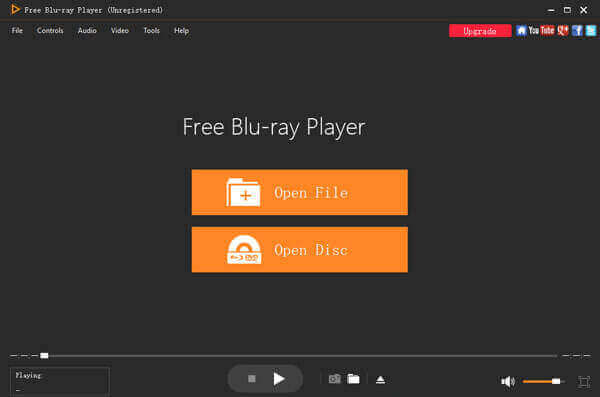 Step 2
Control video playback
After video loading, you will be presented the media player window. Then you can control the playback with the buttons at the bottom, like play, pause, stop, fast forward or rewind. The Camera icon enables you to take a snapshot at important frame. You can also explorer the advanced controls in the menu bar at the top of the window.
Part 3: How to Convert between MOV to MP4
Another way to play MOV and MP4 videos in any media player is to convert your videos to standard media format. Blu-ray Master Free Online Video Converter is the best choice to do the job. The biggest benefit is the impressive output quality.
Key Features of the Best MOV and MP4 Converter
1. Convert between MOV and MP4 in a single click online.
2. Handle unlimited video files in batch at one time.
3. Rely on advanced algorithm to optimize video quality.
How to Convert between MOV and MP4 Online for Free
Step 1
Open a web browser, copy and paste https://www.bluraycopys.com/free-online-video-converter/ into the address bar, and hit Enter key on your keyboard. Then click Launch Free Converter to download the launcher.
Step 2
Hit the Add File button once the launcher pops up. Then upload the MOV and/or MP4 files from your computer. Next, go to the bottom and choose the desired output format. You can also change video and audio settings by hitting the Gear icon.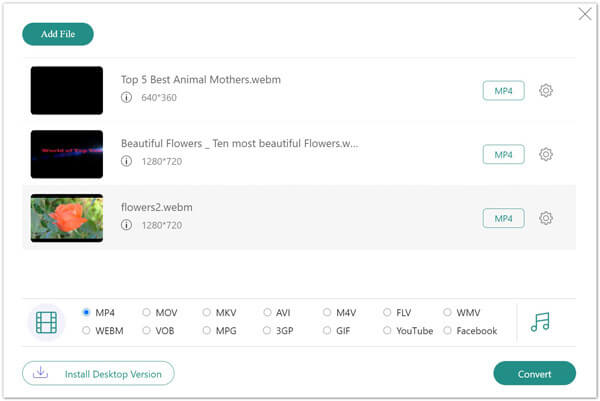 Step 3
Once setting is done, click the Convert button to begin converting between MOV and MP4 online. Wait for the process to finish and download the video files.
Recommend: Best Way to Rip DVD to MOV/MP4
The best way to back up DVD videos is to rip it to MOV or MP4. Blu-ray Master Free DVD Ripper is the best is the best choice. It provides a lot of bonus tools, but is very easy to use.
Main Features of the Best DVD Ripper
1. Rip DVD movies to MOV or MP4 in a single click.
2. Protect video quality while ripping DVDs.
3. Rip certain chapters from a DVD.
Part 4: FAQs about MOV VS MP4
Is MOV better than MP4?
If you are using MacBook or other computer running macOS, MOV is a better choice. For video sharing, MP4 is more compatible than MOV.
What program plays MOV files?
QuickTime Player is able to play most MOV files on macOS and iOS. Of course, you can use a third-party media player, like VLC Media Player, KMPlayer and more.
Why QuickTime cannot open my MOV files?
If the MOV files contain the codec that QuickTime is not supported, you cannot open them in QuickTime. Moreover, you should check if your video files are corrupted.
Conclusion
Now, you should understand what are MOV and MP4, as well as the differences between the two video formats. So that you can make the best decision when choose the video format. Blu-ray Master Free Blu-ray Player is able to play the two formats with excellent experience. More questions? Please write down below this post.
More Reading
Top 5 Ways to Convert MOV to AVI
What is the difference between AVI and MOV? How to convert MOV to AVI free? How do I convert iPhone video to AVI? This post shares 5 easy ways to convert MOV to AVI with free online and professional converters.
How to Export or Convert QuickTime MOV to MP4
Does QuickTime save as MP4? How do I export a QuickTime file as MP4? Is there any simple way to convert QuickTime MOV to MP4 without quality loss? This post tells you how to directly export QuickTime video to MP4. Moreover, you can learn how to record and convert QuickTime to MP4.
MKV V.S. MP4: Which is Better?
You must be familiar with MKV and MP4, but do you know the in-depth information about them? Should you choose MKV or MP4 to save on your computer? Read this article, you will learn about the differences between them.
How to Convert WLMP File to MP4
Did you fail to open a WLMP file on your computer? The fact is no media player can play it. You need to convert the WLMP to MP4. This article will give you 3 ways to convert WLMP to MP4.