Top 3 MP4 Video Metadata Editors for Mac, Windows, and Linux
Metadata is the digital file information that helps media players and computers identify it. Video metadata is embedded inside the tags, such as the title, production date, creator, album, actors, and other descriptions. Are you looking for an MP4 metadata editor to add or modify video metadata information on a Mac, Windows, or Linux computer?
This post recommends three tools, including the MP4 metadata editor freeware, for you to edit video metadata tags on your Mac or Windows PC. You can select your preferred editor to check, add, or edit the metadata of an MP4 file.
Part 1. Best MP4 Video Metadata Editor for Mac and Windows 11/10/8/7 PC
Whether you are using a Windows 10/11/8/7 PC or a Mac, when you need to edit video metadata, you can turn to the professional Video Converter Ultimate. As an all-featured video editor and converter, it enables you to edit the metadata information of videos in MP4, MOV, FLV, AVI, MKV, WMV, and more.
1. Best MP4 metadata editor to add, view, and edit video metadata on Mac and Windows PC.
2. Offer toolbox of Media Metadata Editor, Video Compressor, GIF Maker, 3D Maker, Video Reverser, Video Enhancer, and more.
3. Carry many editing features, including cut, rotate, crop, merge, adjust effects, and enhance quality.
4. Create collage videos and MVs, rip DVDs, and convert video and audio files.
Step 1
Whether you need an MP4 video metadata editor for Mac or Windows 10/11/8/7 PC, you can choose this recommended Video Converter Ultimate. You can free download and open it, use its Media Metadata Editor tool in Toolbox to add or edit the video tags with ease.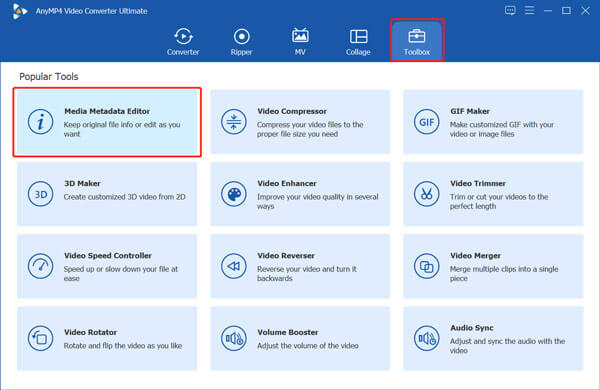 Step 2
A pop-up Media Metadata Editor window will appear on the screen for you to add your MP4 video. As you can see, it supports many video and audio formats, including MP4, M4V, MOV, M4A, MP3, WMA, WMV, 3GP, AVI, WAV, and more.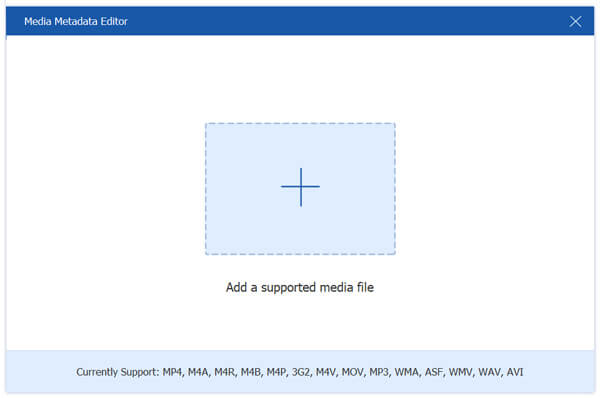 Step 3
Now you are allowed to view, add, and edit title, artist, album, genre, cover, and other metadata tags based on your need.
Step 4
After the MP4 video metadata editing, you can click on the Save button to save your changes.
Part 2. MP4 Metadata Editor Freeware for Windows PC - Metadata++
If you are searching for the MP4 metadata editor freeware for a Windows PC, you can give the popular Metadata++ a try. Metadata++ is designed to quickly locate file directories, check and edit metadata information. It is compatible with 64-bit Windows 10 and Windows 11. As the metadata editor freeware, it supports both video, audio, text, and image formats.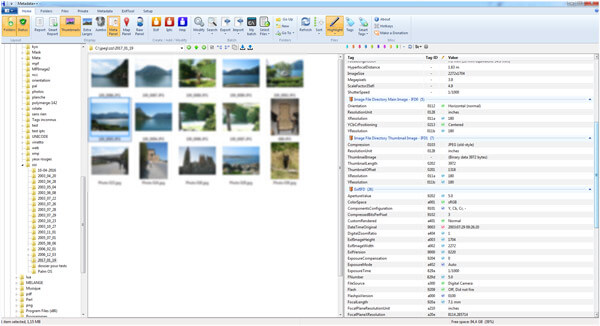 You can go to the official site of Logipole to free install the right version based on your system. Choose the MP4 video you want to edit its metadata in Metadata++, and then freely edit various tags according to your need.
Part 3. MP4 Metadata Editor Freeware for Windows, Mac, and Linux - Avidemux
Avidemux is a very popular MP4 video metadata editor mainly designed for cutting, filtering, and encoding tasks. It can help you edit MP4 metadata on Windows, macOS, and Linux computers. As the MP4 metadata editor freeware, Avidemux supports many file formats, including MP4, AVI, ASF, MPEG, and more.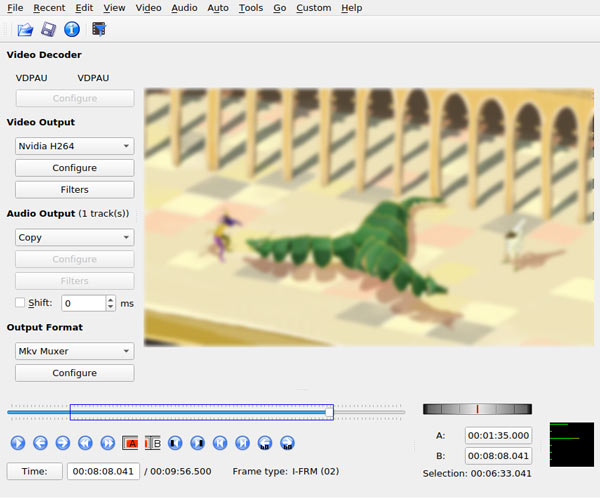 Part 4. FAQs of MP4 Metadata Editor for Mac, Windows, and Linux
1. Can I edit MP4 video metadata in Windows Media Player?
You are only allowed to edit the MP4 file names in Windows Media Player. For more tags of MP4 video, you can't directly edit them using WMP.
2. Can VLC edit MP4 metadata?
VLC is an open-source media player that carries many editing, recording, and converting features. It has the Media Information option to edit your MP4 video tags. You can open VLC Media Player on your computer and add your MP4 file for playing. Under the Tools menu, select the Media Information feature. You can handily view, add, or edit video tags, metadata, codec, and more in the pop-up Current Media Information window.
3. Can I free edit the MP4 video metadata online?
Yes, many online metadata editing tools are offered on the internet that can help you check, add, and edit video metadata. Most of them support popular video and audio formats like MP4 and MP3. If you don't know which one you should use, you can try the Online MP4 Tagger, FileProInfo, or Metadata2Go.
4. Is there any free MP4 metadata editor app for Android?
Yes. You can go to Google Play Store to search for and find a suitable MP4 metadata editor app to edit the photo or video metadata on an Android phone. When you enter the Google Play Store, you can enter MP4 metadata editor in the search box to quickly locate many useful recommendations.
Conclusion
We have mainly talked about the MP4 metadata editor in this post. You are offered three great video metadata editors to view, add, and edit video tags on your Windows PC, Mac, or Linux computer. Besides the MP4 metadata, they can also help you edit the metadata information of images and audios.