The Best Way to Convert MTS/M2TS Videos Taken by Sony DV to AVI Format
When you want to share MTS/M2TS videos taken by your Sony HD Camcorder, you will find them unable to send to your friends or upload on YouTube/Facebook. And if you want to edit MTS/M2TS videos through video editors like Adobe Premiere, you may add the files successfully with the required plugins but find the editing always stuck. In these cases, the best solution is to convert MTS/M2TS videos to AVI for better editing and sharing.
Moreover, MTS/M2TS format is always supported by Blu-ray discs, so it's also difficult to play the MTS/M2TS videos on most PC players. So keep reading this article and learn more about MTS/M2TS and how to convert MTS/M2TS to AVI format with high compatibility.

Part 1: What is MTS/M2TS? Tips for Converting MTS/M2TS to AVI
MTS is an emerging video format with HD quality. The videos taken by DV cameras of Sony or other brands are always in MTS format. And these videos are shown in MTS format when directly watching them on DV disk or copying them to the computer. If you use the supporting PMB software created by Sony to import the MTS videos to your computer, then the format will change to M2TS. Actually, they have no difference between each other except the name.
Since the MTS/M2TS videos are taken by HD camcorders, the videos are always in 1920x1080 resolution with a large size. And the codec included in the videos is H.264 or AVCHD. When converting MTS/M2TS to AVI, you should choose the same codec and resolution to keep high quality. Find best MTS M2TS player here.
Part 2: How to Convert MTS/M2TS to AVI for Easy Editing and Uploading
To transform MTS/M2TS videos to AVI format, Bluraycopys Video Converter Ultimate is your best choice. You can use this software to convert a batch of large MTS/M2TS files to AVI in a few minutes, which will save your time. Moreover, it supports adjusting the video codec, resolution, frame rate, and bitrate.
1. Convert MTS/M2TS to AVI, MP4, MOV, FLV videos with simple clicks.
2. Customize the video parameters including codec, resolution, and bitrate to keep high quality.
3. Supports converting a batch of videos together.
4. 70X faster processing speed to transfer videos quickly.
Step 1
Download and launch Bluraycopys Video Converter Ultimate on your computer. Click the Add Files button to select the desired MTS/M2TS videos. Of course, you can simply pull and release those videos to add them to the MTS/M2TS video converter.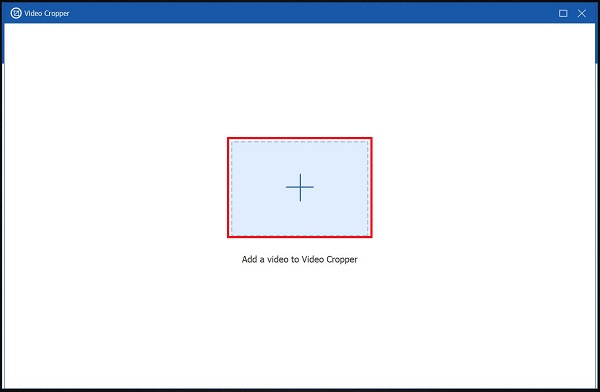 Step 2
Click the Convert All to menu and select the AVI format in the video list. Then you can choose the Same as Source resolution or 1080p resolution. Don't click on the resolution, and just click the Custom Profile button on the right side.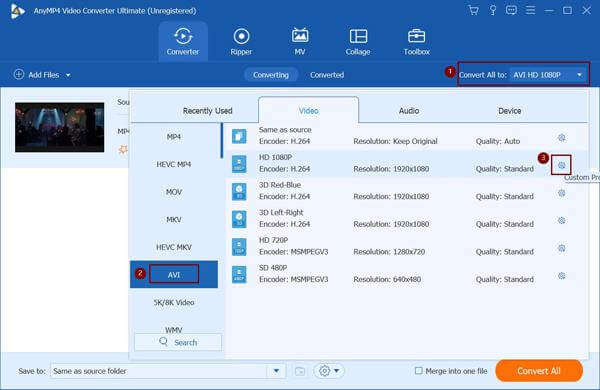 Then you should change the codec to H.264, and tick the High Quality option to keep a high quality of the converted videos. After that, click the Create New button to save the settings and back to the main interface.
Step 3
Choose the desired storage path and click the Convert All button to start transferring MTS/M2TS to AVI.
You can also choose to convert MTS/M2TS videos to AVI through Bluraycopys Free Online Video Converter. You don't need to download any software. And it also supports adjusting the video codec and resolution.
Part 3: FAQs of Converting MTS/M2TS to AVI Files
1. How to convert MTS/M2TS to AVI format without losing quality?
Through Bluraycopys Video Converter Ultimate, you can adjust the video codec and resolution to the original H.264 and 1080p in MTS videos. In this way, you can keep high quality when transforming MTS/M2TS to AVI.
2. Can I edit MTS videos through Adobe Premiere?
If you have downloaded the MTS plugins, you can directly import MTS videos to Premiere. But it will be stuck when you add lots of effects. Thus you'd better transform MTS/M2TS videos to AVI.
3. What parameters should I set when converting M2TS videos to AVI for YouTube?
YouTube supports uploading videos in H.264 codec with a maximum 4K resolution. And the frame rate is limited between 24fps to 60fps. So you can choose the H.264 codec, 1080p resolution, and 30 fps frame rate when converting MTS/M2TS videos to AVI.
Conclusion
This article has introduced what is MTS/M2TS and the features of this format. Because of its incompatibility, you also have learned the best way to convert MTS/M2TS videos to AVI format from the above article. If you have other questions about transforming MTS/M2TS to AVI files, please leave your comment below.