2 Best Methods to Convert OGG to the Compatible MP4 Easily
If you can't play OGG music on your mobile phone, why not convert OGG to MP4, the most compatible format with all devices, especially portable devices.
Since OGG files of the same size are of better audio quality than MP3 files, a lot of high-quality music is encoded by OGG. But it is not supported by many audio or video players on mobiles and computers, and meanwhile, MP4 is a versatile format that is compatible with all devices and players. Thus, this article will help you learn more about converting OGG to MP4 in 2 efficient ways.

Part 1: What is OGG? Why is it Unplayable?
OGG or OGG Vorbis is a compressed audio format that supports multiple channels. Since it is a totally free and open-source format and has a relatively higher audio quality than MP3, it is generally applied to make music or sound effect.
Although it may be supported by all players in the future, now it's not compatible with many audio and video players. And it is not supported by many professional audio makers. As for the most compatible format, it must be MP4. So it's a good choice to convert OGG to MP4 for better playing.
Part 2: The Best Way to Convert OGG to MP4 Easily (Recommended)
Bluraycopys Video Converter Ultimate is a versatile software that can convert any format easily, including transforming OGG to MP4. You can also customize the audio and video settings while converting OGG to MP4 to keep high quality. Moreover, it provides a preview function to let you check the effect in advance. Here are the main features:
1. Convert a batch of OGG audio files to MP4 videos with simple clicks.
2. Supports 500+ import and export formats.
3. Adjust the detailed parameters to keep high quality.
4. Preview the converted videos before exporting.
Step 1
Download and launch Bluraycopys Video Converter Ultimate on your computer. Click the Add Files button to choose the desired OGG files, or you can simply pull and release the files to add them to the software.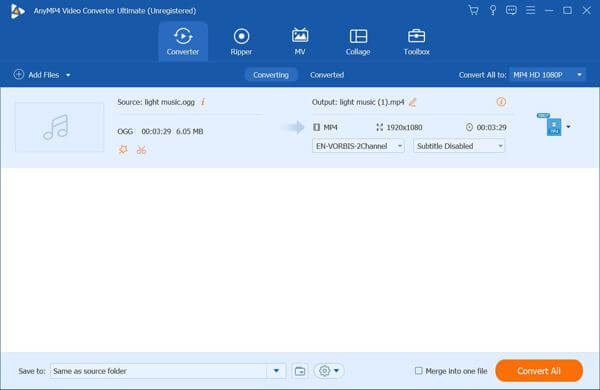 Step 2
Click the Convert All to menu and select the MP4 format with the desired resolution. Then click the Custom Profile icon to change the settings. You'd better choose the AC3 encoder that has high quality and multiple channels. And then choose the original sample rate and bitrate. The bitrate can even reach 640kbps. Then click the Create New button to save it.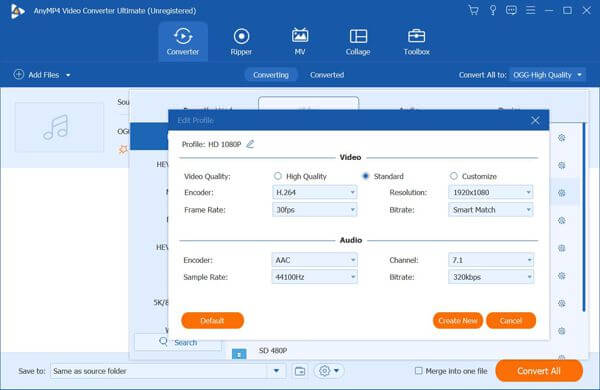 Step 3
Back to the main interface and choose the storage path. Then click the Convert All button to start converting OGG to MP4.
You can also compress the MP4 file with the built-in video compressor in Video Converter Ultimate.
Part 3: How to Convert OGG to MP4 Online for Free
If you don't want to download any software, Bluraycopys Free Online Video Converter will be your best choice. With easy steps, you can transform OGG to MP4 online for free. But it supports fewer formats to export, and fewer adjustments to parameters. It is good for basic and easy converting. You can follow the detailed steps below:
Step 1
Open the official website of Bluraycopys Free Online Video Converter on any browser. Click the Launch Free Converter button to install the launcher in a few seconds. Then click the button again to add the OGG files that you want to convert to MP4.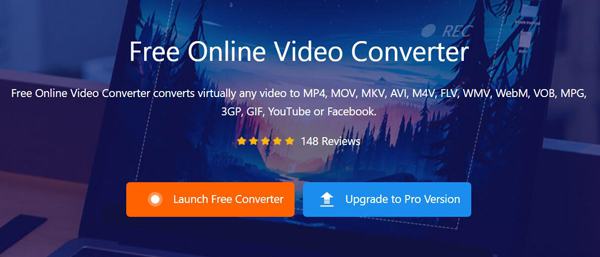 Step 2
Choose the MP4 as the export format. Then click the Settings icon to change the parameters. Although you can't select the codec, you can choose the general 44100HZ as the sample rate and keep the bitrate as the original one. Click the OK button to save the settings and then click the Convert button to save in the local file.
Part 4: FAQs of Converting OGG to MP4
1. What's the difference between OGG and MP4?
Firstly, OGG is an audio format while MP4 is a video format. But MP4 can contain audio formats like AAC and AC3. Moreover, MP4 is much more compatible than OGG on all devices.
2. Can I play OGG music with the default video player on my android phone?
No. OGG is not supported by many professional audio and video players, not to mention the built-in player on mobile. Find OGG player here.
3. How to convert OGG to MP4 without losing quality?
Using the recommended Bluraycopys Video Converter Ultimate can transform OGG to MP4 without losing too much quality. It provides 2 encoders, several channels, and a high bitrate to choose from.
Conclusion
From this article, you have learned 2 easy and efficient methods to convert OGG to MP4. If you want to keep high quality as the original files, you'd better download Bluraycopys Video Converter Ultimate to adjust the encoder, channel, sample rate, and bitrate while transforming OGG to MP4.