How to Add a Filter on a Video Remarkably on Desktop and iPhone [Solved]
Adding a filter to a video is a creative way to enrich the clip's voice. Through a filter, the video's message will be more accurate, as well as its appearance. Most of the videos nowadays are filtered, not just because owners want to hide something, though that's one thing. But they filter their clips to show their creativity in producing remarkable footage for people to see. Furthermore, since many video hosting servicing apps, like Tiktok, come with various filters, many users have been in bondage to filters due to their fondness. As a matter of fact, many wouldn't take a video unless there's a filter applied. But you know, we cannot blame them because it is through filters that they look more beautiful.
On the other hand, not all have the same perspective about filtering videos. But regardless of your perspective or reason why you want to learn how to apply a filter to a video, we assure you that you will get the solution you need. Because this post will tackle the three unique ways to help you achieve a perfect video via a filter, let's now go straight to the content below.

Part 1. How to Put a Filter on Your Video in Two Amazing Ways on a Desktop
There are two excellent ways that you can utilize to put a filter on your video. First, the Video Converter Ultimate and second, the Adobe Premiere Pro. These two video editors have remarkable ways of adding beauty filters to videos. Please get to know more about them by walking through their denotation and the course to follow in this task.
1. Use Video Converter Ultimate
This software is one of the most advanced video editors due to its modern technology, which makes it work at its finest. Video Converter Ultimate is an all-in-one tool that is available on desktop and Mac. It is a perfect choice if you want to filter your multiple video files, for its accelerator works in batches simultaneously. Furthermore, you will be delighted with the numerous filters that will surely make significant changes to your videos. Not just that, along with these filters, is the basic effect setting that will enable you to modify the contrast, saturation, hue, and brightness of the video. And so you will not only put a filter on a video, but you can also customize the vital effect of your file! Moreover, with the adjustments that you work on a specific video, you can apply them to the other videos as well, for it allows you to apply the settings to all.
Technically, Video Converter Ultimate has every video editing tool that you are looking for. Imagine this single software can convert videos, rip DVDs, make movies, create collages, 3Ds, and watermarks, and enhance your files in several ways! Therefore, we ensure you a more practical and powerful acquisition by obtaining this Video Converter Ultimate.
Features of Video Converter Ultimate
1. Almost 50 beautiful filters are available.
2. Obtain a procedure that is simple and quick.
3. Support of more than 300 video formats for input and output.
4. Rotate, crop, and add watermark, audio, subtitle, and effect while adding filters to your video.
How to Put Filters to Video on Your Computer
Step 1
Download the Software
Freely download Video Converter Ultimate on your computer. To assist you quickly, please hit the Free Download button above.
Step 2
Upload the Video Files
Once you get the software, launch it. Then, click the Plus sign at the center of the interface for you to upload multiple video files that you need to filter.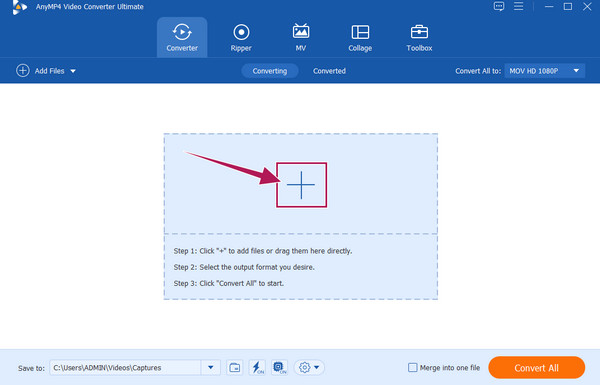 Step 3
Add Filter to Videos
Now click the Star wand under your uploaded video to access the filters. On the new window, go to the Effect & Filter section. Then, choose the perfect one from among the Filters selection on the right side of the UI, and if you want, you can navigate to the Basic Effect for other settings. After that, if you want to apply the same settings and filter to the other uploaded files, hit the Apply to All tab and then OK. And that is how you can put a filter on a video.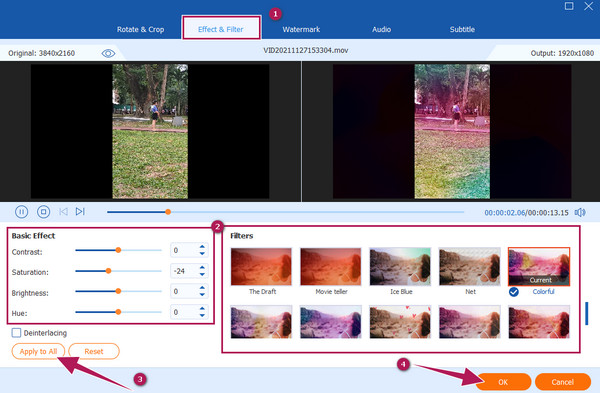 Step 4
Save the Filtered Videos
Finally, you can save the video now. But before that, please make sure to check the format of your outputs if it shows your need. Otherwise, hit the Convert All button to save your filtered videos.
2. Use Adobe Premiere Pro
The second amazing software that deserves your time is this Adobe Premiere Pro. Perhaps you already know something about this software because it is one of the most famous professional video editing tools. And by the fact that professionals use it will mean you to take video editing to the next level. Why not? Premiere offers good filters with advanced options that will turn your videos to an extraordinary level. However, you might find it frustrating to use Premiere for the first time if you are a beginner. Nevertheless, the steps below will allow you to love it even when encountering it for the first time.
How to Put a Filter on a Video in Premiere
Step 1
Launch Premiere Pro using your computer device. Then, to begin with, add your video file to the timeline of this software. Once you upload the video, you need to add a filter.
Step 2
Once the video is in the timeline, go to the Effects menu. From there, open the Lumetri Looks folder. You will see the various filter options, such as the Bleach Bypass, Cinematic, Sepia, and more. Open the option you want, then drag and drop it to the timeline to apply it to your video.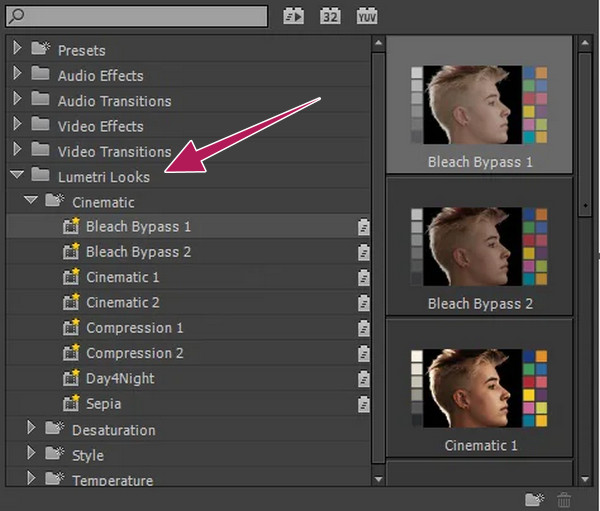 Step 3
After that, check your video to see what else you need to apply. Otherwise, click the File tab and proceed to save the new video file.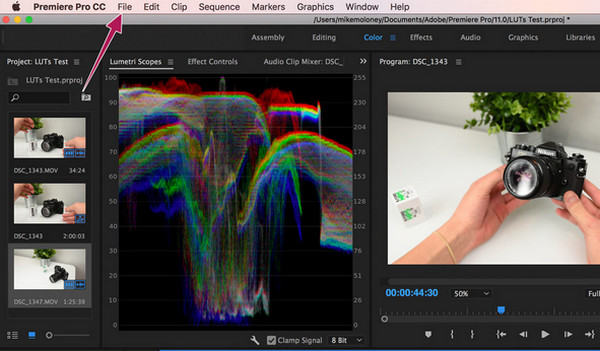 Part 2. How to Add a Filter on Your Video on iPhone
Now for your iPhone concern, we have prepared the guidelines on the best app that will help you put filters to your clip, the iMovie. Since you use an iPhone, you probably have an idea about iMovie. Therefore, if you want to use your iPhone to record a video clip and want to apply filters, then you must use and select the filter options of iMovie. As you know, this fantastic app is one of the top notches of iPhones regarding video editing. And it contains numerous filters that will make your videos look amazing aside from the effects and other tools it has. So, without further adieu, let's see how to put a filter on a video in iMovie below.
Step 1
Launch the iMovie app and tap the Movie after tapping the Create New Project tab.
Step 2
Now find the video from your gallery and tap it. Then, tap the Create Movie tab at the bottom of the screen to upload the video to the timeline.
Step 3
Once the video is in the timeline, tap the
Filters
icon beside the
T
section. After that, choose among the multiple filters you want to apply to your video. Then, tap the
Done
option located at the top left corner of the screen to save the video.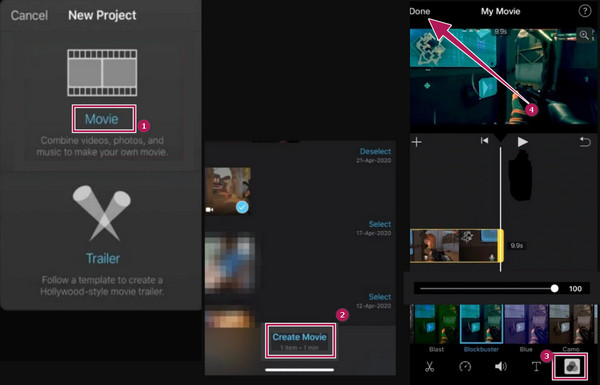 Further Reading:
Best Ways of Adding Filters to GIFs with Detailed Steps
Best Ways How to Change Video Resolution for All Platforms
Part 3. FAQs about Putting a Filter on a Video
Why do I need to add a beauty filter to the video?
As mentioned by its name, you need to add a beauty filter to add beauty to your video, especially to the faces of the people in the video. This kind of filter is the in-demand filter nowadays, giving the person in the video the confidence to show herself even without makeup.
Does a filter add up to the video file's size?
Yes. However, the additional size is insignificant since filters only come with a small element size.
Can I filter a 4K video?
Yes, you can. Using the Video Converter Ultimate, putting a filter on a 4K video will never be a hassle.
Conclusion
To wrap it up, you can now be a creative videographer. This article shows how putting a filter on a video is your stepping stone to becoming a professional video editor. So, what are you waiting for? Start editing your videos now with the help of the best editing tools we introduced to you! Thus, if you still get it, Video Converter Ultimate is the best choice among them if you want a multi-functional video editor.