How to Put a Video in Reverse on Snapchat: Simple Yet Efficient Ways to Learn
Snapchat is a famous photo, video, and messaging app. It is a platform that gained popularity along with the others due to its great features and filters that create trendy videos. Furthermore, Snapchat enables you to post and share your videos with captions, drawings, and hilarious photos. On top of that, this app provides its users with an incredible array of filter and effects collections that they can freely use for their content, including the reversal. Therefore, for you to learn how to reverse a video on Snapchat, and make it a piece of cake to perform, then we have outlined everything you need in this article. Even though there are few users who reported having technical issues on task. Perhaps they were just doing the procedure in the wrong way all along. Hence, be excited to see the proper ways to reverse your videos on this app.

Part 1. How to Reverse a Video on Snapchat
For you who seek how to make a video backward on Snapchat, you should know this further. As Snapchat is being used as a site where family, friends, and other loved ones keep in touch with each other, it is also through photos and videos posted on this platform that satisfies their longings. Similar to the other apps, Snapchat launches your device's camera to help you capture or create snaps. Furthermore, as mentioned previously, it comes with various filters and effects, so you can beautify and make your video snaps extraordinary. That said, one of those remarkable filters of Snapchat helps you reverse your video efficiently. Thus, to see how this filter can be helpful for this matter, let us learn how to make a video go in reverse on Snapchat below.
Step 1
First and foremost, launch your Snapchat app on your device and begin to record a new video snap. To do so, press and hold the Record circle button located at the bottom center of your screen. Please note that you can only record a maximum of 10 seconds for the duration of the video to use the reverse filter after.
Step 2
Once you're done recording a snap, swipe the effects below and reach for the reverse effect. This effect depicts three reverse arrows facing left, which will play your snap in reverse when you play it in preview. Note that this effect will also reverse the audio of your snap. And that's how to make a reverse video on Snapchat.
Step 3
Once you're good with the result, you can finally save the recorded snap. How? Look at your screen's bottom left corner and tap the Save tab.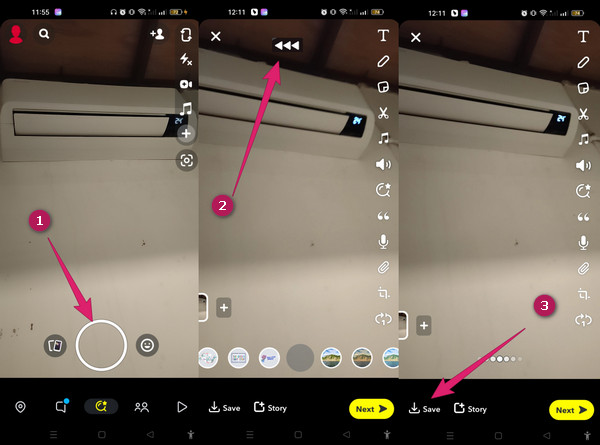 Part 2. How to Reverse a Video for Snapchat on Desktop and Mac
Do you want to reverse your video on your computer efficiently? Then see the powerful reversing function of Video Converter Ultimate. It is excellent software that comes with a beginner-friendly interface. You might wonder how this ultimate converter reverses your video ultimately. Well, that is through its limitless toolbox that is infused with powerful and great video editing tools. On top of that, this software comes with artificial intelligence technology that helps it to work like a high-end video editor seen in its process and output. In addition, you will also be glad to learn that this amazing software supports more than 500 various formats. Moreover, you will be amazed that besides the AI technology, it is also infused with a GPU and hardware accelerations that empower it even more. Thus, if this information makes you curious about its utilization, here are guidelines on how to make a reverse Snapchat video using it.
Features:
1. Multifunctional software for video reversing and more.
2. Easiest and quickest video reversing procedure.
3. Enhance and edit the reversed video, ultimately.
4. Advanced technologies to assist you with your tasks.
Step 1
To begin with, you must acquire this software on your computer. The download buttons above can help you quickly. Then, run the software and go and click the Toolbox selection to see the Video Reverser tool.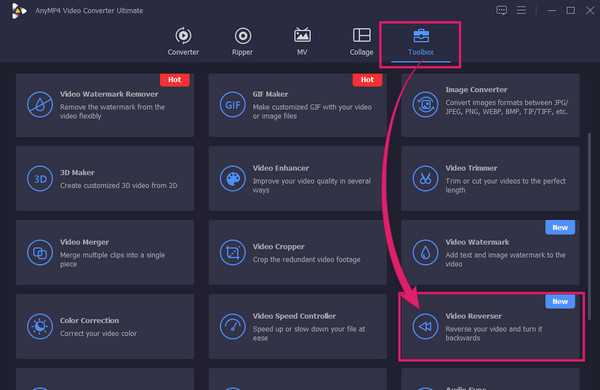 Step 2
After that, click the Add icon at the center of the new window. This will enable you to load the video you want to reverse. Please notice the quick importation process of this video reverser due to its acceleration technologies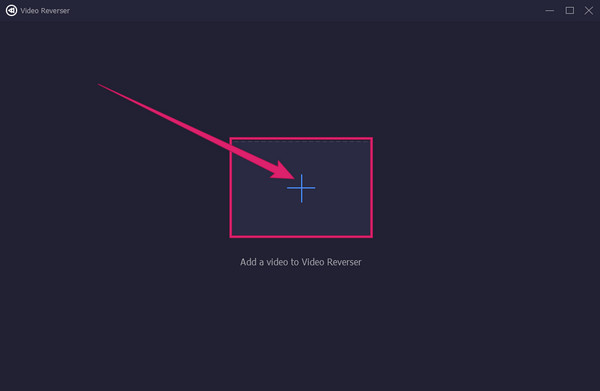 Step 3
As soon as your video is loaded, you can already click the Export button to reverse and save the video at the same time.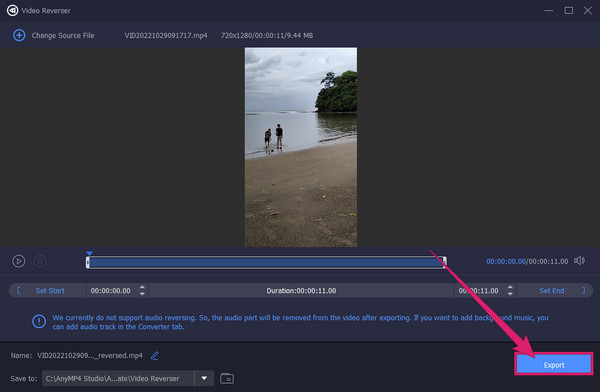 Part 3. Quick Orientation about the Reverse Filter of Snapchat
You may wonder why the reverse video filter of Snapchat has become famous to many of its users. Then the quick answer for that is many vloggers and editors are also using Snapchat, and as part of their job, they need to try all the things that will get the viewers' attention. Snapchat's reverse filter can highlight the part of their video content that can attract more viewers. It is indeed that many apps offer a video reversing effect, but the one that Snapchat offers can be more lavish to use.
However, while we were also using the said video reversing effect of Snapchat, we were convinced that it is really tricky to apply. It can only be applied to freshly recorded videos using the app and cannot be used with existing videos. In addition, it may be tricky since you will need to try all the other effects before the reversing can be visible. This is why many are desperate to know how to rewind a video on Snapchat.
Part 4. FAQs about Reversing a Video on Snapchat
Can I also add new audio to my video after reversing it on Snapchat?
Yes. To do so, you can tap the note icon, then choose the audio you want to add to your snap.
Can I save the reversed video on Snapchat?
Yes. You can have a copy of the video you reversed on Snapchat when you tap the save icon.
What is the maximum snap duration I can record on Snapchat?
When recording, the advisable is a maximum of ten seconds. However, there are Snapchat videos that last up to sixty seconds.
Conclusion
You can now stop searching for a solution on how to reverse a video on Snapchat since this article has provided you with all you need to learn about it. However, if you encounter problems when you try to reverse your clips using Snapchat, you can still have an alternative way to do the job quickly. Do not hesitate to use Video Converter Ultimate on your computer and be amazed by the excellent outputs it can give you on video reversing and all your video editing tasks.