How to Put a Video in Reverse Using TikTok: Guidelines of Default and Best Ways Included
TikTok is a one-of-a-kind social media app that we have today. We cannot deny its immersive popularity. Imagine, it already gained 500M plus downloads in just a few years after its release. TikTok has been dedicated to bringing many updates to make its users continuously enjoy it. With its numerous filters, effects, music, templates, beautifications, and other tools, that make users' content more exciting and trendy. As you have noticed, many TikTok videos have a reverse playback, and many viewers love watching those kinds. That is why many users want to give it a try but do not know how. For this reason, many people want to know how to reverse a video using TikTok recently. Therefore, to finally give our best solutions for this matter, please read the entire content below and be filled with helpful learnings about TikTok and video reversing after.

Part 1. Why Reverse a Video on TikTok
Before we begin learning about reversing video using TikTok, here are the acceptable reasons why you would want to do it anyway. As mentioned previously, many TikTok viewers love the trending backward challenge, which plays the videos in reverse. For this reason, many content creators, also known as Tiktokerists, need to follow the trend to gain more views. Because as part of their job, more views means more income for them. And yes, you read it right, many TikTok videos are being monetized. Therefore, do not be shocked why many want to know how to make a video go backward for TikTok. On the other hand, why would you reverse the video on TikTok itself? Well, why not? Especially if this app offers a filter that makes your task be done quickly.
Part 2. How to Put a Video in Reverse Using TikTok
Let's now try to use the dedicated reverse function of TikTok to make the video backward. Below are the complete steps that you can follow. Hence, you have to ensure that your mobile device has already obtained the said app with your official account. So, without further adieu, let's get it started.
Step 1
Fire up the TikTok app with your account logged in it. So here's how to make a video in reverse using TikTok, tap the Plus icon at the screen's center bottom.
Step 2
After that, choose whether to upload an existing video from your gallery or record a new one. To record, tap and hold the Red circle until you finish capturing. Then, proceed by tapping the Checkmark icon.
Step 3
Now tap the Effects option among the menus on the right side of the screen. Then, swipe the menus to the left till you see the Time selection. You will see the Reverse function under the Time selection, tap it and then hit the Save button.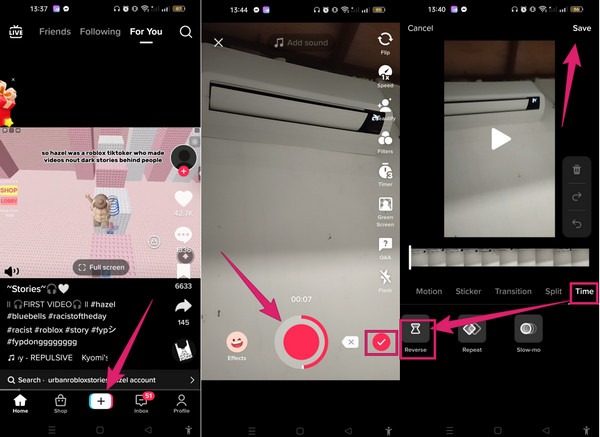 Part 3. How to Rewind a Video for TikTok: Best Ways on PC and Phone
Suppose you need alternative ways to reverse your videos for TikTok besides the default way. In that case, you should now see the best choices for both computers and phones.
How to Reverse a Clip for TikTok on a PC
Do you want to reverse your saved videos on your computer? Video Converter Ultimate is the perfect tool to use. It is the most equipped video editing program that will reverse your video like a pro but in the easiest way. Furthermore, this Video Reverser tool is only one from its powerful Toolbox, which holds many more tools like a video enhancer, 3D maker, trimmer, compressor, merger, etc. In addition, it will not only work for TikTok alone, for it can work for more than 500 plus different formats. What makes it more remarkable than the others is that it comes with hardware acceleration, artificial intelligence, and other advanced technologies that empower it.
As part of its reliability and flexibility, you can acquire this Video Converter Ultimate on both Mac and Windows OS devices. On top of that, you can expect that it can robustly work on videos in 1080p, 4K, 5K, and 8K! Thus, here's how to put a video in reverse for TikTok.
Key Features:
1. Advanced technologies support smooth and quick video reversal processes.
2. It works for input and output with five hundred and more video formats.
3. Reverse your videos without a watermark.
4. Great arrays of video editing tools are found in its Toolbox.
Step 1
Start by installing this powerful video editing program on your PC. You can install it quickly by clicking the Download buttons above. Once you have acquired it on your PC, launch it and proceed to the steps below.
Step 2
Go to the Toolbox menu on the main interface, then look to click the Video Reverser tool. On the popped-up window, hit the big Plus icon at the center and upload the needed video file to reverse.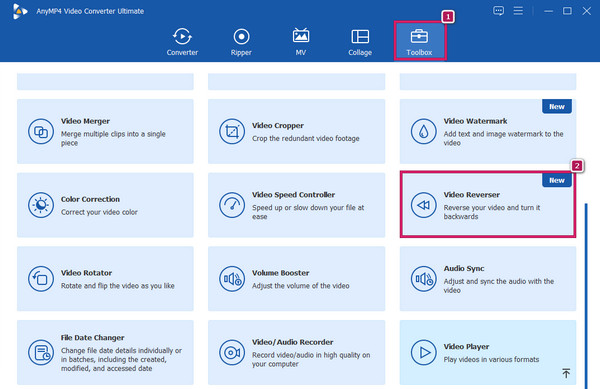 Step 3
Once the video file is in, you can adjust or trim the video if you want. Otherwise, you can already hit the Export button to process the video reversing.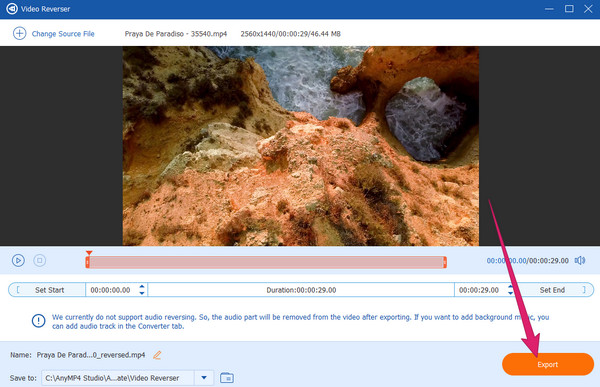 How to Put a Video in Reverse for TikTok on a Phone
If you want a third-party app to acquire on your phone, then you can use the Reverse Video Master. This video reversing app allows you to work by rewinding and moving all the video clips from your gallery in your desired direction. Aside from that, it also allows you to record and edit new videos captured by it. Furthermore, this Reverse Video Master also has many other features, like a converter, boomerang maker, trimmer, slow motion, music adder, and other more. However, you can notice how bombarded it is with annoying ads. Nevertheless, if you find this negative aspect usual for free apps, you can learn how to put a video in reverse for TikTok with the quick steps below.
Step 1
Install the app on your phone, then tap the Reverse Video option on its home page. Then, tap the Choose from Library tab to upload your video.
Step 2
When the video is uploaded, tick the Reverse audio selection, and tap the Apply button after.
Step 3
After that, you just need to wait until the reversing process finishes.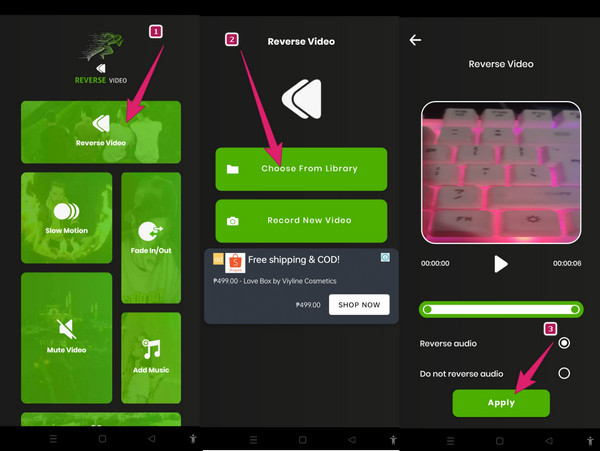 Part 4. FAQs about Reversing Videos for TikTok
Can I share the reversed video on TikTok without saving it?
Yes. Anyways, if you share the reversed video, it will be automatically saved on your TikTok account as one of your posts.
Can I watch a video post in reverse on TikTok?
If the video is not in reverse, you can't watch it in reverse unless you save it and edit it to apply the reverse effect.
What if the reverse effect doesn't work on TikTok?
If the reverse effect doesn't work on TikTok, you can utilize the best alternative ways. For your PC, you should use Video Converter Ultimate.
Conclusion
See, you now know how to reverse a video using TikTok. One needs to be resourceful to get a solution for each problem, just like you did for being here. You can have different options to reverse your videos, and the best tools provided are the best ones, especially Video Converter Ultimate. Indeed you will need this software if you want to have an excellent output.