How to Reverse and Rewind a Video without Quality Loss
Unlike photos, the video can store animated content. Therefore, it is one of the best ways to tell a whole story. Today, more and more social media and websites access video clips. For example, you can see oceans of clips on Instagram. Sometimes, you have to edit your videos in order to attract more followers and likes. This guide tells you the easiest ways to reverse a video on Windows, Mac, Android, iPhone, and online.
Part 1. The Easiest Way to Reverse Videos on Desktop
No matter you are on Windows or Mac, reversing videos is something that most video editors and vloggers do. If you are looking for an easy and quick way to get the effect, Blu-ray Master Video Converter Ultimate is a great option. The built-in Video Reverser streamlines the workflow and beginners can rewind a video quickly.
May Features of the Best Video Reverser
1. Rewind a video automatically after video opening.
2. Offer custom options to only reverse a clip.
3. Protect video and audio quality while editing.
4. Support almost all video formats, like MP4, MOV, FLV, etc.
How to Reverse a Video on Desktop
Step 1Install Video Reverser
Launch the best video editor software after you install it on your PC. There is another edition for Mac. Go to the Toolbox window from the top of the interface, and choose Video Reverser. That brings you to the main interface.
Step 2Reverse video
Click the big + icon to trigger the open-file dialog, find and select the target video, and click Open. Another way to open a video is to drag and drop the file into the interface. Then you will see the video on the timeline. To reverse the whole video, skip to the next step. If you just wish to play backward a clip, reset the starting and end positions on the timeline.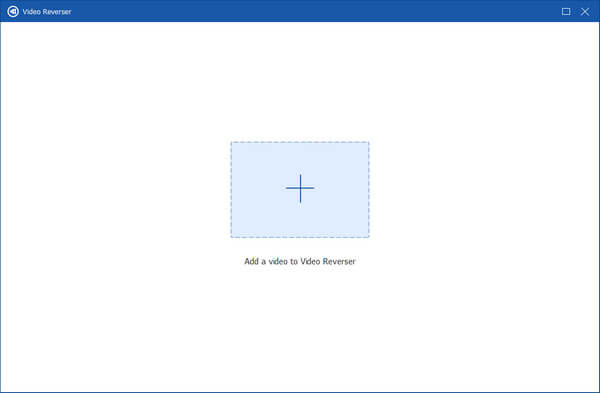 Step 3Export reversed video
Preview the result in the composition panel. As long as you are satisfied, click the Folder button, and select a specific folder to save the result. Leave a filename in the Name field. At last, click on the Export button to save the reversed video to your hard drive.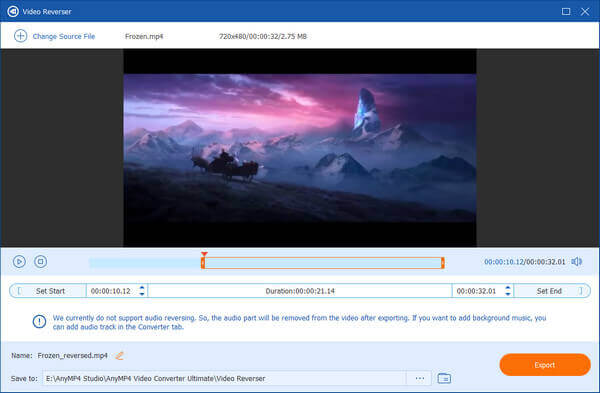 Part 2. How to Reverse a Video in Adobe Premiere Pro
Although Adobe Premiere Pro has become a go-to application for export video editing, it is still a powerful tool to retouch your videos. It allows you to reverse video footage backward on Windows and Mac. Since the procedure is a bit complicated, we explain the steps below.
Step 1Run the professional video editor, go to the Project panel, right-click on the empty area, and choose Import. On the pop-up dialog, find and select the target video, and click the Import button. Premiere Pro supports MP4, MPG, MOV, and more.
Step 2Drag and drop the video onto the timeline from the Project panel. If you intend to reverse a part of the video, make sure to separate the segment from the rest with the Split feature.
Step 3Right-click on the clip on the timeline, and choose Speed/Duration on the context menu. Then you will see the Clip Speed/Duration dialog.
Step 4Check the box next to Reverse Speed. Optionally, you can alter the speed of the clip on the popup dialog too. Click the OK button to confirm it. Then export the video from Premiere Pro.
Part 3. How to Rewind a Video in iMovie
You can reverse a video in iMovie on your Mac to have it play backward. Since it is the built-in video editor app and is available to a lot of Mac devices, iMovie is the easiest way to make a video reversing effect on your Mac.
Step 1Create a new project or open an existing project in iMovie, and import the video that you want to reverse. Place it on the timeline.
Step 2Select the video or a clip of the video on the timeline, and click the Speed button above the composition panel. If you hope to reverse all clips on the timeline, go to the Edit menu and choose Select All.
Step 3Next, tick the checkbox next to Reverse and the video will play backward immediately. You can preview the result in the composition panel.
Step 4Finally, click on the Share icon and export the video as a video File or share it on the internet directly.
Part 4. Apps to Reverse Videos on iPhone and Android
Although you cannot get the full-featured video editing software on mobile devices, there are a few apps available to reverse a video on iPhone or Android devices, for example, Reverse Movie FX. You can download this app from Play Store and App Store for free. You can record a video within the app or open a video from your memory. It also allows you to render the reversed video and the original file together.
Step 1Open the video reverser app, and touch the Start Reverse button.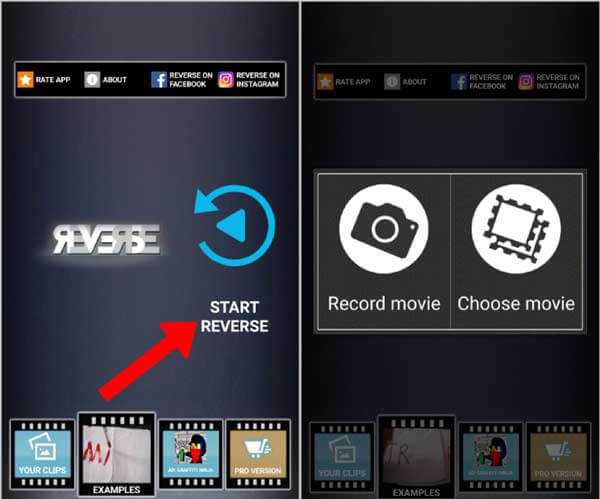 Step 2Now, you can decide to Record movie or Choose movie from your Camera Roll or Gallery.
Step 3Once it is done, you will be presented with the editor screen, where you can select the start and endpoints. Tap the Start button to move on.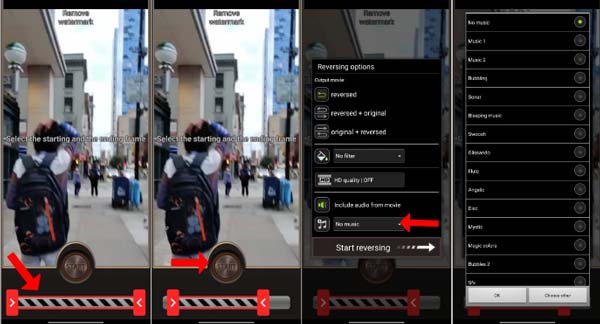 Step 4Select a proper Output movie mode, add filters, and background music. Tap the Start reversing button to begin reversing the video on your iPhone or Android phone.
More Apps to Reverse Videos on Mobile Devices
Top 1: Reverse Vid
Platform: iOS 12.0 or later
Price: Free with in-app purchase
As its name indicated, Reverse Vid is a dedicated app to reverse a video on iPhone. Although it does not provide rich features, it is a simple way to try the video reversing effect on your iOS handset.
Key Features of Reverse Vid
1. Reverse a video on iPhone easily.
2. Play the audio backward along with the video.
3. Adjust the playback speed.
4. Offer three subscription options.
Top 2: KineMaster
Platform: iOS 13.2 or later and Android 7.0 or up
Price: Free with in-app purchase
KineMaster is a one-stop video editor app for iPhones and Android devices. You can find a lot of video editing tools and effects including reversing a video. Moreover, it allows you to create a story with photos.
Key Features of KineMaster
1. Make a video by recording or photos.
2. Reverse a video with audio.
3. Include over 2,500 transitions, effects, etc.
4. Share video to social media directly.
Top 3: Power Director
Platform: Android 5.0 or up and iOS 12.0 or later
Price: Free with ads and in-app purchase
Power Director is another all-in-one video editor for iPhone and Android users. It is excellent in video quality. You are allowed to reverse and export a video in up to 4K resolution without a computer.
Key Features of Power Director
1. Reverse a video on the timeline.
2. Compatible with iOS and Android.
3. Available in multiple languages.
4. Upload video to YouTube and Facebook.
Top 4: Reverse Video‪‬‬‬‬
Platform: iOS 14.1 or later
Price: Free with in-app purchase
Reverse Video‪ is a simple way to reverse a video on iPhone as its name said. It has built-in a camera so that you can capture a video and then play it backward within the same app easily.‬‬‬‬
Key Features of Reverse Video‪‬‬‬‬
1. Reverse video playback.
2. Include video filters.
3. Adjust speed easily.
4. Free to download.
Part 5. Reverse Videos on TikTok, Instagram, and Snapchat
How to Rewind a Video on TikTok
Unlike other social media, TikTok is a social media app dedicated to short-form videos created for and consumed by users. With an account, you can post a video between 15 and 60 seconds. Besides, the app provides a variety of video effects, including reversing.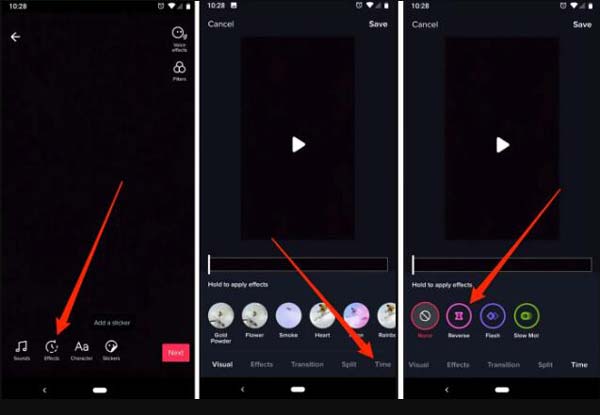 Step 1Record a video clip or import a clip from your memory.
Step 2Tap the Effects menu at the bottom, and head to the Time tab. Once you hold the Reverse effect, it will be applied to the video.
Step 3Touch the Save button and post the reversed video to TikTok.
How to Reverse a Video on Instagram
Instagram was developed as a social media app for picture posts. Now, it has added support for short-form videos. Many users reported that they did not find the effects related to reversing a video on Instagram. The app allows you to rewind a video when recording it.
Step 1Open the social media app, sign in to your account.
Step 2Tap the New icon at the bottom and choose Video. For the first time, you need to permit Instagram to access your camera.
Step 3Now, swipe through the options at the bottom of the screen until you get the Rewind mode. Select it and record the video. After posting, the video will play backward on Instagram.
Don't Miss:
How to Reverse a Video on Snapchat
Snapchat is another popular social platform among younger people. It is full of photos and short-form videos, but they will be burned after you read them. Fortunately, you can reverse a video snap with the built-in filter.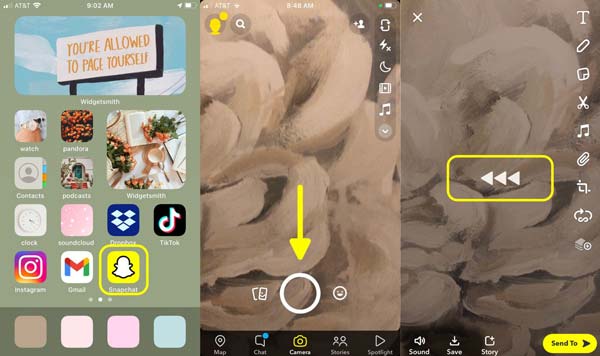 Step 1Run your Snapchat app from the home screen or app tray.
Step 2Long-press the record button at the bottom to record a ten-second snap.
Step 3Next, tap the yellow checkmark and swipe left until you get the Reverse icon. Now, the video and audio will play backward on Snapchat.
Part 6. FAQs about Reversing Video
Can I reverse a YouTube video?
Once a video has been posted to YouTube, you cannot edit it anymore. The only way to create the video effect is to reverse the original video and then re-post it.
Does Windows 10 include a video reverser?
Though Microsoft added the Photos app into Windows 10, which only has basic video editing tools, such as trimming. It cannot reverse a video or play it backward.
How to reverse videos in VLC?
You cannot reverse a video in VLC. It is just a media player with some bonus features, like rotating a video. When it comes to reverse videos, you have to look for a video editor, such as Adobe Premiere Pro.
Conclusion
Now, you should learn the easiest ways to reverse videos on Windows 10/8/7, Mac OS X, iPhone, Android, and social media platforms. When you intend to create the effect for fun or other purposes, you can follow our guide to get it easily. If you have a computer, we suggest you try Blu-ray Master Video Converter Ultimate. It is not only easy to use, but also produces super high video quality. More questions? Please feel free to leave your message below this post.