How to Make a Snapchat Filter and Take a Peek at the Trendy Filters Today
Snapchat is a popular social media today, and many enjoy it due to its various filters. Recently, the Snapchat anime filter has been one of the most used. Some may not be able to understand, but these filters have been the confidence of many users in posting their videos. Through these Snapchat filters, many find their content unique, funny, and beautiful, particularly those who don't have enough confidence to show their faces. On the other hand, whether you share the same sentiments as others about why they love the filters, you must know about the ones from Snapchat. Therefore, let's move on to the content below to witness more about this app and its trending filters.

Part 1: An Overview of Snapchat and Its Filters
Before we tackle the trending Snapchat filter names, let's have an overview of this app. To begin with, Snapchat is an American instant messaging app that Snap Incorporated developed. Before, this app was known for short stories that were automatically deleted after 24 hours, just like Facebook's MyDay feature. However, after its updates, a few functions and features were added, including the filters. Here's a trivia, many developers have shown their intention to purchase Snapchat after its release due to its good messaging features. However, the founders refused because of their faith that this app would eventually create fame, and this hope was right. Today, Snapchat is one of those apps that have billions of downloads.
Meanwhile, Snapchat's animated filters have been very in demand since short video clips were born. This app's filters are usually chosen mainly because of their unique and extraordinary classification. Hence, see the next part to see the trending filters many people use on Snapchat.
Part 2: List of the Trendy Snapchat Filters
Here is the latest list of the most recorded filters used in Snapchat for 2021 up to this writing.
Dog Filter
This must probably be one of the most undying filter choices of many. Maybe because a lot of people find it cute, especially dog lovers. This Snapchat dog filter will come with a surprising act, wherein when you just show your tongue to the camera, it will give you a dog-like licking tongue. Because of this, many kids and kids at heart find it entertaining.
Cartoon Kid Lens
This is one of the out-of-this-world filters of Snapchat. As you see, it can turn you into the cartoon version of yourself. If you love anime or would like to hide your face, then this Snapchat cartoon filter is for you.
No-Beard Filter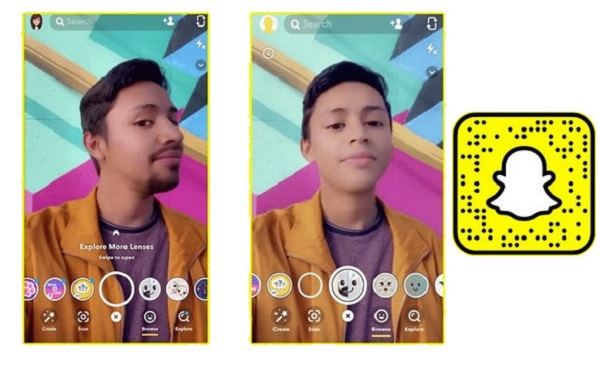 Do you know someone who got a beard and wonders what he looks like without it? Introducing the no-beard filter of Snapchat. You will be amazed at how this amazing filter has deleted this hairy part of the face, and it still looks so natural.
Tongue Twister Filter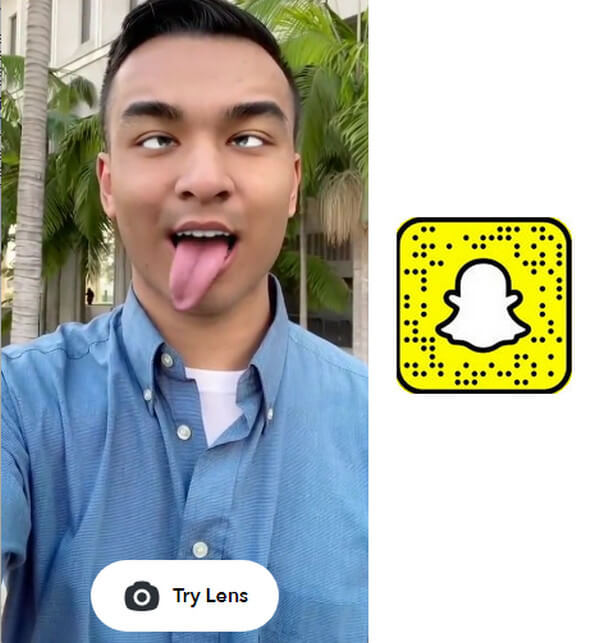 Want something funny? This boy's Snapchat filter is really something that will light your mood. You can use it and apply the filter to your friends' faces just as others do for fun.
Part 3: How to Add Filter to Video for Snapchat
Even though Snapchat offers many filters, you will not still avoid needing another professional video editing software for some reason. If that is the case, we highly recommend you use Video Converter Ultimate, the best video editing software for Windows and Mac. This software can assist you in filtering your videos to share on Snapchat. Why do we recommend it instead? Well, we want you to experience how this tool turns your videos to perfection while applying beautiful filters, effects, and enhancements to your files. On top of that, it lets you filter your numerous videos at the same time. Yes, it works in batches for conversion and editing, for it comes with advanced technologies that greatly help it.
Main Features
1. Make your videos lay on numerous beautiful filters.
2. Add filters to multiple videos simultaneously.
3. Additional adjustable effects and tools.
4. Multifunctional and flexible at any terms.
Step 1
To begin with, launch the software after installing it. Then, upload all your Snapchat videos at once when you hit the Add Files option.
Step 2
Once the videos are uploaded, hit the Star icon under one of the files. Then, go to the Effect & Filter menu from the next window and choose the filter that you want. Another thing, you can manually adjust the options under the Basic Effect, then hit the Apply to All tab.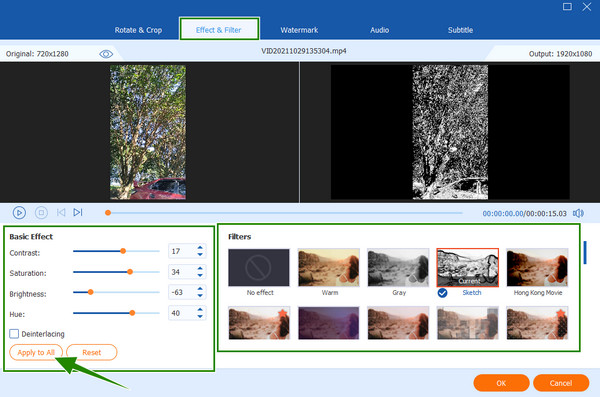 Step 3
After that, don't forget to check the output format that you will apply to your videos. To modify the format, click on the Convert All to section and then choose your desired format from the next window.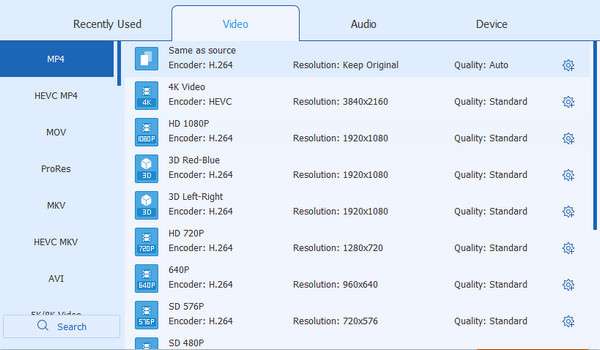 Step 4
Once done, click the Convert All button to put filters on videos.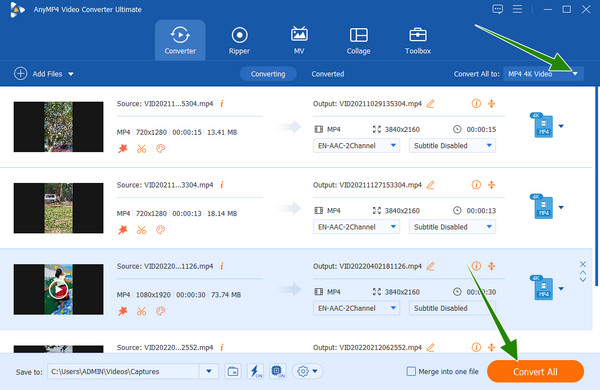 Part 4: How to Make a Filter on Snapchat
If you want to create your own Snapchat birthday filter on the app, here are the steps you need to follow. Please note that you will need to use your PC to do it, which requires payment.
Step 1
On your web browser, visit the official page of Snapchat. From there, click the Filters & Lenses option among the menus at the top part. After that, click the Get Started button, then the Filters option.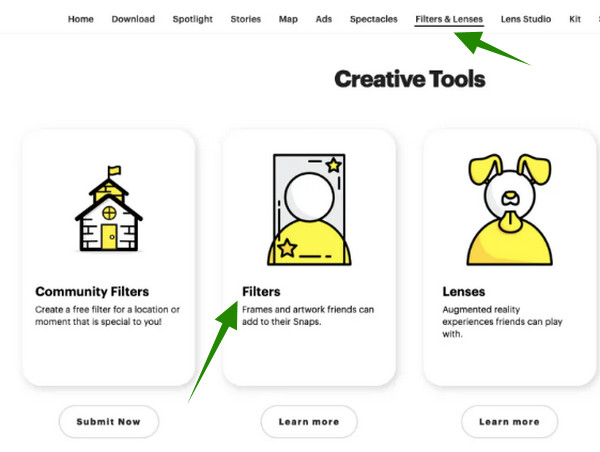 Step 2
After that, click the Upload button to import your pre-design filter, then continue by hitting the Next tab. Then, on the next window, you can now work on designing your filter by using the stencils it offers, then hit the Next tab to proceed.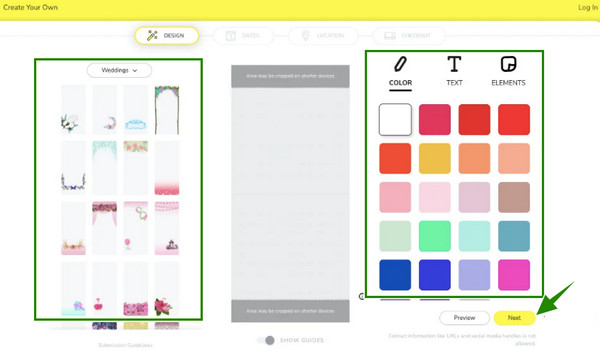 Step 3
Then, fill out the necessary information that you need to proceed with the checkout procedure. When all is good, hit the Submit button. Click here to discover more filter apps.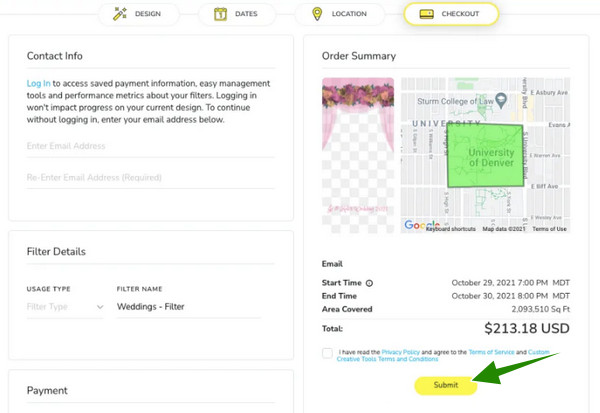 Part 5: FAQs about Snapchat Filters
Is there a bald filter on Snapchat?
Yes. This filter has also been one of the most talked about and most used filters in 2021.
Where can I find the filters on Snapchat?
You can find the filters right after you upload or record your video. However, for the face filters, you can search the name of the filter you want to use by clicking the search icon at the top of your screen.
Can I modify the filter of the video I already saved?
No, reversing the filter of the video is no longer workable once saved.
Conclusion
With the gathered information we present to you in this article, you now know how to make a Snapchat filter. In addition, you have seen the various filters that are on trend on Snapchat nowadays. Try the trending filters now, and enjoy them with your friends. Thus, if you need an excellent video editing tool, use Video Converter Ultimate.