How to Stabilize Shaky Videos in Three Phenomenal Ways
Recording footage with your hand has a significant chance of producing shaky videos. Unless you use a tripod or a still camera, you will never have a hundred percent assurance of a steady recording. This circumstance also leads to a reduced and distracted quality of a video, and nobody wants that to happen. But then, what action can you take in place? You wouldn't want to record new footage just to see what you want. Fortunately, there is a perfect way to solve this, and that is to edit via a stabilizing tool. However, curiosity is still inevitable if you are new to video stabilizing.
For this reason, we outlined comprehensive guidelines for stabilizing shaky videos. But of course, we won't let you use any stabilizing tools out there. Instead, we bring you the three phenomenal video editors today. So, without further adieu, let's get this started.
Part 1. Most Practical Way to Stabilize Videos
Among the phenomenal ways that you can use to fix your videos, Video Converter Ultimate is the most practical one. It is the best software that stabilizes shaky footage, even on Linux, besides Windows and Mac. Furthermore, It holds a practical procedure for solving this problem, for it has the most intuitive interface among them. Video Converter Ultimate uses an AI-powered denoiser that lets you fix your video's noise, brightness and contrast, and low resolution in one process. It has an impressive plethora of tools and kits that can turn any video into perfection. We say any video, for it supports a wide range of video formats besides the popular ones.
What's more, it enables you to edit your clips by the cut, resolution, and format functions that are present in its AI-enhancing window. Other than that, you can also enjoy the great features that lie on it. Notwithstanding, here are the features you can expect from this practical software.
1. Stabilize shaky videos in three easy and quick steps.
2. Advanced AI technology that assists you in video enhancement.
3. Ultrafast enhancing process.
4. Import and export more than 300 various formats.
How to Use Video Converter Ultimate to Stabilize Shaky Videos
Step 1
Open the best software after installing it on your computer. Then, proceed immediately to its Toolbox menu and click the Video Enhancer tool.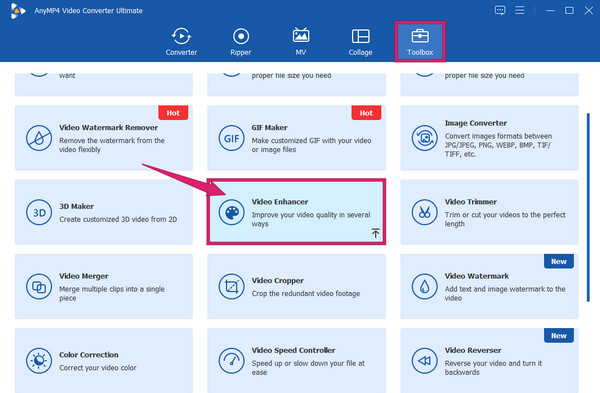 Step 2
Upload the video that you need to fix. How? Hit the Plus icon at the center of the new window after clicking the Video Enhancer.
Step 3
Now tick the box of the Reduce Video Shaking option among the others to remove the camera shake video. You can also tick the other enhancers to apply to your video if you want. Then, you can also navigate to the other editing options under the enhancements, such as Resolution, Format, and Cut.
Step 4
After that, you can already click the Enhance button. Wait for the swift enhancement application process, then check the edited video after.
Part 2. How to Stabilize Shaky Videos with iMovie
Another excellent video editing tool that you can use on Mac is the iMovie. Surprisingly, video stabilizing is part of the video editing functions of iMovie that you can use for free. When you stabilize shaky video on iMovie, it will smoothen the playback display and analyze all the frames of your wobbly videos. In addition, it will correct the distorted rolling shutter that your video has due to the fast hand movement captured while recording. Also, iMovie enables you to add text to a video. However, iMovie is only available on Mac. Thus, if you have a Mac and want to use it, then you can follow the steps below.
How to Make the Video Stabilized in iMovie
Step 1
Launch your iMovie and upload the video via the drag-and-drop method or by clicking the Import Files option. Once done, drag the loaded video into the timeline.
Step 2
After that, hit the Stabilizer located at the top part of the preview. Then, tag the Stabilize Shaky Video box after the analysis process.
Step 3
When done, check the video by playing it in the preview. Then, save the edited video afterward.
Part 3. Guidelines on How to Fix Shaky Videos Using After Effects
Adobe After Effects is one of the finest tools. In line with fixing shaky video, After Effects uses its Warp stabilizer and its track motion features as its procedures. Furthermore, it is a well-known software that fixes video footage and maintains its high quality after. Meanwhile, After Effects provides you with several ways to fix your wobbly videos, as mentioned a while ago. And you can use After Effects to speed up videos. However, we will bring you the easiest way you can follow, which is through the Warp stabilizer. It is a new technique you can cope with easily to make your videos steady. Hence, feel free to follow the steps below.
How to Steady a Video with After Effects Warp Stabilizer
Step 1
Launch the After Effects tool that you obtained on your desktop. Then, upload your video by clicking the File tab, followed by the Import tab.
Step 2
Now move your video to the Create a New Composition section located at the bottom of the interface. This way, you can transfer your video to the timeline.
Step 3
After that, go and click the Animation tab and choose the Warp Stabilizer VFX option. Then, immediately the stabilization will take effect. However, suppose you are not satisfied with the result. In that case, you can access the Effect Controls panel and adjust the settings further.
Part 4. FAQs about Adding Text to Video on iMovie
Can I remove the shake from the video in Premiere?
- Yes. Premiere Pro, just like After Effects, comes with a Warp stabilizer. Go to the Animation tab and select Warp Stabilizer to access the stabilizer. Then, start adjusting the video.
Is it safe to fix shaky videos online?
- Many online tools offer video stabilizers. However, the uncertainty in security is still there, even though they claim to be safe. Hence, if you doubt online video stabilizers, especially for your important video files, we recommend you use Video Converter Ultimate.
Do iPhones have a video stabilizer?
- Yes. iPhone 11 and up have a cinematic video stabilizer that supports 4K. This video stabilizer works on both rear-facing and front cameras of iPhones.
Can I stabilize my bulk videos on iMovie?
- Yes. However, iMovie analyzes batch videos for hours depending on the number of files you need to stabilize.
Conclusion
There you have it. Now you know how to stabilize shaky videos using the three remarkable ways. You can be confident even after having shaky videos from your raw recordings. If you think that the methods are not suitable for you, think twice because there is at least one that caters to both beginners and professionals, the Video Converter Ultimate.