How to Trim/Cut Android Videos (Default and Third-party App)
That wedding toast, dancing performance, or grandparent's tale of the good ole' days seemed to run on a bit, eh? It would be a pity to erase the entire video because there were a few enjoyable parts. You would be in luck if you recorded that video using an Android phone since you can easily cut out the unwanted portions of recordings on Android devices by utilizing the Gallery software included with your phone or tablet. Here are the ways how to trim a video on Android. We will show you how we can make it successful and incredible.
Part 1. How to Trim Video on Android
Default Way to Trim Video on Android- Gallery
As we all know, Android mobile devices are getting interesting because of the updates they offer for all their users. In line with that, Android's gallery is now offering built-in editing tools which we can use to modify our media files without installing any third-party applications. However, these tools are not extensive, so we do not expect more from them. Let us see how we can make it by following the simple steps below.
Step 1
On your Android device, launch the Gallery app and tap the video you want to trim and remove the unimportant parts of your video.
Step 2
It will now lead you to another window. In the bottom-left corner, tap the Pencil symbol. This will allow you to access and control the editing of your media in trimming.
Step 3
After that, please notice the sliders at the bottom of the screen should be moved to the desired position on the following screen. This feature will tell you what should be the start and end of your trimmed video.
Step 4
To make a new trimmed film saved to your Gallery app, tap SAVE in the top-right corner and then select your footage.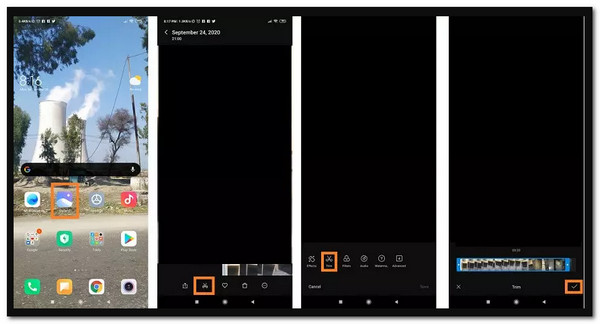 Finally, enjoy and make use of the altered videos you have. We can see that the default way is effective and a go-to solution for many users.
Besides, the default feature of Gallery on Android also lets you crop the video without effort.
How to Trim Video on Android- Third-Party Application
One of the most well-known apps for Android video editing is Kinemaster. The app has various features you may use for free to give your movie a distinctive and appealing appearance. The steps to learning how to trim video in Kinemaster are as follows.
Step 1
Download, install, and launch Kinemaster. Access the Google Play Store and download Kinemaster Video Editor from your phone. Once the software has been installed successfully, run it;
Step 2
Upload the video in step two. Tap precisely in the center of the screen on the Plus sign to upload your video to a Kinemaster.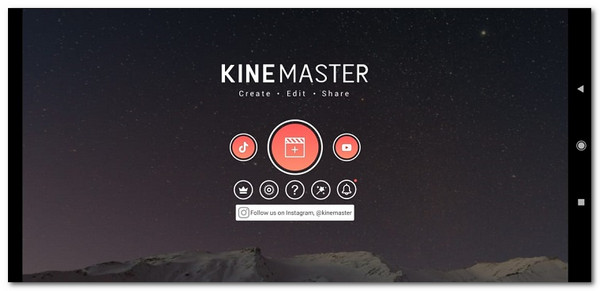 Step 3
Edit and trim the video. Choose the video's aspect ratio. Tap the video and select the Scissors icon to Trim.
Step 4
Export the edited video and save it. Out of the four alternatives, pick the one you want. From the app, export the edited video to any platform. To save the edited movie to your phone, tap the Save button.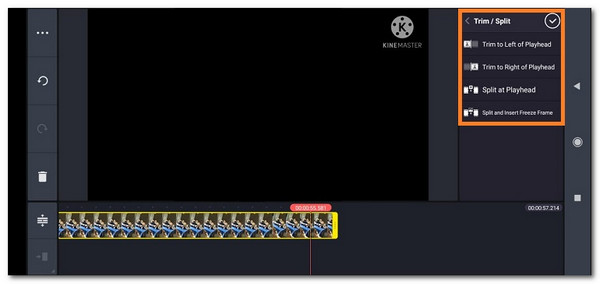 This app is powerful enough, and it offers more video editing features for Android phones, like rotating a video, compressing a video, and more.
Part 2. How to Trim Video for Android on Computer
In terms of an all-in-one video editing and conversion application, Blu-ray Master chose Video Converter Ultimate because of its incredible performance.
Suppose you wish to trim your videos for Android freely. In that case, this is the best video converter software that provides a variety of editing choices, including video trimming, splitting, and cutting. Choose Rotate to modify the video's direction or quality if you're not happy with it, and choose to Enhance to improve it drastically.
Additionally, you can use it to trim your iPhone video. The process can be completed on your computer using this tool. Let's investigate our options below this.
Key Features:
1. Trip and trim a video, then divide it into chunks based on average.
2. A video can be edited with more than 20 tools, including reverse playback, speed up/down, and others.
3. It includes adjustments for temperature, contrast, brightness, and saturation.
4. A huge variety of royalty-free music, stickers, and sound effects.
Step 1
On your computer, download this video trimmer. Add the Android video to the Blu-ray Master Video Converter Ultimate interface by clicking the Add button.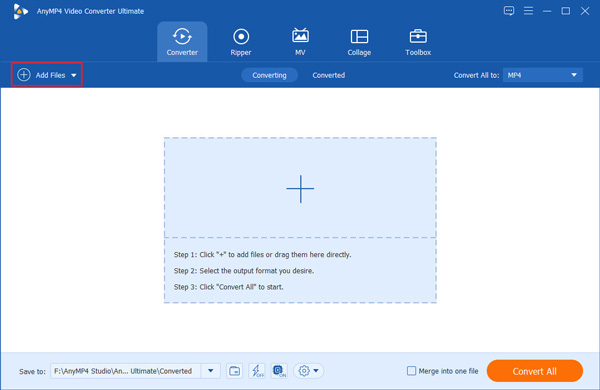 Step 2
Select the Cut button after selecting a video file. Set the start and stop times for your clip. There are two ways to enter the time: manually or by dragging the clipper.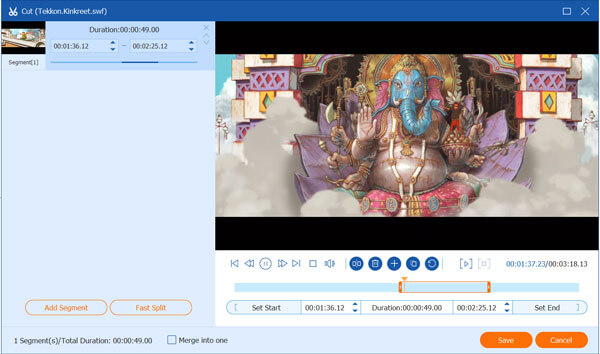 Step 3
Click the Add Segment button to add the current clip to the list. After that, you can select another clip. Your Android video can be swiftly divided into several segments with this program.
Step 4
By selecting the number with the Quick Split icon, you can divide it by the average. A video can also be divided into clips depending on the average length. After verification, select Split from the menu.
Part 3. FAQs about How to Trim Video on Android
Can Capcut trim the video?
With the help of CapCut's numerous tools and functions, users may edit, crop, Trim, add effects and otherwise improve their films. You can import your video content into a project from your camera roll or an external device. Once the video is in the program, you may edit it with the included tools.
Does the LG Android phone have a built-in video editor?
Yes. It has a video editor where you can easily cut, split, and trim videos. The Gallery app, preinstalled on most Android smartphones, may be used as a simple video editor. This tool is perfect for quick adjustments because it is simple and intuitive. Open the video you want to modify to get started. Your screen will automatically display an editing toolbar. From there, you can select the feature icon you will need. In this case, kindly select the icon for Trim. After that, the feature will give you an adjuster to set your video's start and end.
On Android, how do you shorten lengthy videos?
Yes, it is possible to trim lengthy videos on Android. To modify a video and open it. Click the Edit features. After that, we need to tap and drag the Trim Handles to choose the part of your video you want to keep while shortening the film. Tap Save a copy in the lower right corner of the video to save a copy of it with your adjustments.
Conclusion
Those are the details we need to know once we plan to trim videos on our Android phones. We can see different ways in which we can make the process. Also, we discovered that our Android has built-in video editing features. It also becomes the default method to trim your videos. However, using a computer software editing tool is much better than installing a third-party video editing application. The reason is a high probability of reducing the quality of your video output. For that, software like AnyMP4 Video Converter will surely give you an effective and high-quality output for your video. It is a tool that you must try.