Meet 8 Outstanding Video Editors You Shouldn't Miss
Whether it is a paid or a free video editor, make sure to grab what is best. Fortunately, you will not need to investigate among the many editors you see on the web and in the market. Because as you decide to read this article post, you will be able to familiarize yourself with the best editors for your video files. After reading this post, you will surely have the pleasant and professional-like video editing experience you want. And so, what are we waiting for? Let's meet the tools below to help you effortlessly beautify your videos.

Part 1. Top 5 Video Editing Software for Windows and Mac
This post divided the parts into presenting video editors online, offline, and on Android. In the meantime, to support your video editing task, we have gathered the five best editing programs you can use on Windows and Mac, even without the Internet. Thus, please meet the most favorite editing tools offline as listed below according to their competence and popularity.
Top 1. Video Converter Ultimate
You shouldn't be surprised when this program gets on top. Why not? Video Converter Ultimate is an all-in-one video converter with all the editing tools you need to turn your videos alluring. Part of its powerful vital features is a Toolbox that holds many powerful tools such as a compressor, cropper, merger, trimmer, reverser, rotator, and volume booster, with the infusion of many other powerful ones. To further review this Windows and Mac video editor, the tools are also available in its conversion panel, where you can also access the edit function. Inside this function are the numerous filters and primary effects you can simultaneously apply for the bulk files you need to edit.
What's more remarkable about this Video Converter Ultimate is that it works with robust technologies such as hardware acceleration and Artificial Intelligence, making video editing smooth and fast. Yes, aside from the simplicity of the interface, the AI technology makes it look and process easier without a hassle. Imagine if you want to enhance your video, you will only need to click the operations, and the tool will immediately work to provide you with the output without adjustments needed! This video enhancer is where you can upscale the resolution, remove noise, reduce shaking, and optimize the brightness and contrast of your video. In addition, it also has a watermark remover, GIF maker, 3D maker, media metadata editor, speed controller, file date changer, and audio sync tools.
Key Features:
1. A multifunctional Mac and Windows video editor.
2. It can edit videos in bulk quickly.
3. Edit more than 500 different video formats exquisitely.
4. Modern technologies like AI, GPU, and Hardware accelerations are infused.
5. Support to edit 4K, 2K, and 1080p HD videos.
Pros:
1. With a highly intuitive interface.
2. It comes with tons of basic and advanced video editing tools.
3. It supports all popular video formats.
4. It can work on editing high-quality videos up to 4K.
5. It is safe to acquire on the computer due to its acceleration technologies.
6. With social media integration to cast easy sharing.
Cons:
1. It has a free trial, but with limitations on number and size.
Bonus: How to Use This Video Editing Software
Step 1
Ensure you obtain the software on your computer by installing it for free. Use the Download buttons above to make the download process quicker and safer.
Step 2
Once the software is ready, launch it and get your video files ready for importation. To upload, click the Plus sign at the center of the interface. Then, bring all the videos in at the same time.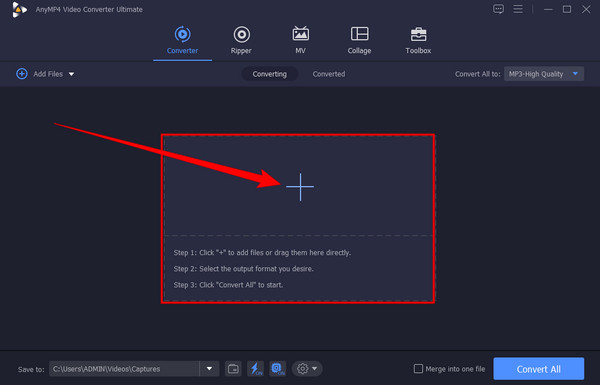 Step 3
When the videos are loaded, kindly click the Star icon under the file thumbnail. This will direct you to the editing tools window you can use for your videos. On the said window, choose the editing menu you want at the top part of the interface. Say you need to edit the video's contrast, brightness, saturation, and hue. In that case, go to the Effect & Filter menu, adjust the settings accordingly, and click the OK tab.
Note: If you want to apply the same edit to the other videos you uploaded, kindly hit this video editor's Apply to All button before the OK tab.
Step 4
After that, please do not forget to check the format output of each file to see if it matches your preference. Otherwise, hit the arrow drop-down button at the tail part of the file and choose the format. When all is good, hit the Convert All button to produce the duplicate edited videos.
Top 2. VSDC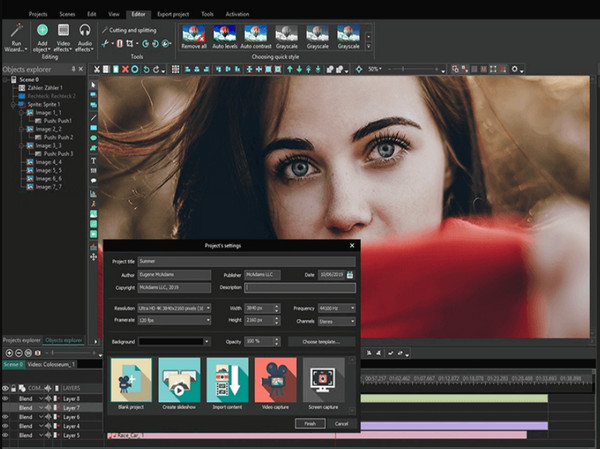 Do you want an offline video editing program that will help you create a picture full video presentation? Then VSDC is the best to use. It lets you add various contents to your video, such as texts, images, diagrams, transitions, effects, etc. Aside from that, it also offers tools that will let you cut, combine, reshape, fine-tune, and screen capture the video you need to edit. However, this VSDC free video editor seems to have a challenging utilization for beginners. And the advanced features are difficult to find.
Pros:
1. It offers special effects and transitions.
2. You can customize the video color with this tool.
3. It has a good harmony with GoPro.
Cons:
1. It doesn't have a video stabilization tool.
2. Almost best for presentations.
3. It lacks hardware acceleration.
Top 3. OpenShot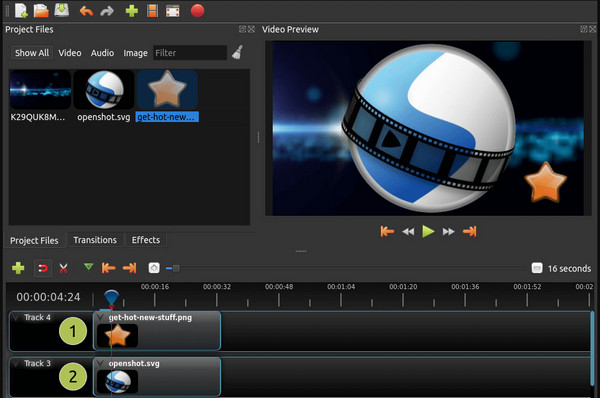 Moving on to the next spot where OpenShot falls into. OpenShot is a free yet simple editing program that many professionals use. Furthermore, it is a tool that makes you easily share edited videos online. Regarding its editing features, OpenShot video editor provides you with a merger, trimmer, splitter, speed controller, upscaler, and resizer. These tools include magnificent video and audio effects, 3D animations, built-in filters, and many more.
Pros:
1. It is a free program.
2. It produces unwatermarked outputs.
3. Easy to navigate.
4. Offer professional features and a time curve.
Cons:
1. The interface looks outdated.
2. It comes with diminished hardware acceleration.
3. Wobbly performance.
Top 4. DaVinci Resolve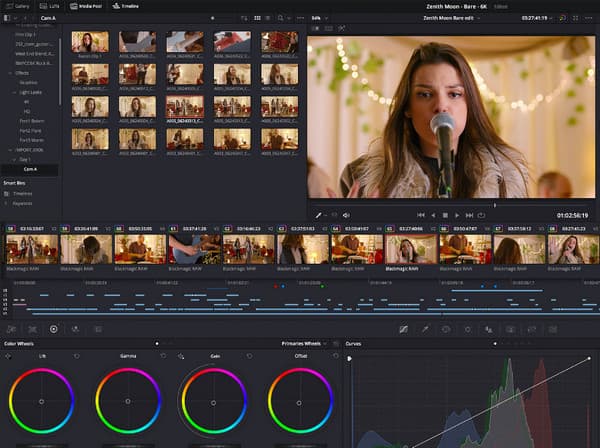 If you want a Hollywood-level of video editing, then you should use DaVinci Resolve. This software has a sophisticated interface where you will find all the professional video editing tools. And, yes, you are thinking it right. This DaVinci video editor is a paid program, although it comes with a free version. Meanwhile, you will surely love its color correction, motion graphics, effects, and other productions included in editing your video.
Pros:
1. It uses face recognition functions.
2. The color grading and correction are remarkable.
3. The interface is neat and well-designed.
4. It comes with teamwork capability.
Cons:
1. It doesn't have a direct sharing function with social media platforms.
2. High system requirement.
3. The learning curve is steep.
Top 5. CapCut (for Windows)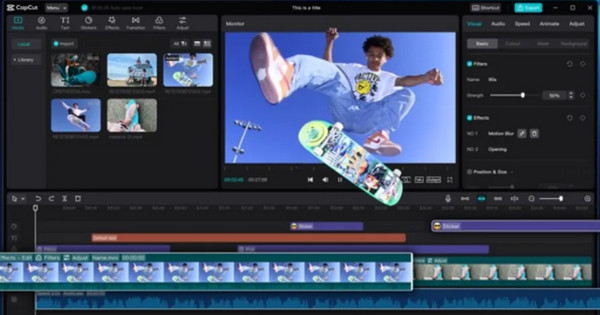 Here comes CapCut, another trending video editing tool that you can now acquire on a desktop. Furthermore, the CapCut video editor offers a free service with a user-friendly interface to enjoy. Embellish your video content to apply auto-captions, trending stickers, filters, effects, transitions, and music. In addition, it comes with mobile and online versions that you can also experience in video editing.
Pros:
1. Best fit for massive creation purposes.
2. It comes with trendy styles, stickers, and many more elements.
Cons:
1. The computer version is only available on Windows.
2. It can only edit a 15-minute-long video.
Part 2. 2 Popular Video Editors Online
Enough with the offline editing tools, and prepare for the online ones. Let us have a look at the two best free video editors to find on the web. These tools are perfect for those who always want a more accessible way to edit their video without an installation demand.
1. Canva - Free Video Editor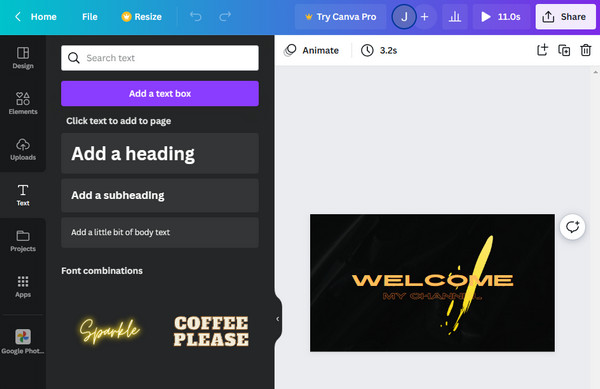 If you want to edit your videos online but using a tablet or mobile device, then Canva is always available. It is a web-based video editing program that comes with a free service. On this note, it also offers a premium version where you can access all its advanced and powerful features used by professionals. When it comes to the tools offered on its free service, Canva video editor lets you design your videos by adding elements, objects, and text.
Pros:
1. It offers many options for video designing.
2. Accessible on all devices.
3. You can use it for free.
4. There are hundreds of elements, texts, and objects to choose from.
Cons:
1. Basic video editing tools are not available on the free version.
2. You cannot import a video from your local folder.
3. It produces watermarked outputs with some templates.
2. Kapwing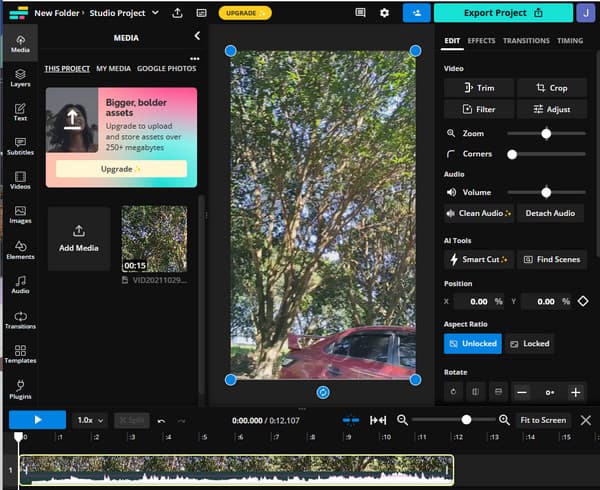 Would you like to have another flexible video editor online? Here's Kapwing. To boot, it is a free video editing program that offers many surprising tools and features. However, just like the previous one, Kapwing is not an entirely free program. Meanwhile, the Kapwing video editor lets you enjoy its tools for cropping, trimming, and adjusting the video, along with other features like layers, elements, transitions, etc.
Pros:
1. Tons of video editing options to choose from.
2. It can work with other types of media besides videos.
3. It is easy to use.
Cons:
1. The outputs are watermarked.
2. It can only export videos to MP4 for free.
Part 3. Remarkable Video Editor App for Android Phones
For those who are looking for an extra video editing app for their Android phone, below is what we recommend you grab.
Vid.Fun - Video Editor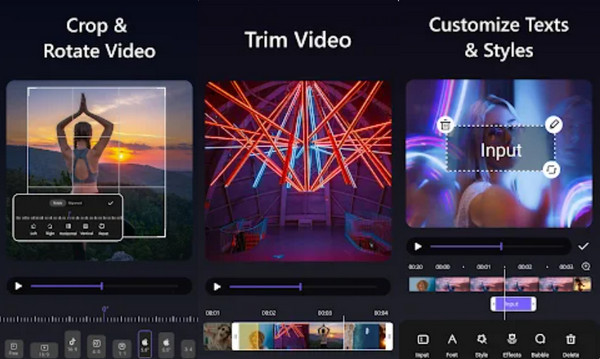 Vid. Fun Video Editor is an app exclusive to Android phones. It is a well-known all-in-one editor with many valuable tools to accommodate your video editing tasks. Such tools are a video trimmer, cropper, rotator, and tools to apply filters, texts, stickers, background, etc. Furthermore, you can navigate it since it provides an easy-to-use interface.
Pros:
1. It is a multi-functional video editing app.
2. You can use it for free.
3. No watermark on the outputs.
Cons:
1. It is not available on iOS.
Part 4. FAQs about Video Editors
What product of Adobe is a video editor?
The best video editing program that Adobe offers is Premiere Pro.
Is upscaling video a part of video editing?
Yes. Video editing works on the fixation and enhancement of the video. Hence, video enhancement is considered video editing.
Can I convert the video after editing?
Yes. If you want to convert your video to seemingly high quality, use Video Converter Ultimate.
Conclusion
It's a wrap. With the best video editors in this post, you will surely have what you want for your videos. Just a reminder, you choose what you think will help you fix your files and enhance and make them alluring, just like what Video Converter Ultimate does.