7 Best Video Resolution Converters to Improve and Lower Video Resolution Easily
There are times when you think you have the best video resolution but turned out to be a problem. Why would it be a problem? Because there are videos that cannot be opened due to having a super high resolution. This is true for portable media players you usually use on your mobile or computer devices. Hence, for this kind of problem, you must be prepared to enhance or decrease the resolution of your video. In line with this, you will need the best video resolution converter in the palm of your hand. Fortunately, this article will promote seven of the best editing programs on various platforms that you can use anytime.
Rest assured that after reading this article, you will be able to do the task without hesitation. It is because the tools that we are about to introduce will enable you to maintain the video quality even after the resolution modification. Therefore, without further adieu, let's start knowing the best desktop, online, and mobile programs by reading the content below.

Part 1. 3 Best Video Resolution Converters on Computer
1. Video Converter Ultimate
For your Windows, Mac, and Linux computer, Video Converter Ultimate is what you should first consider in making a video resolution converter free to download. This software comes with AI-powered tools that will help you with everything you need to enhance your video. Furthermore, this Video Converter Ultimate's multifunctional tool lets you convert the video resolution in several ways, for it lets you do it in batches with its conversion process or with its video enhancer in the toolbox. Yes, you have read it right. You can increase or lower the resolution of your bulk videos at once as part of its ultrafast file conversion presets. Despite that bulk resolution conversion, you can still expect seamless video quality available on more than 300 devices.
What's more? This Video Converter Ultimate is not only a super-resolution video enhancer, for it is also more than that. It can also be your best buddy for ripping, making MVs, collages, 3Ds, GIFs, and many more. Not to mention the hundreds of tools it offers in its magnificent toolbox, where you can have everything that you want if editing your video.
Features of Video Converter Ultimate
1. It supports more than 300 different input and output formats.
2. It converts video for as low as 240p and high as 8K.
3. With advanced acceleration technologies, convert videos 50x faster.
4. Powerful toolbox of all video editors and makers you need..
How to Convert Video Resolution in Bulk
Step 1
Initially, get this video resolution converter via free download, and install it on your PC. Then, open it and start uploading the multiple videos that you need to convert by clicking the Plus symbol at the center of the interface or the Add File tab at the left corner top.
Step 2
Once uploaded, go and click the arrow icon next to the Convert All To option. Then, on the popped-up window, choose the output format that you want for your videos. After that, also choose your preferred resolution.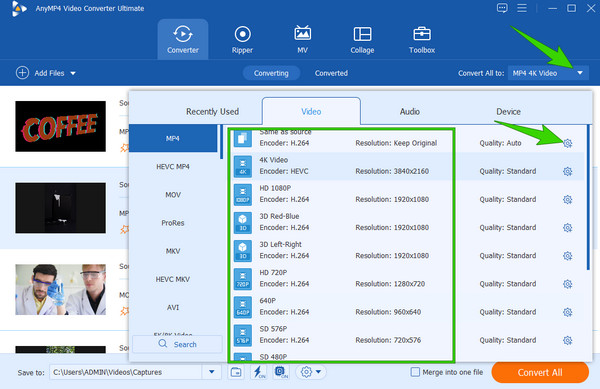 Step 3
If your preferred resolution is not in the choices, hit the Coggle icon, as seen in the previous image. Then, on the new window, click the arrow in the selection, choose your preferred resolution, and click Create New after. After that, you will see the resolution that you created and click it.
Step 4
Finally, hit the Convert All button to start the conversion process. But before that, please make sure that the Ultrafast and the Hardware accelerations are turned on.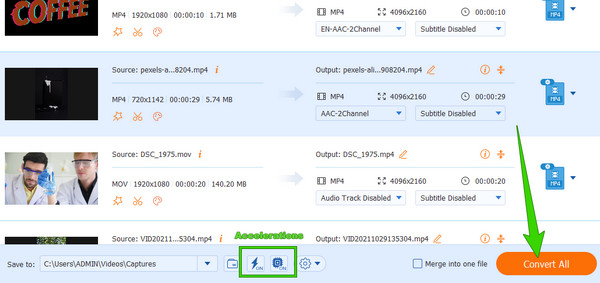 2. Filmora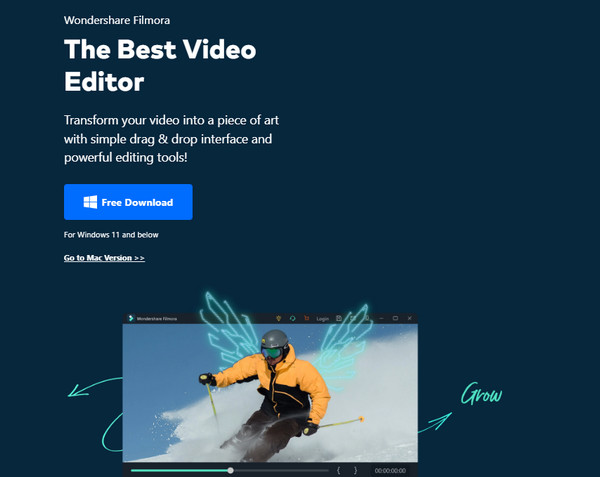 Next on the best video resolution enhancer on PC is this Filmora by Wondershare. Furthermore, this software, just like the first one, can be the best buddy for beginners due to their user-friendly interface. You must have seen Filmora before since it is one of the most popular video editing tools these days, which is not surprising at all since it comes with many wonderful and powerful features. One of its features is its ability to transform a video's resolution tremendously up to 4K while stabilizing it. Aside from that, Filmora provides other amazing features, such as its color controller, green screen mode, noise removal, great effect, and filters. However, unlike the previous one, the advanced tools here are limited, and the saving process could be faster.
3. Pinnacle Studio Studio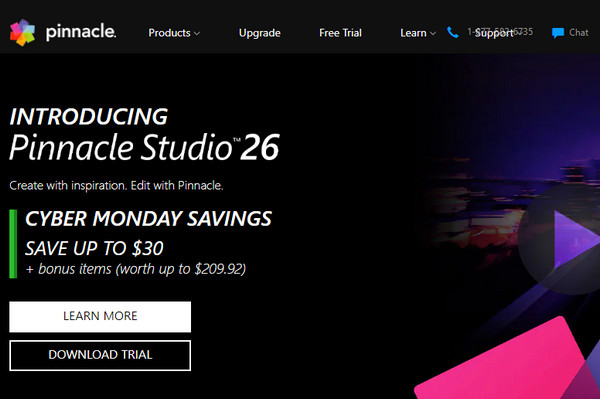 If you are looking for a senior video resolution converter, free to download Pinnacle Studio is the one you are looking for. The Pinnacle system initially developed this software and has been continually developed by Corel since it was acquired. From the time of acquisition, this software has improved a lot, to the extent that it has become one of the best video resolution enhancing tools. It can work with videos that have low resolution and convert them to HD and 4K resolutions. Moreover, there are these features such as 3D editing, VR support, a title editor, and Multicam editing tools that you can enjoy with Pinnacle. Aside from that, the simplicity of its interface and the smooth utilization of its tools will impress you. However, we must see its banes in motion tracking. In addition, this tool's paid version, which supports 4K videos, is pricey, not to mention its unavailability on macOS.
Part 2. Best Two Video Resolution Converters Online
1. Clipchamp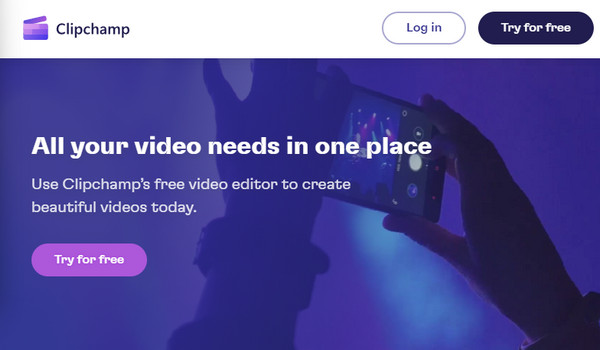 Moving forward with the video resolution enhancers online, Clipchamp is the first you need to consider. This online program is one of the most used video editors online today. You can use it to upscale 480p to 1080p. No wonder it is popular because it has many beautiful features everyone loves. Many users are impressed at how this web tool transforms their worst videos into striking ones without taking so much effort. In addition, this tool can work in many different formats while getting in touch with its accessible and easy-to-understand interface. Also, it comes with essential video editing tools, an audio enhancer, a green screen feature, and a picture-in-picture option. However, as part of being a not-perfect tool, Clipchamp only produces videos with 480p quality with an embedded watermark when you use its free version.
2. Kizoa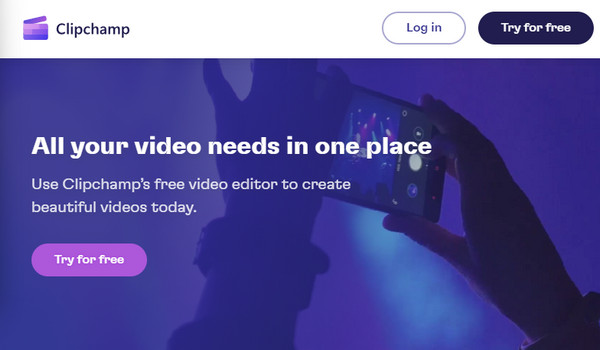 Another high-resolution to low-resolution video converter online that you shouldn't miss is this Kizoa. It is one of the most accessible online video editors that are affordable, with good features like transition options, pre-made templates, a green screen, special effects, texts, GIFs, and many more. However, its resolution conversion is quite too challenging to see, and you will not be able to use it unless you use its paid version. Nevertheless, you can use it with many video editing and making tasks.
Part 3. Two Outstanding Video Resolution Converting Apps for Android and iPhone
1. iMovie [Best for iPhone]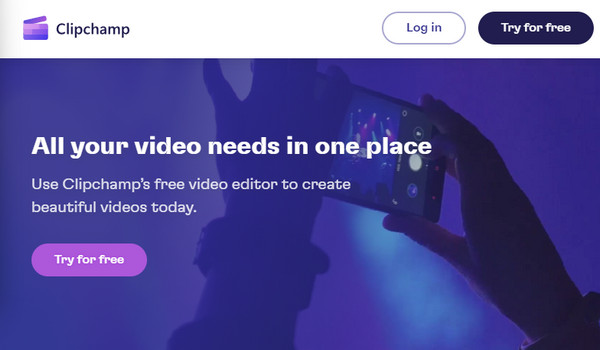 Now, for those seeking the best MP4 video resolution converters on iPhone, this iMovie is the most iconic app you deserve. You might already know about it if you are an Apple user, for it is one of the stars of the iPhone and Mac. Meanwhile, this app instantly transforms your videos into 720p, 1080p, and 4K. Furthermore, this app also comes with tremendous filters and effects, a green screen, video editing adjustments, and movie sharing, aside from being a movie maker. On top of that, this app is free the entire time that you use it. However, since it is an app for Apple users, Windows and Android users cannot taste its superbness.
2. Video Converter, Compressor - Inverse.AI [for Android]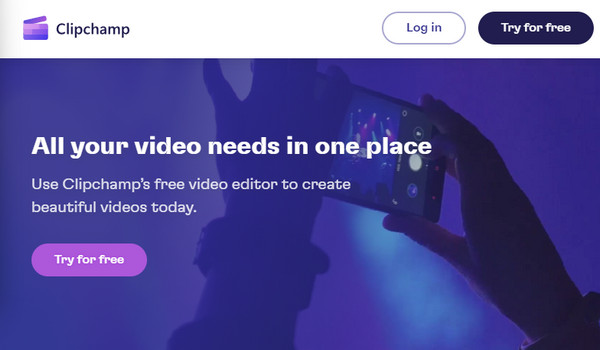 To complete this list, this Video Converter and Compressor app by Inverse. It is an easy-to-use video resolution enhancer app that you can acquire on Android that allows you to convert videos from 240p to 4K. Moreover, it will enable you to customize the video resolution based on your needs. Not to mention that this app supports various formats such as MGP, MPEG, MP4, ACI, MTS, TS, AVI, VOB, WMV, MKV, and many more. However, all editing tools will always have a negative side, just like this app's tendency to crash when used for longer.
Part 4. FAQs about the Best Video Resolution Converters
Can I change the video resolution on the iPhone without an app?
iPhones may have some built-in basic video editing tools, but a resolution converter is not one of those.
How can I convert the resolution of bulk videos on a Mac?
Unfortunately, iMovie cannot work on bulk files simultaneously. Hence, if you want a super-resolution video enhancer on Mac, use Video Converter Ultimate.
Can the resolution of a long movie be changed?
Yes. Video Converter Ultimate enables its users to work on long films.
Conclusion
With the video resolution converters outlined in this article, you can edit your videos quickly and conveniently. All you need to do now is to prepare your device and take the time to try the tools one by one. However, if you don't know which one to use first, then choose Video Converter Ultimate, and for sure, you will not bother to try others because this tool is far enough.