Microsoft, Firefox, Safari, and Chrome Video Speed Controller Extensions You Shouldn't Miss
Sometimes you want or even need to speed up or slow down the video you watch online. Unfortunately, most mega social media platforms nowadays don't provide a solution for this. That is why having a video speed controller extension for your browser would mean a lot. However, many video controller programs are on the web today. Which one is the best for the kind of browser you use? Fortunately, this article is here to the rescue because this article outlines the best extension for various browsers available today, such as Chrome, Safari, Microsoft, and Firefox. This way, you won't need to take another time to search whenever you switch browsers. Also, you will be astonished to meet the best video speed controller software of all time finally. So, without further adieu, let's get the ball rolling.

Part 1: Chrome's Best Video Speed Controller Extension
Transpose
Transpose is a video speed controller extension for Chrome that simultaneously works as a pitch changer. It changes an online video's speed by dialing the real-time playback speed percentage. Furthermore, it comes with a Loop feature where more controls are visible, such as time marking a video's beginning and ending time. Moreover, Transpose is the best tool for viewers of tutorial videos, and music for it is dearly helpful, especially with musicians when it comes to practicing and rehearsing.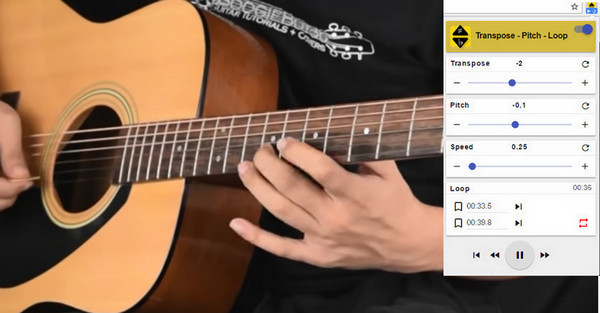 Pros:
1. It has other functions besides speed control.
2. It loops between time markings.
3. It provides users with a history list.
4. It is free to install.
Cons:
1. Many users are not happy with its latest update.
2. It doesn't have a repeat section.
Part 2: Video Speed Controller Extension for Firefox
Playback Speed
Playback Speed is a great video speed controller for Firefox. As it is written in its name, it can speed up the video you watch online. Besides that, it can also slow down the speed according to your preference. It provides you with choices of controllers, wherein you can navigate the video speed via slider or button selections. Moreover, like the previous extension, Playback Speed also comes with shortcuts you can customize to make them personal.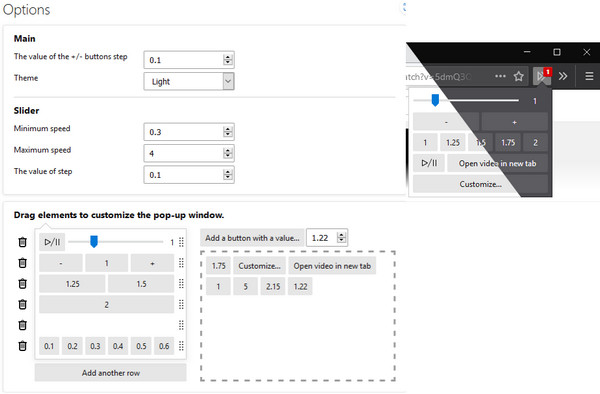 Pros:
1. Easy to use.
2. It allows you to personalize the controller.
3. With a friendly and neat controlling interface.
Cons:
You will need to remodify the controls after a system update.
Part 3: Awesome Video Speed Controller for Safari
Accelerate
If you want a video speed controller for Safari, then Accelerate is what we recommend. Accelerate has proven its name when it comes to adjusting video speed rapidly. It has support for many websites that premieres beautiful and exciting video clips. On top of that, this best Safari extension also comes with an option where you can personalize your hotkeys using a toolbar item or in a right-click mouse control. Another thing that makes it more remarkable is that it supports Airplay and a picture-in-picture mode in video.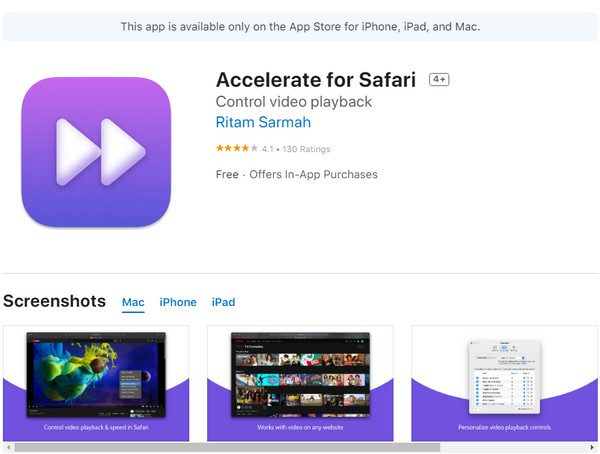 Pros:
1. It works on video from any website.
2. It enables you to personalize the playback control.
3. It lets you customize shortcuts by adding icons.
4. Install it for free.
Cons:
Outdated versions lag at times.
Part 4: Microsoft Edge Video Speed Controller
Video Speed Controller
Many Microsoft Edge video speed controllers are available today, but we highly recommend the Video Speed Controller. It is the handiest and most popular extension for Edge and Google Chrome. It enables viewers to control the speed of their online video with speed-controlling selections such as slow down, speed up, repeat, and advance. Another good factor of this Edge extension is that it provides users with hotkeys that will speed up their navigation while using it.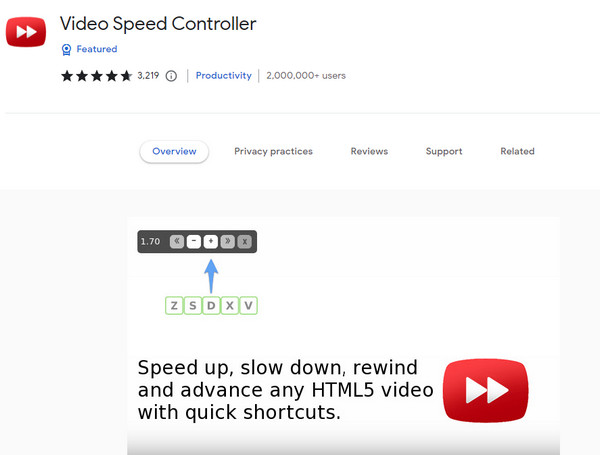 Pros:
1. It is easy to use.
2. Very intuitive in controlling the speed of a video.
3. It is free to add on Chrome.
4. It comes with shortcut keys.
5. It supports up to 4X rate.
Cons:
Using the hotkeys may mix up the control.
Part 5. Ultimate Video Speed Controller Software of All Time
If you are looking for software that will accompany you in changing the video speed on your computer, then Video Converter Ultimate is the best choice. As its name suggests, this software has ultimate video editing abilities, including speed control. Aside from this feature, users can also lavish its other powerful tools within the toolbox, such as the video enhancer, trimmer, cropper, watermark worker, compressor, merger, and many more. Unlike the video speed controller extensions presented above, this Video Converter Ultimate is a one-stop shop tool. Meanwhile, this software enables users to speed up their videos up to 8X faster and slow them down to 0.125X.
On top of that, it also provides other unique presets about the video and audio settings that users can freely adjust. What's impressive about this is that users can have control over their videos' format, resolution, frame rate, encoder, quality, and even zoom mode. And by looking at the additional reasons below, you will be more excited to get it for sure.
1. It works with advanced technology like hardware acceleration.
2. It works best to convert batch videos into over 300 different formats.
3. With a great DVD ripper that can rip videos handily.
4. Your personalized movie maker, as well as 3D and GIF maker.
How to Control a Video Speed with Video Converter Ultimate
Step 1
Start by acquiring the software on your Windows or macOS device freely. Open the software once you get it. Then hit the Toolbox menu tab.
Step 2
Scroll down to reach the Video Speed Controller tool on the Toolbox menu. Then, upload the video you need to control when you click the Plus icon from the next window.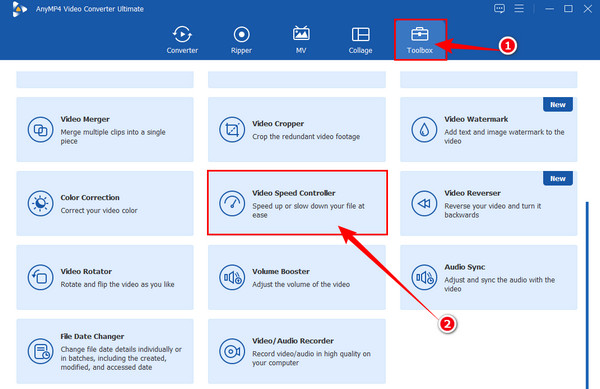 Step 3
Once your video is uploaded, you will have the speed controller along. Select the speed you need to apply for your video, then if you want to make additional adjustments, click the Coggle icon in the Output option.
Step 4
After that, you can watch the video with the software. Otherwise, proceed by clicking the Export button if you want to save the video as a new file. Wait for the swift exporting process, then check the output.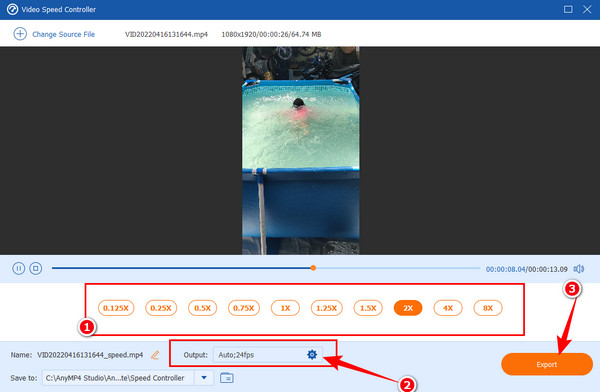 Further Reading:
Easiest Ways about How to Speed Up a Video on Your Device
Best Methods about How to Speed Up a Video on iMovie
Part 6: FAQs about Controlling Video Speed
Is there a video speed controller for Internet Explorer?
Yes. One of the best video speed controller extensions you can have for your Internet Explorer is Playback Speed.
Can I control the speed of an hour movie?
Yes. Video Converter Ultimate is the best tool to change the speed of long movies. It won't be a hassle with this fantastic software to edit hour-long durations of videos.
Will I have the same video quality after changing its speed?
Yes. with the Video Converter Ultimate, you can even improve the quality of your video after changing its speed.
Conclusion
There you have it, the best video speed controller extensions for your browser. Most of them can work flexibly with all browsers, like the Video Speed Controller and Playback Speed. However, if you also need flexible software for this matter, there's nothing you can rely on but the Video Converter Ultimate.