Review of the Top Video Stabilizers for Various Platforms
Do you have shaky videos? That's pretty normal when you capture video footage without using a stable hand or a piece of equipment for stabilization. However, what would you do for the existing videos that have shaky parts? Then, here comes the importance of video stabilizers. With the kind of technology that we have today, many software programs and applications are accessible, but not all are reliable. Unfortunately, many still fail to provide excellent service because whether we like it or not, nobody, even technology, is perfect. Good thing we have gathered the best tools that gained the highest commendation for stabilizing videos. So without further adieu, let us all meet the stabilizing programs that you can use on different platforms.
Part 1. 2 Best Video Stabilizers on Desktop
If you are the kind of video editor that wants to do the work in a professional way, then using video stabilization software should be your choice. This part is your guide to meeting the most reliable and efficient stabilizers that deserve your recognition.
1. Video Converter Ultimate
The first on everybody's list is this Video Converter Ultimate. With its ultimate video enhancing tool, you will be able to stabilize your ever-shaking videos and turn them into the most stilled footage you have ever had. Thanks to its function, Reduce Video Shaking, which is included as one of the enhancers in this tool, where you will enjoy its magical power in video stabilization with just a single tick. Aside from that, you can also access other enhancing functions, such as Remove Video Noise, Optimize Brightness and Contrast, and Upscale Resolution, that is also using AI-powered processes. With these functions, all your videos will undergo an amazing transformation to enhance them perfectly.
Key Features:
1. The best video stabilizer with AI power.
2. Advanced hardware acceleration technology.
3. More than 500 different various formats are available.
4. With a toolbox that comes with numerous video editing and making tools.
Pros:
1. It is a multipurpose software.
2. It can stabilize your numerous videos in batches.
3. It allows you to customize the resolution.
4. Stabilize your videos in a few clicks.
5. Cut, trim, split, and add segments to your video while stabilizing it.
6. It has a 50x faster stabilization process.
7. It provides a preview for your pre-output.
Cons:
It has a free trial but is not entirely free.
How to Stabilize Multiple Videos with this Video Stabilizer
Step 1
Install the Video Editing Software
As for the initial step, you must acquire the software on your desktop or Mac computer. To do it quickly and freely, kindly hit the Download buttons provided above.
Step 2
Upload Your Videos
Launch the tool and stabilize your multiple videos on installing the tool. Now, click the Plus icon at the center of the interface, and bring all the videos you need to stabilize the interface.
Step 3
Set to Stabilize All Videos
Now that all the videos are uploaded, click the Paint icon under one of the uploaded files. This icon represents the enhancement features. Then, on the popped-up window, tick the box of the Reduce Video Shaking option. Also, you can tick the other options as you wish. After that, don't forget to click the Apply to All tab and the Save button.
Step 4
Save and Export the Outputs
This time, you may set the destination of your files by hitting the Arrow drop-down button of the Save To section and choosing the Browse and Select Folder dialogue. After that, click the Convert All button to export the files.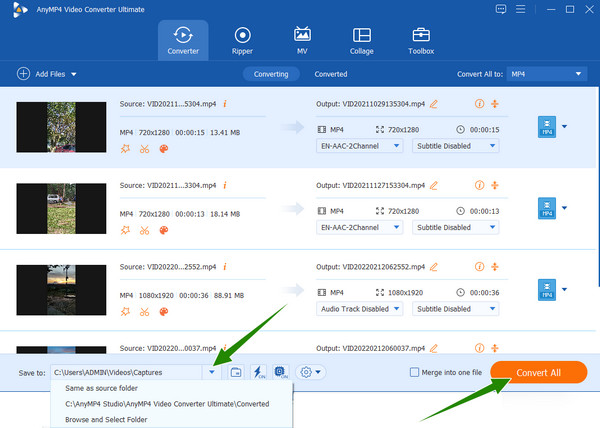 2. Pinnacle Studio
We can provide free video stabilization software, but if you are after advanced video editing quality, then this Pinnacle Studio is the one you should choose. One of the features that will make you love this software is its shake stabilizer option which comes with an audio ducking feature. This audio ducking feature will enable you to balance your video's background and foreground. Another good feature you should look out for is the green screen effect that works with 360 video editing allowing you to merge different videos taken from different cameras. On top of that, this software has extensive support for high-quality videos, even 3D movies.
Pros:
1. It comes with advanced video editing features.
2. It has a customizable interface.
3. With excellent support on high-quality videos.
Cons:
The stabilization tool is not available on the free trial.
Part 2. Top 2 Video Stabilizers Online
This time, if you want a more accessible and free video stabilizer, then you should see these top 2 online choices.
Top 1. FileConverto - Online Video Stabilizer
The first tool to consider is this FileConverto - Online Video Stabilizer. It is a simple web-based tool that can stabilize shaky videos for free. What makes it special is its intuitive interface, which contains minimal elements allowing you to have a straightforward procedure. On top of that, this tool allows you to stabilize even the videos that are taken from a drone. However, since online tools cannot provide full-capacity video editing, FileConverto can only work on a file that doesn't exceed 500 MB.
Pros:
1. It is a free tool to use.
2. Supported by almost all types of browsers.
3. It comes with other video editing tools like a trimmer and a compressor.
Cons:
1. It limits its procedure to a 500 MB video size.
2. It is not free from ads.
Top 2. EZGIF Online Video Stabilizer
Another video stabilizer online that can cause you to come up with a still video for free is the EZGIF Online Video Stabilizer. It provides many video editing tools, such as a rotator, cropper, cutter, optimizer, splitter, resizer, GIF maker, and many more besides its stabilizing tool. In addition, it enables you to work on different types of videos you have, like MP4, MOV, FLV, MPEG, AVI, 3GP, etc., with a maximum size of 100MB per day. However, with this online tool's limited file size, many users have been challenged to stabilize many of their video files.
Pros:
1. It is a free online tool.
2. You can stabilize videos online.
3. Many essential editing tools that it offers.
Cons:
1. It has many annoying ads on the page.
2. The uploading process takes time.
3. It only works on video files not more than 100MB.
Part 3. 2 Top Video Stabilizing Apps for iPhone and Android
Now, for your handy procedure, allow us to present the phone video stabilizers you can use on iOS or Android. These apps have the highest satisfactory reviews from our team members who tested their stabilization features.
Top 1. Deshake App
As its name suggests, Deshake is an app that purposely works to do shaking video footage. Furthermore, this app has an automatic stabilization algorithm, making it easier for its users to do this task. On the other hand, Deshake also comes with a broad range of stabilization tools that are easy to navigate for further and excellent stilling of videos. However, this app is a plugin for a desktop software called Virtual Hub, and it will require you this software for it to work well.
Pros:
1. It comes with a wide range of tools to stabilize videos.
2. It provides an easy-to-use interface.
3. With real-time previews.
Cons:
This video stabilizer app works with Virtual Hub.
Top 2. Shaky Video Stabilizer
Here comes a free app that can stabilize your videos according to its name. The process that you can have for your task that this app offers will amaze you, for it allows you to customize your footage's shakiness, smoothness, and accuracy. On top of that, it supports popular video formats like MP4, MKV, 3GP, and others, making it more flexible to use. However, this one thing might make you think twice about using it because this app takes a long time to stabilize a video file.
Pros:
1. It supports all video formats that a mobile phone uses.
2. It comes with other essential video editing tools.
3. This best smartphone video stabilizer provides you with a preview.
Cons:
1. The stabilization process takes time.
2. It sometimes blocks out, especially when being used for a long time.
Further Reading
Video Quality Enhancers to Increase Video Quality Easily
6 Remarkable 4K Video Enhancers with Their Features
Part 4. FAQs about Video Stabilizers
Does Android have a stabilization feature?
Yes. Many Android phones nowadays have a stabilization feature that you can use during video recording.
What does a video stabilizer precisely do?
A stabilizing tool removes unwanted shakes from your camera's video.
Does stabilization affect the quality of the video?
Yes. Stabilizing a video will also enhance the quality of your footage while making it still.
Conclusion
There you have it, the top-picked video stabilizers for desktop, online and mobile. You can use one from the desktop tools here if you want a professional-like output. And if you want to work on multiple video files simultaneously, use Video Converter Ultimate.