6 Greatest Solutions to Convert WebM to MP4 Easily Yet Losslessly
Why do you need to meet the WebM to MP4 converters in this article? WebM is the web Media format. It is a file container developed by Google and is purposely made for web broadcasting, as its name suggests. Therefore, this kind of file format is expected to be supported mainly by nearly all browsers and platforms online that use HTML5. MP4, on the other hand, also known as MPEG4, is a file container video that has the most compatibility characteristics than the other file formats. Aside from the videos, the MP4 container can also accommodate storing audio, subtitles, and still images. Since MP4 has been proven to be the universal video format that works to play on all media players, it is not shocking if everyone wants to convert WebM to MP4.
However, converting a web media file is not as easy as converting other files. This is because online formats can easily lose their original quality. It is why you will need a great tool to efficiently maintain excellent quality while undergoing compression since they are being converted to MP4. Therefore, let's see the ultimate guide on converting such files with the fantastic tools to utilize below.

Part 1. Best Way to Convert WebM to MP4 on Windows and Mac
If you long for the best WebM to MP4 converter, Video Converter Ultimate will fill your longing. This video converter ultimately transforms any type of video file into any type of format that you like rapidly. It supports more than 500 formats for input and output and has an ultrafast conversion process that makes it 70× faster. Yes, you read it right. This ultimate converting tool is infused with advanced accelerations for its conversion process and hardware and GPU as well. Furthermore, you do not need to be an expert in navigating it because it has a pleasing and user-friendly interface that is excellent for beginners. What makes it more remarkable is its ability to convert bulk files, enabling you to convert WebM to MP4 with no limit of numbers in one process! In spite of that, this amazing converter still manages to maintain its ultrafast conversion despite the numerous files to work on.
Moreover, you will also love how this simple software turns so multifunctional. Besides the ultimate converter, it is also an excellent maker of movies, collages, 3Ds, and GIFs, with a robust collection of editing tools in the Toolbox. Thus, you can also enhance, trim, crop, merge, remove, and add watermarks, and many more. In the meantime, let us learn how this fantastic file converter converts your WebM files to your preferred format, like MP4.
Key Features:
1. The best converter of WebM to MP4 on desktop and Mac.
2. Ultrafast bulk conversion process.
3. Easy and friendly interface.
4. Produce non-watermarked outputs of more than 500 plus formats.
5. Excellent quality to watch out for and enjoy.
Step 1
Install the Ultimate Converter
Begin by installing this ultimate converter on your computer by using the download buttons above. After installing, launch it and proceed with the importation.
Step 2
Import the Video Files
Next is the importation of countless video files. Yes, you can upload all the WebM videos you need to convert when you click the Plus icon at the center of the interface. As another option, you can simply drag the video files from your local storage to the center of the interface.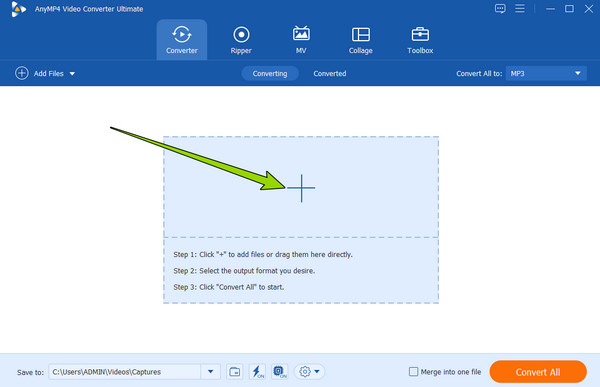 Step 3
Set to Convert WebM Files to MP4
Once the files are in, you can now click the drop-down arrow in the Convert All To section at the top-right corner. Then, on the new window, look for the MP4 format under the Video option and choose the best encoder for your outputs.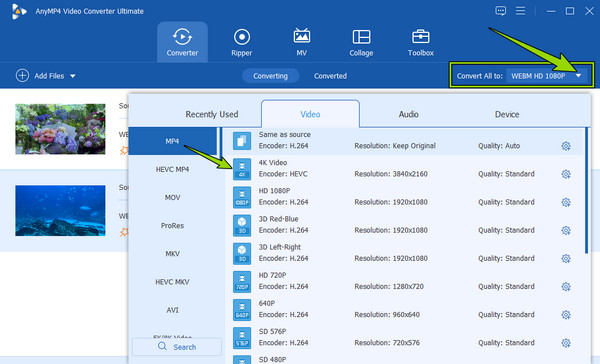 Step 4
Start the Conversion Process
As easy as that, you can now click the Convert All button at the bottom right corner of the interface. Thus, to have a fast conversion, make sure that you turn the Ultrafast and Hardware acceleration buttons, as shown in the image below.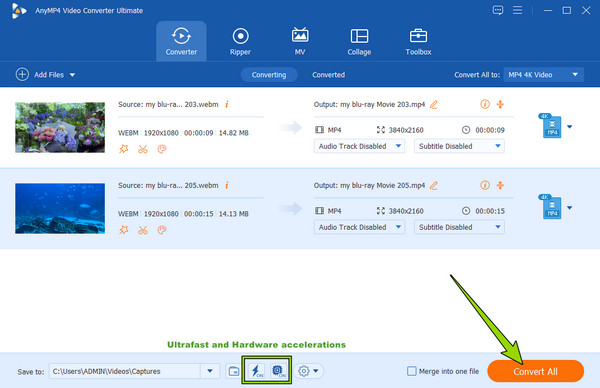 Part 2. Convert WebM to MP4 with FFmpeg Like a Pro
Can FFmpeg convert WebM to MP4? The answer is yes. This command-based software can practically convert files powerfully. Furthermore, it is software that you can acquire for free. You can install it on your Windows, Mac, and Linux computer if you want to try using it. Regarding dealing with media files, FFmpeg can assist you with many functions. Such functions include image manipulating, transcoding, packaging, streaming, playing, and converting. With these mentioned features, many from the different sectors, firms, and organizations recognize it for utilization. You also can use FFmpeg to convert MKV to MP4. However, a beginner like you might see it overwhelming to use, especially if you do not like syntax processing. Fortunately, we managed to present simplified steps you can follow to convert WebM to MP4 freely with FFmpeg.
Step 1
Launch your installed FFmpeg on your computer. Then, create a new folder to keep the WebM video files you want to convert.
Step 2
Returning to the FFmpeg user interface, run the CMD word and hit the ENTER key. When the command prompt has been brought up, type ffmpeg -i file.webm -file.mp4 and press the ENTER key.
Step 3
After that, you will see that the conversion process is activated. You can check the converted file in your output folder when it is done.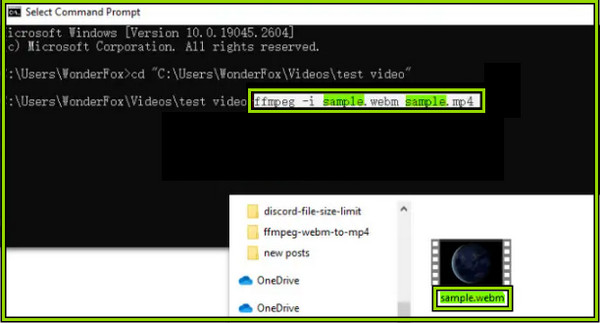 Part 3. How to Convert WebM Files to MP4 Using VLC
This VLC media player can also be an excellent option to convert WebM to MP4 on Windows 10. It is another free tool that you can acquire not only on Windows but also on Mac. Furthermore, this program is free, open-source software supporting numerous video and audio files. Therefore, if you suddenly need to convert the video you are watching on this media player, then there is no way for you to shift to another converting tool to succeed. However, as many have tried it, almost all of them grumble about the process they encountered. Honestly, VLC's conversion process is slightly confusing initially, but it will be a piece of cake for the second time. Hence, here are the guidelines for converting WebM to MP4 with VLC.
Step 1
Run VLC on your computer and quickly go to the File menu and select the Convert/Save option. Then, click the Add tab on the popped-up window and upload the video file files you want to convert.
Step 2
Then, click the Convert/Save button to open the next window. From there, click the arrow drop-down in the Profile section and choose the Video -H.264 +MP3 (MP4) option.
Step 3
After that, hit the Start button at the bottom-most part of the window. Consequently, the conversion process will begin.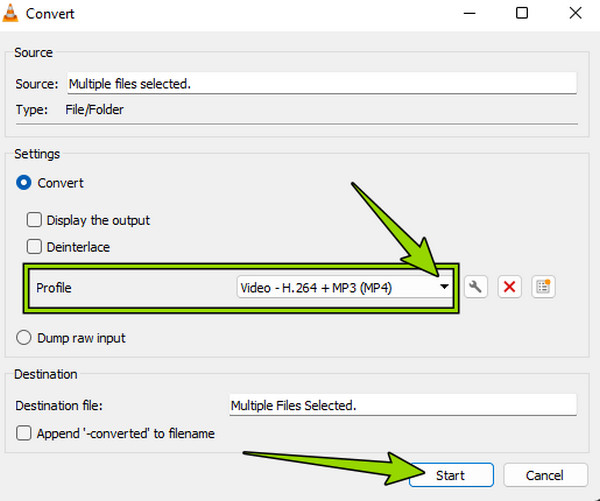 Part 4. Convert WebM to MP4 on Mac
If you want another way to convert WebM to MP4 on Mac, you better try HandBrake. It is a lightweight file converter, making it best for Mac computers. Aside from the WebM and MP4, HandBrake can also work best on MKV and M4V. However, we cannot deny that it hardly works on large files making it slow to process when you choose to. In addition, you might see the vast difference in your output made from HandBrake compared to the other fantastic video converters we presented previously. Still, this tool did not fail to provide other editing devices to enhance your videos before exporting. Here are the steps to watch out for to see how HandBrake works in WebM to MP4 conversion.
Step 1
Once you fire up HandBrake on your Mac, the source selection window will appear. Immediately import the WebM file that you want to transform.
Step 2
Go to the Format tab on the main interface and choose the MP4 format.
Step 3
After that, click the Browse button and select a file destination. Then, hit the Start button in green to begin the conversion process.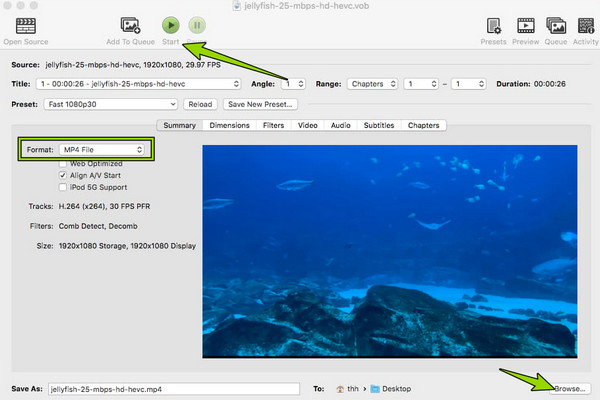 Part 5. Amazing Ways to Convert WebM to MP4 Online for Free
Suppose you want a more accessible way to convert your video files and don't want to undergo an installation process. In that case, use the online tools that we will discuss below.
1. Free Video Converter Online
This Free Video Converter Online will surely complete the solution. This convenient tool will surely meet your demands to convert WebM to MP4 online. Furthermore, it is a multi-format converter that will let you convert multiple WebM files and edit them by adjusting their resolution, quality, frame rate, etc., in the easiest and fastest way on the web. Aside from that, you will be amazed by the numerous formats supported as input and output. Hence, without further adieu, here are the basic steps to follow.
Step 1
Visit the main page of the Free Video Converter Online and click the Launch Free Converter tab. Clicking this tab will let you grab its launcher and upload the video files.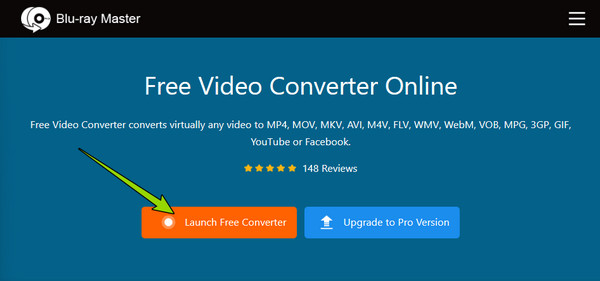 Step 2
Then, on the main interface where you see the uploaded files, tick the MP4 as your output.
Step 3
As simple as that. You can already click the Convert button and choose a destination folder for your output. After that, the conversion process begins, and check the output to your chosen folder.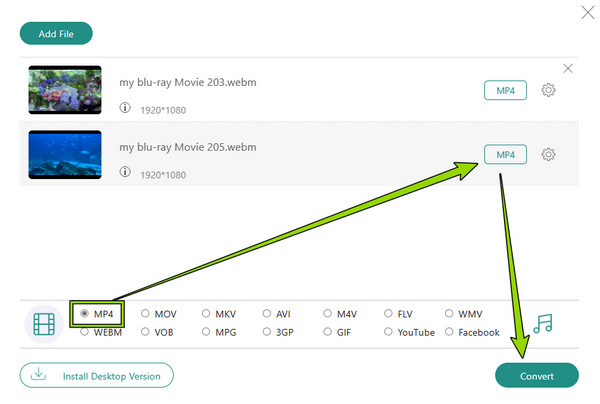 2. Cloudconvert
Another online converter that you can use for free is Cloudconvert. It is a tool purposely designed for converting videos to MP4, audio, eBooks, documents, images, archives, spreadsheets, and presentations. It supports over 200 formats, including the most popular or used ones like MP4 and WebM. Regarding the quality of outputs, it claims to produce high quality even when under a free conversion. However, there are times when this tool becomes sluggish when it comes to importation and exportation. Still, here are the steps to follow for online free conversion WebM to MP4.
Step 1
Visit the main page of Cloudconvert and set the input and output format by navigating to the Convert section.
Step 2
Click the Select File button on the same page and import the input format from your chosen file drive.
Step 3
Once the video file is in, it will appear on the page. Then, hit the Convert button to begin the conversion process. Subsequently, save the converted file once it is ready.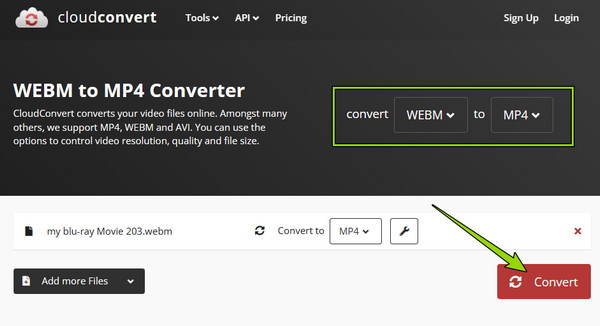 Part 6. FAQs about Converting WebM and MP4
Which is better to have, MP4 or WebM?
When it comes to quality, both have excellent ones. But regarding compatibility, MP4 has a better capability. For this reason, MP4 is better.
Can I playback the WebM video in Safari?
Yes. Apple recently added WebM support to Safari.
Can I share an MP4 video online after converting WebM to MP4?
Yes. Many online platforms support MP4 videos. So, sharing MP4 online will never be a problem.
Conclusion
To conclude, this article's 6 WebM to MP4 converters are adaptable. You can try them individually to see which can fully support you with your video conversion task. Thus, if you are still undecided, take our recommendation and use Video Converter Ultimate for offline and for online Free Video Converter Online, for they received the highest rate even from the other users who tried them.