What Is AVI Standing for and How to Open AVI Videos Easily
Today, video has become one of the most important way to express yourselves. You can find them anywhere, like social media, website, mobile app, and other smart devices. Moreover, it is easier than ever before to take videos thanks to digital cameras and smartphones. However, there are tons of video file formats and which one you should use to save your content. This article will talk about one of commonly used video formats, AVI.

Part 1: What Is AVI
What does AVI stands for? It is short for Audio Video Interleave. AVI is both a video format and video file extension. It means that your video files with .avi extension is encoded by AVI format. It was developed and released by Microsoft in 1992, so it works well on most Windows machines.
The biggest advantage of AVI is video quality. Since it is less compressed video format, so AVI will keep the raw video and audio quality. However, it also means that the file size is much larger than lossy videos, like MP4 and MOV, in the same condition. According to our research, it leads to 2-3GB file per minute of video.
Generally speaking, if you have enough space and hope to edit the video later, you'd better save it as AVI format.
Part 2: How to Open and Play AVI
To be honest, AVI was designed for Windows primarily, so Windows Media Player can open it. When it comes to outside of Windows, you will need a video player has the proper codec. In fact, some people complained that they cannot open AVI in WMP. That is because the codec issue. An AVI file can contain various video and audio codecs, but WMP only includes a small codec package. Blu-ray Master Free Blu-ray Player, on the other hand, enables you to play any AVI files with full control.
Key Features of the Best AVI Player
* Include a huge codec package and supports almost all video formats.
* Offer an intuitive interface and you can find everything you want quickly.
* Control AVI playback with basic and advanced controls.
How to Open and Play an AVI Video File
Step 1
Open AVI
Launch the best AVI player from your desktop after you install it on your computer. Click the Open File button in the home interface to trigger the open-file dialog. Find an AVI file, select it and click Open.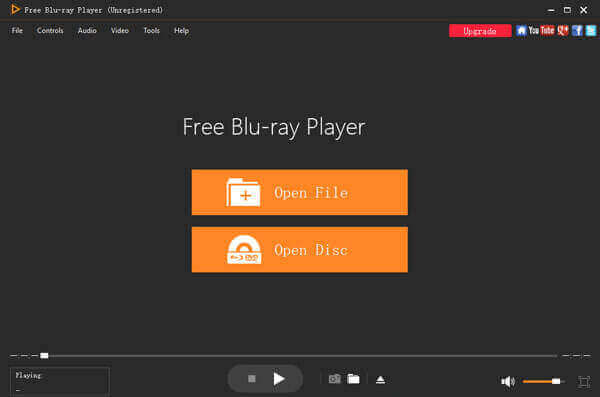 Step 2
Control playback
After video loading, you will be presented the media player window and AVI begins playing. The buttons at the bottom let you control the AVI playback easily, such as fast forward, rewind, pause, play and stop. The Volume slider allows you to adjust volume. You can also take snapshots by hitting the Camera icon.
In addition to basic control, you can adjust the image color, aspect ratio, and more in the top menu bar.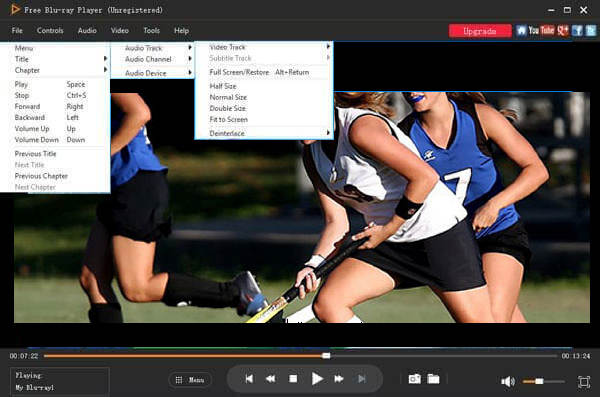 Extended Reading:
• How to Play AVI Videos on Android and iOS
• Top 14 AVI Players to Playback AVI Files on Windows and Mac with A High Quality
Part 3: How to Convert AVI on Desktop and Online
Method 1: Convert AVI between Other Formats on Desktop
Another way to play AVI on your machine is to convert AVI to other formats, like MP4. Moreover, you can only watch AVI videos by transcoding. It is also a good way to compress AVI video file size. We recommend Blu-ray Master Video Converter Ultimate, because it is not only easy to use, but also able to optimize video quality.
Key Features of the Best AVI Converter
* Convert between AVI and other video formats easily.
* Support almost all video and audio formats.
* Transcode AVI for playing on mobile devices.
How to Convert AVI to Other Video Format
Step 1
Open AVI files
The AVI converter is compatible with both CP and Mac. You can install the latest version on your computer and launch it. Go to the Add Files menu and choose Add Files or Add Folder to open the video files that you want to convert. It supports batch conversion.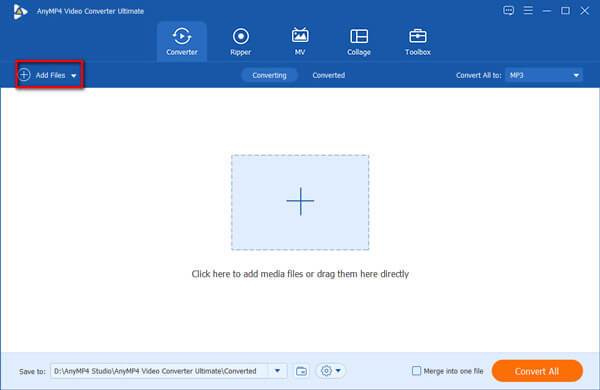 Step 2
Edit video(optionally)
If you wish to edit the video files, click the Edit button next to the title to open it in video editor window. Then you can crop, rotate, add watermark to the video, or adjust audio and subtitle tracks. The Cut button in the main interface enables you to trim and split videos.
Step 3
Set output format
Click the Convert All to menu at top right corner to open the profile dialog. Go to the Video tab, select the output format from the left side and choose a preset. To play the AVI video on mobile, go to the Device tab and select the target device.
If you wish to set different output format for each video file, click the profile icon on the first title and set it. Then select output format for other titles.
Step 4
Convert AVI
Hit the Folder button at the bottom to select a specific folder for saving the output. Finally, click on the Convert All button to begin converting AVI to other format.
Method 2: How to Convert AVI Files Online
If you do not like to install desktop software, Blu-ray Master Free Online Video Converter is an alternative to convert your AVI files. It is completely free of charge without registration or other limit. Plus, it does not have restriction on file size.
Step 1
Visit https://www.bluraycopys.com/free-online-video-converter/ in your browser when you need to convert AVI files. Click the Launch Free Converter button to download the launcher.
Step 2
When downloading is done, the launcher will pop up. Click the Add File button at top left corner and upload your AVI video files. You can also change encode, frame rate and other parameters by hitting the Gear icon.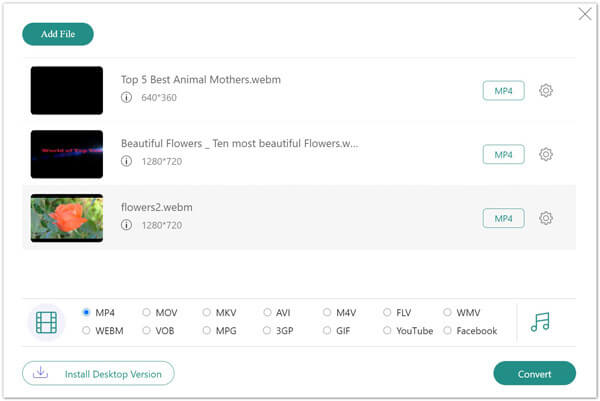 Step 3
Choose the desired output format at the bottom and hit the Convert button. Wait for the process to finish and download the converted video files to your hard drive.
Part 4: FAQs about AVI
What are the advantages of AVI format?
Firstly, AVI file formats have a very good quality of image and audio. Therefore, ads, promos, and short movies usually resort to AVI files. Moreover, it works very well on Windows ecosystem including Windows Media Player.
Is DivX the same as AVI?
No, they are not the same. AVI is a container format while DivX is a codec for compressing videos. Plus, DivX was created by DivX Inc. while AVI is from Microsoft. However, some AVI files may include DivX video codec.
Which is better, AVI or MP4?
The answer is determined by your purpose. AVI offers better video quality while MP4 is compatible with a wide range of media player and digital devices. If you want to edit your videos later, save them as AVI. To watch videos on computer or mobile, or share them online, MP4 is a good choice.
Conclusion
Now, you should understand what AVI is, its benefits and disadvantages, how to open and play AVI, and convert it to other video formats. Blu-ray Master Free Blu-ray Player lets you enjoy your favorite HD movies with lag. If you hope to convert between AVI and other multimedia formats, Blu-ray Master Video Converter Ultimate can meet your need. Other questions? Please contact us by leaving your message below this post.